Ah, telephemera… those shows whose stay with us was tantalisingly brief, snatched away before their time, and sometimes with good cause. They hit the schedules alongside established shows, hoping for a long run, but it's not always to be, and for every Street Hawk there's two Manimals. But here at STARBURST we celebrate their existence and mourn their departure, drilling down into the new season's entertainment with equal opportunities square eyes… these are The Telephemera Years!
2002-03
If you can take anything away from a glance at the top rating shows from the year's Fall TV season in the US, it's that America loved crime that year. And football, of course, along with reality shows and the ever-present "Must See TV" Thursday night NBC juggernaut of Friends, Scrubs, Will & Grace, Frasier, and ER. CSI: Crime Scene Investigation ruled the roost, drawing almost 20% more viewers than second-place Friends, while CSI: Miami, Law & Order, Law & Order: SVU, Law & Order: Criminal Intent, and Without a Trace all taking minor places.
It was a rough year for genre TV, with Touched by an Angel, Futurama, Farscape, Sabrina the Teenage Witch, and Buffy the Vampire Slayer all airing their final seasons, but surely Joss Whedon's new show Firefly would more than make up for those losses and enjoy a long run? The wonderful Oz finished its run on HBO and was replaced by a little show named The Wire, but what were the kids watching? This is the story of 2002's new season for younger viewers…
¡Mucha Lucha! (Kids WB): Unusually for an American TV show based on a Mexican sport, ¡Mucha Lucha! has its roots in Australia, where Lili Chin and Eddie Mort had formed Fwak! Animation in 2000. Mort was an Englishman who moved down under as a child and began his animation career at Disney Australia before moving over to Nickleodeon's Antipodean arm. Malaysian-born Chin was brought on board to help Mort animate a short – Lucha School – which he had pitched to Warner Bros in 1999.
Lucha School was finished by the fledgling Fwak! studio and Warners bought the concept, which was tweaked to become ¡Mucha Lucha!, reducing the number of main characters from four to three. Rikochet, Buena Girl, and The Flea are three students at Luchaville's Foremost World-Renowned International School of Lucha where they struggle to find their place in a society where everyone wears a lucha mask and has their own finishing move.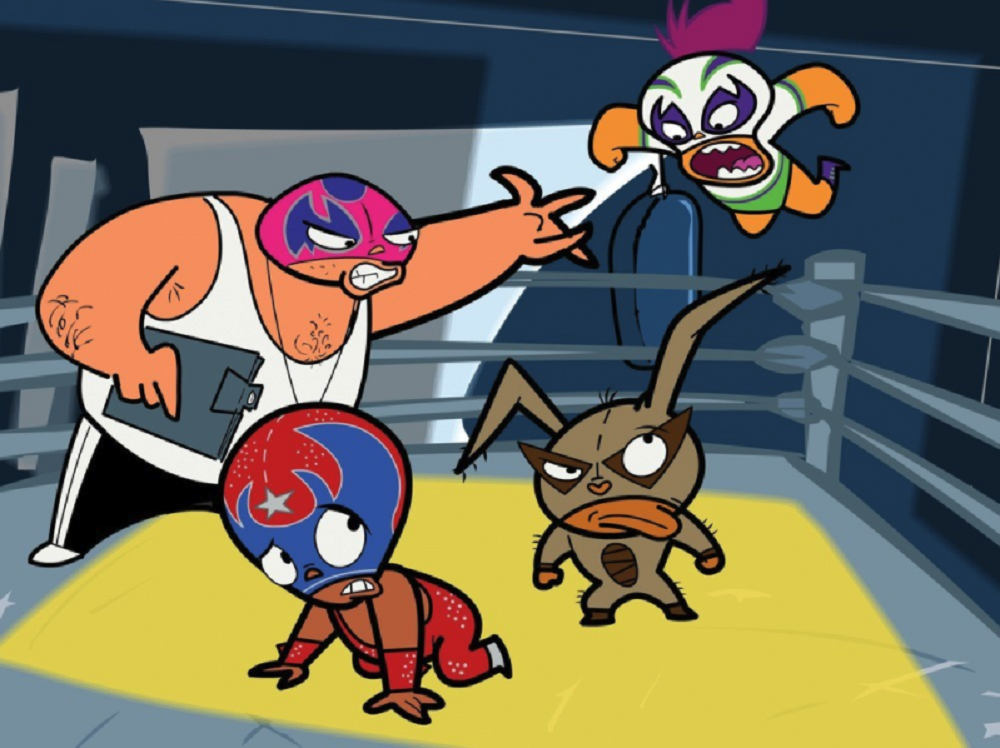 ¡Mucha Lucha! debuted in August 2002 and is regarded as the first flash-animated show created for American television. Each episode of the first season came with a moral, similar to the classic Saturday morning cartoons of the 1980s, usually dispensed in the form of what a "true luchador" would do in any given situation. These did not continue into the second series – which arrived a year later – or beyond.
In all, fifty-two episodes and a feature film were produced before the show's run ended in February 2005, with the final season earning the subtitle of Gigante. Antagonists and allies featured in the show included obvious parodies of real-life wrestling stars, as well as actual luchador Blue Demon Jr and magicians Penn and Teller. Although nothing has been heard of ¡Mucha Lucha! since its 2005 finale (save for a mooted 2014 reboot), Chin and Mort continue to work in the illustration and animation fields.
Fillmore! (ABC): Scott M Gimple graduated from the University of Southern California's School of Cinema-Television and walked straight into a job at Disney writing for Jungle Cubs, Timon and Pumbaa, and the Ace Ventura cartoon, among others. In 2002, he pitched a new show to Disney, a parody of 1970s police and detective shows that would appeal to kids and adults alike.
Cornelius Fillmore is a juvenile delinquent who is caught raiding his school's new shipment of chalk by Safety Patrol officer Wayne Liggett and offered a choice: spend the rest of middle school in detention or help the Safety Patrol solve another case. Fillmore chooses the latter and the show starts in media res with him partnered with Ingrid Third, another reformed troublemaker.
Over Fillmore!'s first season, Cornelius and Ingrid solve such cases as the disappearance of all the library's books, the theft of the school's lobster mascot, and the vandalism of a painting on a field trip to the museum, as well as flashing back to the day they met, when Cornelius helped prove Ingrid's innocence of stink-bomb related terrorism charges.
Gimple's designs revelled in a 1970s aesthetic, channelled through Disney's smooth animation, with stellar voice work from Olivia Brown, Tara Strong, Don LaFontaine, and guests such as John Rhys Davies, Caroline Rhea, and Kurtwood Smith. After two seasons of thirteen episodes each, Gimple moved on to write for other Disney shows, eventually becoming story editor for NBC crime drama Life. From there, spells in production on FlashForward and Chase led to work on The Walking Dead, where he became showrunner for seasons four to eight.
He-Man and the Masters of the Universe (Cartoon Network): The original Masters of the Universe toyline ran from 1982 to 1988, the accompanying Filmation cartoon enjoying a run of 130 episodes from 1983 to 1985. After the live-action movie starring Dolph Lundgren failed to do the business they'd hoped for, Mattel launched a misguided attempt to update the property for the nineties – The New Adventures of He-Man, which lasted for just one syndicated season of sixty-five episodes – but then put He-Man and company into mothballs for a decade.
Developed by Michael Halperin, a veteran of several Glen A Larson shows in the 1980s, this was the big return, a back to basics bid to do He-Man for the new millennium, eschewing the total do-over that the 1990 show had attempted for simple sword and sorcery action. Halperin brought back several of the original show's writers and contracted Mike Young Productions to design and animate the show, which was accompanied by action figures designed by the Four Horsemen studio.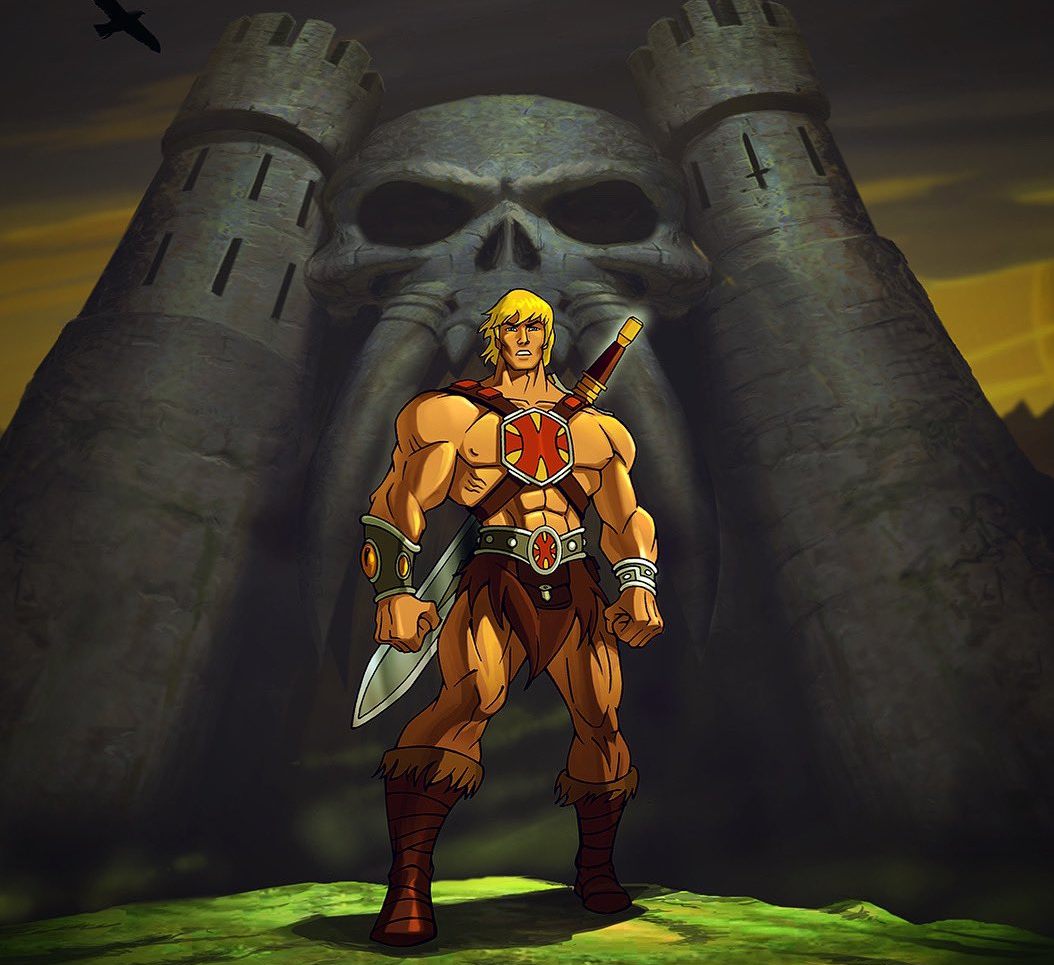 The new series debuted on Cartoon Network in August 2002 and was praised for its updated take on a beloved franchise, including a more adult – but still kid-friendly – feel to the show, also introduced in the series of comic books from Image Comics that was released to coincide with the cartoon. Over two seasons, He-Man and the Masters of the Universe delved deep into the mythology of Eternia, providing origin stories for Castle Grayskull, Skeletor, Teela, and more.
The show finished its run in January 2004 and the Masters of the Universe were again off our screens until 2018's She-Ra and the Princesses of Power, but 2002 was a new dawn for the franchise. On the heels of the Four Horsemen designed figures came a range of MOTU Classics toys, reinterpreting the original figures – and many more that didn't earn an action figure back in the day – in six-inch scale, primarily aimed at the adult collector market (the original show's audience now grown into cash-wielding thirtysomethings). Another range of comic books, this time from Dark Horse Comics and DC Comics, followed, and eventually He-Man came back to TV in the Netflix shows Masters of the Universe: Revelation and He-Man and the Masters of the Universe in 2021.
Stargate Infinity (Fox): Even in their wildest dreams, I'm not sure many involved with the making of the 1994 Roland Emmerich film Stargate envisaged the property enjoying a fourteen-year second life in a series of TV shows, beginning with 1997's Stargate SG1. Developed by Brad Wright and Jonathan Glassner from Emmerich and Dean Devlin's original treatment, SG-1 ran for ten season – over two-hundred episodes – before finishing its run in 2007. After SG-1 came Stargate Atlantis and Stargate Universe, the property finally resting in 2009 (although it came back for a brief webseries in 2018).
In the middle of all that was Stargate Infinity, an animated spin-off developed by Eric Lewald and Michael Maliani for DIC Entertainment. None of those working on the live-action SG-1 were involved in the show, and its place in greater Stargate canon is questionable, with Wright claiming it should not be considered as such due to his not being involved.
Whatever the status of Infinity, the show revolves around the titular device, with former SG team veteran Gus Bonner framed for a crime he did not commit, using the Stargate to bring alien enemies through to Earth. Gathering his comrades, Bonner escapes through the Stargate and begins a world-jumping adventure, unable to return home until he proves his innocence.
Infinity debuted in September 2002, it's first season running through March the next year and ending on a cliffhanger. Unfortunately, there never was a season two and its outlaw status meant there was little impetus to resolve its plot points in any other Stargate property.
Next time on The Telephemera Years: We jump back into the time machine and set the controls for 1970 where The Most Deadly Game awaits…
Check out our other Telephemera articles:
The Telephemera Years: pre-1965 (part 1, 2, 3, 4)
The Telephemera Years: 1966 (part 1, 2, 3, 4)
The Telephemera Years: 1967 (part 1, 2, 3, 4)
The Telephemera Years: 1968 (part 1, 2, 3, 4)
The Telephemera Years: 1969 (part 1, 2, 3, 4)
The Telephemera Years: 1971 (part 1, 2, 3, 4)
The Telephemera Years: 1973 (part 1, 2, 3, 4)
The Telephemera Years: 1974 (part 1, 2, 3, 4, 5)
The Telephemera Years: 1975 (part 1, 2, 3, 4)
The Telephemera Years: 1977 (part 1, 2, 3, 4)
The Telephemera Years: 1978 (part 1, 2, 3, 4)
The Telephemera Years: 1980 (part 1, 2, 3, 4)
The Telephemera Years: 1982 (part 1, 2, 3, 4)
The Telephemera Years: 1983 (part 1, 2, 3, 4)
The Telephemera Years: 1984 (part 1, 2, 3, 4)
The Telephemera Years: 1986 (part 1, 2, 3, 4)
The Telephemera Years: 1987 (part 1, 2, 3, 4)
The Telephemera Years: 1989 (part 1, 2, 3, 4)
The Telephemera Years: 1990 (part 1, 2, 3, 4)
The Telephemera Years: 1992 (part 1, 2, 3, 4)
The Telephemera Years: 1995 (part 1, 2, 3, 4)
The Telephemera Years: 1997 (part 1, 2, 3, 4)
The Telephemera Years: 1998 (part 1, 2, 3, 4)
The Telephemera Years: 2000 (part 1, 2, 3, 4)
The Telephemera Years: 2002 (part 1, 2, 3)
The Telephemera Years: 2003 (part 1, 2, 3, 4)
The Telephemera Years: 2005 (part 1, 2, 3, 4)
The Telephemera Years: 2006 (part 1, 2, 3, 4)
The Telephemera Years: 2008 (part 1, 2, 3, 4)
Titans of Telephemera: Irwin Allen
Titans of Telephemera: Stephen J Cannell (part 1, 2, 3, 4)
Titans of Telephemera: DIC (part 1, 2)
Titans of Telephemera: Hanna-Barbera (part 1, 2, 3, 4, 5)

Titans of Telephemera: Kenneth Johnson
Titans of Telephemera: Sid & Marty Krofft
Titans of Telephemera: Glen A Larson (part 1, 2, 3, 4)
Titans of Telephemera: Quinn Martin (part 1, 2)