Features | Written by Alan Boon 07/12/2021
THE TELEPHEMERA YEARS: 1971 – PART 4
Ah, telephemera… those shows whose stay with us was tantalisingly brief, snatched away before their time, and sometimes with good cause. They hit the schedules alongside established shows, hoping for a long run, but it's not always to be, and for every Knight Rider there's two Street Hawks. But here at STARBURST we celebrate their existence and mourn their departure, drilling down into the new season's entertainment with equal opportunities square eyes… these are The Telephemera Years!
1971-72
Just as America was dragging itself out of the long Sixties and into their funky successor years, US TV was undergoing a season change in 1971, with the last of the great western TV shows reaching the end of their runs. Audiences could still thrill to Alias Smith and Jones, Gunsmoke, and Bonanza, but the cop show ruled the roost, with The Mod Squad, Hawaii Five-O, and Ironside joined at the top of the ratings by new arrivals Cannon and McMillan & Wife.
A dry period for genre fans saw interest lay mostly with Mission: Impossible and Night Gallery, although Bewitched could be relied upon for some supernatural nose-twitching fun, but the big new hits were The New Dick Van Dyke Show and transatlantic transplant Sanford and Son. But what were the kids watching? This is the story of 1971's Saturday morning cartoons…
The Funky Phantom (ABC): Possibly the first (of many) attempts by Hanna-Barbera to clone their super-successful Scooby-Doo, Where Are You! behemoth, The Funky Phantom featured a bunch of groovy teenage detectives travelling around the country and solving crimes with the help of their whacky pal. This time, instead of a Great Dane with an eating disorder, the comedy was provided by Mudsy, a Revolutionary War-era ghost (and his ghost cat, Boo, for good measure).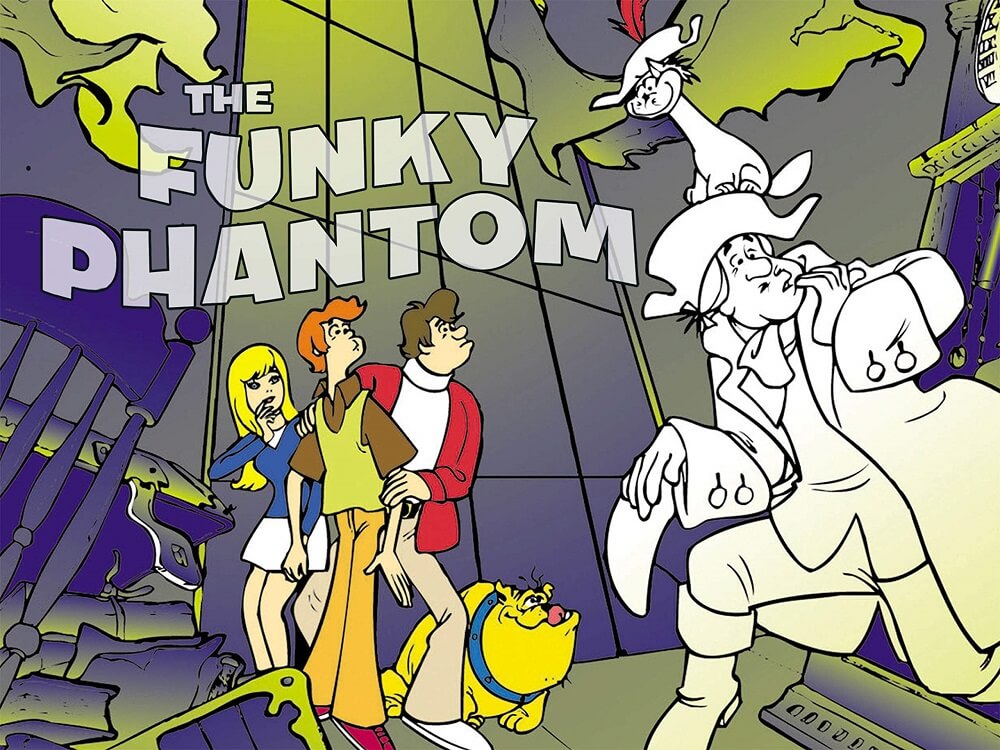 Mudsy's voice was provided by the legendary Daws Butler and was identical to the one he'd developed for Snagglepuss; it belied his tragic backstory whereby he and Boo had climbed into a grandfather clock to escape some Redcoats and had been trapped there. They died, their spirits trapped in the clock until they were released by the intrepid teen investigators and their dog, Elmo.
The Funky Phantom saw Mudsy join the team for seventeen episodes, finishing its run in January 1972 with the spirits no nearer to finding their eternal rest, and Hanna-Barbera simply moved on to its next Scooby clone, Speed Buggy. Mudsy and Boo made a handful of appearances on other Hanna-Barbera shows over the years but it is unsure whether these stories are part of the wider Funky Phantom canon.
The Pebbles and Bamm-Bamm Show (CBS): Kids grow up so quickly these days, don't they? Well, they always did and that was never more starkly illustrated by the adolescent adventures on show in The Pebbles and Bamm-Bamm Show, featuring the delightful offspring of Fred and Barney as they enter those difficult teenage years.
Of course, this being a Hanna-Barbera production, there's no sex and drugs but there's a fair amount of rock 'n' roll, using the pop music of the era (the 1970s, rather than the Stone Age) to soundtrack the exploits of this lovely couple, who are now dating, attending Bedrock High School, and coming up with schemes to equal those of their bumbling fathers.
Voices for the main characters were provided by Sally Struthers and child actor Jay North (in one of his final roles before retiring from the business), with industry veterans Lennie Weinrib, Alan Reed, and Mel Blanc pitching in, the latter two reprising their roles as Fred and Barney. With Pebbles exclaiming "Yabba dabba doozy!" every time she came up with a plan, the show ran for sixteen episodes between September 1971 and January 1972, entering eternal syndication thereafter, often in association with its parent show.
Lidsville (ABC): After enjoying huge success with HR Pufnstuf and The Bugaloos, Sid and Marty Krofft invited viewers to travel to Lidsville in 1971, joining teenager Mark in a land of living hats. The show's title sequence was filmed at Six Flags Over Texas, a theme park near Dallas, and saw Mark fall into the hat of Merlo the Magician (Charles Nelson Reilly), transported to a fantastic world.
Like previous Krofft productions, the cast was packed with characters in giant mascot costumes but also included some more human figures in theatrical make-up, recruiting Mark (The Munsters' Butch Patrick) to help them fend off the attentions of HooDoo, an angry wizard who demands everyone pay his hat tax.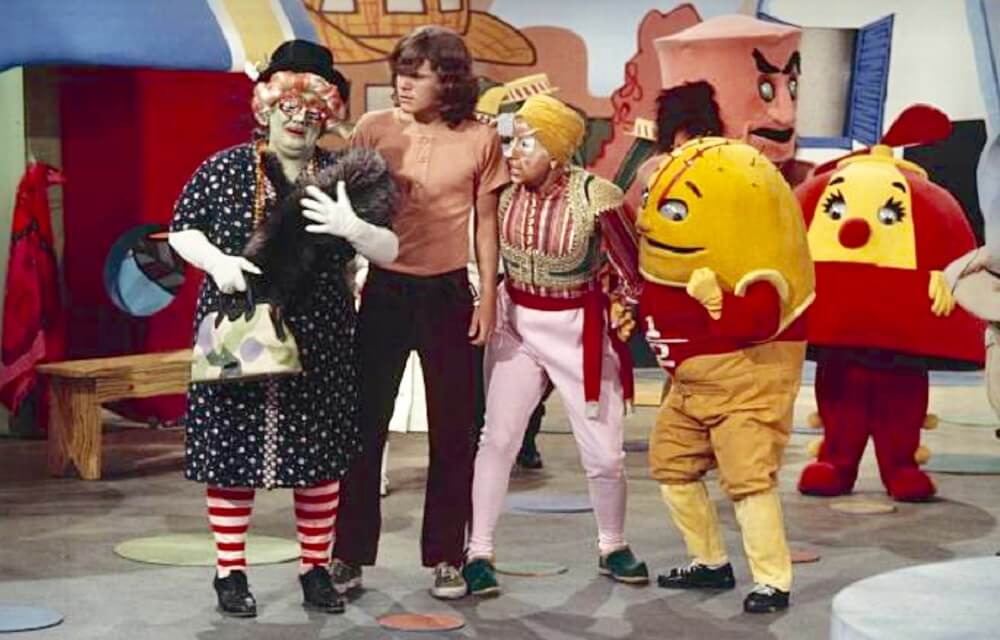 Like many shows following the stranger in a strange land formula, Mark did not return home at the end of the series, which lasted just one season (as was the pattern for Sid and Marty Krofft productions). In 2011, it was announced that Dreamworks were adapting Lidsville as a 3D animated musical but the production stalled in 2013, and Sid Krofft later said that it wouldn't have been true to his fantastic vision. Lidsville, like all god Sid and Marty shows, is available on DVD.
The Jackson 5ive (ABC): Easy as 1-2-3, The Jackson 5ive burst onto Saturday morning TV screens in September 1971 in animated adventures created by Rankin/Bass, in association with Motown Records. Although Diana Ross appeared as herself in the debut episode, the voices for the various Jacksons (and label boss Berry Gordy) were provided by voice actors, although the songs played during the show were authentic J5 recordings, even if they weren't specially recorded for the show.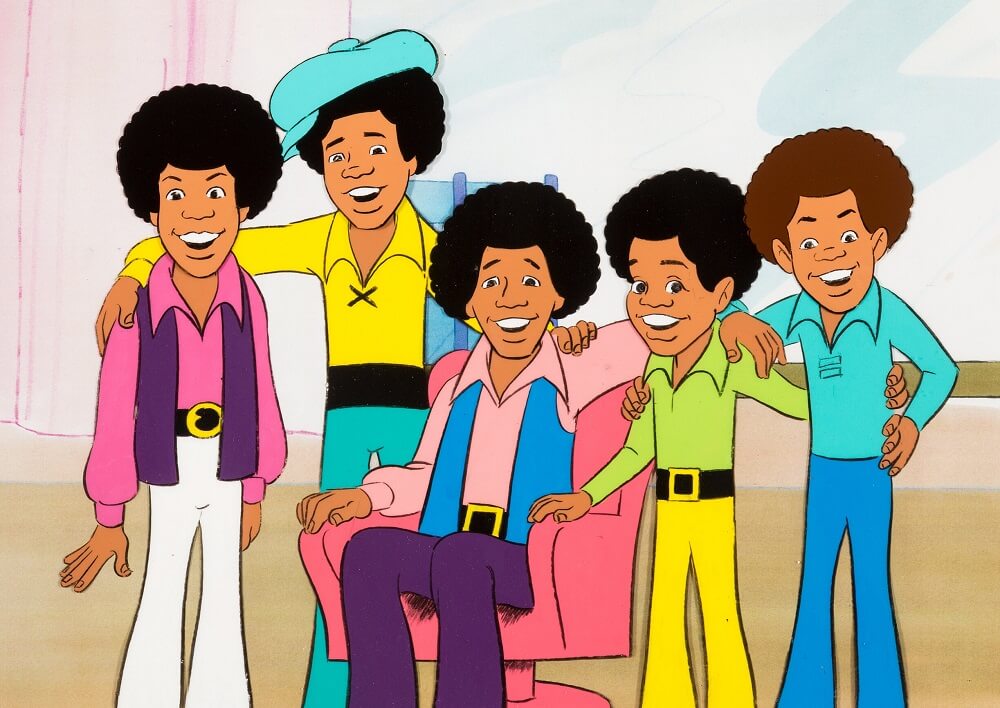 The storylines usually saw the band get mixed up in some kind of shenanigans while on tour, and during the course of the first season they accidentally join the US Army, get adopted by a bongo-playing gorilla, face down unscrupulous loggers, and parody the Japanese arthouse classic Rashomon. The second season relied on a gimmick whereby something would happen to Michael, resulting in him dreaming a fantasy where the band found themselves in Wonderland or at the top of a beanstalk.
New episodes were done airing by October 1972, by which time Rankin/Bass had moved on to the animated adventures of The Osmonds. The Jacksons – including sisters La Toya and Janet – returned to TV in 1976 in a live-action variety show, and it wasn't until 1989 that one of their number was animated again, when Michael appeared uncredited in The Simpsons.
Help!... It's the Hair Bear Bunch (CBS): As stuffy as they could often be, let it not be said that the spirit of the times didn't occasionally bleed into Hanna-Barbera Productions, especially those produced by Scooby-Doo creators Joe Ruby and Ken Spears. In 1971, they fed the age of Aquarius through an ursine filter to come up with Help!... It's the Hair Bear Bunch, a kaleidoscopic twist on the picnic-stealing antics of Yogi Bear.
Hair Bear, Square Bear, and Bubi Bear are three enterprising sorts who live in Wonderland Zoo, and the bane of zoo director Mr Peevly's life. Not an episode goes by where the bears don't make Peevly's life a misery, hopping onto their invisible motorcycle on a quest to brighten their humdrum lives, dodging zookeeper Botch as they go.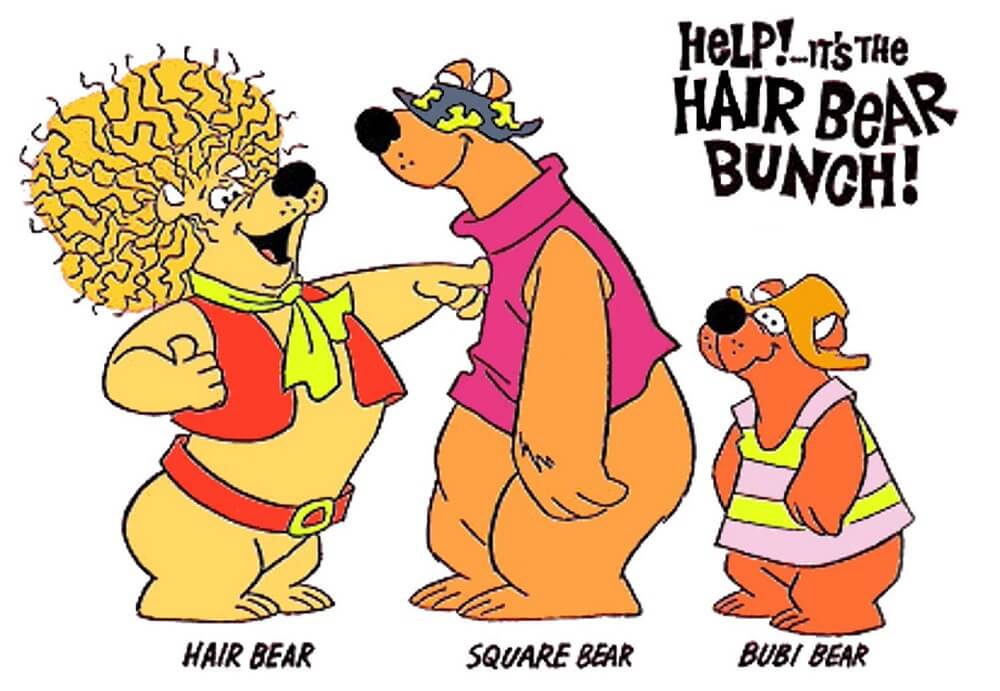 With Daws Butler approximating the voice of Phil Silvers for Hair Bear and John Stephenson doing great work as the irascible Peevly, the show leans heavily on zany humour, with the bears dressed in the (by then a little anachronistic) hippy gear that marked them out as cool cats.
In tune with other Hanna-Barbera shows of the time, thirteen episodes were broadcast between September 1971 and January 1972 but the show was continually re-run in syndication and became one of the most beloved shows of its era, with the bears later popping up o Harvey Birdman, Attorney at Law, where Hair Bear was accused of attacking customers at the fast-food restaurant where he worked.
Next on The Telephemera Years: It's off to 1995 where dweebs, nowhere men, and a sinister Gary Cole await us!
Check out our other Telephemera articles:
Titans of Telephemera: Glen A Larson (part 1, 2, 3, 4)
Titans of Telephemera: Stephen J Cannell (part 1, 2, 3, 4)
The Telephemera years: 1966 (part 1, 2, 3, 4)
The Telephemera Years: 1990 (part 1, 2, 3, 4)
The Telephemera Years: 1975 (part 1, 2, 3, 4)
The Telephemera Years: 2003 (part 1, 2, 3, 4)
The Telephemera Years: 1982 (part 1, 2, 3, 4)
Titans of Telephemera: Kenneth Johnson
Titans of Telephemera: Quinn Martin (part 1, 2)
Titans of Telephemera: Irwin Allen
The Telephemera Years: 2008 (part 1, 2, 3, 4)
The Telephemera Years: 1987 (part 1, 2, 3, 4)