Features | Written by Alan Boon 01/03/2022
THE TELEPHEMERA YEARS: 1992 – PART 4
Ah, telephemera… those shows whose stay with us was tantalisingly brief, snatched away before their time, and sometimes with good cause. They hit the schedules alongside established shows, hoping for a long run, but it's not always to be, and for every Street Hawk there's two Manimals. But here at STARBURST we celebrate their existence and mourn their departure, drilling down into the new season's entertainment with equal opportunities square eyes… these are The Telephemera Years!
1992-93
60 Minutes may have held onto the number one spot in the Nielsen ratings for the 1992-93 season but the sitcom was still the king of the schedules, with Roseanne, Home Improvement, and Murphy Brown riding high and Coach, Cheers, and Full House not far behind. The season's biggest debut show was Hangin' With Mr Cooper, a teen-centred sitcom focussed on a high school basketball coach, and fellow debutant Mad About You would soon join find its audience, along with a young show named Seinfeld.
More dramatic fare was on offer from Murder, She Wrote, still inexplicably popular after nine seasons, and there was a strong first season for Dr Quinn, Medicine Woman, but the appearance of Northern Exposure at number eleven in the ratings raised some cheer for those who liked their shows a little bit weird. Otherwise, it was thin gruel for genre fans with just Quantum Leap, Dinosaurs, Herman's Head, and a limp Young Indiana Jones Chronicles on the network schedule, although Batman: The Animated Series did begin its run on Fox, joined by genre-adjacent shows Picket Fences and Walker, Texas Ranger on CBS. This is all well and good for the adults in the room (who shouldn't have been watching Batman but were) but there's a whole other story for the big kids' shows of 1992…
Wild West COW-Boys of Moo Mesa (ABC): Teenage Mutant Ninja Turtles was big business in the early 1990s, with every scrap of fabric or plastic adorned with their image, shouting "cowabunga!" to anyone that cared to look at it. With Playmates shipping toys by the caseload and a successful cartoon airing in syndication, it should come as no surprise that the other animation studios were scrambling for their own piece of the anthropomorphic pie, exploring the realms of just what could be heroically turned into a human-shaped action fighter.
DIC Entertainment, a French American studio founded by Jean Chalopin, and responsible for Inspector Gadget and The Real Ghostbusters, had a false start with the videogame property Battletoads but then had more success with the strange story of an Old West era herd of cows turned into a whole society of battling bovines.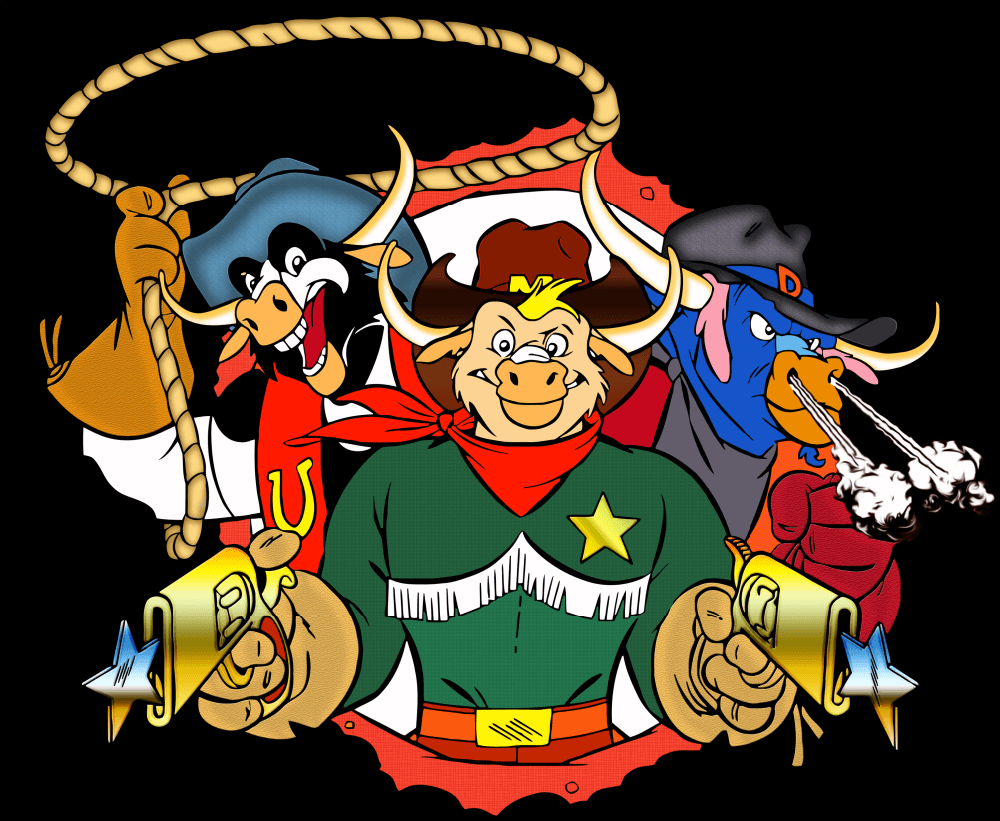 Wild West COW-Boys of Moo Mesa was created by Ryan Brown, who had already left his mark on the Turtles world by providing the pencils for Archie Comics' TMNT title when it launched in 1988. Brown's concept saw an irradiated meteor – or "cow-met" – strike a herd of grazing cows, creating an area secluded by a strange cloud and turning the animals into "bovipomorphic" creatures. The cows used what they knew of life in the Wild West to inspire their new community, filling the roles of white hats and black hats (and everything in between), although the gaps in their knowledge resulted in a few strange anomalies.
The show debuted on ABC on September 12th 1992, with a first season of thirteen episodes that introduced lawman Marshall Moo Montana and his arch-nemesis Sheriff Terrorbull, a corrupt official who worked for the dastardly Mayor Bulloney. The first season was enough of a success that a further thirteen episodes were ordered, airing from September 11th 1993. A line of toys was produced by Hasbro, similar to Playmates' TMNT assortment, and Konami released an arcade videogame, but it's fair to say that cows didn't have quite the same appeal as their turtle brothers.
The Amazing Live Sea Monkeys (CBS): The Sea Monkeys have an incredible history that stretches back to 1957, created by a Nazi-sympathising Jewish entrepreneur to fleece gullible young Americans out of their hard-earned Grit money, but they underwent a renaissance in 1992 thanks to comedian Howie Mandel.
Mandel saw his daughter's glee at receiving a set of the miniscule brine shrimp, dollar signs flashing before his eyes. "This could be bigger than the Ninja Turtles," he declared and contracted the award-winning special effects experts the Chiodo Brothers to make a set of costumes for the characters.
Their appearance inspired by promotional art for the creatures developed by comic book artist Joe Orlando, Mandel's Sea Monkeys were Dave, Bill, and Aquarius, enlarged to human size by the Professor (Mandel himself) and attempting to navigate the difficulties of human life. Befriending their neighbours, the Brentwoods, each Sea Monkey had a unique quirk; Bill was afraid of bearded men, Dave could not resist polka music, and Aquarius could not keep a secret.
Eleven episodes were produced, aired at noon and aimed at a slightly older demographic than the rest of the Saturday morning fare, but American youth was not as captivated by the tiny aquatic animals as they had been a generation before and it quietly slipped into the night. There are some episodes on YouTube though, available without having to send away a money order.
Dog City (Fox): Originally a live-action, puppet-filled episode of The Jim Henson Hour in 1989, Dog City was revived in 1992 as a weekly show, produced by Jim Henson Productions and the Nelvana animation studio, in association with a cadre of international television partners. With the live-action parts replaced by animation, Dog City premiered on Fox Kids on September 26th 1992, kicking off a Saturday morning block that also featured X-Men and Eek! the Cat.
The original show revolved around Ace Yu, a German shepherd who was adopted at birth by Pekingese parents, and his love interest Collen Barker. Ace has inherited a restaurant from his uncle Harry, which pits him against Bugsy Them (his puppet performed by Jim Henson himself), a bulldog mob boss, and his underlings Mad Dog, Scruffy, and Laughing Boy.
For the series, Ace Yu became Ace Hart, a private investigator who starred in a cartoon animated by Eliot Shag, a German Shepherd using the same puppet as Yu from the original show, with the cast of characters in his cartoons inspired by the residents of his building, including his next-door neighbour Colleen, on whom he had a big crush. As the series progressed other cartoons that Eliot was working on made their way into the show, allowing Dog City to parody other genres, including the superhero Watchdog.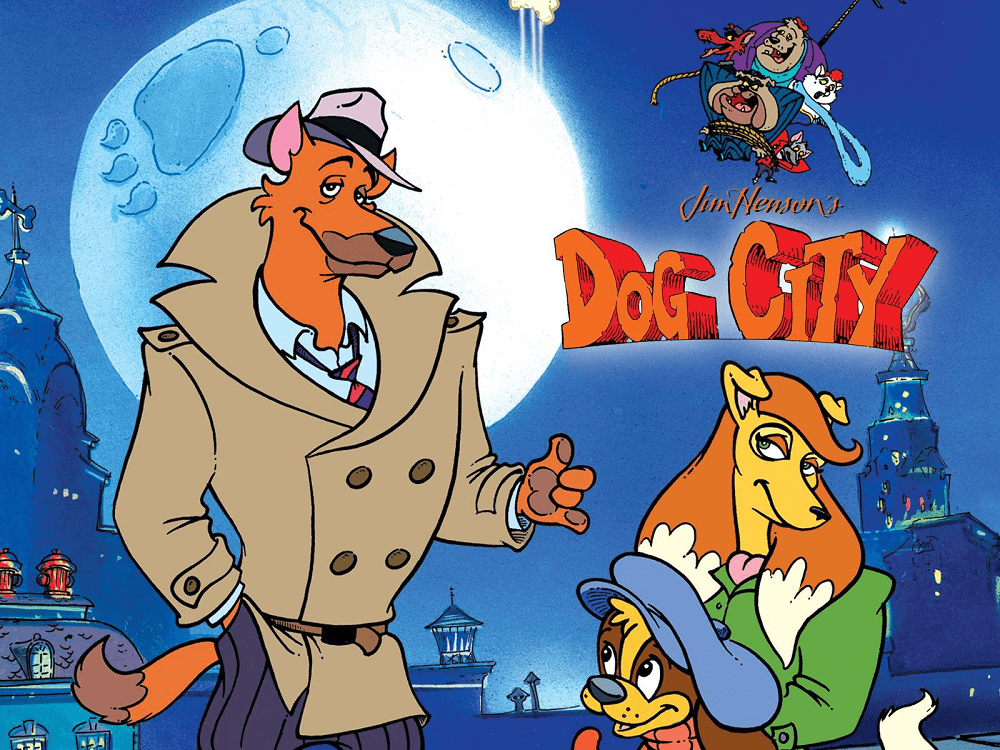 Three seasons – thirty-one episodes in all – were produced between 1992 and 1994, yet Dog City remains one of Jim Henson's hidden gems, all but forgotten to the hardy few who got up early enough to enjoy its numerous charms on Saturday mornings. The show aired once on Channel 4 in the UK and there has never been a DVD release, although there are some clips available on YouTube. Henson may have died shortly after the original episode aired but Dog City has his spirit running through it, and this charming little show deserves a wider audience.
Super Dave: Daredevil for Hire (Fox): Bob Einstein was a living, breathing curiosity. A writer who got his start on – and later won awards for – The Smothers Brothers Comedy Hour, Einstein developed a bumbling daredevil character called Super Dave for a Canadian variety show hosted by John Byner, taking it with him when Byner also began hosting Bizarre for CTV in 1980. Super Dave became a frequent guest on Late Night with David Letterman and eventually earned his own show, which ran in Canada on GTV from 1987 to 1991.
Bruce and Reed Shelly – a pair of brothers working for DIC Entertainment with a slew of animation credits to their names – approached Einstein with the idea of turning Super Dave into a cartoon character, with episodes topped and tailed by live-action segments featuring Einstein as Dave and Art Irizawa as Fuji Hakayito, his Japanese assistant.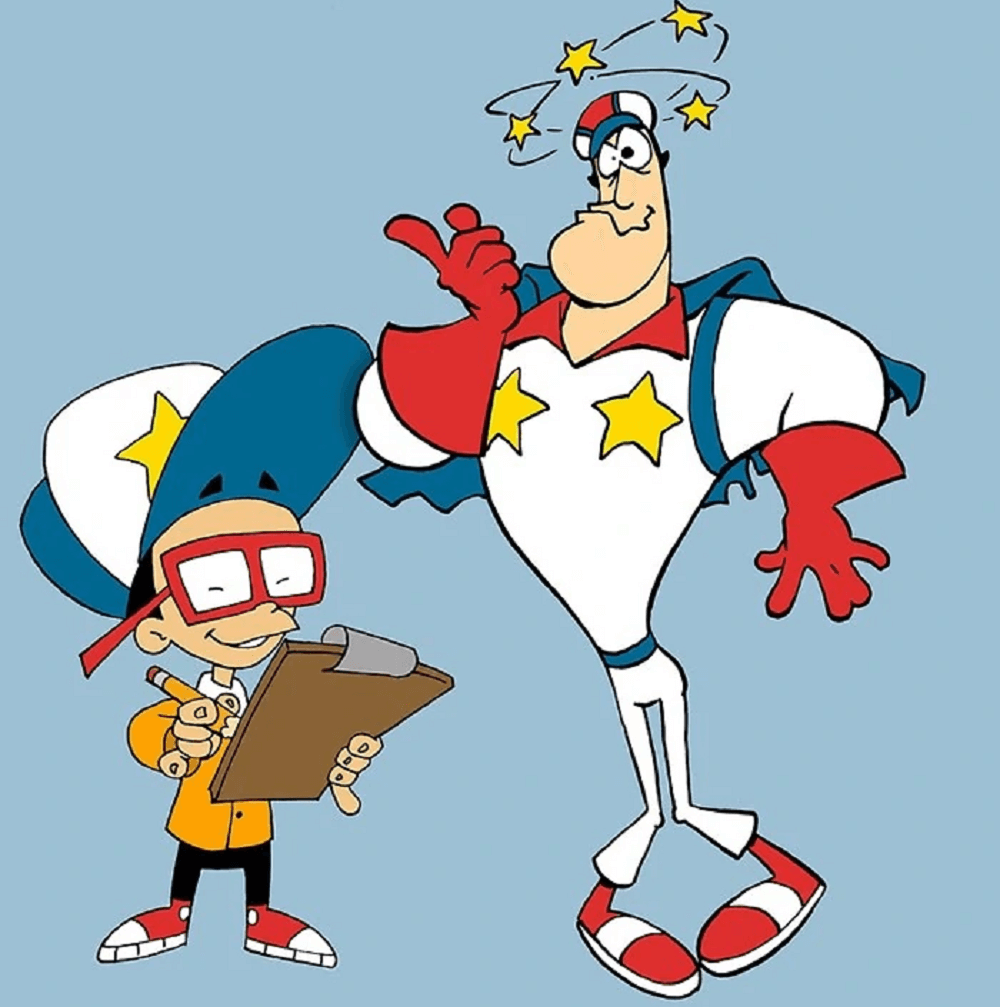 Dubbed Super Dave: Daredevil for Hire, Einstein and Irizawa also provided the voices for their animated counterparts, which saw the duo get into scrapes at the Super Bowl, in space, and in the White House, all with plenty of bungled stunts and lots of "new pain!" The series was well-received, although halfway through the show's run on Fox, pressure from Asian-American protest groups forced Irizawa to redub his dialogue into a less stereotypical accent.
Just one series was produced, although a special - The Super Dave Superbowl of Knowledge – aired in January 1994, and Einstein returned to appearing as Super Dave on various live-action specials and game shows, including an outing on Total Nonstop Action Wrestling's Impact! in November 2009. Einstein retired the character in 2013, and sadly passed away in 2019 from cancer, having entered a new phase of his career with roles on Curb Your Enthusiasm and Arrested Development.
King Arthur and the Knights of Justice (syndication): Jean Chalopin founded DIC Entertainment in 1971 and developed shows such as Ulysses 31, The Mysterious Cities of Gold, and Jayce and the Wheeled Warriors before selling the company in 1987. He formed another studio – C&D, or Créativité et Développement – and continued to produce animation through his American affiliate Jetlag Productions.
In 1992, in association with Golden Films and Bohbot Entertainment, Chalopin created King Arthur and the Knights of Justice, an animated series that mixed the myths of Camelot with the modern day. With Arthur and his knights trapped by Morgana Le Fay, Merlin is forced to find a replacement for his king, settling on New York Knights football quarterback Arthur King as the best candidate and charging Arthur and his teammates with freeing the true king, Merlin brings them back in time to fight the forces of Morgana.
With a banging theme tune by Shuki Levy, King Arthur and the Knights of Justice had an ongoing storyline, told over two seasons of thirteen episodes each, during which each side gained their victories before ending without a resolution as the show was not renewed for a third season.
A selection of toys from Mattel, and a comic book from Marvel, accompanied the show, and a videogame which did provide an ending where - SPOILERS! – Arthur and his knights defeat Morgana and return the true King Arthur to the throne. Fondly remembered and largely holding up even after almost thirty years, the series was released on DVD and did stream for a short while on Netflix.
Next on The Telephemera Years: It's time to go back to 1977, where witches, aquamen, and UFOs await!
 Check out our other Telephemera articles:
Titans of Telephemera: Glen A Larson (part 1, 2, 3, 4)
Titans of Telephemera: Stephen J Cannell (part 1, 2, 3, 4)
The Telephemera years: 1966 (part 1, 2, 3, 4)
The Telephemera Years: 1990 (part 1, 2, 3, 4)
The Telephemera Years: 1975 (part 1, 2, 3, 4)
The Telephemera Years: 2003 (part 1, 2, 3, 4)
The Telephemera Years: 1982 (part 1, 2, 3, 4)
Titans of Telephemera: Kenneth Johnson
Titans of Telephemera: Quinn Martin (part 1, 2)
Titans of Telephemera: Irwin Allen
The Telephemera Years: 2008 (part 1, 2, 3, 4)
The Telephemera Years: 1987 (part 1, 2, 3, 4)
The Telephemera Years: 1971 (part 1, 2, 3, 4)
The Telephemera Years: 1995 (part 1, 2, 3, 4)
The Telephemera Years: 1980 (part 1, 2, 3, 4)