Features | Written by Alan Boon 26/07/2022
TITANS OF TELEPHEMERA: HANNA-BARBERA, PART 5
Ah, telephemera… those shows whose stay with us was tantalisingly brief, snatched away before their time, and sometimes with good cause. Dedicated miners of this fecund seam begin to notice the same names cropping up, again and again, as if their whole career was based on a principle of throwing stuff at the wall and seeing what sticks. What's more, it isn't all one-season failures and unsold pilots, there's genuine gold to be found amongst their hoards; these men are surely the Titans of Telephemera!
HANNA-BARBERA
Founded in July 1957 by William Hanna and Joseph Barbera, two former animators for the MGM studio who had won Oscars for their work on Tom and Jerry, Hanna-Barbera (initially known as H-B Enterprises) quickly became the US's foremost television animation studio, cementing their place in history with the first prime-time animated sitcom, The Flintstones, in 1960. Hanna-Barbera soon became a household name, a byword for quality animation and genuinely funny scripts, with top voice actors like Daws Butler and Don Messick becoming stars due to their work on H-B shows.
The studio enjoyed further massive hits with The Jetsons, Wacky Races, and Scooby- Doo, Where Are You!, with Hanna and Barbera remaining at the head of the company until it was sold to Turner Broadcasting in 1991. The pair still continued to consult on new shows until their deaths in 2001 and 2006, respectively, their legacy ensured far before that in the annals of television history. In all, Hanna-Barbera produced over one-hundred and seventy-five shows, as well as numerous animated specials, and their big hits are ingrained in our collective memories. But did you know that The Flintstones wasn't the only time H-B troubled prime-time? This is the story of four more shows made for the whole family…
Jonny Quest (ABC, 1964): Doug Wildey began his art career during his army service, becoming an illustrator for the base newspaper while stationed in Hawaii after World War II. On being demobbed, he started freelancing for the comic book publisher Street & Smith, going on to work for a number of publishers including the proto-Marvel, Atlas. While with Atlas, he created The Outlaw Kid with Stan Lee, a step above the usual western comics and later much sought after by art afficionados.
In 1959, he took over the syndicated newspaper strip The Saint, staying on board for three years while also trying to sell his own syndicated strips, many of which he would look back to in 1964 when he created Jonny Quest, but got his start in animation as an assistant to Alex Toth, himself a former comic book artist breaking into the cartoon world. Wildey offered his services to Hanna-Barbera, who tasked him with creating a show based on radio adventurer Jack Armstrong but when they couldn't obtain the rights to the serial, Wildey tweaked his designs and came up with Jonny Quest.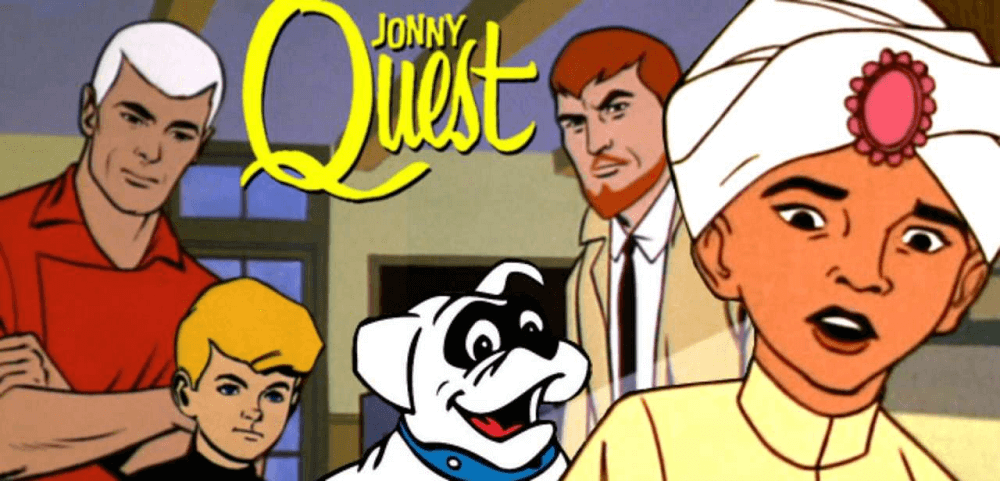 Wildey set the show ten years in the future, allowing him to develop futuristic (but realistic) tech, and send Jonny – the eleven-year-old son of scientific genius Dr Benton C Quest – on globetrotting adventures, aided only by his faithful dog Bandit and Indian pal Hadji Singh. Dr Quest works for the US government, and they have assigned secret agent Race Bannon to protect the Quests around the clock from the interests of foreign governments and no-good villains like Dr Zin.
Twenty-six episodes of this thrilling, stylish animated series were produced, airing between September 1964 and March 1965, after which it entered into almost-constant re-runs in syndication. A single issue of a Jonny Quest comic book was published by Gold Key in 1964 but the concept was revived for a run of Comico comics in 1986, with the first issue drawn by Wildey. It heralded a reboot, The New Adventures of Jonny Quest, was part of The Funtastic World of Hanna-Barbera in 1987. The reboot was more aimed at kids than the original, which had aired in prime-time and had to be edited for violence and peril when it was re-run. The original stands out as one of the best examples of animated adventure produced in the West and has been constantly referenced, never more so than with The Venture Brothers, a seven-season post-modern riff on Jonny Quest that, sadly, Wildey never lived to see.
Where's Huddles? (CBS, 1970): Five years after Jonny Quest had finished its run on ABC, Hanna-Barbera were ready to try again with a prime-time show, this time returning to the sitcom formula that has produced hits like The Flintstones and Top Cat. The Huddles of Where's Huddles? Was Ed Huddles, the quarterback for a professional gridiron team called the Rhinos. Ed and his family lived next door to another of the Rhinos' players, center Bubba McCoy, and the two men often earned the ire of football-hating neighbour Claude Pertwee.
The scripts put the boys in bizarre situations, their eternally-patient wives having to deal with all manner of chaos and nonsense, and while Pertwee (voiced brilliantly by Paul Lynne) could be a touch on the sensitive side, it's hard not feel sympathy for the constant nuisance the footballers cause the cat-loving confirmed bachelor.
This is The Flintstones, then, transplanted to the suburban America of that awkward period after the 1960s had ended and the 1970s had really begun, and the get rich quick schemes and neighbourly scrapes that fill the ten episodes that aired as a Summer replacement for The Glen Campbell Goodtime Hour never threatened to reinvent the wheel, although there are still some genuinely funny moments sprinkled throughout.
It was hoped that then ten-episode run would whet the network's appetite for a full series, but no such order came, and we never got to see what Ed Huddles did next, although you could probably guess that his final days were unpleasant due to accumulated concussions. Warner Archive released the full series in 2016 and it has recently been announced that the show will be available on HBO Max.
Wait Till Your Father Gets Home (NBC, 1972): If there was something missing from Where's Huddles? it was obviously the kids, and Hanna-Barbera put that right with the next attempt at a prime-time sitcom just two years later. Wait Till Your Father Gets Home had begun its existence as an episode of Love, American Style, an anthology comedy show which featured a different romantic story each week, largely tilting towards the comedic.
The set up of Wait Till Your Father Gets Home is still very familiar - put-upon conservative husband Harry has to navigate life with his loving wife, liberal kids, and paranoid neighbour – and the storylines trod similar ground to contemporaries such as All in the Family, The New Dick van Dyke Show, and Happy Days, but the novelty of this being an animated sitcom made it all the more notable.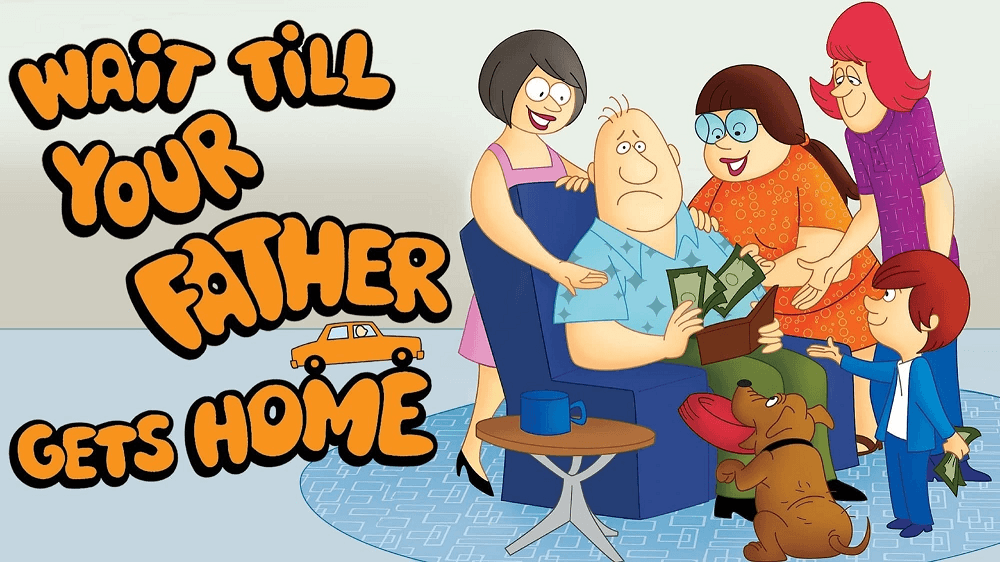 When it was renewed for its second season in the Fall of 1973, it became the first prime-time animated show to go longer than a single run since The Flintstones (a feat not repeated again until The Simpsons eighteen years later), and it seemed that America couldn't get enough of this very modern family, voiced by Tom Bosley, Joan Gerber, and a cavalcade of guest stars. In all forty-eight episodes were produced, with a short third season (of just four episodes) bringing the curtain down on the Boyle family adventures in October 1974.
The show lived on in the popular imagination and must have been an influence on Matt Groening when he created Homer, Marge, Bart, and the rest, but its influence can most closely be seen in Family Guy (teenagers Alice Boyle and Meg Griffin could easily be mistaken for one another) and King of the Hill, whose commie-fearing neighbour Dale Gribble has more than a touch of Ralph Kane to him.
The Hanna-Barbera Happy Hour (NBC, 1978): Having failed to get the green light for the Rita Wilson-starring live-action sitcom The Beach Girls in 1977, Hanna-Barbera turned to something new for their next attempt at prime-time and unveiled a very different variety show. The Hanna-Barbera Happy Hour was hosted by two life-size female puppets named Honey and Sis, and featured sketches, musical numbers, and guest appearances from the likes of Tom Bosley, Tony Randall, Abe Vigoda, and Betty White, as well as cameos from H-B's animated stars such as Yogi Bear and Huckleberry Hound (played by costumed actors).
The puppets were operated by a team of six people and had distinct personalities: Honey was vain and egotistical, always looking to impress guests with her talent, while Sis actually had that talent yet was reluctant to perform. The girls – and their guests – took part in regular sketch segments that parodied the sitcoms and soap operas of the day, much as The Muppet Show had Pigs in Space and Veterinarian's Hospital.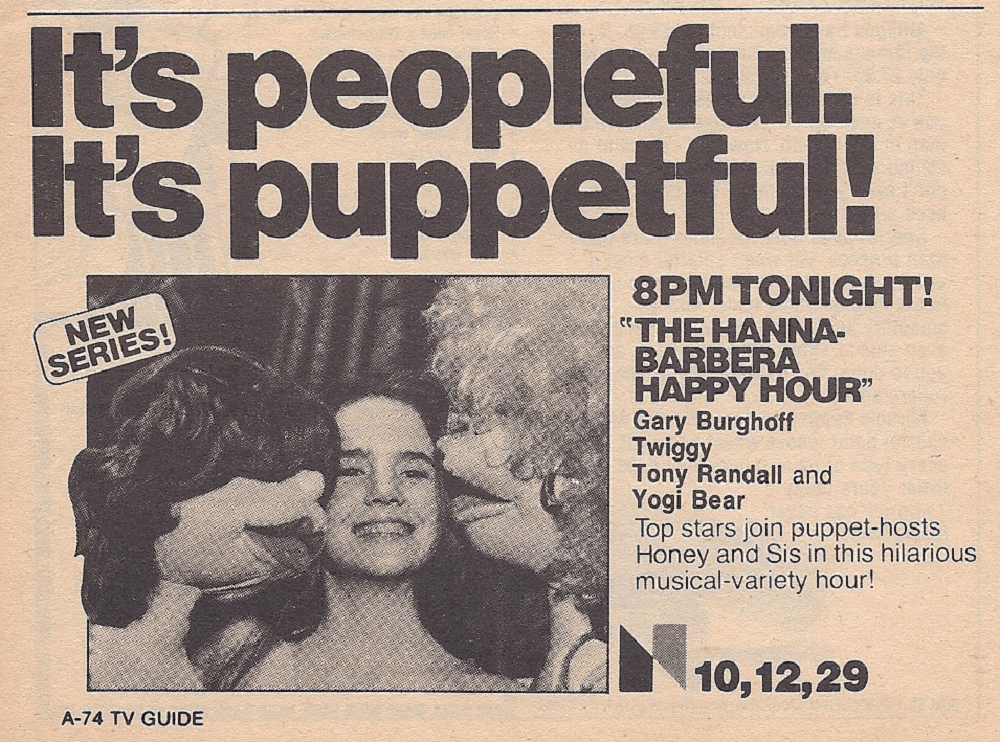 In fact, The Muppet Show was pretty much the inspiration for The Hanna-Barbera Happy Hour, having begun its five-season run two years before, but NBC were interested enough to give it a five-week run in the Spring of 1978, after CHiPs had finished its first season run. Unfortunately, that was the slot that also belonged to The Waltons and Welcome Back, Kotter, both averaging twenty million viewers or so, and in week six the show was replaced by re-runs of CHiPs, never to be heard of again.
In fact, so total was the erasure of The Hanna-Barbera Happy Hour that there is zero footage of it on YouTube and even very little surviving still footage. The studio tried again in the Summer, trialling The Funny World of Fred and Bunni (which would have had its hosts interact with animated characters), but the variety show format had really had its day. The studio wouldn't try its hand at prime-time again until 1992, when both Fish Police and Capitol Critters failed to find an audience, but it would hit paydirt with Space Ghost Coast to Coast two years after that. That, however, is a story for another day…
Next on The Telephemera Years: Our journey through the golden years of US TV continues with the misses of 1997, with aliens aplenty!
Check out our other Telephemera articles:
Titans of Telephemera: Glen A Larson (part 1, 2, 3, 4)
Titans of Telephemera: Stephen J Cannell (part 1, 2, 3, 4)
The Telephemera years: 1966 (part 1, 2, 3, 4)
The Telephemera Years: 1990 (part 1, 2, 3, 4)
The Telephemera Years: 1975 (part 1, 2, 3, 4)
The Telephemera Years: 2003 (part 1, 2, 3, 4)
The Telephemera Years: 1982 (part 1, 2, 3, 4)
Titans of Telephemera: Kenneth Johnson
Titans of Telephemera: Quinn Martin (part 1, 2)
Titans of Telephemera: Irwin Allen
The Telephemera Years: 2008 (part 1, 2, 3, 4)
The Telephemera Years: 1987 (part 1, 2, 3, 4)
The Telephemera Years: 1971 (part 1, 2, 3, 4)
The Telephemera Years: 1995 (part 1, 2, 3, 4)
The Telephemera Years: 1980 (part 1, 2, 3, 4)
The Telephemera Years: 1992 (part 1, 2, 3, 4)
The Telephemera Years: 1977 (part 1, 2, 3, 4)
The Telephemera Years: 1968 (part 1, 2, 3, 4)
The Telephemera Years: 1984 (part 1, 2, 3, 4)
The Telephemera Years: 2005 (part 1, 2, 3, 4)