Features | Written by Alan Boon 20/09/2022
THE TELEPHEMERA YEARS: 1969 – PART 4
Ah, telephemera… those shows whose stay with us was tantalisingly brief, snatched away before their time, and sometimes with good cause. They hit the schedules alongside established shows, hoping for a long run, but it's not always to be, and for every Street Hawk there's two Manimals. But here at STARBURST we celebrate their existence and mourn their departure, drilling down into the new season's entertainment with equal opportunities square eyes… these are The Telephemera Years!
1969-70
Although the Age of Aquarius had proved to be a false dawn, with Vietnam still raging and the Summer of Love a distant memory, America was still trying to laugh away its worries, with half the top ten shows aimed at tickling the viewers' funny bones. Top of the roost was Rowan & Martin's Laugh-In on NBC, who otherwise only had Bonanza and Walt Disney's Wonderful World of Color among the top rating shows that year. Bonanza wasn't the only  high-flying Western, either, and CBS's Gunsmoke pushed Rowan and Martin all the way. The Tiffany Network dominated the ratings, enjoying another five places in the top ten, and seeing Hawaii Five-O sneak into the top twenty.
Marcus Welby, MD was the hit new show, joining The Brady Bunch on ABC's new Fall line-up, while NBC debuted Night Gallery and The Bill Cosby Show in prime-time. For genre fans, Land of the Giants was finishing its two-season run on ABC, who also offered spooky fun with Bewitched and The Ghost & Mrs Muir. Get Smart moved to CBS from NBC, who only had I Dream of Jeannie on offer in a very thin year for sci-fi and fantasy fans. That's all well and good for the adults in the room but what were their offspring watching beneath their attention? This is the story of 1969's new Saturday morning hits…
Hot Wheels (ABC): Elliott Handler, the co-founder of Mattel, found his son Kenneth playing with model cars manufactured by Matchbox, one of Mattel's rivals in the toy business. Rather than enjoy one of those fleeting moments when a parent can see true joy on their face of their children, Handler (whose wife Ruth had come up with the idea for the Barbie doll) instead decided that Mattel needed a cut of Matchbox's action and rush Hot Wheels into production in 1968, a colourful brand of model cars inspired by the craze for outlandish hot rods.
The Hot Wheels line was an instant success, becoming a playground sensation, but Mattel wanted to consolidate their position and commissioned Carson/Roberts Advertising to find a way of breaking through to more homes through TV. Rather than the usual method of buying commercials, Carson/Roberts fell back on a sponsorship deal model that was growing out of fashion. They didn't stop there, though, and enlisted Ken Snyder Productions, who'd created Roger Ramjet for NBC in 1965, to produce an animated show starring the Hot Wheels cars.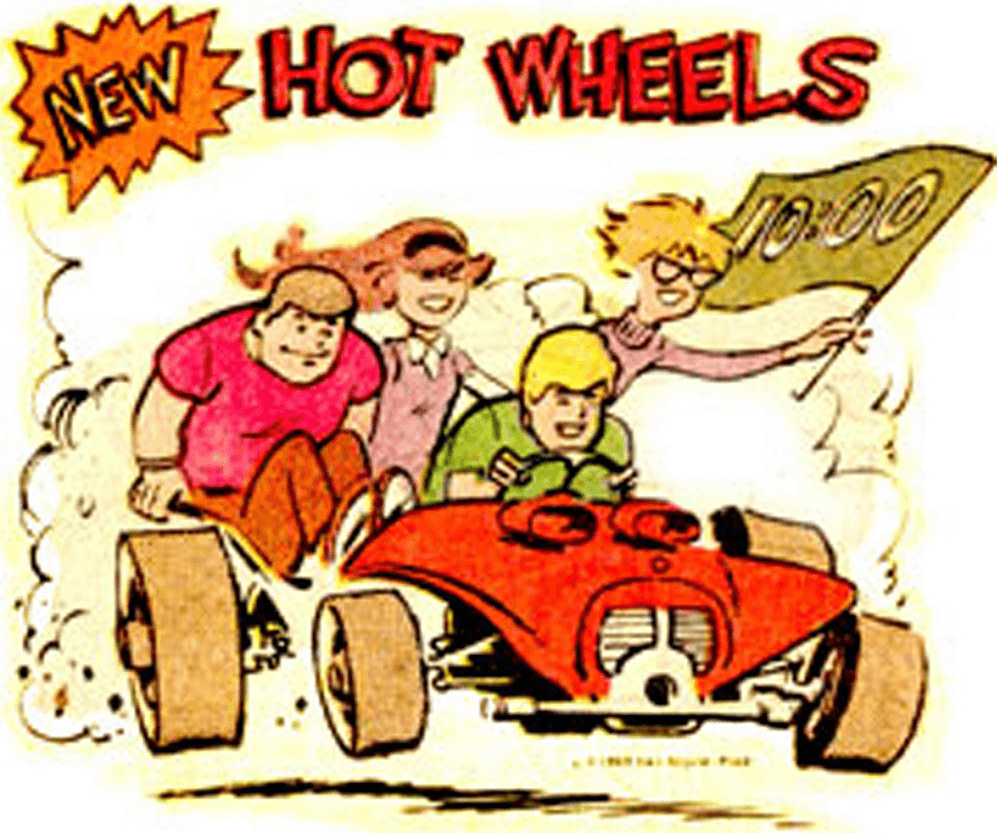 ABC bought the show to air on Saturday mornings in the Fall of 1969 but were immediately met with opposition from the Federal Communications Commission, who charged that the show was one big advertisement for Mattel's toys and so broke rules governing advertising time. Backed by the National Association of Broadcasters, ABC contested the charges, pointing out that there was no contractual commitment to advertise Mattel products during the show, and that Hot Wheels themselves had never been advertised.
The FCC found a middle ground of insisting that stations carrying the show counted part of it towards their advertising time and Hot Wheels ran for two seasons, during which time the adventures of Jack "Rabbit" Wheeler and his Hot Wheels Racing Club always found time to stress how important safety was, especially when compared to their racing rivals, Dexter's Demons. The show isn't currently available on home video, but you can find episodes on YouTube if you want to join the club.
Scooby Doo, Where Are You! (CBS): In 1968, a number of parent-run organisations (including Action for Children's Television) began to put pressure on the three TV networks over what they perceived to be too much violent content in Saturday morning cartoons. Particularly citing Hanna-Barbera's adventure shows such as Space Ghost, Birdman and the Galaxy Trio, and Herculoids, their efforts ensured that many of these shows were taken off the air.
With an obvious hole to fill, CBS executive Fred Silverman asked Filmation to come up with a family-friendly show, resulting in the tepid teen comedy of The Archie Show (and a subsequent number one pop hit, "Sugar Sugar"). Silverman asked Hanna-Barbera if they could repeat the trick, this time with a mystery angle, and Joseph Barbera (who was the ideas half of his team) came up with House of Mystery but couldn't quite nail the concept. Barbera handed the assignment off to H-B writers Joe Ruby and Ken Spears, who came up with Mysteries Five, the story of a five-piece pop band (and their dog, Too Much) who solved mysteries between gigs.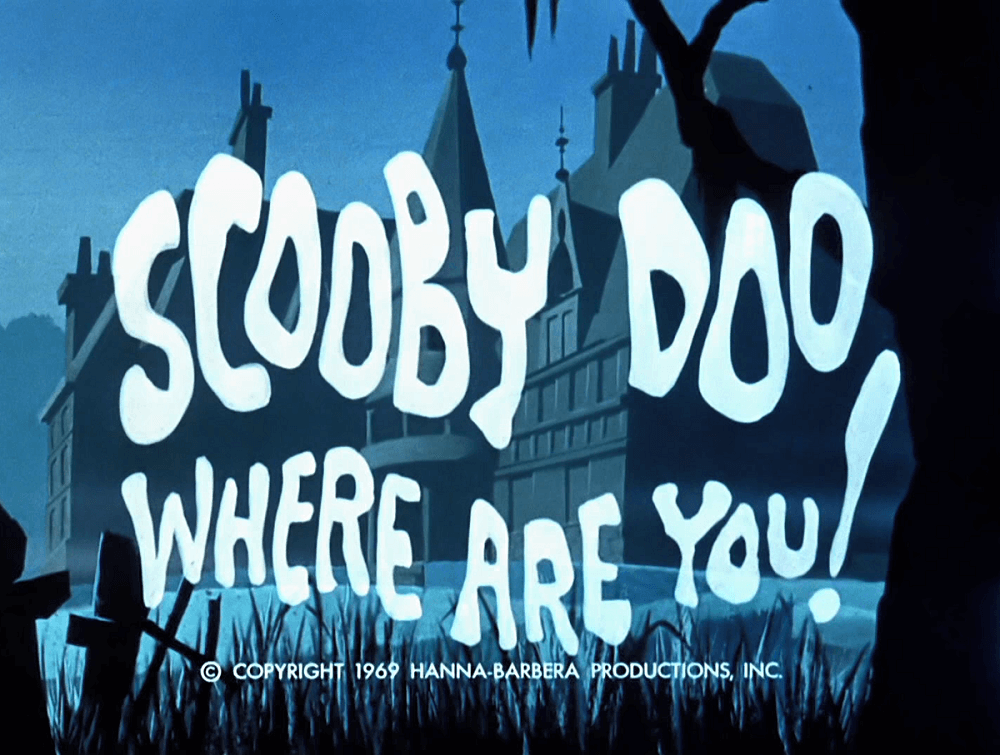 Silverman wasn't overly sold on the pitch and asked them to come back with another. This time, Ruby and Spears used the cast of the 1960s teen comedy The Many Lives of Dobie Gillis as inspiration rather than The Archies, though keeping the dog (which switched between Old English Sheepdog and Great Dane as the concept evolved) and a toned down musical element. Now Silverman was happy, but he didn't like the title, offering Who's S-S-Scared? instead, and presented the idea to his bosses for inclusion in the Fall 1969 season.
CBS President Frank Stanton thought Who's S-S-Scared? was too, well, scary, and passed on the show, but Silverman was sure they had something special, although he could give or take the teens being part of a band. He kept working the concept and, apocryphally, he heard the Frank Sinatra song "Strangers in the Night" on his way to a development meeting; liking Ol' Blue Eyes's trademark "doo-bee-doo-bee-doo," Silverman came up with Scooby Doo for the name of the dog and the name of the show. The rest, as they say, is mystery history!
The Smokey Bear Show (ABC): In need of a cute mascot to stop people setting fire to trees, either by accident or on purpose, the US Forest Service enlisted the aid of Disney's cute little orphan deer Bambi, running a series of poster campaigns in 1942 as forest fires became increasingly problematic during the US's participation in World War Two. The license to use Bambi expired after a year and a new character was sort as a replacement, one that would be owned by the USFS and be fully licensable.
Smokey Bear was the creation of artist Harry Rossell, who named him after a New York fireman who'd suffered horrific injuries in the course of saving lives. He made his debut on a 1944 poster, painted by Albert Staehle, which showed our ursine hero literally pouring cold water on a fire, tagged with the message, "Smokey says – Care will prevent 9 out of 10 forest fires!" Three years later, the message was tweaked to read, "Remember… only YOU can prevent forest fires!" and this remained the key takeaway from Smokey encounters for over fifty years.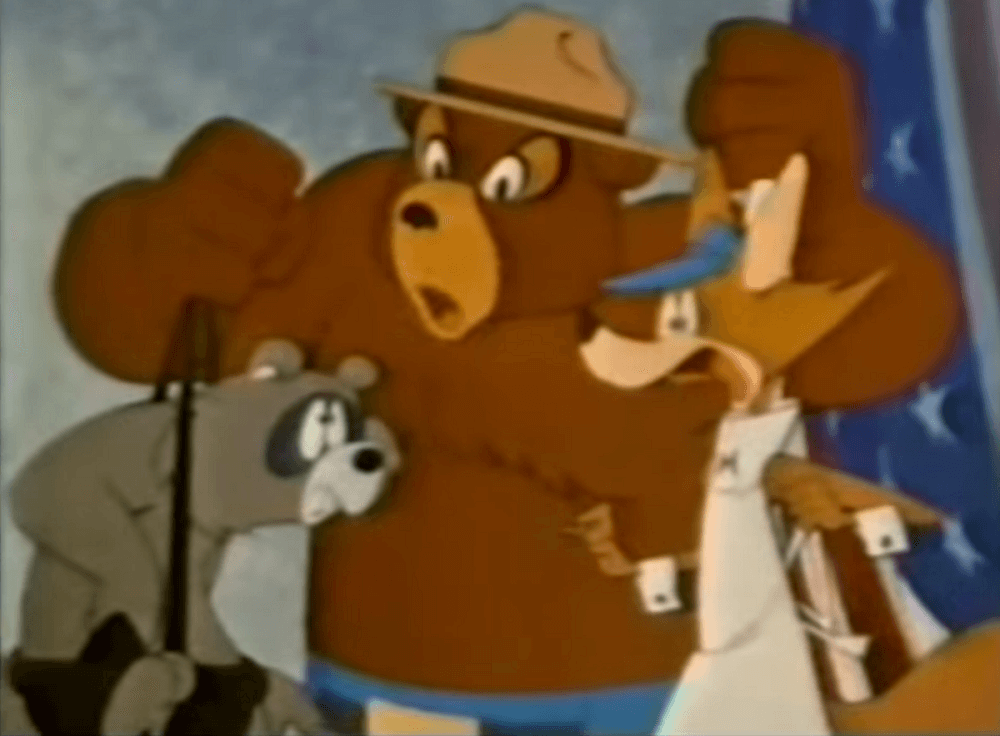 Smokey made the transition to comic books in 1955, appearing in issues of Dell Comics' Four-Color Comics series over the next six years. The comic book's stories often skewed wild, with Communist spies and even weasel paparazzi somehow coming under Smokey's purview. Smokey went one step further in 1969 when Rankin/Bass Productions – who'd enjoyed massive and perennial Christmas success since 1964 with their "animagic" Rudolph the Red-Nosed Reindeer special, and had produced an animagical Smokey special two years later – teamed with Japanese animation studio Toei to give the bruin his own animated show, adapting stories from the comic books (although eliminating some of the more extreme moments).
The Smokey Bear Show debuted on ABC on September 6th 1969 and ran for the customary seventeen episodes a season. Each episode was made up of three segments (the middle of which was a story of Smokey as a cub) and ended with a Public Service Announcement. Heavy on conservation themes, the show was arguably ahead of its time, which may explain why it wasn't renewed for a second season.
Here Comes the Grump (NBC): Unusually, the main character in this Saturday morning cartoon from DePatie-Freleng Enterprises is the villain of the piece, a cantankerous wizard who has placed a spell of gloom on the kingdom of Dawn. Opposing The Grump was the Princess of Dawn and her friend from "our" world, Terry Dexter; their search for a crystal key to lift to spell, and The Grump's efforts to stop them, formed the basis of this good versus evil tale.
Fritz Freleng based The Grump on Yosemite Sam, a character he had created for Warner Bros in 1945. Perfectly voiced by comedian Rip Taylor, The Grump was aided – but more often hindered – by a dragon called Bingo, who was prone to fits of sneezing at inopportune moments. Jay North (the former live-action Dennis the Menace) voiced Terry, with Stefanianna Christopherson as the Princess; Christopherson was also the original voice of Scooby Doo's Daphne. Needless to say, our heroes never succeeded in freeing the kingdom of Dawn from The Grump's control, but neither was he ever truly able to take advantage of his spell.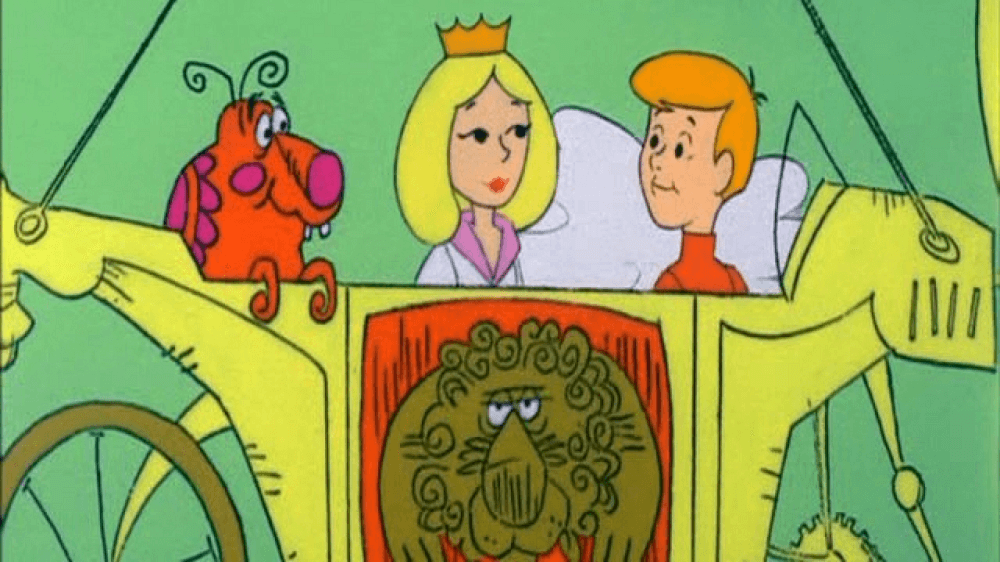 The team of Don R Christensen, Nick George, and Bill Lutz wrote every one of the show's thirty-four episodes. Christensen and George had worked at Disney during the studio's classic era and were recruited – along with newcomer Lutz – to the staff of DePatie-Freleng when the studio was created in 1963. It was the only show the trio collaborated on; George retired, Christensen soon left animation to write comic books for Western Publishing (who had all the major cartoon licenses), while Lutz jumped to Hanna-Barbera in 1970, sadly dying in 1973 aged just fifty-one.
The show debuted in NBC on September 6th 1969 and was given something of a push, with the Ben Cooper company even producing a Grump mask for Halloween 1969. Regardless, it was cancelled after just one season, although NBC continued to re-run old episodes in the Fall 1970 season. The complete series was released on DVD in 2006 but is long out of print. An animated movie, updated but not necessarily improved, was released in 2018, titled A Wizard's Tale and was very successful in Mexico.
Skyhawks (ABC): Hot Wheels wasn't the only show sponsored by Mattel in 1969; they also sponsored Skyhawks, another Ken Snyder show that featured the adventures of a daredevil team of transport and rescue pilots. Unlike Hot Wheels, there were no accompanying toys, although the show was driven by Mattel and presumably if it had been a success the toys would have followed.
Skyhawks Inc was a homespun operation headed by Mike "Cap" Wilson, a widower who enlisted his children – seventeen-year-old twins Steve and Carolyn – into the family business, along with two foster children nicknamed Red and Mugs. With a crew rounded out by Cap's girlfriend Maggie (seriously, this show's dynamic was nuts) and mechanic Joe, the team undertook rescue missions, carried freight into dangerous locations, and even worked for the government, all the while looking out for dirty tricks by Cap's rival, Buck Devlin.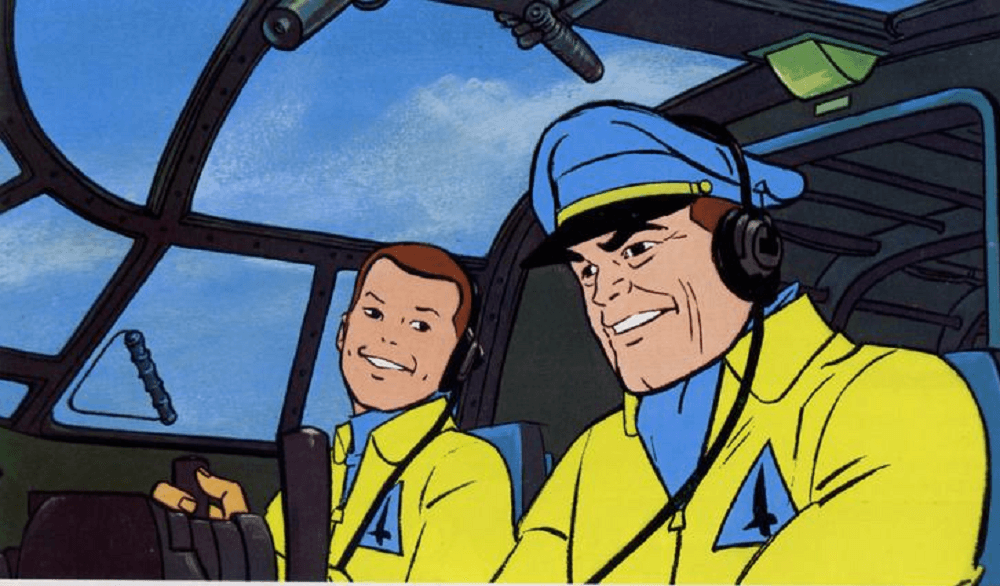 Whereas Hot Wheels preached a message of safety, Skyhawks was sure to drive home a different moral each week, from the problems of pollution to the mistreatment of animals, and is remembered fondly by those viewers old enough and lucky enough to have seen it during its single-season run. The show shared much of the same creative team and cast as Hot Wheels, with Michael Rye voicing both Cap and the Hot Wheels Racing Club's Jack Wheeler, and Bob Arbogast, Melinda Casey, and Casey Kasem also doing double-duty.
Like Hot Wheels, the show has never been released on home video, although there are rumours of a 2023 DVD release, and it doesn't appear to have made its way onto YouTube, bar a few clips and the opening sequence of small plane drama and Jack Fascinato's saccharine theme tune.
Next time on The Telephemera Years: It's back to the future for a trip to 1986!
Check out our other Telephemera articles:
Titans of Telephemera: Glen A Larson (part 1, 2, 3, 4)
Titans of Telephemera: Stephen J Cannell (part 1, 2, 3, 4)
The Telephemera years: 1966 (part 1, 2, 3, 4)
The Telephemera Years: 1990 (part 1, 2, 3, 4)
The Telephemera Years: 1975 (part 1, 2, 3, 4)
The Telephemera Years: 2003 (part 1, 2, 3, 4)
The Telephemera Years: 1982 (part 1, 2, 3, 4)
Titans of Telephemera: Kenneth Johnson
Titans of Telephemera: Quinn Martin (part 1, 2)
Titans of Telephemera: Irwin Allen
The Telephemera Years: 2008 (part 1, 2, 3, 4)
The Telephemera Years: 1987 (part 1, 2, 3, 4)
The Telephemera Years: 1971 (part 1, 2, 3, 4)
The Telephemera Years: 1995 (part 1, 2, 3, 4)
The Telephemera Years: 1980 (part 1, 2, 3, 4)
The Telephemera Years: 1992 (part 1, 2, 3, 4)
The Telephemera Years: 1977 (part 1, 2, 3, 4)
The Telephemera Years: 1968 (part 1, 2, 3, 4)
The Telephemera Years: 1984 (part 1, 2, 3, 4)
The Telephemera Years: 2005 (part 1, 2, 3, 4)
Titans of Telephemera: Hanna-Barbera (part 1, 2, 3, 4, 5)
The Telephemera Years: 1997 (part 1, 2, 3, 4)