Features | Written by Alan Boon 30/08/2022
THE TELEPHEMERA YEARS: 1969 – PART 1
Ah, telephemera… those shows whose stay with us was tantalisingly brief, snatched away before their time, and sometimes with good cause. They hit the schedules alongside established shows, hoping for a long run, but it's not always to be, and for every Street Hawk there's two Manimals. But here at STARBURST we celebrate their existence and mourn their departure, drilling down into the new season's entertainment with equal opportunities square eyes… these are The Telephemera Years!
1969-70
Although the Age of Aquarius had proved to be a false dawn, with Vietnam still raging and the Summer of Love a distant memory, America was still trying to laugh away its worries, with half the top ten shows aimed at tickling the viewers' funny bones. Top of the roost was Rowan & Martin's Laugh-In on NBC, who otherwise only had Bonanza and Walt Disney's Wonderful World of Color among the top rating shows that year. Bonanza wasn't the only high-flying Western, either, and CBS's Gunsmoke pushed Rowan and Martin all the way. The Tiffany Network dominated the ratings, enjoying another five places in the top ten, and seeing Hawaii Five-O sneak into the top twenty.
Marcus Welby, MD was the hit new show, joining The Brady Bunch on ABC's new Fall line-up, while NBC debuted Night Gallery and The Bill Cosby Show in prime-time. For genre fans, Land of the Giants was finishing its two-season run on ABC, who also offered spooky fun with Bewitched and The Ghost & Mrs Muir. Get Smart moved to CBS from NBC, who only had I Dream of Jeannie on offer in a very thin year for sci-fi and fantasy fans. But what of those shows that made their bow in 1969 and didn't hang around? This is the story of four short-lived TV ventures…
The New People (ABC): In 1969, American TV was still trying to come to terms with the youth explosion of the 1960s, walking a steady line between not wanting to alienate a whole generation of young idealists and keeping their usual audience – who just didn't get it – placated. The New People was an attempt to show that, while these kids weren't all bad, they still had a lot to learn about society.
Created by new kid on the block Larry Gordon, and with a pilot pseudonymously written by Rod Serling, The New People was one of Aaron Spelling's early projects for Thomas/Spelling Productions, the company he'd formed in 1966 with comedian Danny Thomas. Contracted by ABC, The New People was Thomas/Spelling's fourth attempt at network success, with only two-seasoner The Guns of Will Sonnett having had any kind of lasting impact, and this Lord of the Flies remix seemed to have all its pieces in the right place.
When an airplane carrying a class of college students, returning from a field trip in South Asia, crashes on a remote island, the surviving students – and one older (but still young) adult – must attempt to build their own community. Luckily, the island they crash on was set up for testing an atomic bomb but the test was abandoned, leaving a fully-functioning small town set up and ready to use. Confident of building a society without making the mistakes their parents made, the students soon find out that things are not as easy as they seem…
A cast of hot young things, and its allusions to the now commonly held opinion that things had gone badly wrong in Vietnam, was expected to bring in the youth audience but the show fell between two stools, neither edgy or hip enough to appeal to youngsters (who were no doubt too busy at love-ins) and too cynical for Mid-America. Seventeen episodes, half a dozen short of its initial order, were aired and ratings opposite Here's Lucy and Rowan and Martin's Laugh-In were never going to satisfy network bosses. The show was cancelled in January 1970 and has never been released on home video, although there was a tie-in novelisation of the pilot episode. Perhaps it needed more polar bears?
Then Came Bronson (NBC): Then Came Bronson is a story about changing for the better and made its bow as a TV movie in the Spring of 1969, later released theatrically in Europe. The pilot sees journalist Jim Bronson become disillusioned with the routine of his life after the suicide of his best friend, Nick. After an argument with his editor, Bronson quits his job and, fulfilling Nick's last wish, reclaims the motorcycle he'd sold to a wealthy widow and decides to ride across America on a voyage of self-discovery.
Like many other "walking the Earth" shows, each week sees Bronson arrive in a place where someone is in need of help, usually a change of direction in their lives, never better illustrated than in the episode where he encounters an Amish teen having doubts about the path laid out before him. Other stories find Bronson encountering cult members, Titanic survivors, autistic children, and conflicted campaigners; he helps set them all on the right path, of course, because Jim Bronson is cool and wise.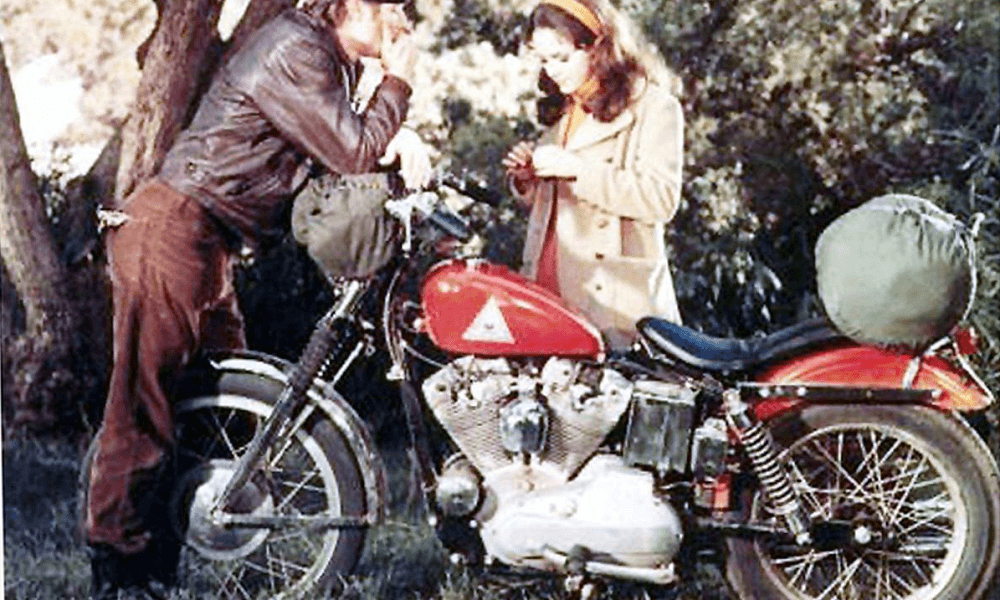 The title role went to Michael Parks, who himself had wandered the American landscape in his teens before washing up in Hollywood and becoming a jobbing actor. His big screen break came in 1965 with The Wild Seed, and he gained further notoriety with a stand-out performance as Adam in the Dino de Laurentis-produced The Bible: In the Beginning a year later. Charismatic, with something of a Newman or McQueen about him, Then Came Bronson was his show, and he even had a hit single with "Wayfarin' Stranger" on the back of the show's initial success.
Parks, though, was very much his own man and arguments with producers Robert H Justman and Robert Sabaroff led to him being informally blacklisted, absent from Hollywood for three years before a short-lived, low key return in the mid-1970s. After another seemingly self-inflicted debarring, Parks returned in the mid-1980s and enjoyed a good run on TV and in feature films through to his death in 2017. Kevin Smith was a big fan of Then Came Bronson and of Parks's work, writing parts in both Tusk and Red State for the actor, and the director is currently working on a documentary about his fascinating life.
The Governor and JJ (CBS): When William Drinkwater (musical veteran Dan Dailey) is elected as Governor of an unnamed Midwestern US state, he is in need of a first lady. In lieu of his late wife, he picks his daughter Jennifer Jo (or JJ, played by Julie Sommars in her first starring role). The two rarely agree on anything but they may just find some middle ground between his conservative views and her liberal outlook.
Created by veteran sitcom writers Leonard Stern and Arne Sultan, who had worked together on Get Smart, The Governor and JJ was produced for CBS by Talent Associates, the company formed by David Susskind which had also been responsible for Supermarket Sweep and would go on to create McMillan & Wife. Given a Tuesday night slot opposite movies on ABC and NBC, and with the high-rating The Red Skelton Hour as a lead-in, it was hoped that the show's mix of the old and new worlds would prove a hit with an America conflicted and confused by the end of the 1960s.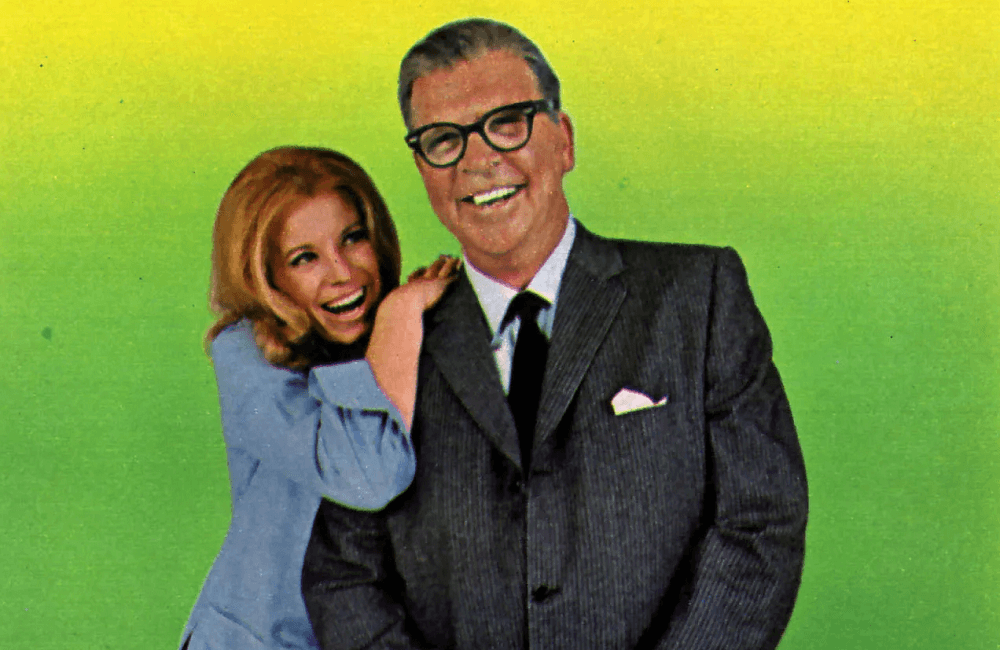 The first season sneaked into the top fifty shows, with a strong female demographic, and the show was renewed for a second season, although it was moved to Wednesdays, thought to be a night with weaker opposition. However, nothing seemed to do well on Wednesdays and The Governor and JJ got the axe on December 30th 1970, with just thirteen episodes of its second season having aired. Even The Men from Shiloh (a renamed The Virginian), the night's highest rating show, was cancelled at the end of the season.
It's a shame because there's some lovely, if warm and gentle, stuff on show, with Dailey and Sommars (who, ironically, is and was a supporter of and donor to the Republican Party) ably backed up by James T Callahan, Nora Marlowe, and Neva Patterson, and some funny scripts by Stern, Sultan, and future Cagney & Lacey creator Barbara Avedon. Never released on home video, you can see a smattering of the episodes on YouTube.
Room 222 (ABC): The shows featured in The Telephemera Years are usually short-lived affairs, gone before they've even had a chance to get their feet under the table. You can understand just why they've been forgotten, even if sometimes their quality demands more respect. Sometimes, however, you come across a show that has been all but erased from the collective memory despite enjoying a five-season run on ABC, when it broke new ground in its depiction of an inner-city education system riven with racism and other social issues.
That's the fate of Room 222, which ran for 112 episodes between September 1969 and January 1974, and which starred Lloyd Haynes as Pete Dixon, who teaches eleventh grade American History from Room 222 of Walt Whitman High School in Los Angeles. Dixon isn't shy to introduce contemporary interpretations into his classes, sometimes to the chagrin of Seymour Kaufman (Michael Constantine), the well-meaning but officious school principal.
The show touched on current affairs such a civil rights, Vietnam, Watergate, and more, and also led the way in dealing with some important issues surrounding discrimination and the struggles between generations. Not surprisingly, Room 222 did not perform well in the ratings in its first season (when it was programmed opposite The Beverly Hillbillies and The Virginian) but ABC decided to back it for a second year after the show won Best New Series, Best Supporting Actor, and Best Supporting Actress at the 1970 Emmy Awards.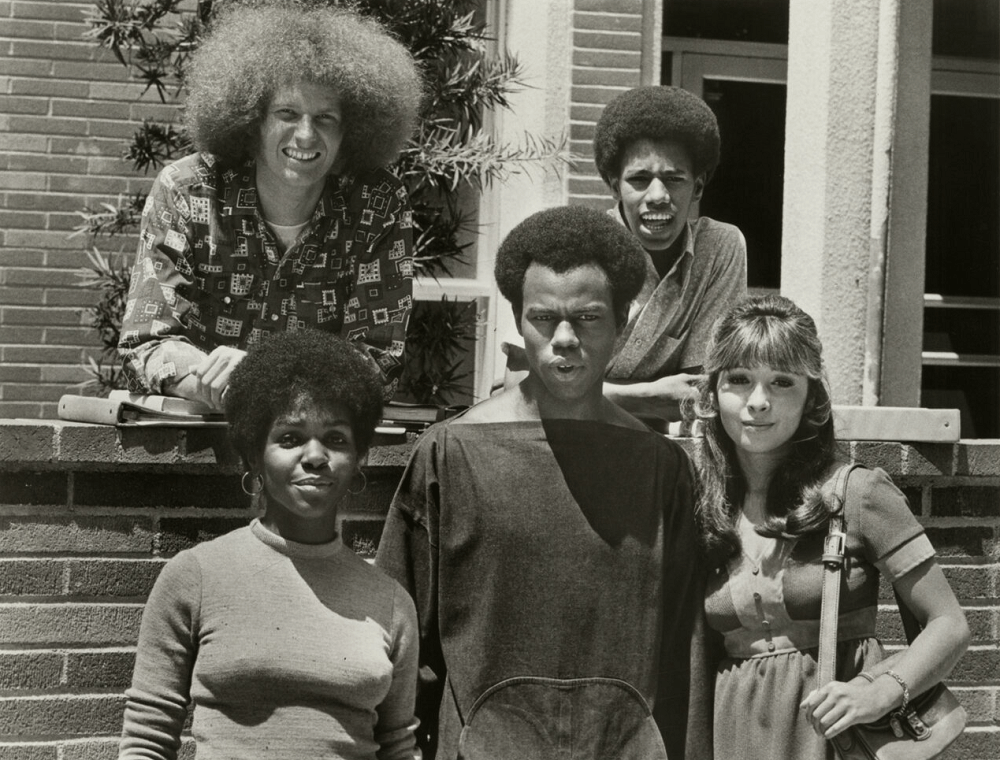 The second season, with less competition, did much better and by season three the show had moved into the top thirty in the Nielsen ratings. However, that was to be its high point and by late 1973 ratings had fallen to the point where ABC pulled the plug, the final episode airing on January 11th 1974 (with an unaired episode still in the can). Room 222 was a truly groundbreaking series, paving the way for America to confront its issues (although your mileage may vary as to how that's going), and creator James L Brooks would later be instrumental in the development of The Simpsons, still forcing the US to take a look at itself after thirty plus years on the air.
Next time on The Telephemera Years: More damp squibs, including class struggle love affairs!
Check out our other Telephemera articles:
Titans of Telephemera: Glen A Larson (part 1, 2, 3, 4)
Titans of Telephemera: Stephen J Cannell (part 1, 2, 3, 4)
The Telephemera years: 1966 (part 1, 2, 3, 4)
The Telephemera Years: 1990 (part 1, 2, 3, 4)
The Telephemera Years: 1975 (part 1, 2, 3, 4)
The Telephemera Years: 2003 (part 1, 2, 3, 4)
The Telephemera Years: 1982 (part 1, 2, 3, 4)
Titans of Telephemera: Kenneth Johnson
Titans of Telephemera: Quinn Martin (part 1, 2)
Titans of Telephemera: Irwin Allen
The Telephemera Years: 2008 (part 1, 2, 3, 4)
The Telephemera Years: 1987 (part 1, 2, 3, 4)
The Telephemera Years: 1971 (part 1, 2, 3, 4)
The Telephemera Years: 1995 (part 1, 2, 3, 4)
The Telephemera Years: 1980 (part 1, 2, 3, 4)
The Telephemera Years: 1992 (part 1, 2, 3, 4)
The Telephemera Years: 1977 (part 1, 2, 3, 4)
The Telephemera Years: 1968 (part 1, 2, 3, 4)
The Telephemera Years: 1984 (part 1, 2, 3, 4)
The Telephemera Years: 2005 (part 1, 2, 3, 4)
Titans of Telephemera: Hanna-Barbera (part 1, 2, 3, 4, 5)