Features | Written by Alan Boon 28/06/2022
TITANS OF TELEPHEMERA: HANNA-BARBERA, PART 1
Ah, telephemera… those shows whose stay with us was tantalisingly brief, snatched away before their time, and sometimes with good cause. Dedicated miners of this fecund seam begin to notice the same names cropping up, again and again, as if their whole career was based on a principle of throwing stuff at the wall and seeing what sticks. What's more, it isn't all one-season failures and unsold pilots, there's genuine gold to be found amongst their hoards; these men are surely the Titans of Telephemera!
HANNA-BARBERA
Founded in July 1957 by William Hanna and Joseph Barbera, two former animators for the MGM studio who had won Oscars for their work on Tom and Jerry, Hanna-Barbera (initially known as H-B Enterprises) quickly became the US's foremost television animation studio, cementing their place in history with the first prime-time animated sitcom, The Flintstones, in 1960. Hanna-Barbera soon became a household name, a byword for quality animation and genuinely funny scripts, with top voice actors like Daws Butler and Don Messick becoming stars due to their work on H-B shows.
The studio enjoyed further massive hits with The Jetsons, Wacky Races, and Scooby- Doo, Where Are You!, with Hanna and Barbera remaining at the head of the company until it was sold to Turner Broadcasting in 1991. The pair still continued to consult on new shows until their deaths in 2001 and 2006, respectively, their legacy ensured far before that in the annals of television history. In all, Hanna-Barbera produced over one-hundred and seventy-five shows, as well as numerous animated specials, and their big hits are ingrained in our collective memories. But what of those H-B productions that didn't make such an impact? Here are four shows from the 1960s you might never have heard of…
The Space Kidettes (NBC, 1966): Hanna-Barbera had made their first excursion into outer space in 1962 with The Jetsons, a futuristic transplant of the basic family sitcom trope used for The Flintstones. A prime-time sitcom aimed at family audiences, The Jetsons was followed in 1966 by two shows aimed at different sectors of the kids audience. Space Ghost, a superhero adventure show designed by Alex Toth with a realistic style to the human figures, appealed to the slightly older demographic amongst the Saturday morning crowd but The Space Kidettes was that classic cartoon action, all big heads and little bodies, with an emphasis on comedy rather than (light) peril.
The story revolved around four junior space rangers – Countdown, Jenny, Scooter, and Snoopy (and their dog, Pupstar) – tasked with patrolling the galaxy and protecting it from Captain Skyhook, one of TV's first space pirates, and his sidekick Static. Skyhook is searching for a treasure map, safeguarded by the Kidettes, and will stop at nothing to get his hands on it – well, almost nothing: a regular refrain when Static suggests doing something terrible to our heroes is, "they're just itty bitty kids!"
Sponsored by General Mills, the show premiered on September 10th 1966, running for twenty episodes of twenty-two minutes each. After its initial run, it was edited down to just ten minutes per episode and paired with other General Mills-sponsored shows, eventually ending up in syndication alongside Samson & Goliath, each forming half of the half-hour (with commercials) show.
With the voice talents of Don Messick and Janet Waldo, amongst others, and stylistic animation that was a joy to see in colour, The Space Kidettes' time was brief, earning just one issue of a spin-off comic book from Gold Key, but all twenty cut-down episodes have been released on DVD and it's a good, fun watch even half a century later. Captain Skyhook never did get his hands on that map and for that we have The Space Kidettes to thank.
Samson & Goliath (NBC, 1967): The other half of The Space Kidettes and Young Samson half-hour began life as Samson & Goliath, a new show for the 1967 Saturday morning line-up on NBC. The show was again sponsored by General Mills, who this time also controlled its distribution through their Dancer Fitzgerald Sample agency, the only Hanna-Barbera show to form part of that array.
Only vaguely biblical, Samson & Goliath featured a teenage motorcyclist and his dog, travelling the US and helping out towns in trouble. Whenever the situation called for it, Samson would smash his golden wristbands together and receive the size and strength of the legendary Samson, while Goliath would transform into an oversized lion. The two would then dispatch whatever threat – evil scientists, the Colossus of Rhodes, the sinister secret organisation PERIL – arose, returning to a happy-go-lucky life of the travelling bum.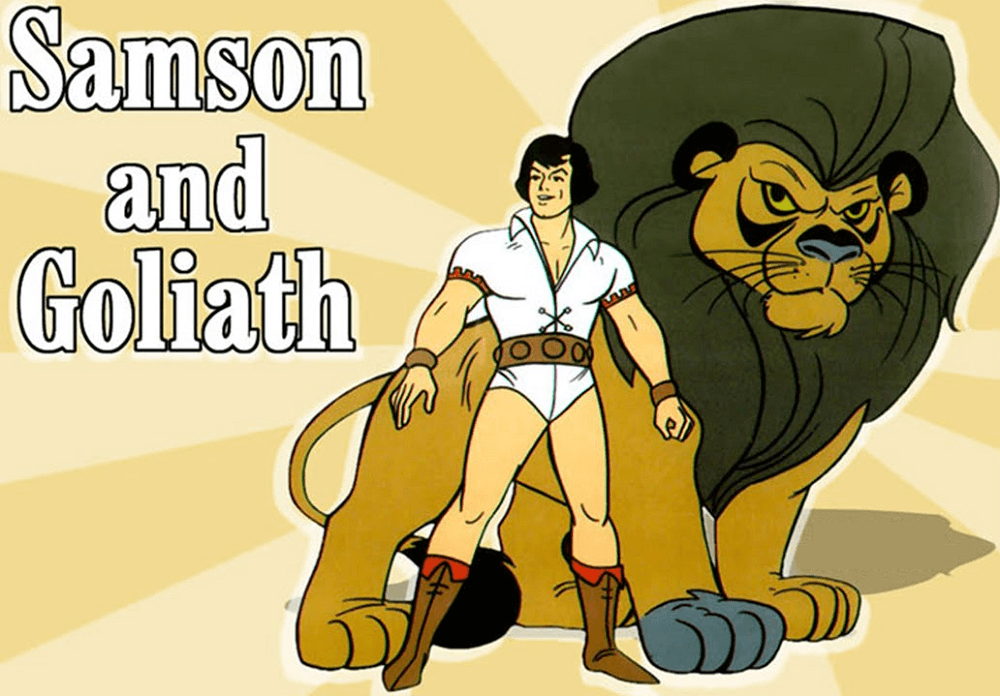 A young boy becoming a muscle-bound superhero is lifted directly from the original Captain Marvel, star of Fawcett Comics and rival to Superman in the 1940s before legal action by DC Comics brought him to his knees. Ironically, a new Captain Marvel – this time from Marvel Comics – would access his powers by striking together his golden "nega-bands". Although Mar-Vell debuted just weeks after Samson & Goliath first made air, the nega-bands arrived two years later, with plenty of time for writer Archie Goodwin to have seen the Hanna-Barbera version. Or not, as our lawyers would like us to state…
Twenty twenty-two-minute episodes were produced, airing as part of a block with Birdman & The Galaxy Trio, in direct competition to H-B's other superhero shows over on CBS, and when the original run had finished it was repackaged in syndication, cut down to fit a joint slot with The Space Kidettes. Those edited versions are available on DVD as part of a The Space Kidettes and Young Samson set, but you can also find plenty of them on video-sharing sites.
The Banana Splits Adventure Hour (NBC, 1968): Yes, yes, you know all about The Banana Splits, that psychedelic trip of a show that featured the slapstick adventures of a pop band made up of oversized, freakish animals, but how much do you know about the other shows that filled the band's adventure hour? The exploits of Bingo, Drooper, Fleegle, and Snorky were plenty fun, but they couldn't have possibly stretched to fill the sixty minutes allotted to them on Saturday mornings in 1968 and so they were accompanied in their endeavours by a quartet of shows that spanned the wide world of adventure.
First up was The Arabian Knights, probably the best remembered of the segments if only for the "size of a cow!" catchphrase of Bez (nb: not from The Happy Mondays). The Arabian Knights told the story of Prince Turhan and Princess Nida, and their quest to free Persia from the evil Bakaar the Black Sultan, aided by shapeshifter Bez, Farik the magician, and Raseem the Strong, a trio of superpowered adventurers loyal to the cause.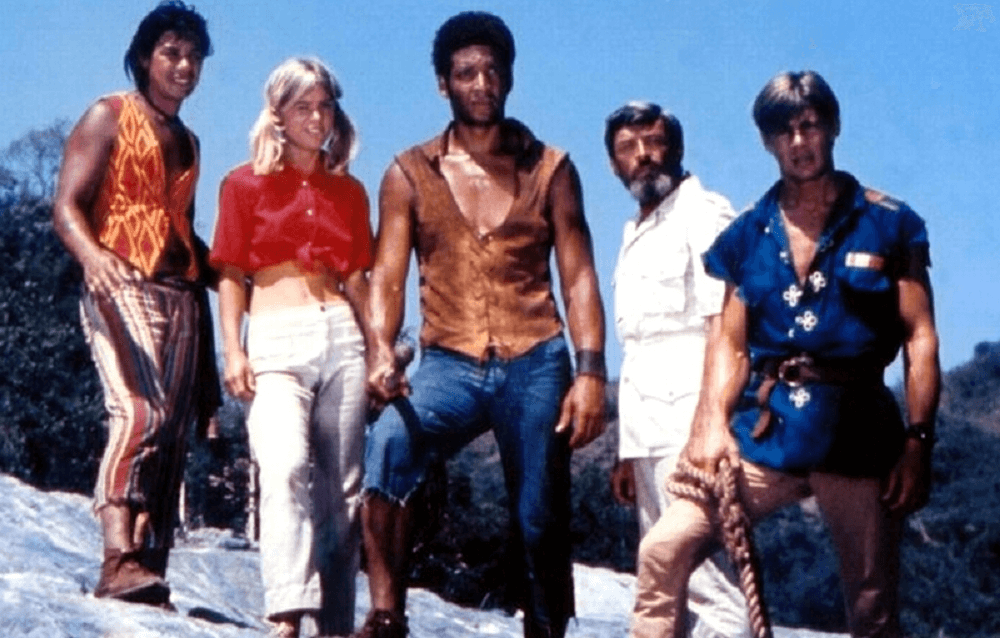 More historical action came in the form of The Three Musketeers, a mostly traditional retelling of the Alexandre Dumas novel, but with added young people appeal in the form of Tooly, nephew to a handmaid to the Queen and all-around annoyance. Micro Ventures also joined the line-up, admittedly only for four episodes, with its story of a wacky professor who shrinks himself and his two children (and their dune buggy) down to the size of insects to explore the world from that vantage, and the three animated slices were accompanied by Danger Island, a live-action tale of an archaeologist and his family who explore a strange island and try to escape the attentions of a bungling band of pirates (featuring a young Jan Michael Vincent).
Eighteen episodes of The Banana Splits Adventure Hour were produced for the first season, quickly followed by another thirteen for a second outing, this time replacing The Three Musketeers with re-runs of The Hillbilly Bears, a short which had aired as part of The Atom Ant Show. The Arabian Knights and Danger Island were repeats of their earlier episodes, and this – coupled with a lackadaisical approach to the Banana Splits' portions of the show – led to a ratings decline that saw the show cancelled in November 1969. Little of the non-Banana Splits material was released on home video but they are available to watch on YouTube if you're in need of a man who can turn himself into a bucket of water…
Cattanooga Cats (ABC, 1969): With The Banana Splits Adventure Hour becoming a massive hit in its first season, plans were advanced to strike while the iron was hot, bringing another fictional rock band to the air with Cattanooga Cats, debuting on September 6th 1969. The titular rock band were, naturally, cats; more specifically they were hillbilly hippy cats who played that weird mix of country and rock music that was weirdly popular in the late 1960s.
The Cats appeared in their own story segments, as well as musical performances (with songs written by Mike Curb, a young composer already becoming notable for his youthsploitation scores) and to introduce the other segments on the show, repeating The Banana Splits' successful formula. The Cats were joined by three other features, the first being a loose adaptation of Jules Verne's Around the World in 80 Days, lopping a day off the schedule and starring Finny Fogg Jr, the grandson of the famous explorer.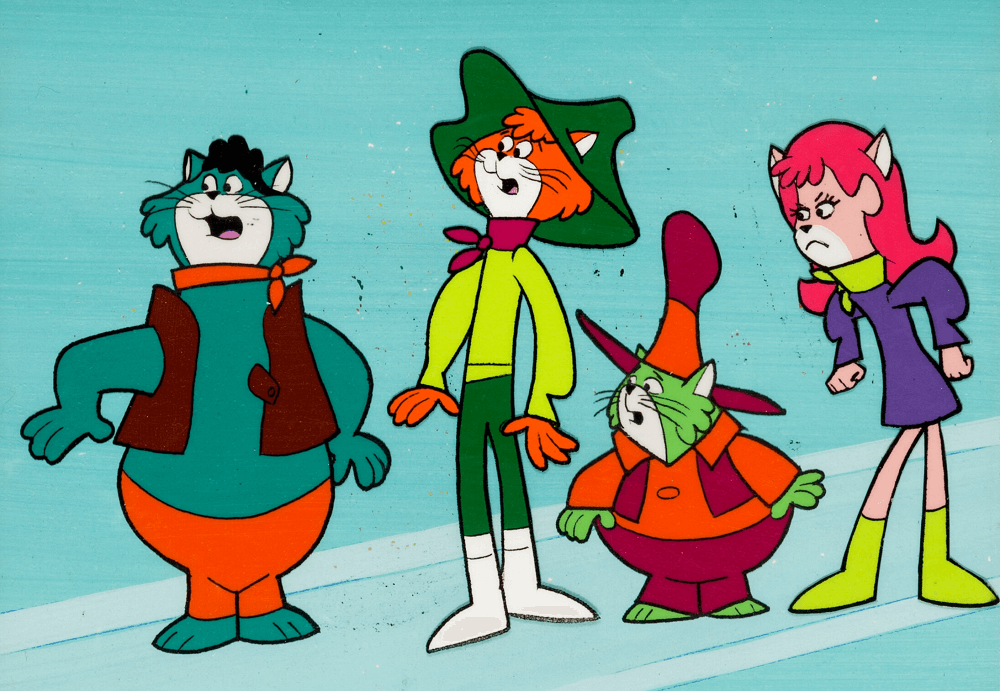 The other additions to the line-up were Motormouse and Autocat, essentially a riff on Tom and Jerry but with racing cars (and bizarre, Heath-Robinson-style contraptions devised by Autocat to stop his rodent rival), and It's the Wolf! It's the Wolf! had the Paul Lynde-voiced titular lupine loser try to catch (and presumably eat) the innocent Lambsy, only to be thwarted time and time again by musclebound sheepdog Bristlehound.
The most traditional of the segments, It's the Wolf! was spun off with Motormouse and Autocat into a show of their own, leaving Cattanooga Cats to enter a second season cut down to half-hour episodes with only Finny Fogg for company, but there were no new episodes produced and the all re-run show didn't survive for a third season. None of the shows featured as part of Cattanooga Cats have ever been released on home media, but – as always – YouTube is your pal.
Next on Titans of Telephemera: Into the disco days of the 1970s, where CB radio, roller skates, and Scooby-Doo clones have their time in the sun!
Check out our other Telephemera articles:
Titans of Telephemera: Glen A Larson (part 1, 2, 3, 4)
Titans of Telephemera: Stephen J Cannell (part 1, 2, 3, 4)
The Telephemera years: 1966 (part 1, 2, 3, 4)
The Telephemera Years: 1990 (part 1, 2, 3, 4)
The Telephemera Years: 1975 (part 1, 2, 3, 4)
The Telephemera Years: 2003 (part 1, 2, 3, 4)
The Telephemera Years: 1982 (part 1, 2, 3, 4)
Titans of Telephemera: Kenneth Johnson
Titans of Telephemera: Quinn Martin (part 1, 2)
Titans of Telephemera: Irwin Allen
The Telephemera Years: 2008 (part 1, 2, 3, 4)
The Telephemera Years: 1987 (part 1, 2, 3, 4)
The Telephemera Years: 1971 (part 1, 2, 3, 4)
The Telephemera Years: 1995 (part 1, 2, 3, 4)
The Telephemera Years: 1980 (part 1, 2, 3, 4)
The Telephemera Years: 1992 (part 1, 2, 3, 4)
The Telephemera Years: 1977 (part 1, 2, 3, 4)
The Telephemera Years: 1968 (part 1, 2, 3, 4)
The Telephemera Years: 1984 (part 1, 2, 3, 4)