Features | Written by Alan Boon 22/11/2022
THE TELEPHEMERA YEARS: 2000 – PART 1
Ah, telephemera… those shows whose stay with us was tantalisingly brief, snatched away before their time, and sometimes with good cause. They hit the schedules alongside established shows, hoping for a long run, but it's not always to be, and for every Street Hawk there's two Manimals. But here at STARBURST we celebrate their existence and mourn their departure, drilling down into the new season's entertainment with equal opportunities square eyes… these are The Telephemera Years!
2000-01
Although it had failed to find an adequate replacement for Seinfeld since that show was laid to rest in 1998, NBC's Must-See Thursdays still dominated the non-factual portion of US TV audiences in the 2000-01 season, as both ER and Friends entered their seventh seasons with nice Dr Greene being diagnosed with terminal cancer, and Monica and Chandler getting married. Everybody still loved Raymond over on CBS, which otherwise had to rely on the power of Survivor to gain a decent ratings share.
The world prepared to say goodbye to Walker, Texas Ranger, Diagnosis: Murder, Xena: Warrior Princess, and Star Trek: Voyager, but genre fans could still comfort themselves with weekly doses of Buffy, Angel, Touched by an Angel, Futurama, The X-Files, and Roswell, and there was the promise of Dark Angel, Sabrina the Teenage Witch, Andromeda, and Sheena all making their debuts. Now those shows made an impact but what about those that didn't? This is the story of 2000's less-remembered new shows...
The Lone Gunmen (Fox): On paper, The Lone Gunmen couldn't fail. The show was a spin-off from the still-popular The X-Files, featuring a trio of beloved characters whose guest appearances on that show were eagerly anticipated, and with several scripts written by Mulder and Scully's creator, Chris Carter. Somehow, though, it failed to gel, and the plug was pulled after just thirteen episodes.
Bruce Harwood, Tom Braidwood, and Dean Haglund were back as Byers, Frohicke, and Langly, the conspiracy nut pals of Fox Mulder first introduced in The X-Files season one episode "EBE." Their first three appearances were written by Glen Morgan and James Wong, responsible for some of the funniest and most heartfelt episodes in the main show's run, but Morgan and Wong were not involved in The Lone Gunmen, with showrunner duties handed off to Vince Gilligan and Frank Spotnitz.
Things started promisingly enough, with a pilot episode that featured a hijacking that was eerily similar to the 9/11 attacks that happened six months later, but ratings quickly fell away from the thirteen million that watched the first episode to a low of under four million. Although the show rallied to just over five million by its finale, the decision had already been made to cancel the spin-off and the characters returned to their guest star role on the main show, appearing in six episodes of the original run's final season, including "Jump the Shark" (which resolved the cliffhanger at the end of their own series – spoiler, they died).
The X-Files itself finished up in 2002 but made a return in 2016. The Lone Gunmen appeared in several episodes of the revived show as spirits but there was little clamour for a new season for Byers, Frohicke, and Langly in their own show, despite their position as cult favourites (and them being dead). Harwood occasionally appears in guest roles on TV shows filmed in his native Vancouver, but Braidwood retired from the business in 2010, his return as Frohicke in the 2016 return a special favour to Carter. Haglund relocated to Australia in 2015, almost missing out on the return, and currently hosts the Chillpak Hollywood Hour podcast, where he talks about TV and movies with independent filmmaker Phil Leirness.
The Trouble with Normal (ABC): When The Lone Gunmen arrived in April 2001, another show about a bunch of conspiracy theorists had already been and gone over on ABC, where The Trouble with Normal lasted just six episodes from its October 6th debut. Created by Victor Fresco, who had been Emmy-nominated for his work on Mad About You, the show featured four young men whose fear of conspiracy led them to join a support group, overseen by an actual functioning human being.
Still looking for a breakthrough role after earning rave notices for her role as Kathy on Friends, Paget Brewster starred as Claire Garletti, the facilitator of the group therapy undertaken by two pairs of paranoid roommates who try to outdo each other with their paranoia over shadowy forces. Fresco cast relative newcomers David Krumholtz, Larry Joe Campbell, and Brad Raider alongside Jon Cryer, still three years away from his career renaissance with Two and a Half Men, and all four give good value with some decent scripts from Fresco, former Home Improvement writer Jennifer Celotta, and Michael A Ross.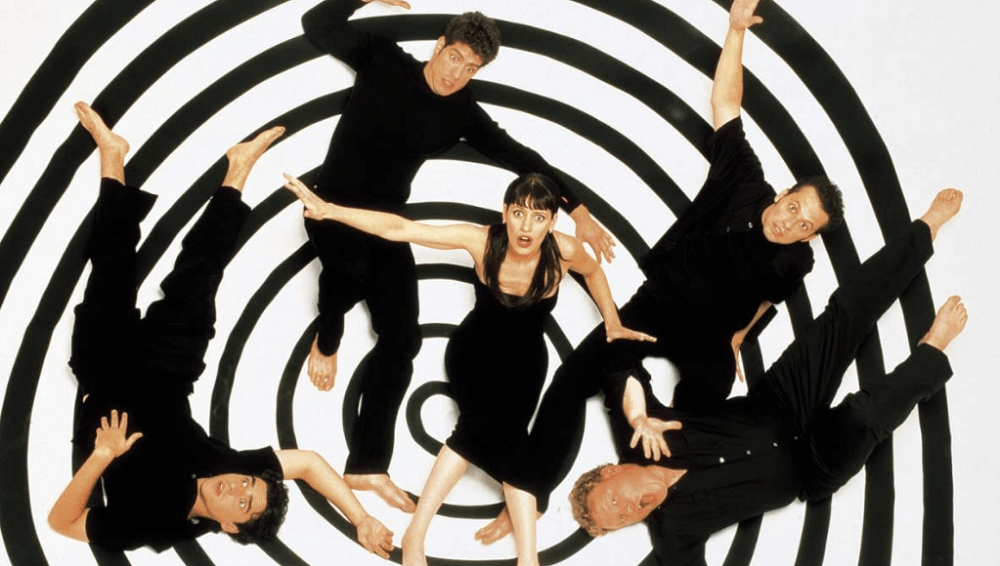 The show was introduced as part of a revamped Friday night line-up on ABC, grouped with Two Guys and a Girl, Norm, and fellow newcomer Madigan Men, but the pre-launch publicity failed to capture the charm of the show and it lost over a million viewers from its lead-in (which itself was in its final season and haemorrhaging viewers). By week three it had lost another million viewers and its fate looked final, despite thirteen episodes having already been filmed, and "Clairanoia" – where the group digs into Claire's private life – was the last we saw of them.
In the US, at least. Australia got the full run, which is presumably how they're available to watch on YouTube if you fancy a look at this unusual show that didn't get a fair hearing before the plug was pulled. Fresco went on to earn another Emmy nomination for Andy Richter Controls the Universe (which also featured Brewster as a co-star, a guest appearance from Cryer, and direction from Normal helmer Andy Ackerman) and would later create Santa Clarita Diet for Netflix.
FreakyLinks (Fox): If FreakyLinks had existed in the same world as The Lone Gunmen and The Trouble with Normal, it's quite likely that the eponymous website would have been a popular destination for the protagonists of those shows. Created by The Blair Witch Project's Gregg Hale and David S Goyer, a DC Comics writer who also wrote the Blade trilogy, the show centred on the work done by a trio of young researchers seeking to shed some light on paranormal phenomena.
Heading up the team was Derek Barnes, played by Empire Records's Ethan Embry, who is helped in his investigations by his friends Chloe and Jason (Lisa "Legacy" Sheridan and former Power Ranger Karim Prince, respectively). Derek had taken over the website after the mysterious death of his twin brother Adam (also Embry) and producers Haxan created something of a buzz prior to the show's debut with an actual freakylinks.com site, made to look like an amateur, home-made affair.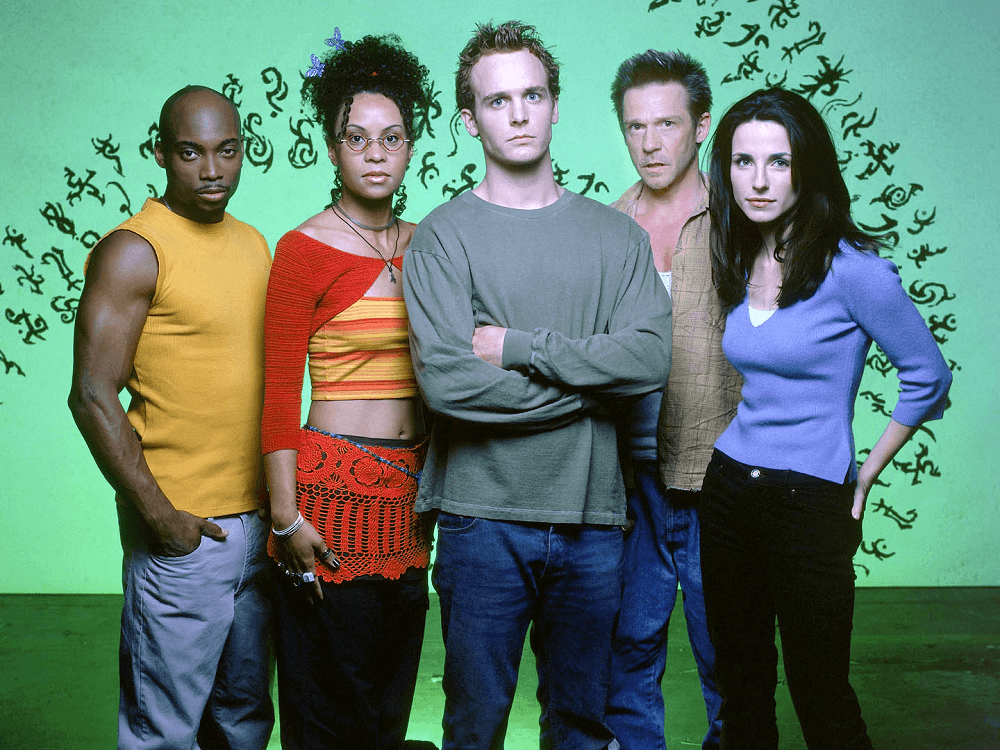 FreakyLinks debuted on October 6th 2000 on Friday nights, with World's Wildest Police Videos as its lead-in, the same night that CSI: Crime Scene Investigation launched on CBS. Almost seven million viewers watched the first episode, two million less than had tuned in for police chases but still a respectable amount for a Fox show at the time. By episode five that was down to just over four and a half million, and the decision was made to put it on hiatus until January, when it returned with roughly the same amount of viewers. After another four-week run, during which time it actually increased its viewership, the show was again put on hiatus and didn't return until June, when the final four episodes averaged three million viewers apiece.
Fox decided to cancel the show and what may have been the first internet campaign of its kind was started in an attempt to get them to change their minds, but to no avail. A shame because FreakyLinks was an interesting, homely show reflecting a sub-culture rarely taken seriously, and Embry is a strong lead, most recently seen as Lily Tomlin's son in Grace and Frankie. There was no home video release, despite a sizeable hardcore fanbase, but some kind soul has archived the shows on YouTube if you want to watch them. And you should.
Level 9 (UPN): Although the potential catastrophe presented by the Y2K bug had been averted by the work of many qualified hands, cyber security was still a buzz topic as we moved into the twenty-first century, with more households than ever connected to the internet through dial-up modems. Level 9 was therefore very much of its time, a show about a special unit formed to investigate cyber-crime.
Leading the Level 9 team was Annie Price, a former FBI agent played by Kate Hodge, and she recruited a number of prodigies and former criminals to assist her in her mission, including a hacker offered a choice between prison and the team, a former internet model, an expert on internet privacy, and more. One of the team was played by Romany Malco, who wrote the rap for Paula Abdul's "Opposites Attract" and had minor chart success with his group College Boyz.
UPN scheduled Level 9 on Friday nights at 9pm, the same slot occupied by FreakyLinks, and early crimes investigated or prevented by the team included the hijacking of a military satellite, a murderous hacker targeting Annie, and a high school computer club who become the quarry of a shadowy hitman after breaking into a government database. Co-creator Michael Connelly was becoming very popular for his series of Harry Bosche novels and teamed up with China Beach co-creator John Sacret Young to bring Level 9 to air, but the week-to-week scripting was often poor, with weak characterisation and mundane direction fatally holing the show nine episodes into its run.
Four further episodes were finished but never aired on UPN. They were added when The Sci-Fi Channel added it to their schedules in 2007 and included on the DVD release of the full series in 2018. Despite its shortcomings, the show does retain a strong fanbase who are passionate but lack the skills to hack into a TV network and get a revival off the ground. Something which would, of course, earn them the attentions of the Level 9 team.
Next time on The Telephemera Years: More of 2000's forgotten "classics" with George Bush, Fox's version of The Twilight Zone, and a sexy female Zorro…
Check out our other Telephemera articles:
Titans of Telephemera: Glen A Larson (part 1, 2, 3, 4)
Titans of Telephemera: Stephen J Cannell (part 1, 2, 3, 4)
The Telephemera years: 1966 (part 1, 2, 3, 4)
The Telephemera Years: 1990 (part 1, 2, 3, 4)
The Telephemera Years: 1975 (part 1, 2, 3, 4)
The Telephemera Years: 2003 (part 1, 2, 3, 4)
The Telephemera Years: 1982 (part 1, 2, 3, 4)
Titans of Telephemera: Kenneth Johnson
Titans of Telephemera: Quinn Martin (part 1, 2)
Titans of Telephemera: Irwin Allen
The Telephemera Years: 2008 (part 1, 2, 3, 4)
The Telephemera Years: 1987 (part 1, 2, 3, 4)
The Telephemera Years: 1971 (part 1, 2, 3, 4)
The Telephemera Years: 1995 (part 1, 2, 3, 4)
The Telephemera Years: 1980 (part 1, 2, 3, 4)
The Telephemera Years: 1992 (part 1, 2, 3, 4)
The Telephemera Years: 1977 (part 1, 2, 3, 4)
The Telephemera Years: 1968 (part 1, 2, 3, 4)
The Telephemera Years: 1984 (part 1, 2, 3, 4)
The Telephemera Years: 2005 (part 1, 2, 3, 4)
Titans of Telephemera: Hanna-Barbera (part 1, 2, 3, 4, 5)
The Telephemera Years: 1997 (part 1, 2, 3, 4)
The Telephemera Years: 1969 (part 1, 2, 3, 4)
The Telephemera Years: 1986 (part 1, 2, 3, 4)