Features | Written by Alan Boon 25/05/2021
THE TELEPHEMERA YEARS: 1990 – PART 4
Ah, telephemera… those shows whose stay with us was tantalisingly brief, snatched away before their time, and sometimes with good cause. They hit the schedules alongside established shows, hoping for a long run, but it's not always to be, and for every Knight Rider there's two Street Hawks. But here at STARBURST we celebrate their existence and mourn their departure, drilling down into the new season's entertainment with equal opportunities square eyes… these are The Telephemera Years!
1990-91
The turn of a decade is never a neat, arbitrary thing, and the flavour of the previous decade can bleed into the new one for quite some time. So when we're looking at the TV of the 1990-91 US TV season, we're really experiencing the bottom of the 1980s barrel, and in some cases it shows! Still, the 1990 schedules were full of clever, engaging shows like Twin Peaks, Northern Exposure, Quantum Leap, and The Simpsons, alongside more traditional fare such as MacGyver, Jake & The Fatman, Hunter, and Midnight Caller.
New shows hitting the schedules that stayed around awhile included Dinosaurs, Beverly Hills 90210, The Fresh Prince of Bel-Air, and Law and Order, while comic books came to the small screen with The Flash and the Teenage Mutant Ninja Turtles cartoon that made Eastman and Laird millionaires. Alongside TMNT were a handful of new shows hitting Saturday morning screens…
Attack of the Killer Tomatoes (Fox): The 1978 film Attack of the Killer Tomatoes was a genuinely funny parody of Hitchcock's The Birds, and became a staple of the early VHS era, earning enough of a cult following to result in a sequel, Return of the Killer Tomatoes, in 1988. When that film grossed $5million in the USA, the mainstream took notice, and not only was a third film put into production, but Fox ordered an animated series, produced by Marvel Animation, which debuted in September 1990.
Based more on the second film in the series, Attack of the Killer Tomatoes saw young John Finletter and human-tomato hybrid Tara Boumdeay doing battle with the forces of the mad scientist Dr Putrid T Gangreen (voiced by The Addams Family's John Astin) as he attempts to turn all the tomatoes in San Zucchini into monsters.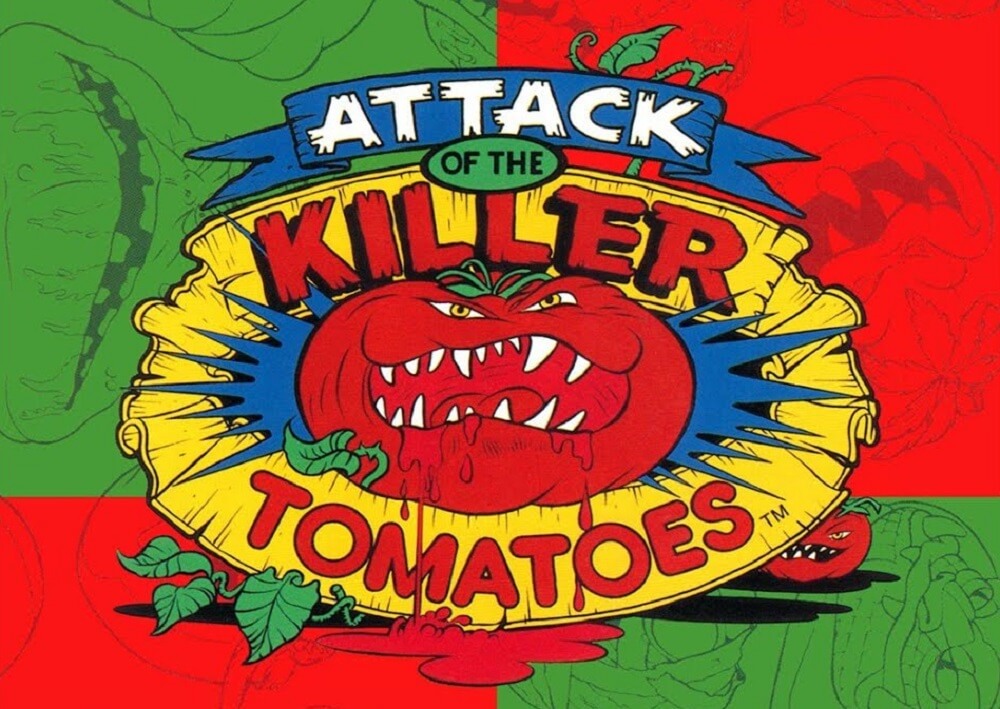 The cartoon held no reverence for its source material, or for itself, and self-deprecating inside jokes were often the order of the day, with the bulk of the episodes written by animation veterans Richard Mueller and Ted Pedersen. A thirteen-episode first season was well-received, but the show was retooled for its sophomore outing, with Gangreen being overthrown by one of his creations and forced to join with the good guys and a new style of animation, one of the first shows to use full computer animation. After just eight episodes of season two, the show was cancelled.
Gravedale High (NBC): Also known as Rick Moranis in Gravedale High, it's clear to see where the star power lay with this Hanna-Barbera production. Moranis was big business, off the back of Ghostbusters (and its sequel), Little Shop of Horrors, and Honey, I Shrunk the Kids!, Gravedale High had him as human teacher Max Schneider, who unwittingly takes a job at a school for monsters.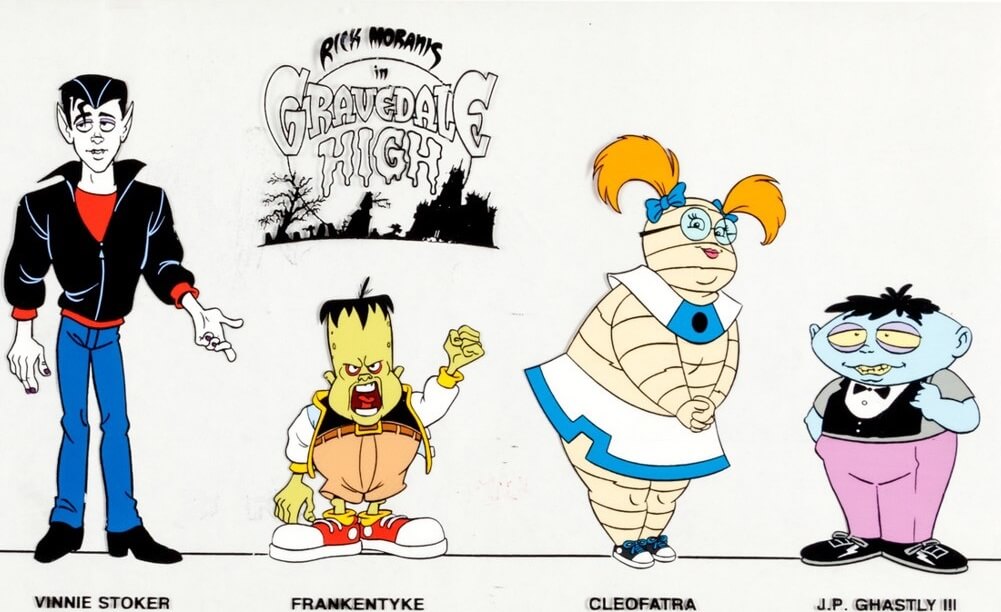 The students are versions of the classic Universal monsters, updated for the 1990s, led by the cool Vinnie Stoker (vampire), who is joined by Frankentyke, werewolf Reggie Moonshroud, lagoon surfer Gill Waterman, overweight mummy Cleofatra, invisible Sid, and southern belle zombie, Blanche, and it's implied that they were so unruly that no monster teacher would take the job, hence Moranis's Maxwell Schneider being tricked into the appointment.
The show debuted on NBC on September 8th 1990, with Max already in post, and past the title sequence we never see any kind of origin story, which allowed the show to be run in any order. The stories ranged from the usual class elections and school talent shows, but all given a macabre twist, and the voice cast is full of industry regulars, including Frank Welker, who voiced six characters.
Despite being well-received, there was no second season, and Moranis moved on to Honey, I Blew Up the Kid. The show has never been released on DVD, although you can find unofficial releases if you search hard enough, but episodes can be watched on YouTube, where you can groove along to the awesome theme tune.
Bill & Ted's Excellent Adventures (CBS): The simple premise of the 1989 movie – two simple-minded rock dudes have time-travelling adventures – was ripe for the animated TV treatment, and Hanna-Barbera managed to secure the core cast of the film to voice their extended adventures.
Along with George Carlin and Bernie Casey, Alex Winter and Keanu Reeves returned to the roles that made them (semi-)famous for a thirteen-episode first season which saw them cross paths with such historical figures as William Shakespeare, Marco Polo, and Julius Caesar, in a curious mix of comedic entertainment and educational material.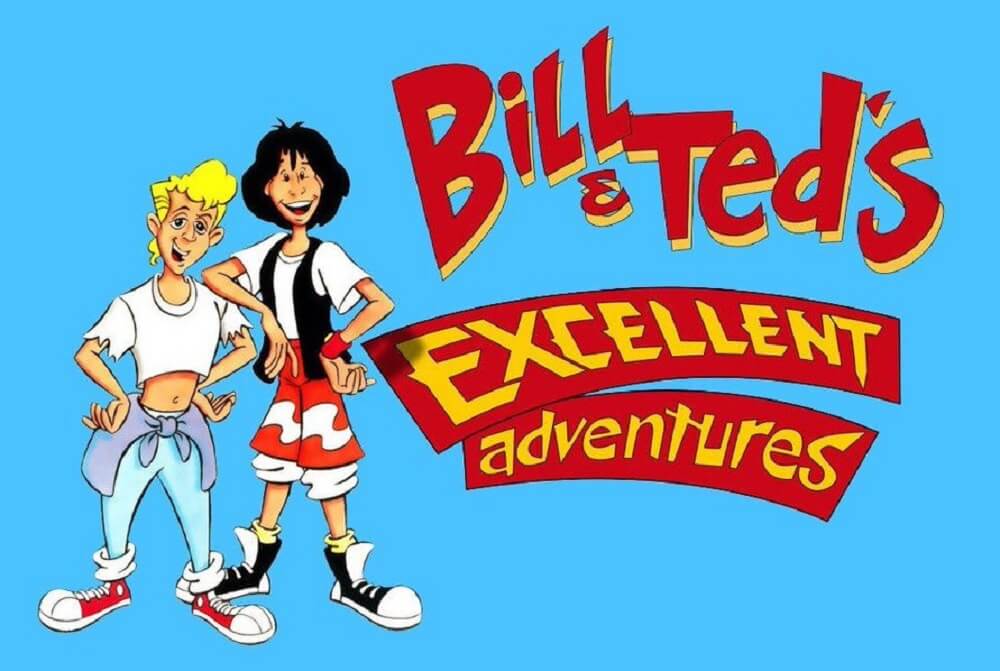 For its second season, which did not feature the movie stars voicing the characters, Bill & Ted was produced by French-American studio DIC Entertainment, and the show was poached by Fox, who aired the first episode on September 14th 1991. The tone of the series changed, with the time travel used less to meet historical figures and more to drop in on their families and younger selves.
Just eight episodes were produced in season two, before focus was switched to a live-action series which also aired on Fox, but lasted just seven episodes before quietly falling into the timestream in the Summer of 1992. A DVD of the animated series was released in 2013, but only featured eight episodes from season one, as well as the complete season two, but the episodes – as usual – can be found on YouTube if you're curious.
Swamp Thing (Fox): With a theme tune that badly-adapted The Troggs' "Wild Thing" – "Swamp Thing, you are amazing!" – and animation from DIC Entertainment, Swamp Thing burst onto Saturday morning TV screens with a 30-minute pilot episode in October 1990. In fact, the pilot had been turned down by CBS it must have been enough of a success for Fox to greenlight four additional episodes, which aired in Spring 1991.
Riding the crest of a wave begun by Alan Moore's mature reinvention of the character, which was equal parts ontology and body horror, the cartoon reduced the character to an eco-warrior (with sidekicks Tomahawk and Bayou Jack) who fought against the evil exploits of Anton Arcane and his Un-Men.
The green team stepped in to prevent Arcane exploiting indigenous Amazonians for their rubber sap, stealing a downed nuclear-powered satellite, and from desecrating Native American burial grounds, while also having to save Swampy from being experimented on by a shady government agency. Kids at home could play along with a range of action figures released by Kenner, who reportedly invested $6million into the line and produced no less than six variants of the main character.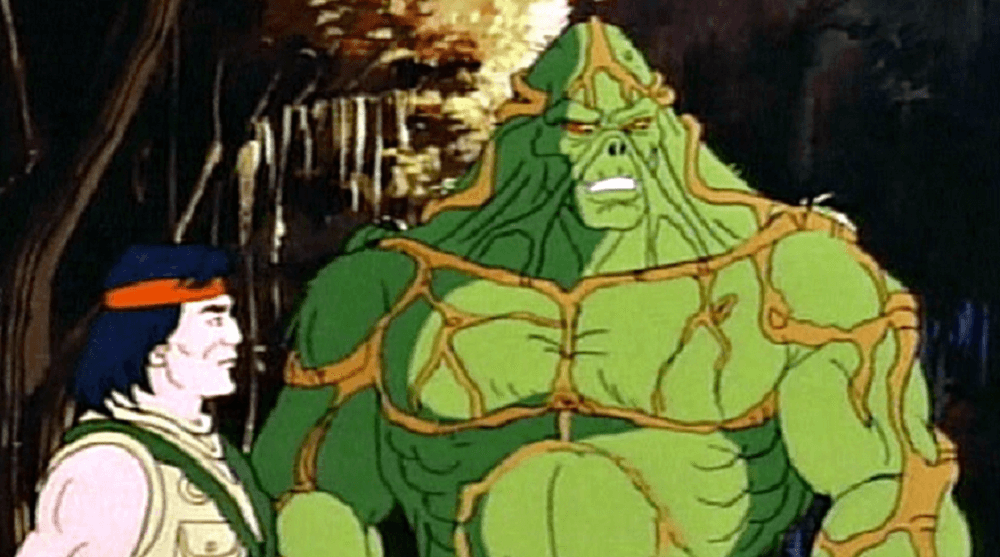 A tie-in video game for the NES and Game Boy was also produced but five episodes was all that was ever produced, with a live-action show on the USA Network showing simultaneously, and which lasted for three seasons with a much darker tone.
Little Rosey (ABC): If there's one thing the children of 1990 were crying out for, it's an animated show featuring a young Roseanne Barr, and luckily ABC were on hand to give it to them! Produced by Canadian studio Nelvana, best known for Care Bears, the show featured an eight-year-old Roseanne – voiced by Second City alumnus Kathleen Laskey – and her adventures with her best friend Buddy and sister Tess.
Rather than reflect Roseanne's themes of working-class struggle, the show saw the kids use the power of imagination to overcome everyday problems such as spelling bees and a dearth of pumpkins, with each episode introduced by Barr, delivering a life lesson in the process (although sadly nothing on how to handle an outspoken TV star with a penchant for anti-Semitic tropes).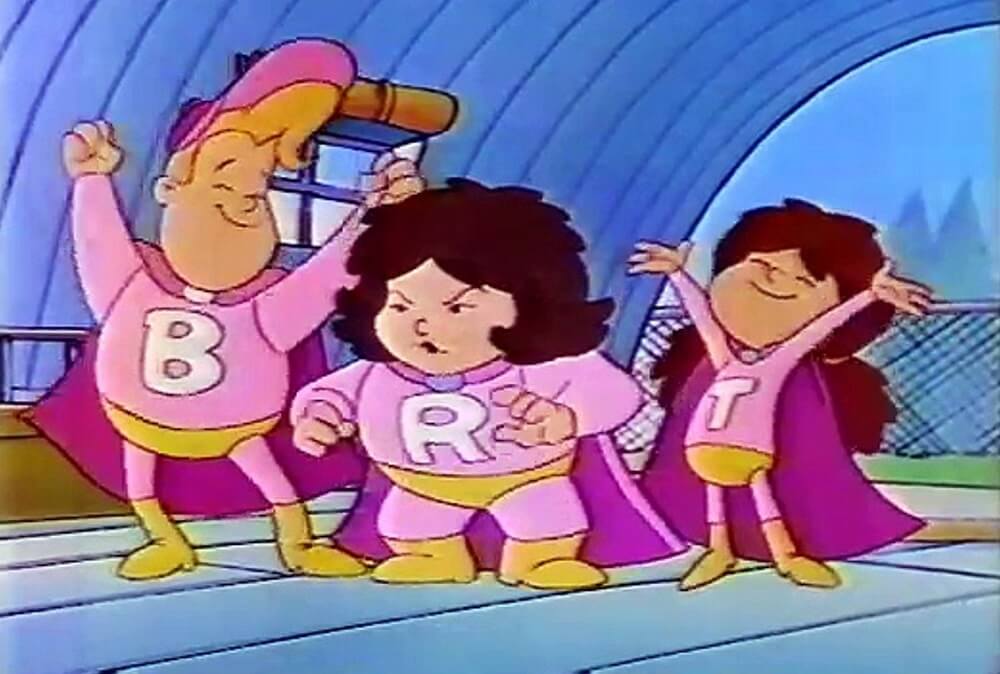 Eighteen episodes were produced, although only sixteen were shown before the show was cancelled, having failed to attract any kind of audience. Two years later, a prime-time special called The Rosey & Buddy Show aired on ABC, featuring Rosey and her pal (this time voiced by Barr and then-husband Tom Arnold) invading Cartoonland to find the executives who cancelled their show. Some episodes were released on VHS in 1991 but the show has never received the DVD treatment, and is unlikely to pop up on your favourite streaming service any time soon. There are some episodes on YouTube but really, unless you hate yourself, it's not worth your time…
Next: we jump into the Time Tunnel and set the controls for 1975, where invisible men and real ghostbusters are waiting…
Check out our other Telephemera articles:
Titans of Telephemera: Glen A Larson (part 1, 2, 3, 4)
Titans of Telephemera: Stephen J Cannell (part 1, 2, 3, 4)
The Telephemera years: 1966 (part 1, 2, 3, 4)
The Telephemera Years: 1990 (part 1, 2, 3)
The Telephemera Years: 1975 (part 1, 2, 3, 4)
The Telephemera Years: 2003 (part 1, 2, 3, 4)
The Telephemera Years: 1982 (part 1, 2, 3, 4)
Titans of Telephemera: Kenneth Johnson
Titans of Telephemera: Quinn Martin (part 1, 2)