Features | Written by Alan Boon 24/08/2021
TITANS OF TELEPHEMERA: KENNETH JOHNSON
Ah, telephemera… those shows whose stay with us was tantalisingly brief, snatched away before their time, and sometimes with good cause. Dedicated miners of this fecund seam begin to notice the same names cropping up, again and again, as if their whole career was based on a principle of throwing stuff at the wall and seeing what sticks. What's more, it isn't all one-season failures and unsold pilots, there's genuine gold to be found amongst their hoards; these men are surely the Titans of Telephemera!
TITANS OF TELEPHEMERA: KENNETH JOHNSON
Kenneth Johnson cut his teeth as a screenwriter on crime dramas Adam-12 and Griff in the early-1970s, before landing the job of writer-producer on The Six Million Dollar Man, where he created the character of Jaime Sommers, the Bionic Woman. Sommers was soon spun off into her own show, which Johnson followed by shepherding The Incredible Hulk to TV for a five-year, eighty-episode run. V and Alien Nation brought him sci-fi success in the 1980s, but what of the shows that didn't click with the masses?
The Disciple (1979, CBS): When he introduced Jaime Sommers to The Six Million Dollar Man in a 1975 episode called "The Bionic Woman" there was every expectation that the character could support her own show, and the two-parter starring Lindsay Wagner was nothing more than, to use the parlance of the industry, a backdoor pilot. In 1979, Johnson attempted to repeat the trick, using a character that had appeared six months earlier as a springboard.
Li Sung, played by Makoto "Mako" Iwamatsu, was a sensei who had run into David Bruce Banner on the road in the episode "Another Path," and the pair had returned to his martial-arts school in San Francisco to find it in the hands of a rebellious former student. In "The Disciple," Banner – now calling himself David Blaine – returns to see Li Sung, who is on the verge of death (simply because he is very old).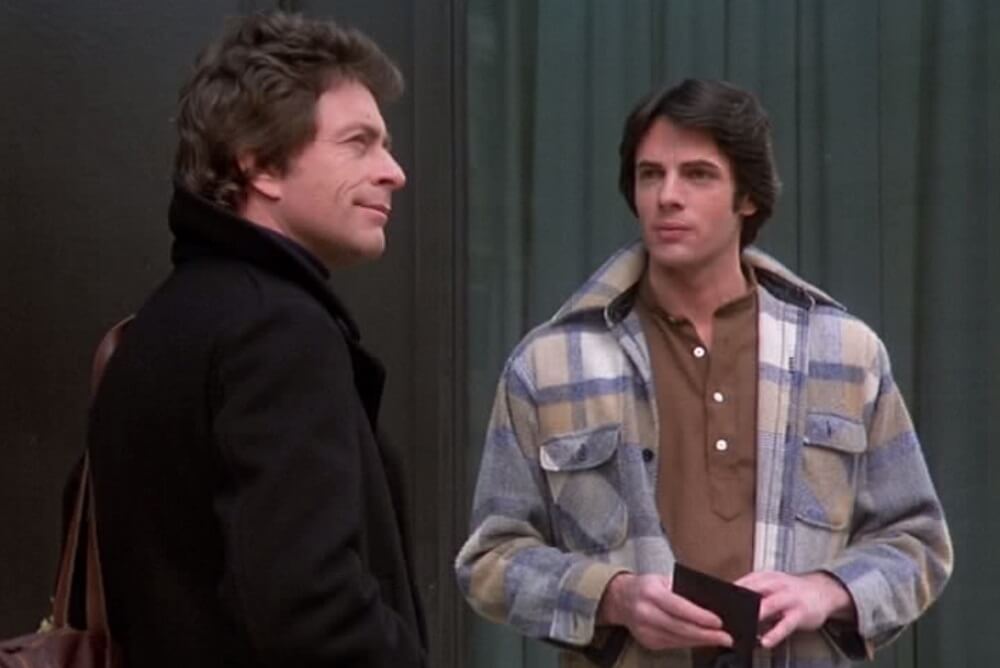 The episode then gives the spotlight to another of Li Sung's students, Mike, who must decide whether to take over his master's dojo or join the police like his late father. Complicating matters is that his father's killer, a mad bomber, is on the loose, and when Mike pursues him he must also decide between justice and revenge.
Rick Springfield had been a pop star in his native Australia, with some limited success in the US, before moving to Hollywood in the mid-1970s to seek a career in television. His first role was in The Six Million Dollar Man and his stock was considered so high that Johnson was willing to give over a whole episode of his top show to try and spin Springfield's Mike off into his own. Unfortunately, Springfield was not an actor to equal his musicianship, and there was little interest in picking up The Disciple for a show of its own, and Banner returned to wandering the world, trying to put a wrong right.
Cliffhangers (1979, NBC): Like many wartime and post-war babies, Johnson grew up going to the movies on Saturday mornings to watch continuing, thrilling serials like King of the Rocketman and Flash Gordon, a rite of passage in those pre-TV years. In 1979, having given NBC a hit when The Bionic Woman moved over from ABC, Johnson was given the chance to bring his version of those breakneck adventure films to the screen, aptly-titled Cliffhangers.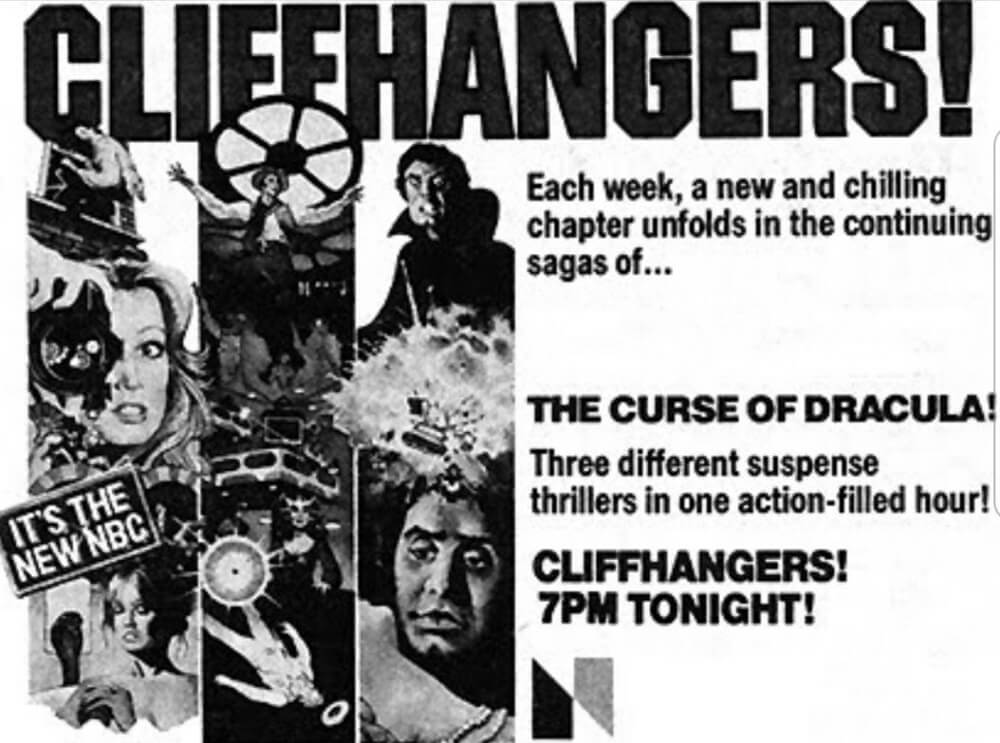 The hour-long show featured three different stories in each episode, just as a visit to the picture palace on a Saturday morning would throw up a variety of features. First up was Stop Susan Williams!, which starred Susan Anton as a journalist who stumbles into a vast conspiracy while investigating the death of her brother, and to replicate the experience Johnson and so many others had relished in their childhood, the serial started with episode two.
The Secret Empire saw Geoffrey Scott's US Marshall discover a vast underground city populated by an alien race, and the chapter which appeared on episode one of Cliffhangers was actually chapter three. Lastly, Michael Nouri was the eponymous vampire in The Curse of Dracula, whose sixth chapter found the ancient bloodsucker working as a teacher at a college in 1970s San Francisco.
Undoubtedly one of the most ambitious projects of its age, Cliffhangers sadly failed to find an audience, and only ten episodes aired (with a further episode completed but left in the can), which only managed to end The Curse of Dracula, and that final episode did at least air overseas, which allowed the other serials to reach their conclusion.
Stop Susan Williams and The Curse of Dracula were later re-edited into TV movies, but there's never been an official DVD release for any of the serials. Luckily, you can find them on YouTube and relive that very peculiar cliffhanger rush for yourself…
Hot Pursuit (1984, NBC): Johnson had ended his run on The Incredible Hulk in 1982, and immediately followed it up with the water-cooler shattering mini-series V a year later. In 1984, he unveiled his latest project, a convoluted thriller piece that owed a debt to The Fugitive but complicated the simple premise of that show to a much higher degree. Too much, it turned out.
Hot Pursuit told the story of Jim and Kate Wyler, a middle-class couple who find their lives turned upside down when Kate is framed for the murder of her boss and sentenced to life in prison. Jim discovers it was a plot by the dead man's wife, Estelle, who suspected Kate of having an affair with her husband and feared that their latest project – an experimental car – would bankrupt the business.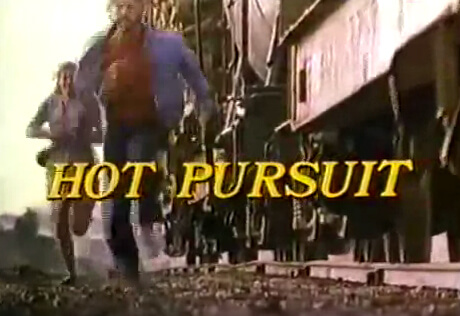 Jim helps Kate escape from prison and the pair go on the lam to try and prove her innocence, searching for the homeless woman who was used as a lookalike in the frame-up, all the while pursued by a one-eyed assassin hired by Estelle – a man who lost his eye in a confrontation with Jim (whose veterinarian career must have had some exciting moments).
Starring Kerrie Keane and Eric Pierpoint, the show was just too much for its Saturday night audience, and the last three episodes of the thirteen that were completed before its cancellation went unaired. Like many such 1980s shows, there's no DVD release but you can see the pilot on YouTube, which works better as a TV movie than an introduction to a series which stretched things too far.
Shadow Chasers (1985, ABC): Despite the failure of Hot Pursuit, Johnson had followed up the success of V with another miniseries, V: The Final Battle. Although that proved not to be true, and a Johnson-less TV show was produced, the creator moved on to another science fiction project, this time for ABC, and introduced Shadow Chasers to a curious Thursday night TV lineup.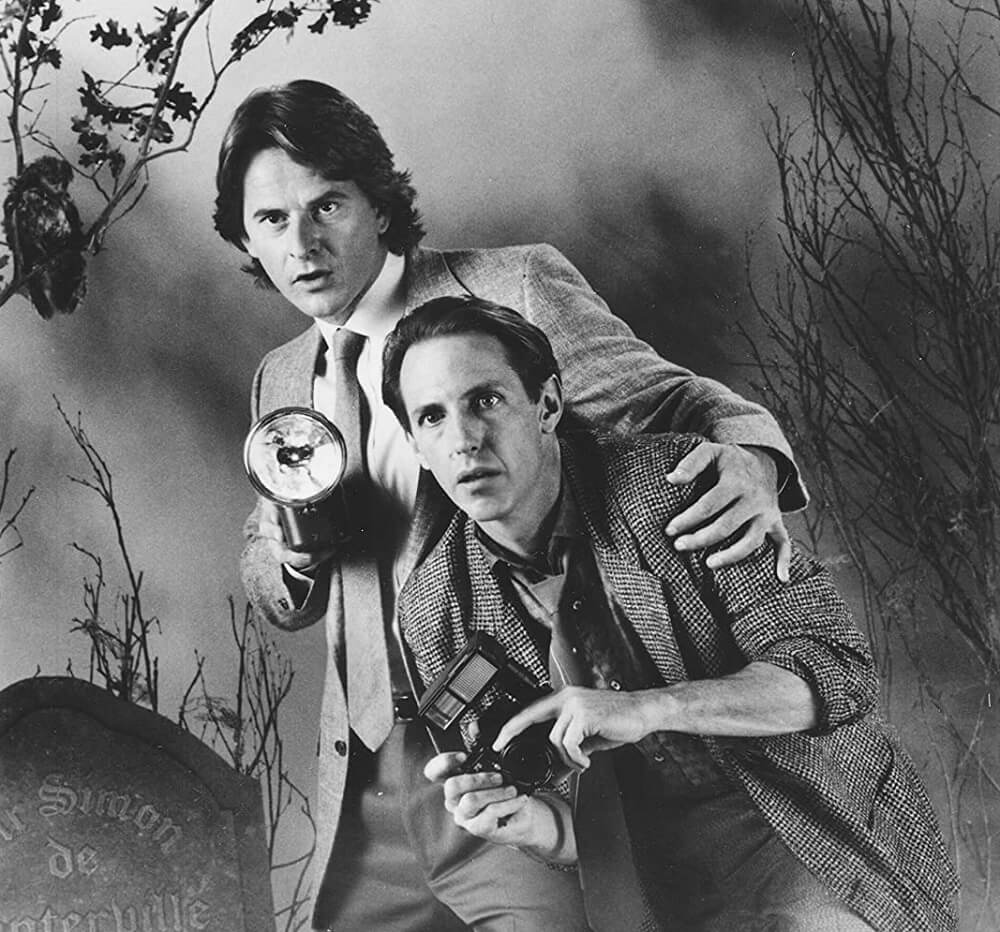 Shadow Chasers starred Trevor Eve, who'd transplanted himself to Hollywood after Shoestring and who had made a minor splash in the steamy mini-series Lace. Eve's buttoned-down British anthropologist was joined by Dennis Dugan's flamboyant gutter journalist as a reluctant pair of paranormal investigators, and the pair solve a supposed haunting on their first time out. Subsequent episodes saw them tackle vampires, UFOs, werewolves, and time-travellers, but the show struggled to find a consistent tone, veering from outright silliness to pathos within the confines of a single scene.
Up against The Cosby Show, Family Ties, and Magnum PI, the was one of the lowest-rated of all shows in the 1985-86 season, and only ten episodes were shown before ABC yanked it from the schedule, leaving a further four unaired. Eve returned to the UK, bouncing back with A Sense of Guilt for the BBC, but Dugan has had nothing but small roles ever since, including a run of very minor parts in Adam Sandler movies.
After two series failures, it took Kenneth Johnson a few years to regain his reputation but he bounced back with an eight-year run for Alien Nation, the TV continuation of the 1988 movie. In 1993, he attempted an update of the Sherlock Holmes story, which failed to progress beyond the pilot stage, and concentrated on directing, turning out D3: The Mighty Ducks, Short Circuit 2, Steel, and several episodes of JAG. His last credit was an episode of 2009's Easy Money, after which he's carved out a small career writing novels.
Next: We take a two-part look at the other projects of The Fugitive and The Invaders' creator Quinn Martin!
Check out our other Telephemera articles:
Titans of Telephemera: Glen A Larson (part 1, 2, 3, 4)
Titans of Telephemera: Stephen J Cannell (part 1, 2, 3, 4)
The Telephemera years: 1966 (part 1, 2, 3, 4)
The Telephemera Years: 1990 (part 1, 2, 3, 4)
The Telephemera Years: 1975 (part 1, 2, 3, 4)
The Telephemera Years: 2003 (part 1, 2, 3, 4)
The Telephemera Years: 1982 (part 1, 2, 3, 4)
Titans of Telephemera: Quinn Martin (part 1, 2)