Features | Written by Alan Boon 01/06/2021
THE TELEPHEMERA YEARS: 1975 – PART 1
Ah, telephemera… those shows whose stay with us was tantalisingly brief, snatched away before their time, and sometimes with good cause. They hit the schedules alongside established shows, hoping for a long run, but it's not always to be, and for every Knight Rider there's two z. But here at STARBURST we celebrate their existence and mourn their departure, drilling down into the new season's entertainment with equal opportunities square eyes… these are The Telephemera Years!
1975-76
By 1975, American television was smack bang in the middle of a glorious age of telefantasy, and the detective show was king. Kojak, Cannon, Police Story, Police Woman, Baretta, The Streets of San Francisco, Hawaii Five-O, The Rockford Files, and Petrocelli were joined by a little show called Starsky and Hutch, as punishment was dealt out to criminals all over the prime-time network schedules.
Meanwhile, Wonder Woman and The Bionic Woman joined The Six Million Dollar Man for superpowered action, and Welcome Back Kotter added laughs to those already provided by M*A*S*H and Happy Days. But what of the new shows for the 1975-76 season that didn't make an impact, disappearing from screens almost as soon as they were announced? This is the story of the misses of 1975…
The Invisible Man (NBC): First brought to TV screens by the BBC in 1958, with Tim Turner voicing a renamed Dr Brady, HG Wells's famous novel also inspired this take on the concept, which finds David McCallum's Daniel Westin working for the mysterious Klae Corporation, attempting to discover the secrets of teleportation. Quite by accident, he finds that he can turn his animal test subjects invisible for a short time and decides to test the process on himself.
The Klae Corporation want to weaponise Westin's invention for military purposes and so Westin turns himself invisible to destroy his research and escape their clutches, only to find the process is irreversible. With only a cleverly-fashioned latex face mask, Westin returns to work for Klae in order to perfect his work and find a cure. Just thirteen episodes made it to air, as scriptwriters – future Hill Street Blues creator Steven Bochco among them – struggled to make an interesting show about an invisible man pretending to be visible and doing science stuff.
The Invisible Man was McCallum's return to US TV after the success of The Man from U.N.C.L.E. and hopes were high for a long-running sci-fi show, NBC's first since Star Trek was cancelled in 1969. Ratings, however, were low, and certainly not helped by being scheduled against CBS's blockbuster Monday night sitcoms, Rhoda and Phyllis. The BBC bought the show and aired it a few weeks after its US broadcast, but McCallum couldn't repeat the success of Colditz for the channel and they created their own, more faithful adaptation in 1984.
For the 1976 season, NBC greenlit the invisible-themed action show Gemini Man but that, too, failed to see out its first season, and it would be twenty-five years before US TV tried its hand with invisible men once more, for Sci-Fi's The Invisible Man in 2000. However, if you're determined to see an invisible David McCallum, the complete series is available on DVD.
Barbary Coast (ABC): While The Invisible Man was failing to increase its visibility on NBC, ABC presented Monday night viewers with this take on The Wild Wild West, a curious mix of the spy and western genres. Just as NBC brought back David McCallum, so Barbary Coast starred William Shatner in his first regular role since Star Trek, as nineteenth-century government agent Jeff Cable, operating out of a casino owned by his pal Cash, played by Doug McClure.
Series creator Douglas Heyes had cut his teeth on Maverick, and pitched the show as an old west take on Mission: Impossible, with Cable undertaking dangerous undercover missions to root out criminals and spies in San Francisco; the Barbary Coast of the show's title referred to the city's notorious red-light district rather than the North African region from where it took its name.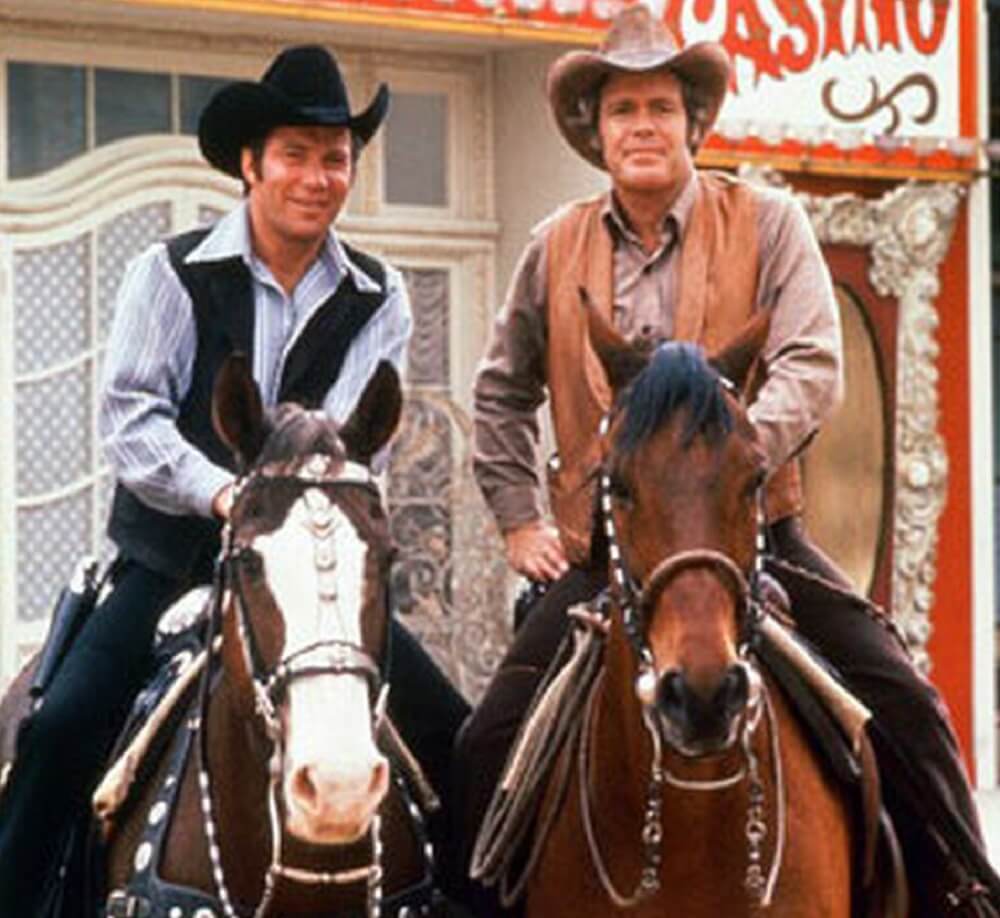 Like The Invisible Man, Barbary Coast struggled to gain a foothold opposite the number six and seven shows, Rhoda and Phyllis, and was cancelled after just thirteen episodes (and a pilot) in January 1976, but not before it was moved to a later time (this time against the number one show in the ratings), its timeslot given over to another new hopeful, Mobile One. Heyes largely disappeared after the failure of the show, and Shatner didn't score a regular series role until 1982's TJ Hooker after the first two Star Trek movies had given his star some much-needed lustre.
Barbary Coast was released on DVD in 2014 and isn't a terrible show, more a series of ideas that don't come together as a fully-formed whole, but fans of Doug McClure's trademark bombast will find something to love. As for the show that replaced it on the schedules…
Mobile One (ABC): A production of Mark VII Limited, a company established by Dragnet star Jack Webb to primarily bring police procedurals to the screen, Mobile One's focus was on news, and specifically the mobile news gathering team of a local Los Angeles television station.
With intrepid reporter Peter Campbell (Superman's Perry White, Jackie Cooper) being ferried to the scene of the action in the eponymous mobile news car (although the pilot film was called – and featured – Mobile Two) by cameraman Doug McKnight, producer Maggie Spencer – played by The Godfather's Julie Gregg – keeps things calm at the station as the team covers bank robberies, kidnappings, and youth crime.
Initially programmed on Friday evenings against Sanford and Son and M*A*S*H, Mobile One struggled to gain a foothold and traded slots with Barbary Coast in search of an audience for both. Ratings did not improve, however, and the show's thirteenth episode was its last, on January 5th 1976.
Mobile One was an interesting-sounding show that is one of the 1970s real forgotten treasures - the series has never been released on home video and there is little save for a teaser promo on YouTube – and Mark VII would only have one further hit, 1978's Project UFO, before closing down shortly after Jack Webb's death in 1982.
When Things Were Rotten (ABC): Mel Brooks famously parodied the Merry Men of Sherwood Forest in his 1993 feature Robin Hood: Men in Tights, but he'd actually had a go at the legend eighteen years before, bursting onto ABC's Wednesday night line-up with When Things Were Rotten, a sitcom that explored all the same tropes.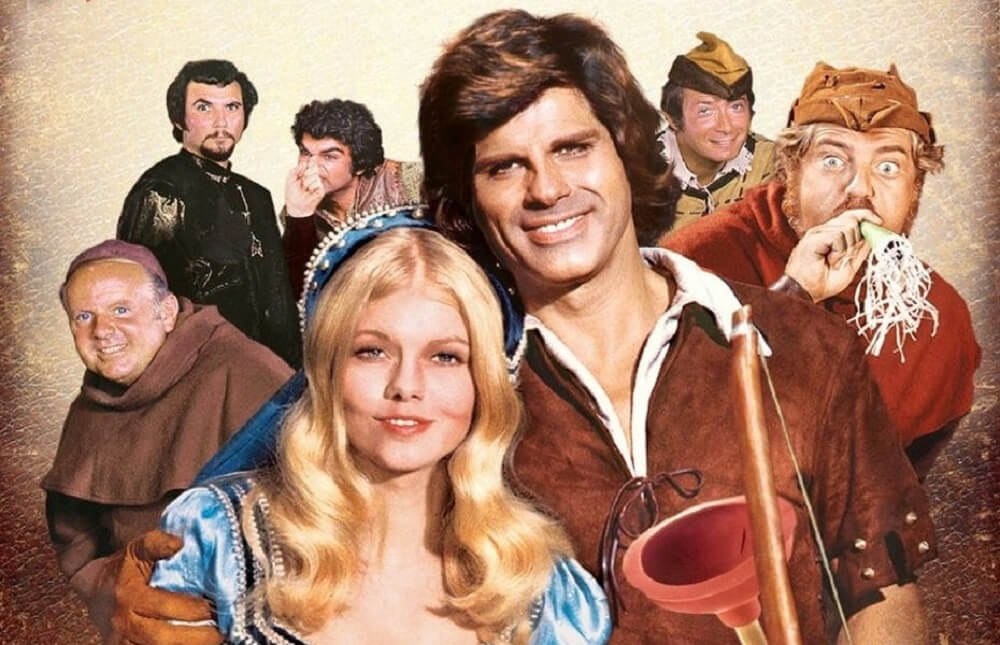 After breaking out with Get Smart, Brooks had just enjoyed two huge hits on the silver screen, with Blazing Saddles and Young Frankenstein setting cinema seats alight in 1974, and ABC pretty much handed him carte blanche for his return to TV, which featured the directors' trademark sight gags, topical humour, and breaking the fourth wall, and TV reviewers were impressed by the show.
Dick Gautier - Get Smart's Hymie the Robot – starred as Robin Hood, with able backing from Dick van Patten, Bernie Kopell, and Hee-Haw's Misty Rowe, but audiences were less impressed than the critics, and just thirteen episodes were aired before the show was cancelled and its timeslot was given to The Bionic Woman, which ended up the fifth most popular show of the year.
Despite most of Brooks's oeuvre being available on DVD, there's no sign of When Things Were Rotten save for a 2013 release by Amazon CreateSpace, long out of print, and there are scant signs of it on video sharing sites. Perhaps Brooks prefers to have Men in Tights remembered as his definitive statement on the Robin Hood legend and, to be fair, the toilet gag is a great one…
Next: More misses from the 1975-76 US TV schedules, including the US remake of Porridge and a series touted as "the best private eye series ever…"
Check out our other Telephemera articles:
Titans of Telephemera: Glen A Larson (part 1, 2, 3, 4)
Titans of Telephemera: Stephen J Cannell (part 1, 2, 3, 4)
The Telephemera years: 1966 (part 1, 2, 3, 4)
The Telephemera Years: 1990 (part 1, 2, 3, 4)
The Telephemera Years: 1975 (part 2, 3, 4)
The Telephemera Years: 2003 (part 1, 2, 3, 4)
The Telephemera Years: 1982 (part 1, 2, 3, 4)
Titans of Telephemera: Kenneth Johnson
Titans of Telephemera: Quinn Martin (part 1, 2)