Features | Written by Alan Boon 23/11/2021
THE TELEPHEMERA YEARS: 1971 – PART 2
Ah, telephemera… those shows whose stay with us was tantalisingly brief, snatched away before their time, and sometimes with good cause. They hit the schedules alongside established shows, hoping for a long run, but it's not always to be, and for every Knight Rider there's two Street Hawks. But here at STARBURST we celebrate their existence and mourn their departure, drilling down into the new season's entertainment with equal opportunities square eyes… these are The Telephemera Years!
1971-72
Just as America was dragging itself out of the long Sixties and into their funky successor years, US TV was undergoing a season change in 1971, with the last of the great western TV shows reaching the end of their runs. Audiences could still thrill to Alias Smith and Jones, Gunsmoke, and Bonanza, but the cop show ruled the roost, with The Mod Squad, Hawaii Five-O, and Ironside joined at the top of the ratings by new arrivals Cannon and McMillan & Wife.
A dry period for genre fans saw interest lay mostly with Mission: Impossible and Night Gallery, although Bewitched could be relied upon for some supernatural nose-twitching fun, but the big new hits were The New Dick Van Dyke Show and transatlantic transplant Sanford and Son. But what of those shows that didn't make such an impact on American audiences? This is the story of four more of 1971's ratings misses…
The Persuaders! (ABC): Sometimes a show outlives its limited time on the air and becomes a beloved institution, and when your principals are Roger Moore and Tony Curtis – and your show is the latest in a long line of treasured adventure serials from ITC – there's a fair chance that your one-season run will live long in the imagination of genre TV fans.
The Persuaders! came hot on the heels of Strange Report, Department S, and Randall and Hopkirk (Deceased) and starred Moore and Curtis as a pair of playboy adventurers who find themselves in hot water with the authorities on the French Riviera. Given the choice of serving ninety days in jail or helping Laurence Naismith's retired judge right wrongs, they opt for the latter and begin a series of cases that involve crime syndicates, coups d'etat, and plastic surgery clones, amongst other fantastic crimes.

Curtis was a beloved Hollywood institution who had recently tried to broaden his repertoire by playing the Boston Strangler, while Moore was fresh off The Saint, having turned down the opportunity to play James Bond to take that role, although he would not be able to fight fate for much longer. The show was an instant hit in the UK, where it aired on ITV's regional networks, but floundered in the US, dumped on Saturday nights against Mission: Impossible and NBC's Saturday Night at the Movies slot.
Despite being cancelled after just one twenty-four-episode season, the series has lived on in the hearts of a very passionate ITC fandom, regularly reissued on home video and given the full Network DVD treatment in 2011. A proposed film version of the show, starring Steve Coogan and Ben Stiller, stalled in 2008 but the inevitable Hollywood remake awaits…
Sarge (NBC): George Kennedy won a Best Supporting Actor Oscar in 1967 for Cool Hand Luke and followed that with a series of Westerns and a vital role in Airport, the film that kicked off the penchant for disaster movies in the 1970s. In 1971, Kennedy was offered the starring role in Sarge, a crime procedural series with a reverent twist…
Samuel Cavanaugh was a San Diego police sergeant who decides to change his life after – and this was becoming quite the theme for new crime shows in the 1971 Fall season – his wife is murdered/ Having trained for the priesthood before World War II, Cavanaugh picks up his bible and takes holy orders, but is unable to leave police work completely behind.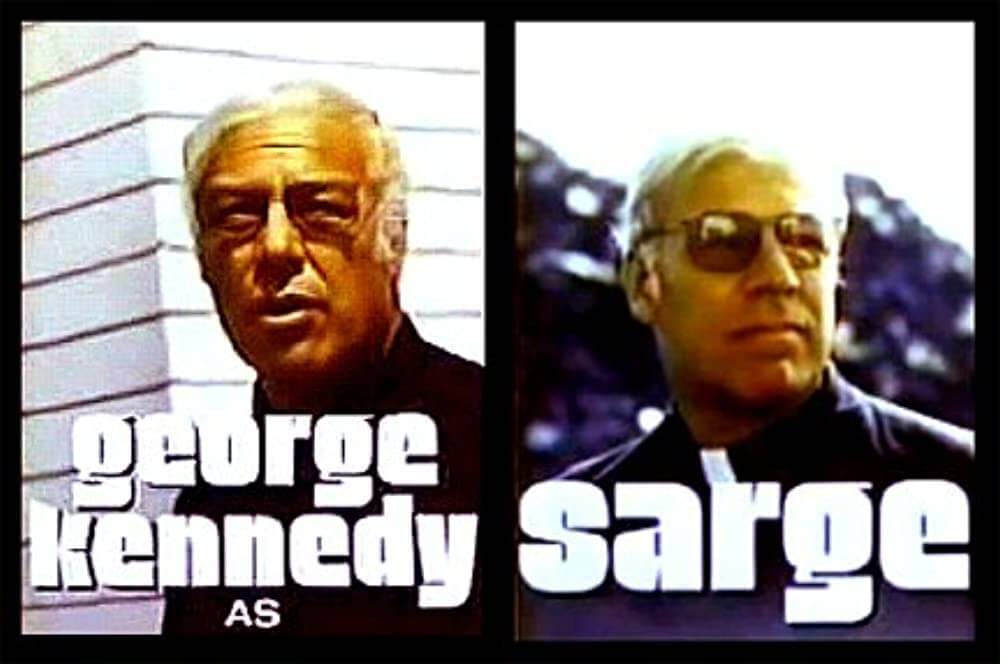 After a successful pilot (in which Kennedy's character was called Swanson, not Cavanaugh), the decision was made to launch the show as part of a crossover with Ironside, and the first viewers saw of Cavanaugh was on that show, having travelled to San Francisco to investigate the death of an old friend. The story took up a two-hour slot and viewers found Sarge in his own show in the second hour from the next week, as strong a lead-in as a new show could hope for.
Unfortunately, even with the help of Raymond Burr's wheelchair-bound cop, Sarge couldn't compete against Hawaii Five-O on CBS; even giving it Ironside's slot while that show was on a break didn't help and it was cancelled after its fourteenth episode in January 1972. Kennedy came back to cop work in 1975 with The Blue Knight but will always be best remembered for his airline disaster work, both straight and comedic.
Me and the Chimp (CBS): Created by the team of Garry Marshall and Thomas L Miller, who would later go on to huge success with Happy Days and its various offshoots, Me and the Chimp was almost put out of its misery before it was even born when star Ted Bessell threatened to pull out, and many of those involved probably wish it had been gently euthanised at the stage.
Bessell, fresh off a five-year run on That Girl, wasn't happy with the grammatically correct title of The Chimp and I but that seems to be the least thing wrong with the original concept of a dentist who is persuaded to adopt a chimpanzee by his family, only to find out that the chimp was part of the space program and is very invested in mischief.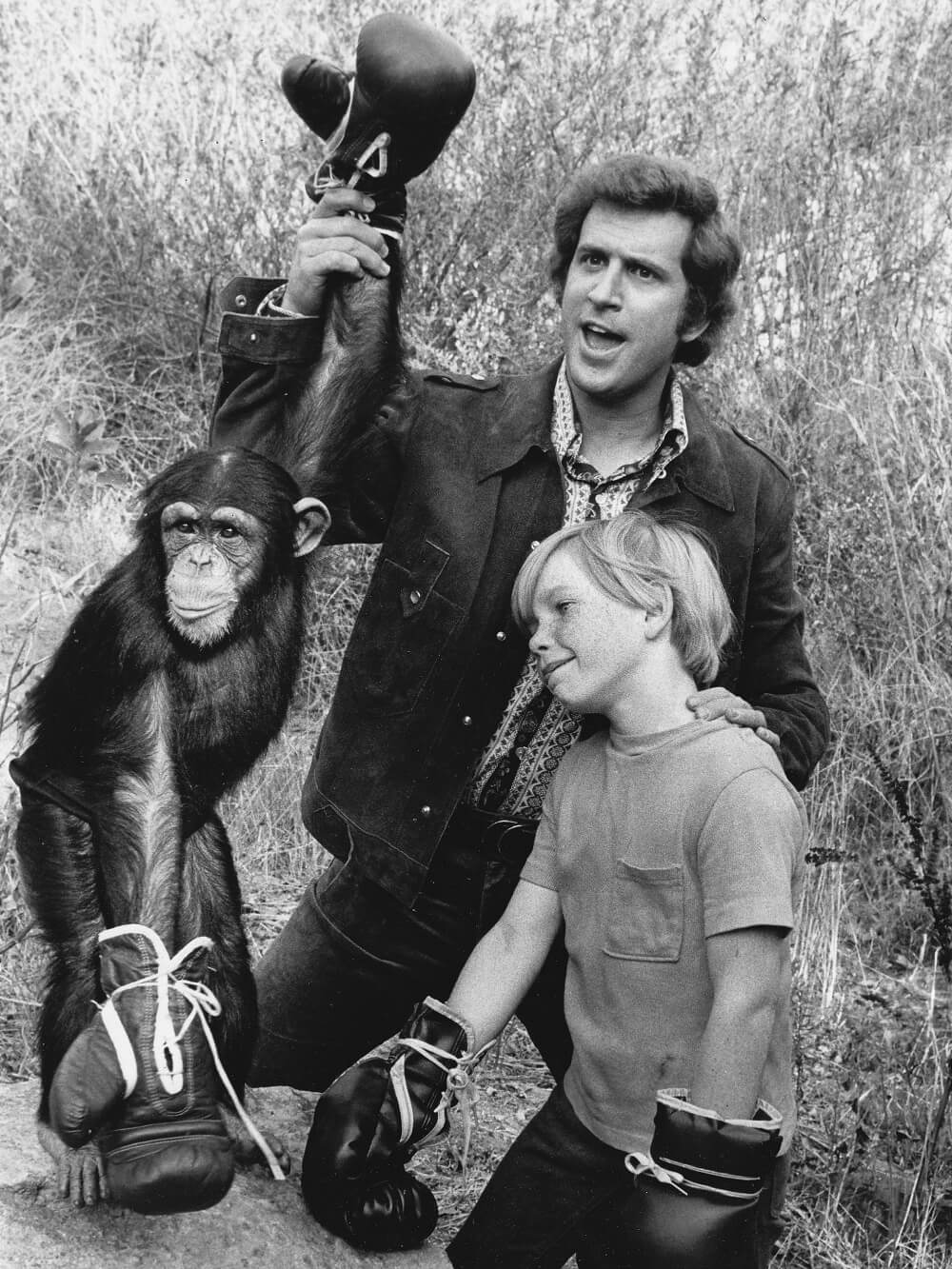 The hijinks began on January 13th 1972, a mid-season replacement for the late-period Western Bearcats!, but fared little better in the ratings, shuffling off after just thirteen episodes, itself replaced by re-runs of My World and Welcome To It. Marshall moved on to The Brian Keith Show, which at least lasted two seasons, before arriving at the Cunninghams' front door two years later.
In 2002, TV Guide voted the show the forty-sixth worst show of all-time, and you won't be surprised to learn that it seldoms troubles the re-run schedules and has never been released on home video, although some enterprising sort has uploaded a single episode to YouTube.
The Sixth Sense (ABC): In a season short of science-fiction and paranormal elements, The Sixth Sense stood out like the proverbial, a rare out-and-out fantasy show on a schedule full of crime dramas. Gary Collins starred as professor of parapsychology Michael Rhodes, who is aided by his research assistant Nancy (Catherine Ferrar) in solving apparently supernatural crimes.
Created by jobbing TV writer Anthony Lawrence, and based on his earlier TV movie Sweet, Sweet Rachel, The Sixth Sense was given the slot recently vacated by The Persauders!, which had been moved to Wednesday nights. Perhaps expectations were lower for Lawrence's show, but it did well enough in the ratings to earn a second season, which arrived as part of the 1972 Fall line-up, the network impressed by producer Stanley Shpetner's ability to grab big-name guest-stars.
A typical episode found Rhodes and Nancy presented with a seemingly impossible crime, which can only have been committed by a ghost (or a psychic or a ghost psychic) and left little doubt that there were strange forces at play, predating The X-Files by over two decades. Despite its unique air, ratings declined, and the second season was cancelled by January, although novelisations of some episodes proved popular gifts that Christmas.
The show was heavily edited and included as part of a syndicated package with The Night Gallery but the originals were given a DVD release by French distributor Elephant Films and have found their way onto video-sharing sites; many shows are described as being before their time but this might be one rare occasion when that holds true.
Next on The Telephemera Years: the shows that didn't make it to air in 1971, including second Earths and horrible Asian stereotypes!
Check out our other Telephemera articles:
Titans of Telephemera: Glen A Larson (part 1, 2, 3, 4)
Titans of Telephemera: Stephen J Cannell (part 1, 2, 3, 4)
The Telephemera years: 1966 (part 1, 2, 3, 4)
The Telephemera Years: 1990 (part 1, 2, 3, 4)
The Telephemera Years: 1975 (part 1, 2, 3, 4)
The Telephemera Years: 2003 (part 1, 2, 3, 4)
The Telephemera Years: 1982 (part 1, 2, 3, 4)
Titans of Telephemera: Kenneth Johnson
Titans of Telephemera: Quinn Martin (part 1, 2)
Titans of Telephemera: Irwin Allen
The Telephemera Years: 2008 (part 1, 2, 3, 4)
The Telephemera Years: 1987 (part 1, 2, 3, 4)