Features | Written by Alan Boon 22/02/2022
THE TELEPHEMERA YEARS: 1992 – PART 3
Ah, telephemera… those shows whose stay with us was tantalisingly brief, snatched away before their time, and sometimes with good cause. They hit the schedules alongside established shows, hoping for a long run, but it's not always to be, and for every Street Hawk there's two Manimals. But here at STARBURST we celebrate their existence and mourn their departure, drilling down into the new season's entertainment with equal opportunities square eyes… these are The Telephemera Years!
1992-93
60 Minutes may have held onto the number one spot in the Nielsen ratings for the 1992-93 season but the sitcom was still the king of the schedules, with Roseanne, Home Improvement, and Murphy Brown riding high and Coach, Cheers, and Full House not far behind. The season's biggest debut show was Hangin' With Mr Cooper, a teen-centred sitcom focussed on a high school basketball coach, and fellow debutant Mad About You would soon join find its audience, along with a young show named Seinfeld.
More dramatic fare was on offer from Murder, She Wrote, still inexplicably popular after nine seasons, and there was a strong first season for Dr Quinn, Medicine Woman, but the appearance of Northern Exposure at number eleven in the ratings raised some cheer for those who liked their shows a little bit weird. Otherwise, it was thin gruel for genre fans with just Quantum Leap, Dinosaurs, Herman's Head, and a limp Young Indiana Jones Chronicles on the network schedule, although Batman: The Animated Series did begin its run on Fox, joined by genre-adjacent shows Picket Fences and Walker, Texas Ranger on CBS. These are the shows that made it onto the schedules and created enough of a stir to stick around but what of those shows that failed to get past the idea stage? This is the story of 1992's unsold pilots…
Steel Justice (NBC): Hands up if you like dinosaurs. Hands up if you like robots. Hands up if you want a show about a crime-fighting robot dinosaur… Yes, that's the conceit of Steel Justice, a proposed series for the 1992-93 season on NBC that somehow didn't get past the pilot stage, despite the support of executives who were spellbound by the real-life Robosaurus that toured arenas across America.
Steel Justice was the creation of Christopher Crowe, the creator of BJ and the Bear. Obviously a fan of unusual partnerships, Crowe had JA Preston - who appeared as the judge who had to decide if people could handle the truth in A Few Good Men that Summer – as David Nash, an undercover cop in a dystopian world who is able to turn his small toy dinosaur into a fire-breathing machine of vengeance!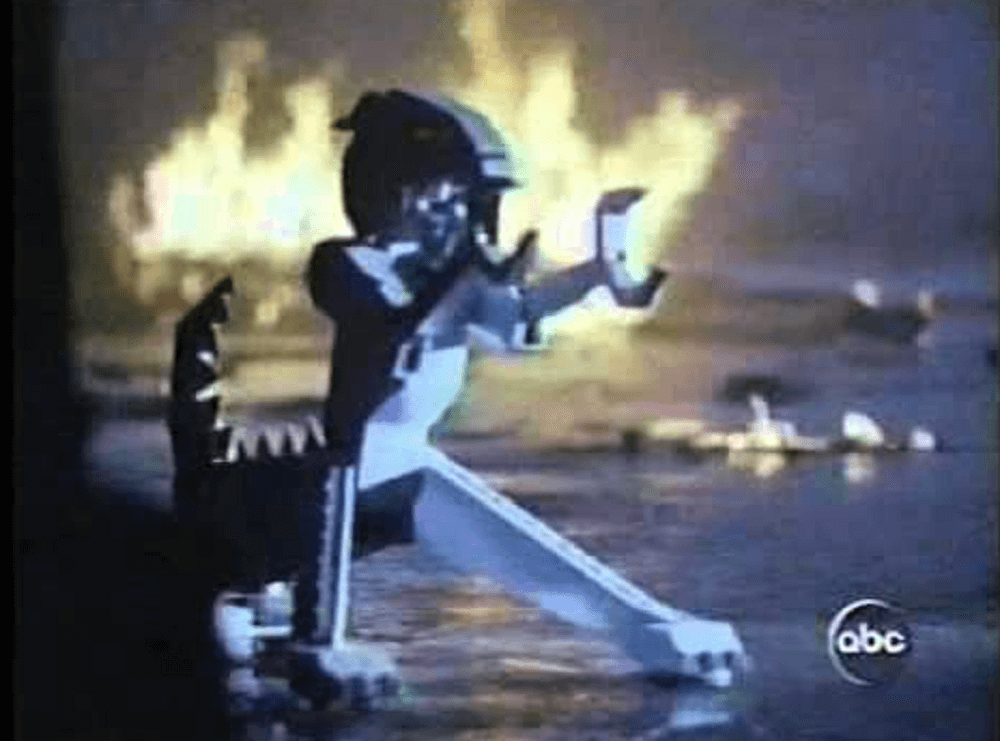 Nash was tipped off to his fantastic ability by Jeremiah, a time-traveller who reveals that similar gifts were used in the past to create Stonehenge and the Trojan Horse. That the dinosaur is all that he has left of his son, exploded by a rocket launcher in the show's origin story, adds pathos but who needs emotion when THERE'S A DINOSAUR THAT EATS CARS?!?
Sadly, the network couldn't see what a golden concept they had and passed on a full series, releasing the pilot as a standalone TV movie in April 1992. Yes, the execution of the idea was not well done and, yes, the script, acting, special effects, and everything else could be described as "inconsistent" but who cares? It's a GIANT ROBOT DINOSAUR and it's on YouTube.
Two-Fisted Tales (Fox): Two-Fisted Tales was a war-themed anthology comic book put out by EC Comics in the 1950s, edited by the legendary Harvey Kurtzman and notable for it's strong anti-war themes and "sting in the tail" endings. Selling heavily on the back of America's involvement in the Korean War, the end of that conflict saw a decline in interest in war comics, and Two-Fisted Tales breathed its last after twenty-four issues, with 1954's #41 (don't ask).
In 1991, inspired by the success of HBO's Tales from The Crypt (itself loosely based on an EC comic book from the 1950s), producers Joel Silver, Richard Donner, and Robert Zemeckis developed their own anthology concept, borrowing the title of Kurtzman's comic but little else. Their Two-Fisted Tales was presented by ghostly gunfighter Mr Rush, played by William Sadler (Death in Bill & Ted's Bogus Journey), who introduced each tale with a wry quip.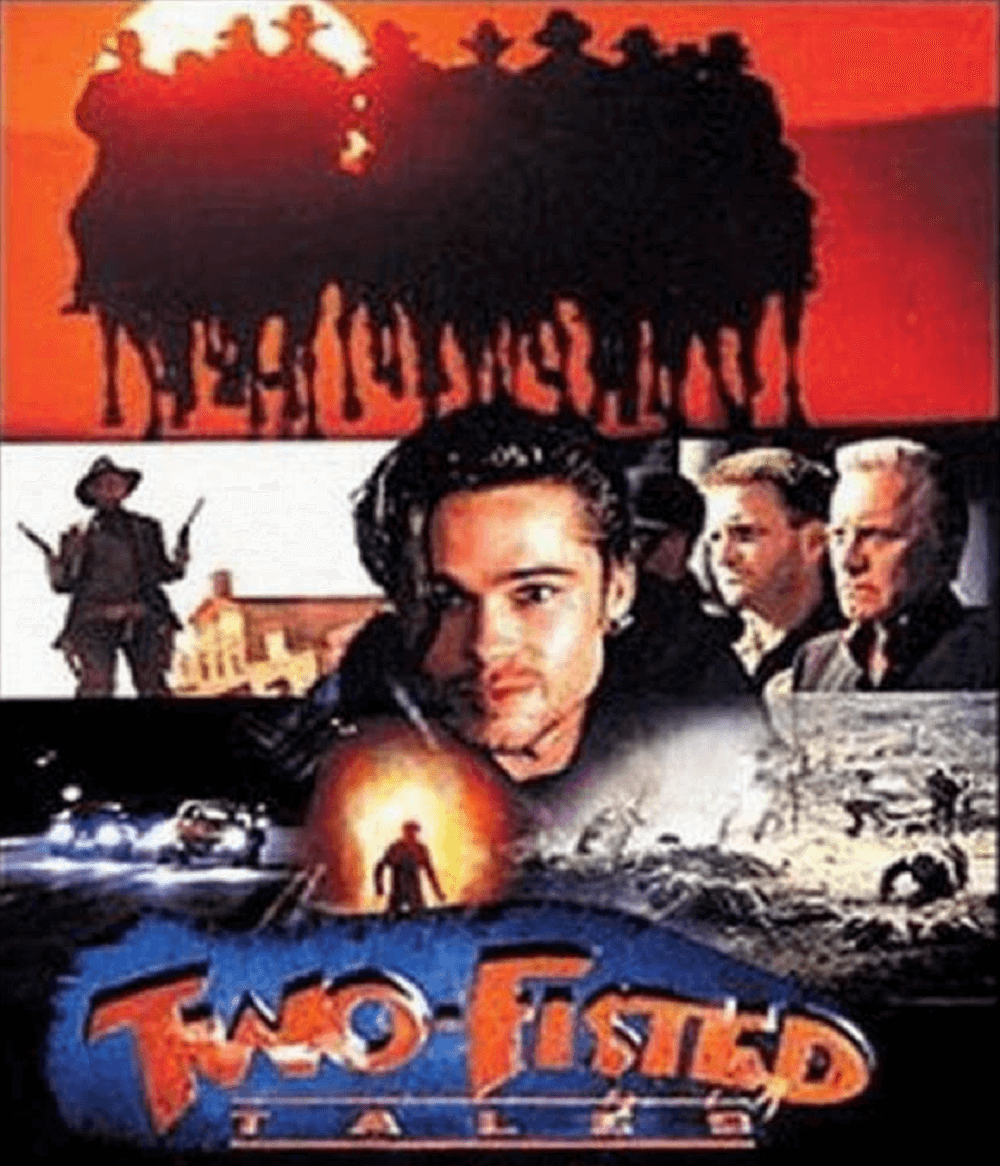 Three segments were prepared for the pilot film, with varying degrees of connection to the EC source material; "Showdown" (written by Frank Darabont) took its title from a story in Two-Fisted Tales #37 but nothing else, and "King of the Road" (which starred Brad Pitt) was an entirely original piece, but "Yellow" was adapted from a story in Shock SuspenStories #1. Zemeckis, Donner, and Child's Play creator Tom Holland each helmed a segment and the pilot aired in January 1992 in the lucrative spot reserved for COPS.
Unfortunately, it gained little traction and no full series was forthcoming. "Showdown" and "King of the Road" later turned up as segments on Tales from the Crypt, but that show had already adapted "Yellow" and so left it on the shelf. The TV movie was never released on home video, but you can check it out on YouTube if you're in need of some two-fisted fun.
Battletoads (syndication): It's nigh on impossible to explain just how big Teenage Mutant Ninja Turtles was in the early 1990s but suffice to say that every TV network, comic book company, games designer, and toy maker were after a copycat hit that could divert some of that sweet, sweet turtle money into their coffers. From Biker Mice from Mars to the Wild West COW-Boys of Moo Mesa, anthropomorphic animal heroes were in, baby!
Seeking to carve themselves a slice of the pie, French American animation studio DIC Entertainment drew inspiration from a videogame produced for the Nintendo Entertainment System by Rare in 1991. Rash, Zatz, and Pimple were three kung-fu fighting frogs on a mission to rescue Princess Angelica from the Dark Queen, punching and kicking their way to victory (or not – the game was notably difficult).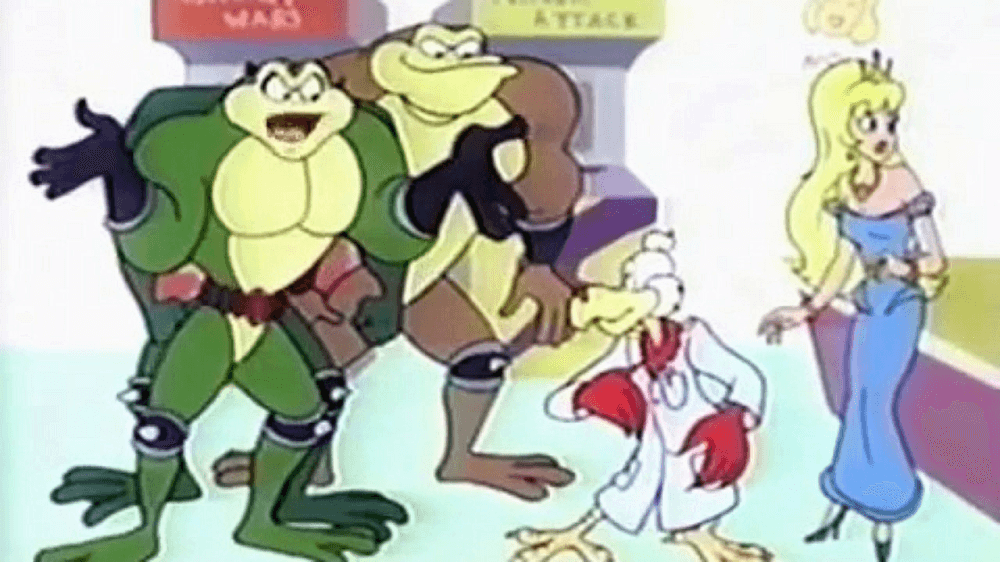 The cartoon acts as a prequel to the game, with the three principals recast as high school students – Dave, Morgan, and George - with the ability to turn into the Battletoads, using their newfound abilities to protect Angelica and their mentor, Professor T Bird. The heroes rush into action against the Dark Queen and her minion, General Slaughter, with a battle cry of "Let's get warty!" but even a decent voice acting cast couldn't save it from being absolutely terrible.
The pilot was given an airing in syndication on Thanksgiving 1992 and released on VHS tape in 1994 in an attempt to cash in on the game's sequel, Battletoads in Battlemaniacs, but it is rightly considered as one of the worst examples of a genre which also includes SWAT Kats, Stone Protectors, and Street Sharks.
Darkman (Fox): A paean to the Universal Studios horror films of the 1930s, filtered through a dark superhero aesthetic, Darkman was a modest success for Sam Raimi in 1990, becoming a cult hit and spawning two direct-to-video sequels in 1995 and 1996, although Liam Neeson had been replaced in the title role by Arnold Vosloo.
Neeson was also absent from the 1992 television adaptation, prepared for Fox by Universal and largely retelling the events of the first film. Christopher Bowen suited up as Peyton Westlake, the brilliant scientist seeking revenge on those who disfigured him and left him for dead in an explosion that killed his wife (a notable change from the movie, where Frances McDormand played a very much alive Julie).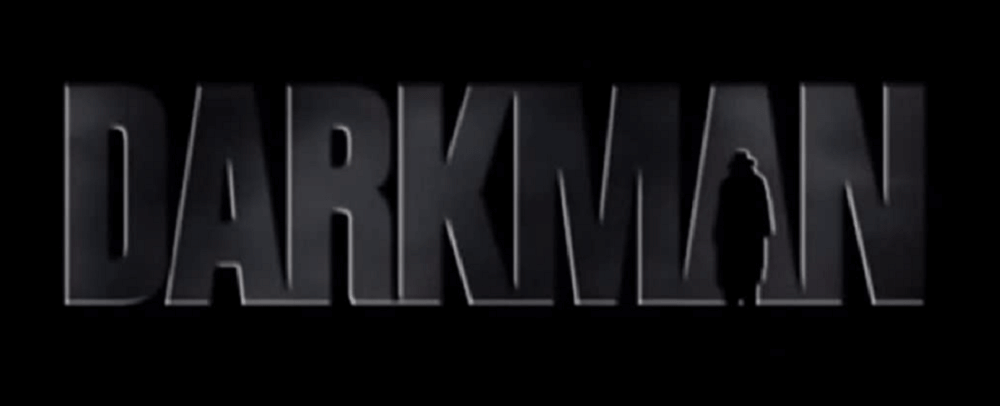 A thirty-minute pilot was filmed, which ended with a costumed Westlake on the run from the police but determined to bring justice to his crooked city, and even included some fight scenes from the movie to cut down on costs. Larry Drake returned as villain Durant and the project was helmed by Brian Grant, a director mostly known for music videos including "Private Dancer" by Tina Turner and Olivia Newton John's "Physical."
Given Batman Returns was a huge box office success in the Summer of 1992, and that Raimi had a hit of his with Army of Darkness that year, it's hard to see why Fox passed on Darkman, although it's possible that the pilot – which was never aired and is lost to time – may have just been bad.
Red Dwarf (NBC): Of all the attempted transfer from British TV to its US counterpart, one show is spoken of in hushed tones. Not because the transplant was a blockbuster success - like Three's Company or All in the Family - but because it has almost become a byword for how not to do it, likely to be joined in time by American versions of The Inbetweeners and The IT Crowd.
Red Dwarf was created in 1988, spun out of a sketch on the radio comedy show Son of Cliché by its authors Rob Grant and Doug Naylor, and to recap its basic plot would seem to be redundant, given the high esteem the show is held in by fans of comedy, sci-fi, and comedy sci-fi. Suffice to say, the mix of ridiculous humour and "last man alive" pathos was ripe for the picking and the Americans wanted their own version, shorn of the very Englishness that probably made the show such a delight in the first instance.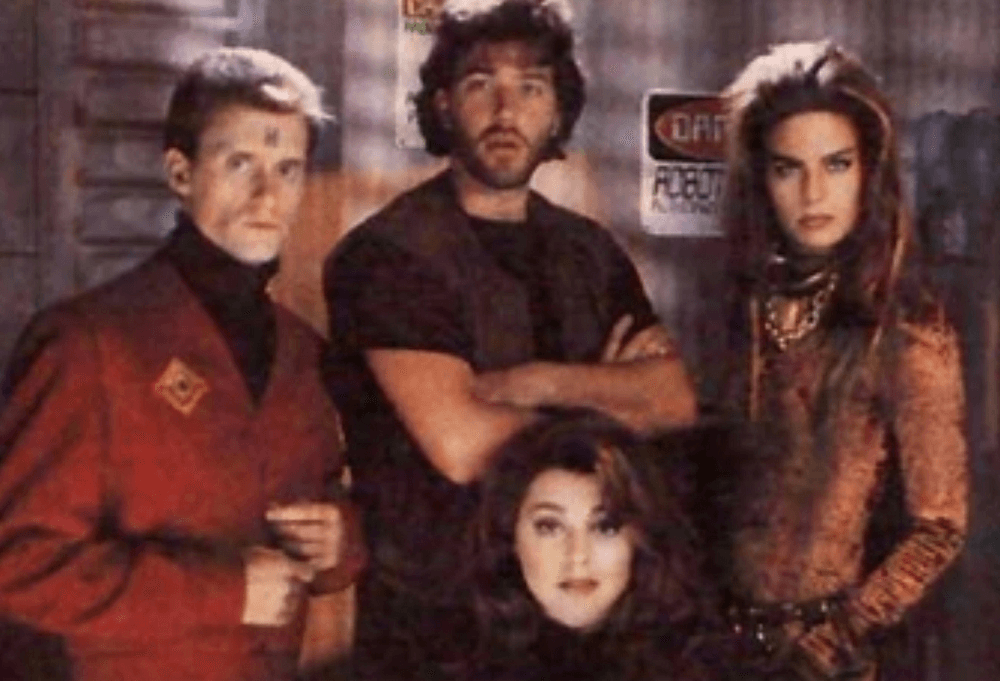 Robert Llewelyn was the sole member of the original cast retained for the US transplant, where he was joined by sitcom guest artist Craig Bierko as Lister, Whit Stilman regular Chris Eigeman as Rimmer, and stage actor Hinton Battle as Cat. Jane Leeves, a British actress who'd starred in the two-season wonder Throb in 1986 (and who would go on to be the beloved Daphne in Frasier) was Holly, the ship's computer, and a pilot directed by Jeffrey Melman was filmed in early 1992.
The network were unhappy with the results but dedicated enough to the project to order a second pilot, with Cat and Rimmer recast. Cat was now a white woman, turning the half-ethnic British cast into an all-white affair, and Chris Barrie turned down the chance to reprise his role as Rimmer, with the part going to newcomer Anthony Fusco. The results were still not what NBC wanted from such a high-profile project – the original had aired, and gained a cult following, on PBS – and they cancelled the series without airing either version of the pilot.
A mini documentary, entitled Dwarfing USA, was included on the DVD boxset of the original show's fifth season, and features clips from the first pilot, with the thoughts of Llewelyn and Naylor, who tells a story of having to completely rewriting the script overnight only for it to be rejected in the morning. Those fortunate enough to have seen the completed pilots describe them as just plain wrong, and although Red Dwarf returned a number of times from 1999 onwards, the promise of an American version remains unfulfilled.
Next on The Telephemera Years: Kids' TV from 1992, including COW-boys, sea monkeys, and dog cities…
Check out our other Telephemera articles:
Titans of Telephemera: Glen A Larson (part 1, 2, 3, 4)
Titans of Telephemera: Stephen J Cannell (part 1, 2, 3, 4)
The Telephemera years: 1966 (part 1, 2, 3, 4)
The Telephemera Years: 1990 (part 1, 2, 3, 4)
The Telephemera Years: 1975 (part 1, 2, 3, 4)
The Telephemera Years: 2003 (part 1, 2, 3, 4)
The Telephemera Years: 1982 (part 1, 2, 3, 4)
Titans of Telephemera: Kenneth Johnson
Titans of Telephemera: Quinn Martin (part 1, 2)
Titans of Telephemera: Irwin Allen
The Telephemera Years: 2008 (part 1, 2, 3, 4)
The Telephemera Years: 1987 (part 1, 2, 3, 4)
The Telephemera Years: 1971 (part 1, 2, 3, 4)
The Telephemera Years: 1995 (part 1, 2, 3, 4)
The Telephemera Years: 1980 (part 1, 2, 3, 4)