Features | Written by Alan Boon 31/03/2021
TITANS OF TELEPHEMERA: STEPHEN J CANNELL – PART 4
Ah, telephemera… those shows whose stay with us was tantalisingly brief, snatched away before their time, and sometimes with good cause. Dedicated miners of this fecund seam begin to notice the same names cropping up, again and again, as if their whole career was based on a principle of throwing stuff at the wall and seeing what sticks. What's more, it isn't all one-season failures and unsold pilots, there's genuine gold to be found amongst their hoards; these men are surely the Titans of Telephemera!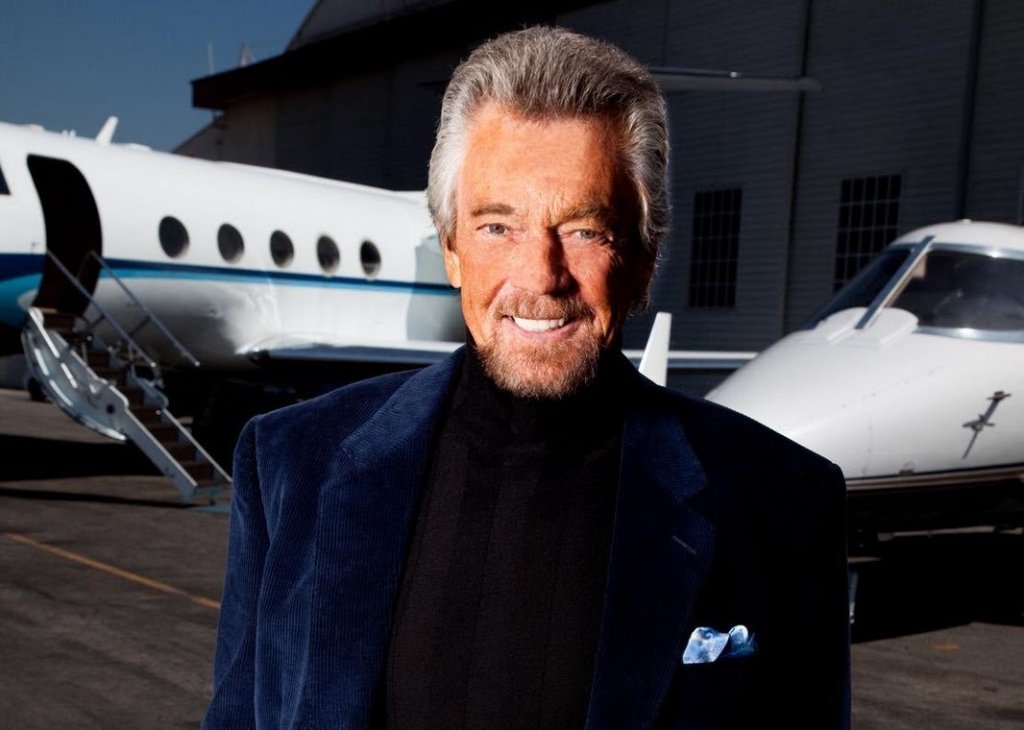 STEPHEN J CANNELL
From Baretta in 1975, Stephen J Cannell delivered a series of hits that was paralleled only by his fellow titans Glen A Larson and Aaron Spelling, but he also had his fair share of flops and one-season wonders. And that was the shows that made it to a full season! Alongside those were a handful of projects that the networks were interested in, but failed to pick up after an initial film had been made. This is the story of Cannell's unsold pilots of the 1980s…
Nightside (1980, ABC): It's very rare that the giants of popular culture work together - you can count on one hand the amount of times Madonna, Prince, and Michael Jackson worked together, for instance – but when it was announced that Stephen J Cannell and Glen A Larson were working on a show together, expectations must have been very high indeed. Even by 1980, Cannell and Larson had carved out a reputation for themselves as to go-to men for exciting, hour-long dramas, and the announcement of Nightside was met with whetted appetites.
The show followed the adventures of those working LA's streets after dark, focussing on Doug McClure's veteran cop, who combines his time flirting with his call dispatcher and showing the ropes to his rookie partner. McClure, hot off the B-movie successes of The Land That Time Forgot and Warlords of Atlantis, is obviously the star here but he's backed up by a solid bunch of journeymen filling out the cast, including world's ugliest man, Vincent Schiavelli.
Director Bernard L Kowalski keeps the tone light, with a bunch of prank-pulling college kids on the eve of a big football game becoming the bane of McClure's existence, and it's decent stuff for the most part. It was surprising, then, that ABC failed to pick it up for a full series, airing the pilot as a TV movie opposite the 1980 Tony Awards in June of that year.
The real reason behind the show's failure may lie in the fact that, according to Cannell, he and Larson just didn't mesh. "He makes his shows and I make mine," he said of the project, and the two never worked together again, although they did, of course, share many actors and – some would say – basic plots throughout their careers.
Brothers-in-Law (1985, ABC): By 1985, Cannell was on a roll; The A-Team, Hardcastle and McCormick, Riptide, and The Greatest American Hero were all airing in prime time, and even his less successful shows at least made it to series, even if they weren't returning for a sophomore outing. It must have been a shock, then, when Brothers-in-Law– pitched to ABC for the 1985 Fall season – became the first flop for Stephen J Cannell Productions.
The show has a decent premise: TK Kenny (Mac Davis) is a highway patrolman who is married to the daughter of shady businessman Winston Goodhue, but when he seeks a divorce Goodhue has him fired from the police force and stops him seeing his son. Mickey Gubiacci (Joseph Cortese) is also married to one of Goodhue's daughters, and works as a trucker for Goodhue's haulage firm. He is arrested while delivering some illegal goods for Goodhue, who convinces his daughter to dump the trucker. Kenny and Gubiacci, who don't like each other and have nothing in common except their exes - decide to pair up to form a detective agency, vowing to take down Winston Goodhue if it's the last the thing they do.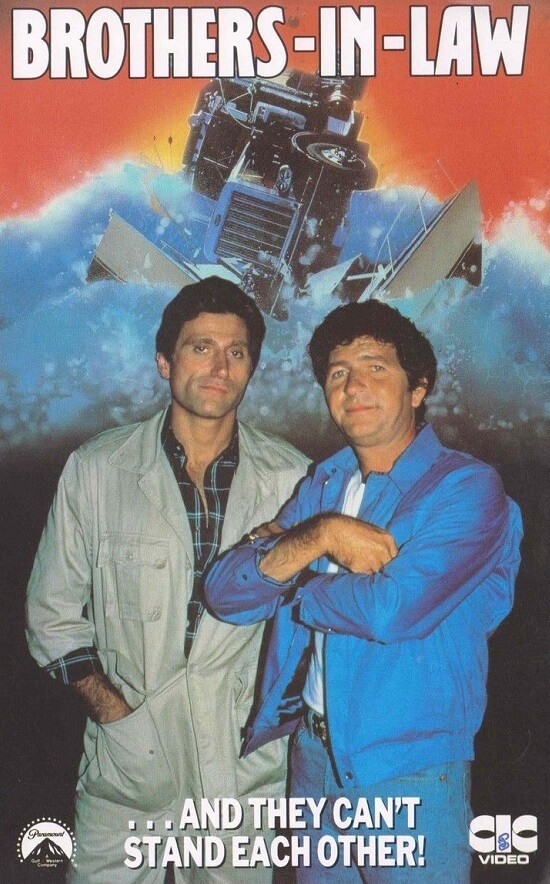 Robert Culp chews the scenery delightfully as Goodhue, and it's a pleasure as always to see John Saxon pop up, but if anything there's too much going on here, and the fact that Goodhue's daughters are also twins was no doubt planned for some hijinks down the line. ABC, who already had Hardcastle and McCormick, The Fall Guy, and Moonlighting on air, and would debut Spenser: For Hire and MacGyver that Fall instead of another Cannell show.
Destination America (1987, ABC): A Stephen J Cannell Productions creation, Destination America was realised for the screen by writer Patrick Hasburgh, who had co-created Hardcastle and McCormick with Cannell in 1983, and scripted a third of that series's episodes, along with a handful of The A-Team and The Greatest American Hero.
Hasburgh's concept centred on the unlikely-named Corbet St James V (played by St Elsewhere regular Bruce Greenwood) who, after falling out with his father after the death of his younger brother, opts for a life in the wilderness, occasionally popping into small towns to top up his supplies. On one such trip he encounters an abused woman whose husband has stolen her truck, and while attempting to help her out of her situation he learns that his father has been murdered.
St James becomes the chief suspect, but revealing that he was with the woman would put her at risk, so he goes on the run to try and catch his father's killer in a curious mix of The Fugitive and The Littlest Hobo. Rip Torn plays Corbet St James IV, and it may just be the fact that he died in the pilot and thus would not appear in an ongoing series that doomed this project, because Rip Torn, man.
ABC declined to pick up the show for a full series, but did air it as TV movie in April 1987, by which time Hasburgh was busy co-creating 21 Jump Street with Cannell. He would try several projects under his own Patrick Hasburgh Productions umbrella in the early-1990s, without much success, and moved on to scripting episodes of Seaquest DSV, which he also produced.
Thunderboat Row (1989, ABC): Although the telefantasy era was in its dying days by the back end of the 1980s, ABC still looked to Cannell for a blockbuster prime time drama that could take on the NBC line-up of LA Law, In the Heat of the Night, and Cannell's own Hunter. He came back with Thunderboat Row, the story of a team of law enforcement agents working together to take down drug smugglers in Los Angeles.
Cannell's script has wealthy powerboat designer Ben Bishop, played by Chad Everett, become worried that his boats are being used to smuggle drugs into the US, and so he uses his influence to create the River Intelligence Unit, pulling in staff from the various interested police and government agencies. Also along for the ride is a former powerboat racer who had been unwittingly used by drug kingpin Tom Rampy, who now uses his skills for good in a set-up that stretches credibility so far it could burst.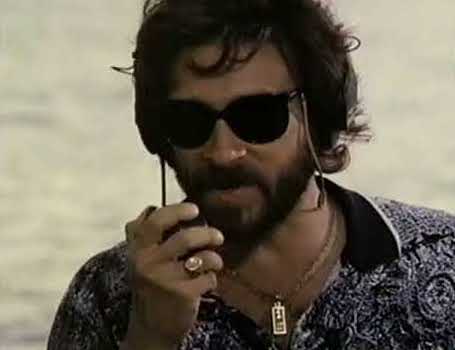 Surprisingly, it is based on the true story of powerboat legend Don Aronow, whose journey from boat racing and design to law enforcement was detailed in the book Speed Kills by Arthur J Harris, which was later turned into a movie starring John Travolta. Cannell, though, had no such stars, and while his young cast – which included the promising Ash Adams and Rob Estes, as well as Freddie Simpson, who would appear in A League of their Own before vanishing from Hollywood – is game, the plot is, once again, over-complicated and reliant on how thrilling you consider powerboats to be; Hulk Hogan would later star in the boat-themed action show Thunder in Paradise, and the concept would be most brilliantly realised in The Simpsons, parodied as Knightboat.
Cannell still had plenty in his locker, despite the failure of Thunderboat Row, and would enjoy success in the early-1990s with The Commish, Silk Stalkings, and Renegade, before turning his attention to writing novels in 1995, although he continued to executive produce revivals of his earlier projects. Stephen J Cannell and Glen A Larson were truly titans of telephemera, fecund minds from which half-remembered shows poured forth, but for our next dive into that most precious of TV resources we're going to take a trip in time; join us for The Telephemera Years!
Related Reading from STARBURST:
TITANS OF TELEPHEMERA: STEPHEN J CANNELL - PART 1
TITANS OF TELEPHEMERA: STEPHEN J CANNELL - PART 2
TITANS OF TELEPHEMERA: STEPHEN J CANNELL - PART 3
TITANS OF TELEPHEMERA: GLEN A LARSON – PART 1
TITANS OF TELEPHEMERA: GLEN A LARSON – PART 2
TITANS OF TELEPHEMERA: GLEN A LARSON – PART 3