Features | Written by Alan Boon 09/03/2021
TITANS OF TELEPHEMERA: STEPHEN J CANNELL – PART 1
Ah, telephemera… those shows whose stay with us was tantalisingly brief, snatched away before their time, and sometimes with good cause. Dedicated miners of this fecund seam begin to notice the same names cropping up, again and again, as if their whole career was based on a principle of throwing stuff at the wall and seeing what sticks. What's more, it isn't all one-season failures and unsold pilots, there's genuine gold to be found amongst their hoards; these men are surely the Titans of Telephemera!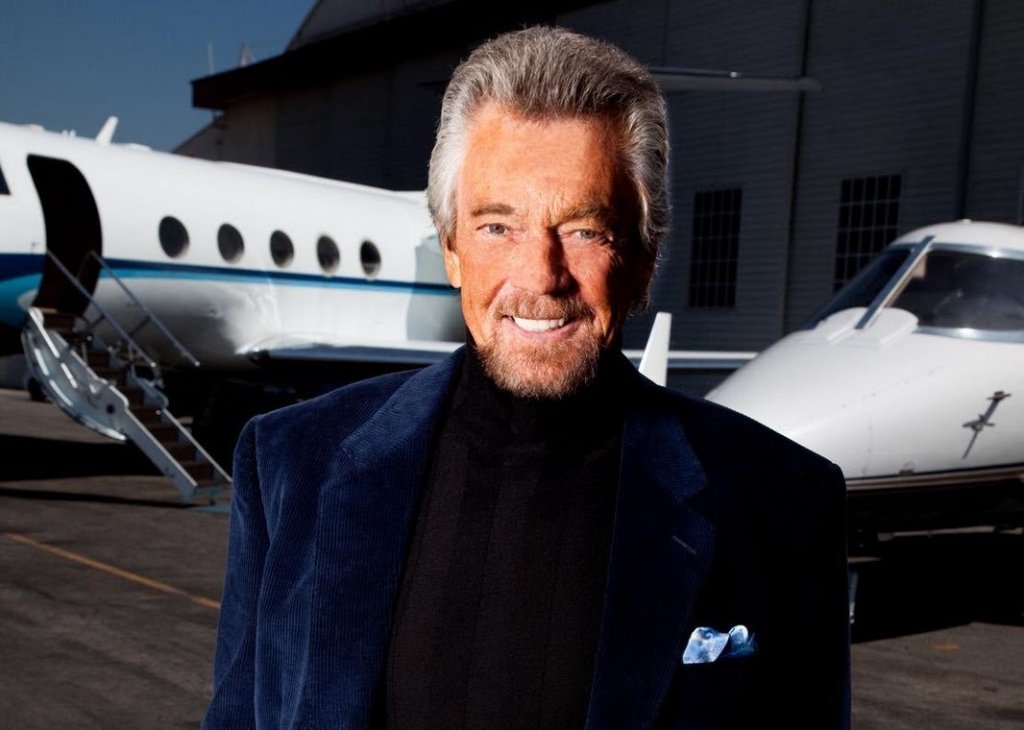 STEPHEN J CANNELL
Vying with Glen A Larson and Aaron Spelling for the 1980s greatest TV producer, Stephen J Cannell had his first hit with Baretta in 1975, and went on to create The Rockford Files, Hardcastle & McCormick, The A-Team, 21 Jump Street, The Commish, Silk Stalkings, and Renegade, before retiring in 1995 after twenty-five years in the business. Cannell had plenty of hits, and also more than a few shows that lasted beyond their first season yet failed to leave a lasting legacy. In this week's Titans of Telephemera, we'll look at those shows…
The Greatest American Hero (1981, ABC): On the face of it, any series that last for three seasons can't be considered a failure, but The Greatest American Hero – the first show to carry the Stephen J Cannell Productions logo – had a troubled history which resulted in just forty-four episodes being produced, the last five of which never aired.
The Greatest American Hero was the story of Ralph Hinkley (although for half of Season 1, after John Hinckley Jr shot Ronald Regan, he became Ralph Hanley), a schoolteacher who is gifted a supersuit by a bunch of aliens, only to lose the instruction manual and have to work it out for himself. Hinkley was played by William Katt, who had made his name in surf porn classic Big Wednesday and as a young Sundance Kid in Butch & Sundance: The Early Days, and he was given back-up by Robert Culp's FBI agent, Bill Maxwell, as they thwarted threats to the safety of planet Earth.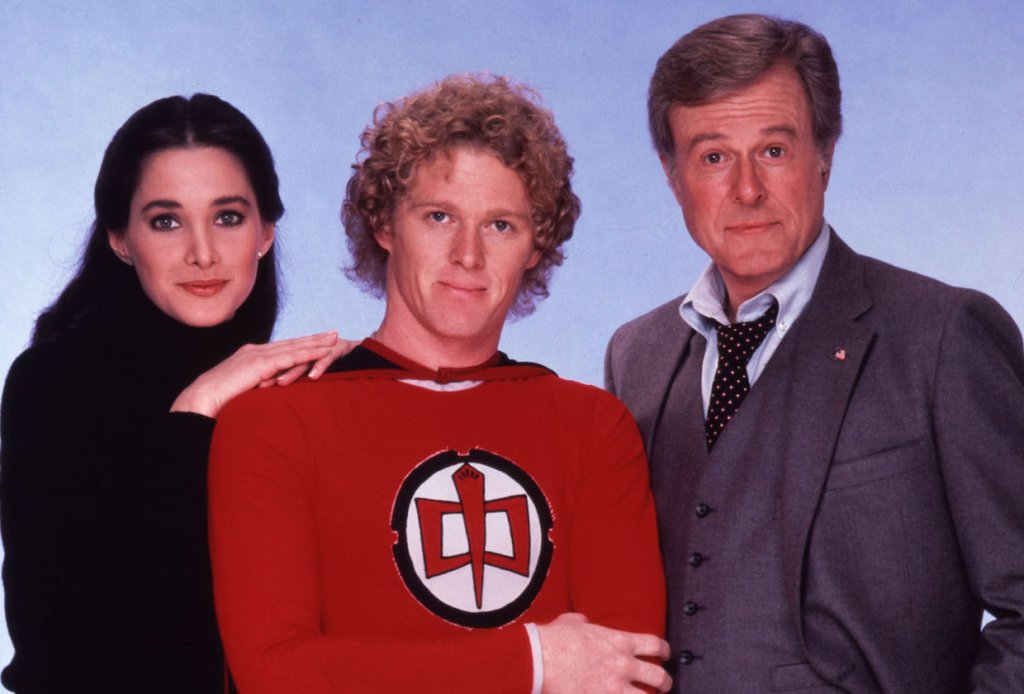 Inspired by the Marvel Comics of the 1960s and 1970s, Cannell wanted the show to emphasize the hero's real-life problems, but clashed with the network, who thought there should be more superhero action and thrilling rescues. When his original champions, Marcy Carsey and Tom Werner, left ABC, Cannell often came out on the losing end of the battle, and the results showed in what reached the screen, a halfway house falling between two stools.
The short first season – just nine episodes, which aired in a six-month period in the Spring and Summer of 1981 – did well enough for an order of a full second season of twenty-two, and the show finished a respectable forty-fourth in the year-end ratings list. This meant a third season, but the bloom was off the rose, and it sank to ninety-two in the ratings, and was cancelled with five episodes left to air. Later home video releases included the unaired episodes, the last of which saw Ralph's identity revealed to the world, and his choice of a replacement – a woman!
Cannell intended to continue the show with The Greatest American Heroine, but this died on the vine in 1986, and a filmed pilot was not picked up by ABC, although it has joined the other episodes in syndication. Katt and Cannell reunited for 1989's political drama Top of the Hill, which lasted ten episodes before cancellation, by which point the producer had several hits under his belt, including The A-Team, which debuted two weeks before The Greatest American Hero made its final bow.
Stingray (1985, NBC): In the summer of 1985, Cannell already had three shows on the NBC schedule in The A-Team, Hunter, and Riptide (the latter two co-created with future Titan subject Frank Lupo), and joining them in July was another Cannell show in the shape of Stingray, in which Nick Mancuso starred as Ray, a mysterious man who drove a Corvette Stingray and helped out those in trouble.
Ray's services could be obtained by answering a small ad in a newspaper, which was pretty much the same idea as The Equalizer, which popped up on CBS two months later, but the twist was that Ray would only ask for a favour in return for his help, and during the course of the series he would call in favours from past clients to help solve new cases.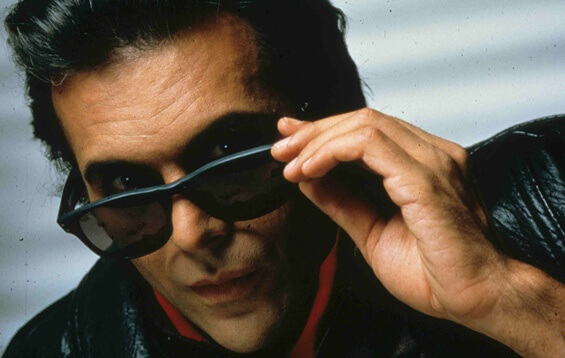 After a successful pilot in July 1985, a short first season began in March 1986, which revealed more clues about Ray's mysterious past, as well as including MTV-style music video interludes, with montage-like scenes shot to episode-specific songs from Mike Post and others, and the whole package was novel enough for a second season of fifteen episodes to air from January 1987.
Helping out crop dusters, Soviet defectors, Native Americans, and victims of experiments gone awry, Ray's adventures did decent ratings but NBC declined to pick it up for a third season and The Equalizer outlived it by two years and a pair of movies in the 2010s. With Wiseguy and 21 Jump Street beginning long runs later in 1987, Cannell probably wasn't too concerned at the loss of Stingray, but you can't leave the idea of a guy helping out people in trouble alone for too long…
Booker (1989, Fox): Fox had launched in Fall 1986 as an attempt to do a fourth network, rivalling ABC, NBC, and CBS for the attentions of America's couch potatoes, and their first real hits came the following year, with Married… With Children and 21 Jump Street making their prime-time bows. In 1989, with 21 Jump Street still riding high in the ratings, Fox asked Stephen J Cannell to create a spin-off show, much as they would later do with The Simpsons, which was spun out of The Tracy Ullman Show.
Cannell came up with Booker, starring Richard Grieco's character from Jump Street, now working for the US office of a large Japanese company, investigating dodgy insurance claims. On the side, Booker also helped out friends and family in need, because who the Hell is interested in insurance fraud?!?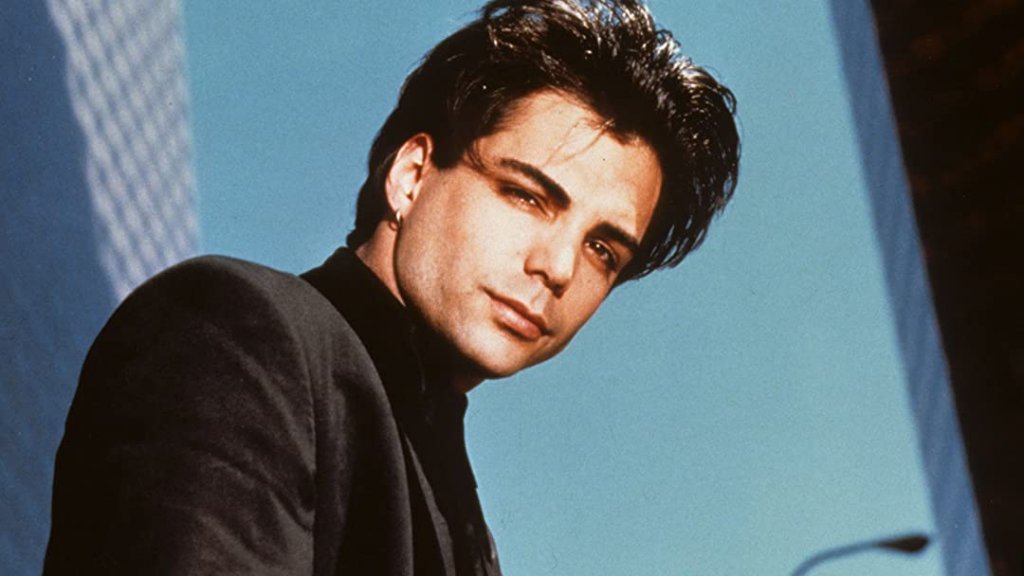 To ensure the success of the new show, guest appearances and crossovers with its parent show became a feature, but even the addition of Lori Petty to the cast halfway through its run couldn't save it from the axe, and Fox declined to renew Booker for a second season, replacing it in the schedule with the sitcoms True Colors and Parker Lewis Can't Lose.
Grieco turned to movies, enjoying minor success as Bugsy Siegel in Mobsters, but largely enjoying a long string of underwhelming returns, while his 21 Jump Street co-star Johnny Depp became a megastar. Cannell, meanwhile, continued churning out risk-averse hit shows like Silk Stalkings and Street Justice, but he returned for another bite of the "hero named after his car" cherry in 1993…
Cobra (1993, syndication): After Stingray came Cobra, which saw former American Ninja Michael Dudikoff play Ronald "Scandal" Jackson, a former US Navy Seal who went AWOL rather than kill civilians, retiring to an Inuit village in Alaska, where he carved out a new life. His past caught up to him, however, and he was attacked and left for dead, only to wake up with a new face and a chance at justice…
Yes, this is Knight Rider, except that - instead of KITT – Scandal drives a classic AC Cobra, sadly without William Daniels hiding in the dashboard. The show was originally called Viper, but NBC were developing a show (which also had elements of Knight Rider) of that title at the same time, and so the switch to Cobra was made, despite the 1986 Sylvester Stallone film of that name.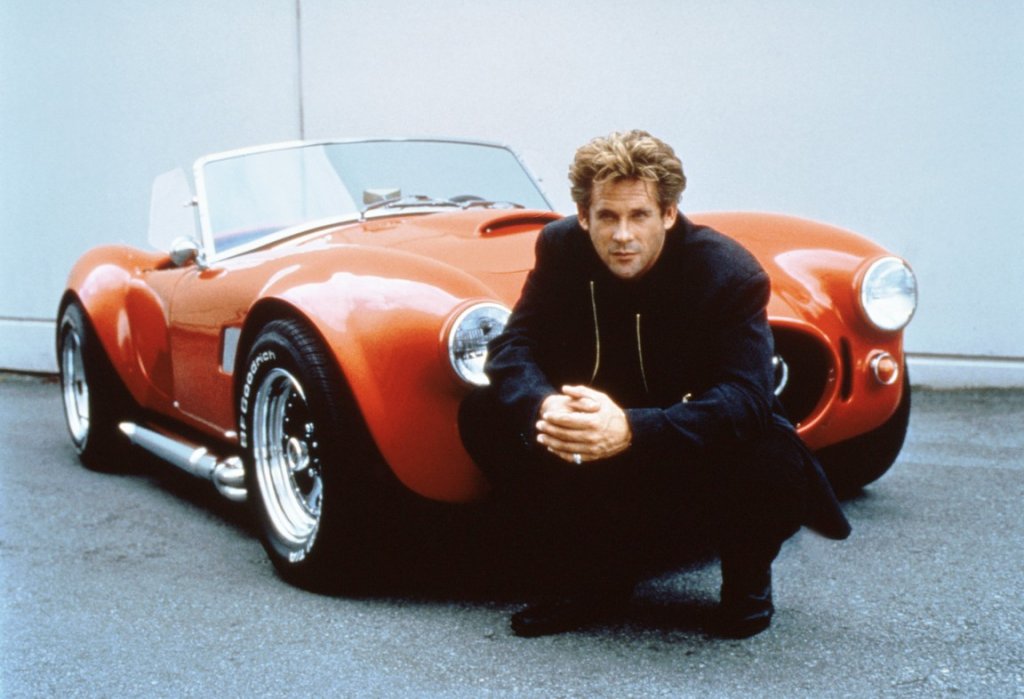 Cobra was also the name of Scandal's bosses, and while it also shared a name with the villainous outfit from GI Joe, this organisation was concerned with helping out people who hadn't got justice from the justice system. Joined by the daughter of Cobra's founder, Danielle LaPoint (played by soap alumnus Allison Hossack), Scandal kicked ass and took names, all the while trying to find out who killed his father five years before…
There was probably too much in Cobra, with Danielle also butting heads with her father, and seeking answers about the death of her mother, but Dudikoff was nothing if not a charismatic action lead. Despite crafting the show so that episodes could be watched out of order – perfect for syndication – there wasn't enough interest for a second season, and Dudikoff returned to direct-to-video action flicks. Cannell was winding down his TV career, opting for an early retirement, but he'd managed to accumulate a far back catalogue, and not all of those shows made it as far as the end of their first season. Join us next week for a look at some of those failed projects, including a show about a troop of bounty hunters who are all descended from Wyatt Earp…
Further Reading from STARBURST:
TITANS OF TELEPHEMERA: GLEN A LARSON – PART 1
TITANS OF TELEPHEMERA: GLEN A LARSON – PART 2
TITANS OF TELEPHEMERA: GLEN A LARSON – PART 3