Features | Written by Alan Boon 23/08/2022
THE TELEPHEMERA YEARS: 1997 – PART 4
Ah, telephemera… those shows whose stay with us was tantalisingly brief, snatched away before their time, and sometimes with good cause. They hit the schedules alongside established shows, hoping for a long run, but it's not always to be, and for every Street Hawk there's two Manimals. But here at STARBURST we celebrate their existence and mourn their departure, drilling down into the new season's entertainment with equal opportunities square eyes… these are The Telephemera Years!
1997-98
NBC's Thursday night block of "Must See TV" dominated the 1997-98 US TV season, with Seinfeld, ER, Friends, and new hit (and Kirstie Alley vehicle) Veronica's Closet filling the top four spots. Even Union Square, which NBC cancelled after fourteen episodes for lower than expected ratings, came in at number seven, and the rest of the networks floundered in the Peacock's wake. Outside of football and the news, only ABC's Home Improvement and CBS schlockfest Touched By An Angel could crack the top ten, but Fox had a strong trio in the youth demographic with The X-Files, King of the Hill, and The Simpsons all making the top twenty.
Seinfeld was in its final season, as were Ellen, Dr Quinn Medicine Woman, and The Larry Sanders Show, but there were new arrivals in the shape of Ally McBeal, Dawson's Creek, Stargate SG-1, and La Femme Nikita, while Oz began its gritty six-year run on HBO in July 1997. Fans of genre shows were also catered for by 3rd Rock from the Sun, Buffy the Vampire Slayer, Sabrina the Teenage Witch, and Star Trek: Voyager, but what about those shows that failed to tickle the fancy of younger viewers? This is the story of five animated outings from the 1997-98 season…
The Adventures of Sam & Max: Freelance Police (Fox): Steve Purcell's older brother Dave used to like making comics but, like the best of us, he seldom finished them. Instead, he'd leave them lying around the house and young Steve would finish them for him, in a mocking fashion. In the mid-1970s, Dave started a story about a dog and rabbit detective duo, which Steve really took to, producing his own adventures featuring the pair to the point that Dave gave Steve the rights to the characters for his birthday one year as a cheap way of getting out of buying a real present.
In 1980, Steve began drawing weekly Sam & Max strips for his college newspaper, which eventually led to an offer from Fish Police creator Steve Moncuse to publish them in a comic book for Moncuse's Fishwrap Productions in 1987. Subsequently picked up by Comico and Epic, Purcell also began drawing Sam & Max strips for The Adventurer, the monthly staff magazine for Lucas Arts, where he had a day job as a game designer, and in 1992 the studio offered him a chance to produce a game based on his characters, which was released as a DOS game.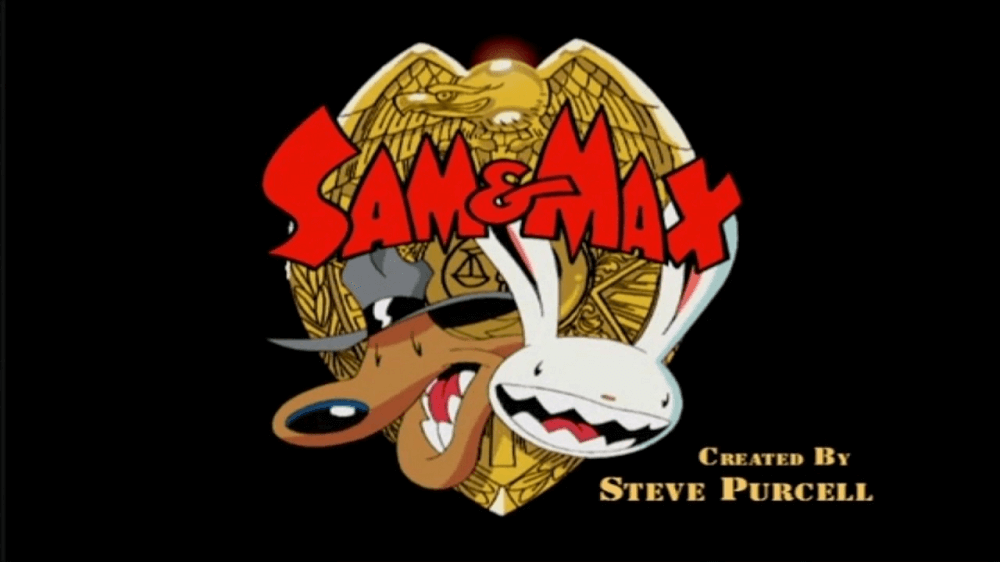 Sam & Max soon gain a reputation as one of the best underutilised properties on the market and Fox Kids picked up the series for a 1997 debut, with animation produced by Canadian studio Nelvana. Twenty-four ten-minute episodes were ordered, a handful of which were written by Purcell, and the show debuted on October 4th 1997 with an episode entitled "The Thing That Wouldn't Stop."
Although toned down to be aimed at the children's market, The Adventures of Sam & Max: Freelance Police retained much of the fun characterisation of the comic books, with Sam the dog a detective straight out of a film noir, and Max a bundle of hyperactive energy, while adding a twelve-year-old girl (admittedly a strange one) to be the audience's identifying factor. Unfortunately, Fox declined to pick up the show for a second series, despite Sam & Max earning a Gemini award for Best Animated Series in 1998, and Purcell returned to producing further comic books and videogames starring the pair. The complete series, with a ton of extras, was released on DVD in 2008 and the show is currently streaming on Tubi.
Extreme Dinosaurs (syndication): The toy to TV pipeline was well into its second decade when Mattel developed a new line of action figures spun-off from Street Sharks called Dino Vengers. Quickly renamed Extreme Dinosaurs, the toy company then trod the tried and tested trail of securing thirty minutes of prime advertising and enlisted DIC Productions – who had also produced the Street Sharks show – to bring the property to life.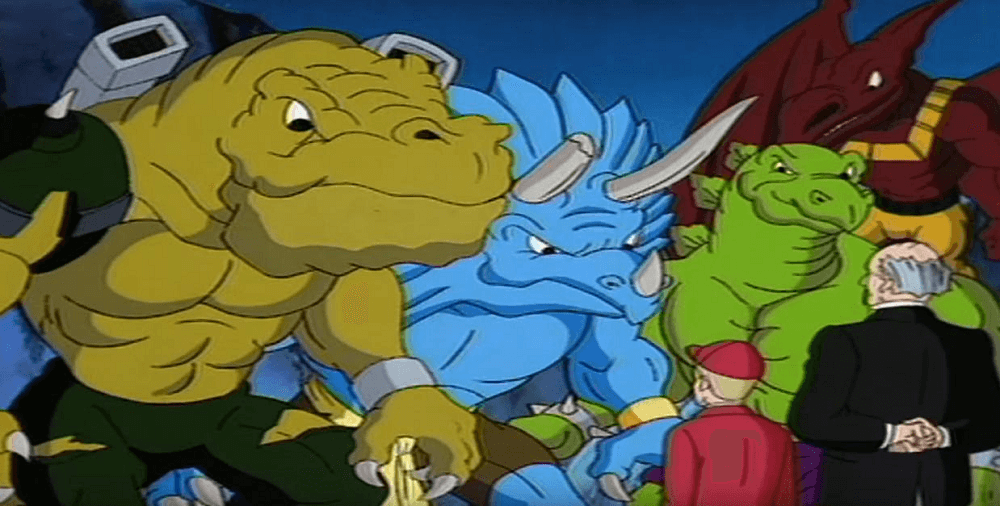 Four of the prehistoric patrol had already appeared – as the Dino Vengers - in the third season of Street Sharks, which was actually retitled Dino Vengers featuring the Street Sharks for its final eight episodes, but the Extreme Dinosaurs show rebooted its continuity to remove any mention of the now dead toy line, instead focussing solely on T-Bone, Spike, Stegz, Bullseye, and new addition Hard Rock as they battled Bad Rap's evil raptors.
The fortunes of such shows are directly tied to the toys they shill, and although the toyline received a tweak with some special features added, it was off the shelves by 1998 and there was to be no second season of the show. Still, as a show meant for syndication, fifty-two episodes were produced, subsequently released on a series of VHS tapes, although only Australia has gotten the DVD treatment, with four DVDs spanning the whole series being issued by Force Entertainment.
Silver Surfer (Fox): The history of Marvel Studios is a complicated thing, even more so than its parent company. Its roots lie in DePatie-Freeleng Enterprises, the animation studio responsible for The Pink Panther, which was acquired by Marvel Comics' owners Cadence Industries in 1981 when Fritz Freleng wanted to return to Warner Bros. Renamed Marvel Animation, the studio scored big hits with the GI Joe and Transformers cartoons and was a jewel in the crown of the sale of the Marvel Entertainment Group to New World Pictures in 1986.
In 1989, New World experienced cash-flow problems and Marvel Animation was sold to the Andrews Group, and when that group also acquired the rest of New World a year later, Marvel Animation rejoined the fold, although it had been downsized considerably by that point. Under Andrews' ownership, the studio began to focus less on licensed properties and more on taking advantage of Marvel's massive roster of marketable characters, partnering with Saban to produce X-Men: The Animated Series in 1992, and its own shows for Iron Man, Fantastic Four, and Spider-Man in the following years.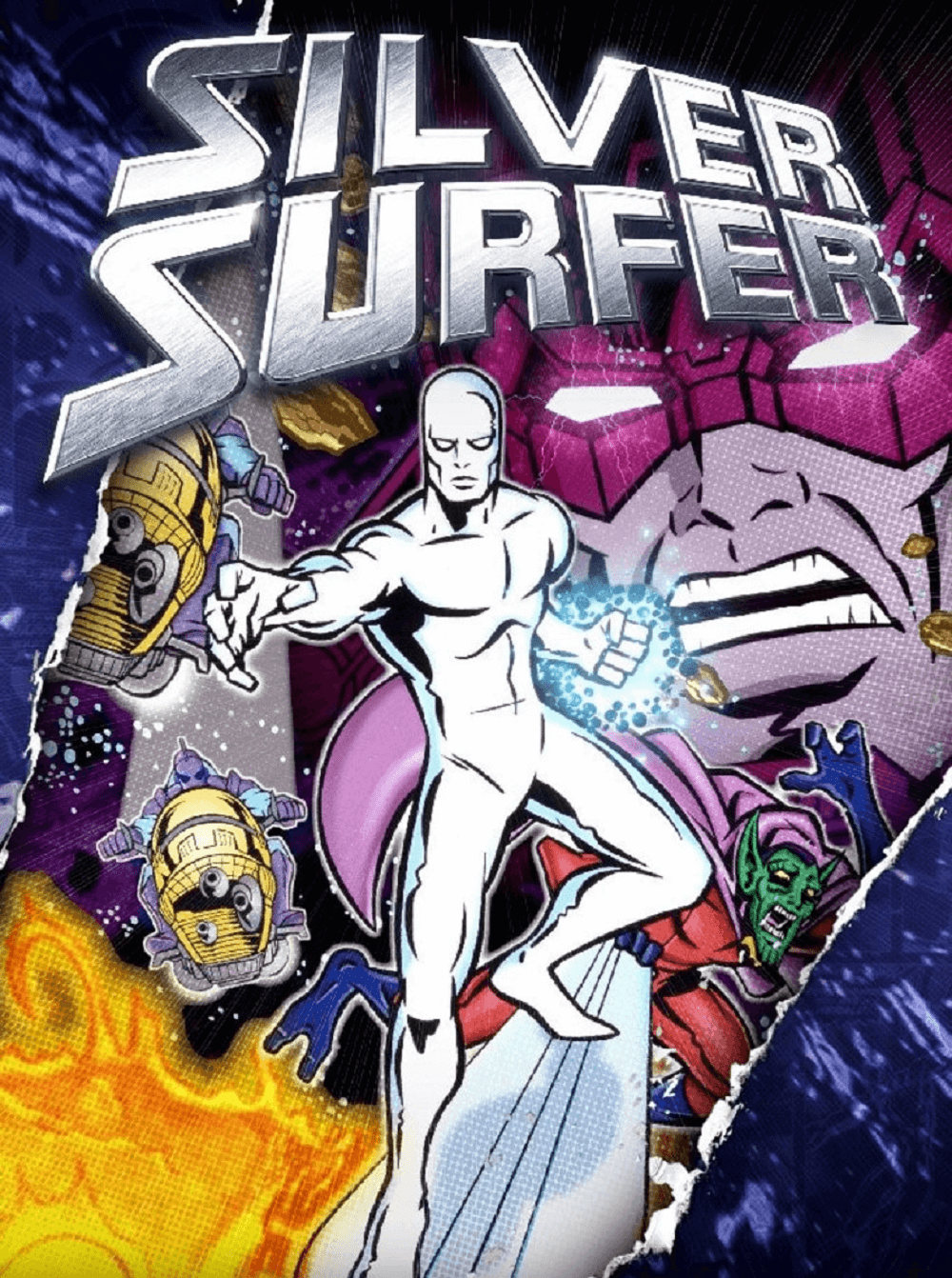 Having adapted the coming of Galactus for Fantastic Four, which introduced the Silver Surfer to the Marvel Universe, the Surfer's solo adventures were deemed perfect for a show of his own, and Saban was again contracted to produce the show, with thirteen episodes ordered for a February 1998 premiere. Using a mix of CGI and traditional cel animation, Saban leaned heavily on the designs of Surfer creator Jack Kirby for his aesthetic and writer Larry Brody filled the show with a cast of characters from the wider cosmic Marvel Universe, enough to please even the most hardcore Marvel Comics fan.
Unfortunately, keeping the show true to the Surfer's roots probably made it too brooding for its intended audience on Fox Kids but it was enough of a success that eight episodes of a second season were in the early stages of production before a dispute between Marvel and Saban led to the cancellation of the show. Marvel Animation had been sold again during the production of the first season, this time to Fox, but the comics arm went to Toy Biz, and that complicated mess eventually put an end to all co-productions with Saban, even when both companies were acquired by the Walt Disney Corporation, as is the fate of all of us…
The Weird Al Show (CBS): Like oxygen and the stars, it's difficult to imagine that there was a time before Al Yankovic, the weirdest of all Als. Supposedly, his story began in 1976 when he gave a tape of his parody songs to Dr Demento when the radio personality visited Yankovic's high school, leading to a regular slot on Demento's show and launching Yankovic to fame as America's foremost musical sender-upper.
In 1989, Yankovic starred in UHF, a movie designed to showcase his talents that proved divisive to the small amount of people who saw it. The failure of the film led to a slump in his career that Weird Al only turned around in 1992 with a parody hit of Nirvana's "Smells Like Teen Spirit." Further successes with comedy versions of "Gangsta's Paradise" ("Amish Paradise") and "Lump" ("Gump") brought Yankovic back into the mainstream once more and CBS decided to take advantage by greenlighting a Saturday morning show for Fall 1997.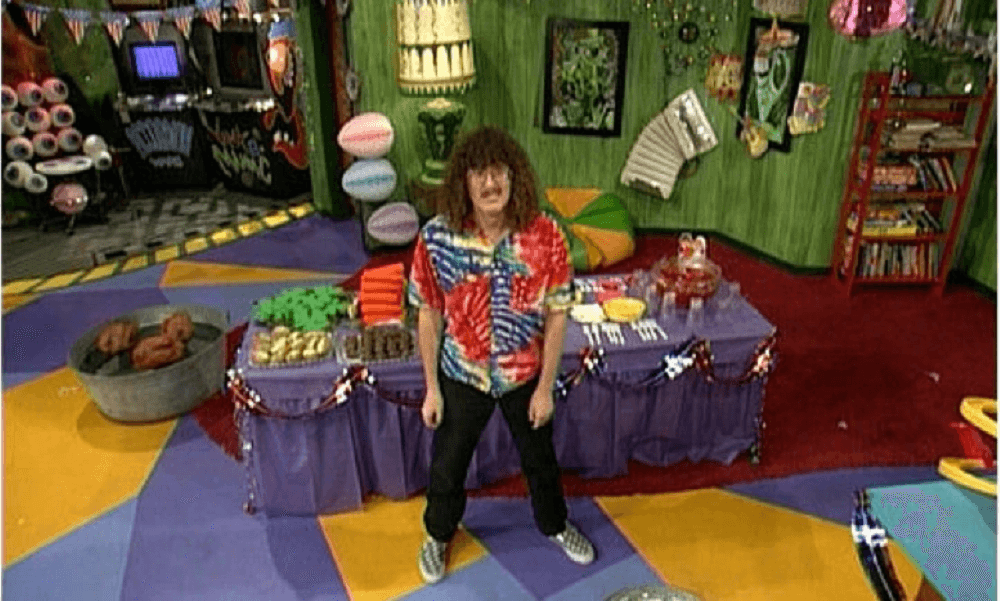 Yankovic pitched the show as being similar to Pee-Wee's Playhouse but with a more subversive (if gently so) brand of humour that matched his parody songs. Director Peyton Reed, who would go on to helm Ant-Man, was brought in to help develop the show, and Pee-Wee designer Wayne White was hired to build the set. The tone of the material – and CBS's refusal to license original songs for Yankovic to parody – led to some friction on set, with the crew often having to find ways to sneak material past the network's censors and stick-in-the-mud executive producer Dick Clark.
Thirteen episodes were produced, airing at 11.30am on Saturday mornings, but a feeling that this wasn't the Pee-Wee's Playhouse they'd been promised – and the constant battles over risqué content – led to the show's cancellation. It did, however, feature the first US TV performance by Barenaked Ladies and a young Patton Oswalt, and the whole thing was released on DVD, with some lovely extras, by Shout Factory in 2006 if you can track that down.
Toonsylvania (Fox): While Steven Spielberg's DreamWorks Animation were preparing their first prime-time animated show – Invasion America ­– for June 1998, they were also working on a kids' show, to be shown as part of Fox Kids "No Yell Motel" block, which also featured Goosebumps and Eerie, Indiana.
An anthology piece, Toonsylvania was developed by Eek! The Cat co-creator Bill Kopp and Chris Otsuki, with whom Kopp had worked on Tazmania some years previously. The two came up with a series of recurring segments, in the manner of Animaniacs, pulled together by Dr Vic Frankenstein, his assistant Igor, and their dim-witted monster Phil.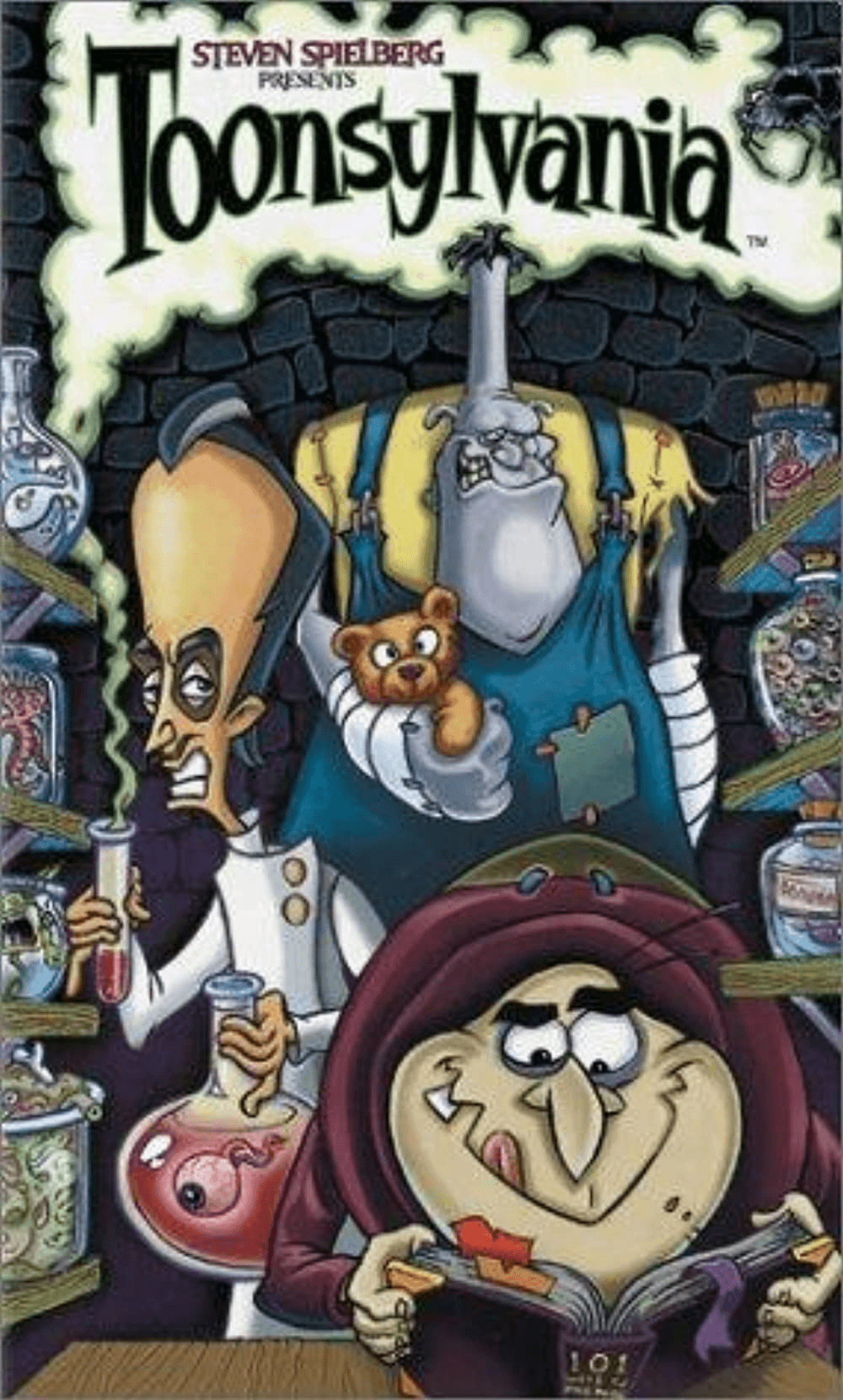 A typical episode would start with the wacky adventures of Frankenstein and company, before  Night of the Living Fred (a family of zombies created by Pulitzer Prize-winning cartoonist Mike Peters) and igor's Science Minute, where the titular sidekick would attempt to prove he was smarter than his boss. The show was rounded off by Melissa Screech's Morbid Morals, where Igor would teach Phil a lesson through a tale of young Melissa (voiced by Nancy Cartwright) who never listens to adults and ends up in all manner of misfortune.
Thirteen episodes were produced for the first season, debuting in February 1998, and a second season was ordered, of eight episodes, to follow in October. This time, though, the show was moved to Monday afternoons where it didn't fare so well, and there was to be no third season. The show did receive a line of toys from Toy Island, and a videogame on the Game Boy Colour in 2000, but it had never been released on DVD, and isn't available to stream anywhere, a truly telephemeric cartoon. Luckily, as is so often the case, YouTube rides to the rescue, and you can find some episodes there… if you dare!
Next on The Telephemera Years: it's back to 1969 for some very groovy shows…
Check out our other Telephemera articles:
Titans of Telephemera: Glen A Larson (part 1, 2, 3, 4)
Titans of Telephemera: Stephen J Cannell (part 1, 2, 3, 4)
The Telephemera years: 1966 (part 1, 2, 3, 4)
The Telephemera Years: 1990 (part 1, 2, 3, 4)
The Telephemera Years: 1975 (part 1, 2, 3, 4)
The Telephemera Years: 2003 (part 1, 2, 3, 4)
The Telephemera Years: 1982 (part 1, 2, 3, 4)
Titans of Telephemera: Kenneth Johnson
Titans of Telephemera: Quinn Martin (part 1, 2)
Titans of Telephemera: Irwin Allen
The Telephemera Years: 2008 (part 1, 2, 3, 4)
The Telephemera Years: 1987 (part 1, 2, 3, 4)
The Telephemera Years: 1971 (part 1, 2, 3, 4)
The Telephemera Years: 1995 (part 1, 2, 3, 4)
The Telephemera Years: 1980 (part 1, 2, 3, 4)
The Telephemera Years: 1992 (part 1, 2, 3, 4)
The Telephemera Years: 1977 (part 1, 2, 3, 4)
The Telephemera Years: 1968 (part 1, 2, 3, 4)
The Telephemera Years: 1984 (part 1, 2, 3, 4)
The Telephemera Years: 2005 (part 1, 2, 3, 4)
Titans of Telephemera: Hanna-Barbera (part 1, 2, 3, 4, 5)