Features | Written by Alan Boon 11/05/2021
THE TELEPHEMERA YEARS: 1990 – PART 2
Ah, telephemera… those shows whose stay with us was tantalisingly brief, snatched away before their time, and sometimes with good cause. They hit the schedules alongside established shows, hoping for a long run, but it's not always to be, and for every Knight Rider there's two Street Hawks. But here at STARBURST we celebrate their existence and mourn their departure, drilling down into the new season's entertainment with equal opportunities square eyes… these are The Telephemera Years!
1990-91
The turn of a decade is never a neat, arbitrary thing, and the flavour of the previous decade can bleed into the new one for quite some time. So when we're looking at the TV of the 1990-91 US TV season, we're really experiencing the bottom of the 1980s barrel, and in some cases it shows! Still, the 1990 schedules were full of clever, engaging shows like Twin Peaks, Northern Exposure, Quantum Leap, and The Simpsons, alongside more traditional fare such as MacGyver, Jake & The Fatman, Hunter, and Midnight Caller.
New shows hitting the schedules that stayed around a while included Dinosaurs, Beverly Hills 90210, The Fresh Prince of Bel-Air, and Law and Order, while comic books came to the small screen with The Flash and the Teenage Mutant Ninja Turtles cartoon that made Eastman and Laird millionaires. We looked last time at the magnificent failures of Cop Rock and Uncle Buck, but the misses of the 1990 didn't end there…
E.A.R.T.H. Force (CBS): The twentieth anniversary of Earth Day in 1990 was a signal that environmentalism was back on the agenda, and television jumped right in with a bevy of projects that reflected the concerns of the time. The animated Captain Planet lives long in the memory but what of the live-action E.A.R.T.H. Force, starring the erstwhile Buck Rogers, Gil Gerard?
Chopper Squad's Robert Coleby plays Frederick Winter, a dying millionaire who establishes the Earth Alert Research Tactical Headquarters, and brings together a team of scientists to prevent environmental disasters, headed by Gerard's Dr John Harding, and dubbing them E.A.R.T.H. Force. Along for the ride were Joanna Pacula, Clayton Rohner, and Robert Knepper, and the show was filmed in Queensland, Australia.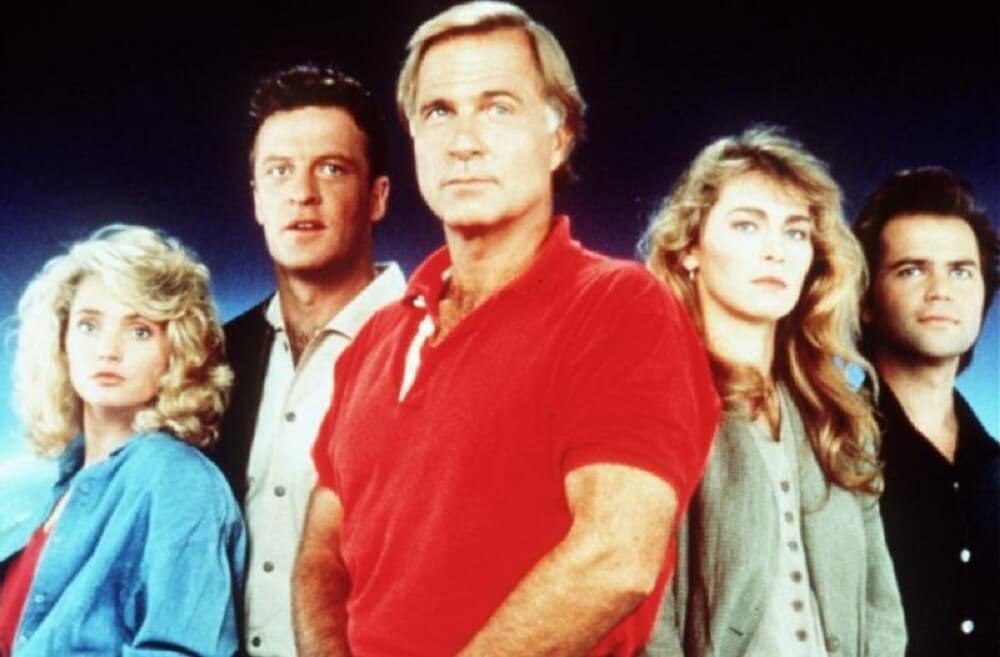 Bursting onto screens with a two-hour pilot on Saturdays at 9pm, opposite NBC's Golden Girls and Empty Nest, and with only the Vietnam War drama China Beach as non-comedy competition, but audiences were not impressed with the heavy-handed messaging or the bad writing, bad directing, and bad acting on offer.
It also didn't help that many of the prime-time advertisers were the very people the show was targeting as eco-criminals, and all this resulted in E.A.R.T.H. Force being yanked off the air after just three weeks, with three completed episodes going unaired (although some foreign markets did air the full run).
Gabriel's Fire (ABC): Inspired by the same real-life event that's depicted in the Oscar-nominated Judas and the Black Messiah, Gabriel's Fire saw James Earl Jones as a former policeman, released after serving twenty years for the murder of a fellow police officer. Jones's Gabriel Bird shot his colleague to prevent the killing of a defenceless mother and child during a police raid that was being used as a pretence for the assassination of the leader of a militant Black Nationalist organisation.
Back on the street, Bird starts working as a private detective, hired by the lawyer who helped to free him, working to help those wronged by the justice system. Jones was superb in the role, and earned an Emmy Award for his work, with Madge Sinclair also getting the Best Supporting Actress for her part as the owner of the café Bird works out of.
Ratings, however, did not match the critical acclaim, struggling against the number one rated show Cheers and the superhero action of The Flash, and ABC decided to retool the show for the 1991-92 season, retitling it Pros & Cons and giving it a more light-hearted feel. Moved an hour forward in the schedules, it fared no better than the original show, and was quietly cancelled after its initial episode order had been filled.
Those who recall the show remember it fondly but it has never been released on DVD, although you can catch the pilot on YouTube. It was rare to see James Earl Jones get to flex his considerable acting muscles outside of a voice role, and he wouldn't commit to another ongoing series outside of narrating 3rd Rock from the Sun, preferring instead to lend his dulcet tones to a procession of guest roles.
Ferris Bueller (NBC): Ferris Bueller's Day Off was a huge hit for John Hughes in 1986, with teens all over the world wanting to be, or wanting to be with, the titular hooky-playing hero. Given television's willingness to cash in on a successful movie property – officially or "in tribute" – it's surprising, then, that it took four years for Matthew Broderick's career-making bad boy to hit the air.
The series purported to be the "true" adventures of Ferris Bueller, with Charlie Schlatter in the title role bemoaning the movie that had been made of his life, even destroying a life-size cardboard model of Broderick with a chainsaw. John Hughes was not involved in the production of the show, and none of the movie's cast returned for TV, with the main roles filled by Brandon Douglas (Cameron), Ami Dolenz (Sloane), and a young Jennifer Aniston as sister Jeannie.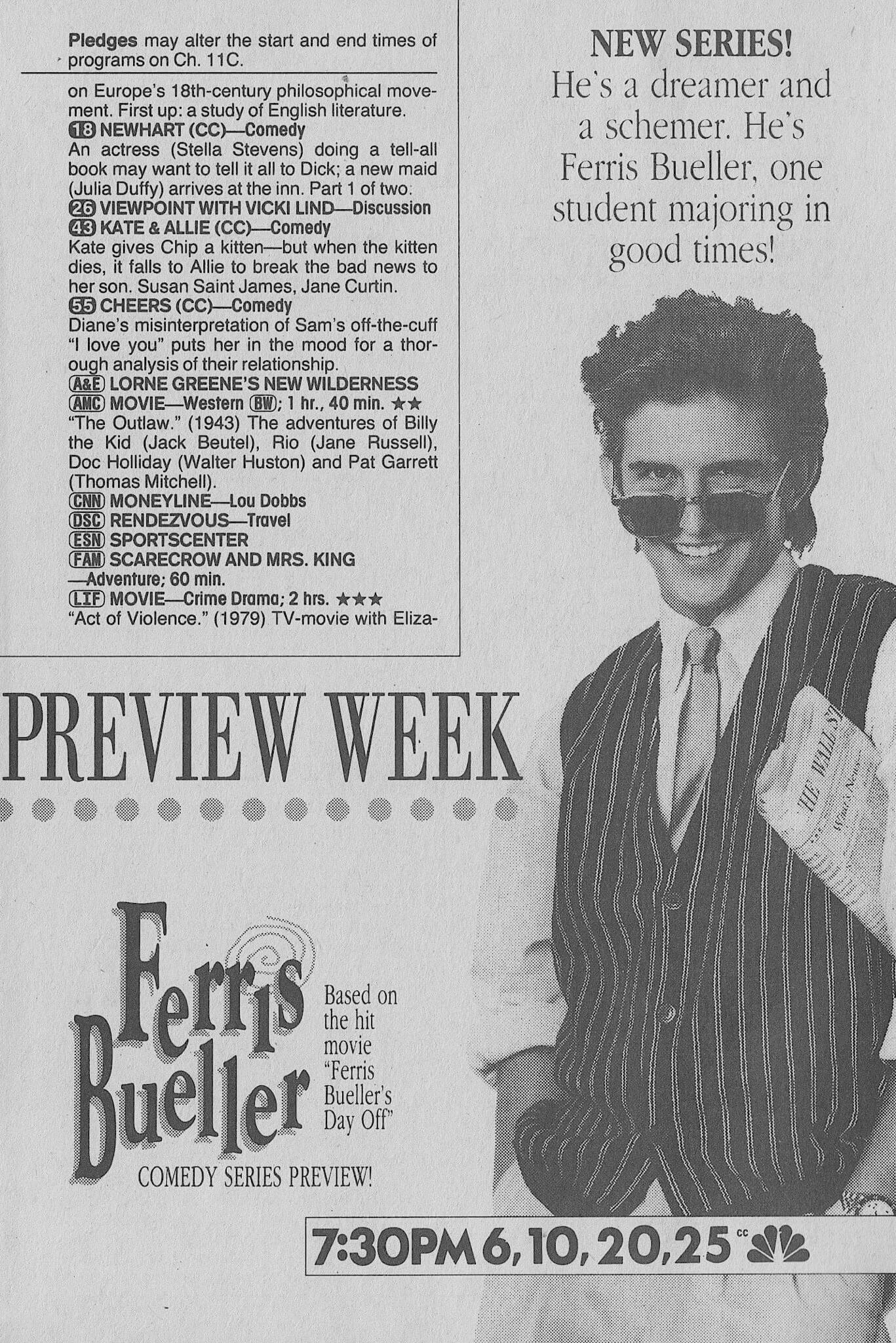 Ratings were initially strong, with The Fresh Prince of Bel-Air as a lead-in, but sharply declined, and it wasn't helped by the presence of Parker Lewis Can't Lose on Fox, which also took inspiration from John Hughes's movie but without the baggage of having to live up to its heights. Parker Lewis lasted for three seasons, and even cheekily named the main character's girlfriend Annie Sloan, while Ferris Bueller was cancelled after just thirteen episodes, replaced in the schedules by Blossom.
You can't escape the feeling that Ferris Bueller was only brought to TV because of Parker Lewis, and it shows with a charismatic cast producing less than the sum of their abilities. It is available on DVD but there's nothing much to see here, as with 1990's other John Hughes adaptation Uncle Buck; far better is Weird Science, which took nine years to come to TV in 1994.
Under Cover (ABC): Regular readers of this column will have had their fill of spies, with every new show in 1966 seemingly either about secret agents or superheroes, but by 1990 the airwaves were not so full of James Bond or U.N.C.L.E. knock-offs, and Under Cover actually looked novel.
The story of a married couple who both happened to work for a US intelligence agency, Under Cover starred Linda Purl and Anthony John Denision as the Del'Amicos, who try to balance the demands of their jobs with raising two children in suburbia. With back-up from Jonathan Rhys-Davies and Josef Sommer, as their Q and M, respectively, the pair were tasked with keeping their roles secret from their children, who often suspected they were up to no good.
Created by former soldier William Broyles Jr (who would later write Cast Away for Tom Hanks), who scripted a TV movie opener to lead into a full series as a mid-season replacement for his own China Beach, the show was badly hit by the outbreak of hostilities in Iraq. A pair of episodes centred around the Del'Amicos infiltrating the country were scrapped, and the second episode was pre-empted by the start of the Gulf War itself.
Audiences preferred to watch either the CBS Saturday movie, or chuckle along with the gentle comedy of Golden Girls on NBC, and Under Cover wasn't renewed at the end of its thirteen-episode run. The show isn't available on DVD, and there's nothing beyond the title sequence on YouTube, but in many ways it can be seen as the precursor to successful shows like The Americans. I mean, there are many other ways in which it is not, but still.
Next time on The Telephemera Years… the 1990 shows that didn't make it to air, including flatulent bulldogs and comic book adventures!
Check out our other Telephemera articles:
Titans of Telephemera: Glen A Larson (part 1, 2, 3, 4)
Titans of Telephemera: Stephen J Cannell (part 1, 2, 3, 4)
The Telephemera years: 1966 (part 1, 2, 3, 4)
The Telephemera Years: 1990 (part 1, 2, 3, 4)
The Telephemera Years: 1975 (part 1, 3, 4)
The Telephemera Years: 2003 (part 1, 2, 3, 4)
The Telephemera Years: 1982 (part 1, 2, 3, 4)
Titans of Telephemera: Kenneth Johnson
Titans of Telephemera: Quinn Martin (part 1, 2)