Features | Written by Alan Boon 14/06/2022
THE TELEPHEMERA YEARS: 2005 – PART 3
Ah, telephemera… those shows whose stay with us was tantalisingly brief, snatched away before their time, and sometimes with good cause. They hit the schedules alongside established shows, hoping for a long run, but it's not always to be, and for every Street Hawk there's two Manimals. But here at STARBURST we celebrate their existence and mourn their departure, drilling down into the new season's entertainment with equal opportunities square eyes… these are The Telephemera Years!
2005-06
If you weren't a fan of singing and dancing, or crime and medical dramas, the top-rated shows for the 2005-06 season made for grim reading, with just the bonkers fun of Desperate Housewives and Monday Night Football (which, depending on the result, could also be a criminal or medical matter) breaking the dominance of American Idol, Dancing with the Stars, CSI: Crime Scene Investigation, and the rest. For genre fans, Lost was building its mysteries with a second reason doing almost ten million viewers a week, but Alias - JJ Abrams's other weekly slice of goodness – was coming to the end of its run on ABC.
Alias wasn't the only show finishing up, with That 70s Show, Malcolm in the Middle, and Will & Grace all leaving sitcom fans heartbroken, while Joey would also face the axe at season's end. The WB was losing Charmed but Supernatural was just starting its billion-season run for the channel, and genre fans were particularly well catered for with BEN 10, Ghost Whisperer, Kyle XY, and Masters of Horror all kicking off across the schedules. All those shows actually made it to air but what of those that didn't? This is the story of 2005's unsold pilots…
Global Frequency (The WB): Based on the comic book series by Warren Ellis and a succession of fan-favourite artists, Global Frequency centres on the titular agency, a privately-owned concern established to safeguard the world from secret projects undertaken by government agencies all over the world. 1001 people are "on" the global frequency and can be called upon at any time for their expertise, overseen by former intelligence agent Miranda Zero.
The series ran for twelve issues between December 2002 and August 2004, and was optioned by The WB as a series, having been published by Wildstorm, an imprint attached to their comic book publishing arm, DC Comics. Producer Mark Burnett, best known for reality shows like Survivor and The Apprentice, was brought in to helm the project, hiring Catwoman scripter John Rogers to write the script, which concentrated on Zero and her assistant Aleph, as would an ongoing series (with other agents brought in as necessary).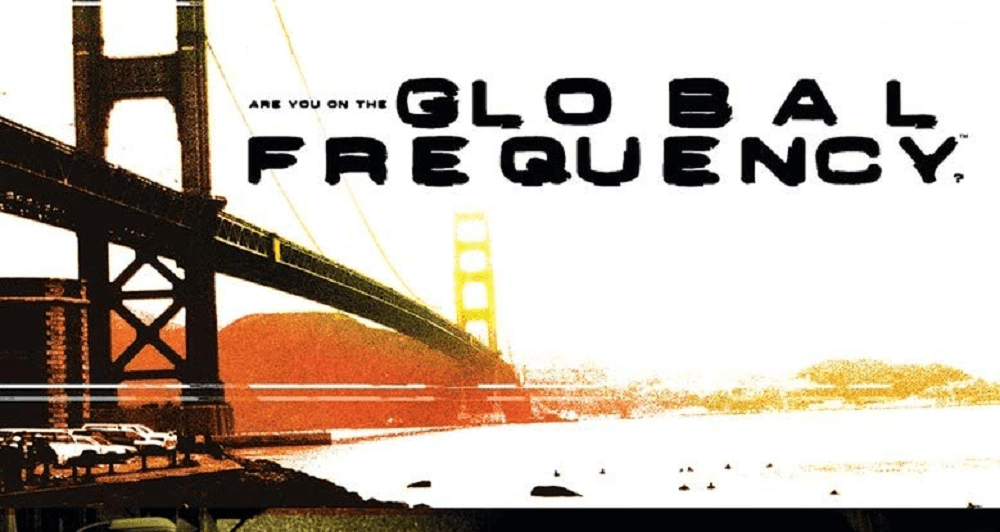 Michelle Forbes was cast as Miranda Zero, with support from Aimee Garcia, Josh Hopkins, and Jenni Baird, and the pilot episode had the crew attempt to stop a man who is somehow melting people with his mind. Despite an impressive transferral, The WB decided not to greenlight a series and that would have been the end of the matter were it not for a new technology called BitTorrent.
The pilot was leaked and distributed using the new system, allowing users all over the world to sketchily acquire the thirty-minute film, and leading to a fan campaign to demand that The WB reconsider their decision not to take the show to series. This only had the effect of hardening The WB's attitude towards the project, and they abandoned it altogether. In 2009, it was picked up by The CW but problems with the script for a new pilot again saw it smothered in its crib, presumably before Miranda Zero could activate someone to ensure it made it through.
Peep Show (Fox): US remakes of British sitcoms rarely go well – we've written about the aborted attempts to do The Young Ones and Red Dwarf in this column before – and when you're dealing with something as idiosyncratic and beloved as Peep Show, the dysfunctional flatmate show with a switching first-person perspective, the odds are that the remake is never going to cut muster.
Acquired by the Carsey-Werner Company - who had produced sitcom hits like 3rd Rock from the Sun, That 70s Show, Roseanne, and The Cosby Show - for transatlantic transition, a pilot was ordered by Fox for possible inclusion in their Fall 2005 line-up, but thereafter came a series of mistakes that fatally holed the project before it had even left port.
The first mistake was to go into production without hiring the creators of the original series, Sam Bain and Jesse Armstrong, preferring to hand the project to Jeff and Jackie Filgo, a married writer-producer team who had cut their teeth on That 70s Show but also worked on the US transplant of Men Behaving Badly. The Filgos chose to ditch that first-person perspective that made the original such a different show, although they did keep the inner monologues which now seemed forced, especially when accompanied by quirky music.
Johnny Galecki isn't bad as Mark, but Josh Meyers is woefully miscast as Jeremy, and the whole thing comes across as a misremembered dream you once had that cast people from your life in the roles of sitcom regulars. Fox declined to take the show to series, and Galecki instead tried out for the role of Leonard in a new show called The Big Bang Theory. I wonder what ever happened to that? Anyway, the US Peep Show pilot is on YouTube if you're interested and have a tolerance for bad swastika jokes…
Nobody's Watching (The WB): There's nothing TV people like more than a show about TV and that's what Nobody's Watching promised to deliver when The WB sent it to pilot in 2005. Developed by Scrubs creator Bill Lawrence, alongside Scrubs and Family Guy writers Neil Goldman and Garrett Donovan, the show's premise saw two friends from smalltown Ohio – Taran Killam of MadTV and Battlestar Galactica's Paul Campbell - send a videotape to every single TV network, claiming they could produce a better sitcom than they were currently airing.
Only The WB – meta, right? – take them up on their offer and they are invited to meet the studio head, the fictional Jeff Tucker (Paul Adelstein), who tells them to create their own sitcom, leaving them in the hands of his assistant, who he thinks is called Jill Something. The idea behind the show within the show will be a sitcom filmed on the sets of existing WB sitcoms, accompanied by a reality show detailing the making of that sitcom.
Test audiences found the concept confusing, and The WB passed, but the pilot was leaked onto YouTube in the Summer of 2006, garnering a positive response and led to an appearance by Goldman, Killam, and Campbell on Last Call with Carson Daly. Daly pressured them to call the president of NBC live on air, who agreed to resurrect the project, although only a series of webisodes resulted. It was announced that a live special would air in March 2007 but the date came and went with no sign of any show.
Goldman and Donovan went on to write and executive produce for Community and have since shepherded half a dozen series to air, including their current project, the animated Lisa Kudrow vehicle House Broken. The Nobody's Watching pilot occasionally surfaces on YouTube but is not currently available to watch. You can get a taste of it, however, and wonder what could have been…
Triangle (UPN): We've all been there, I'm sure: while on his honeymoon in the Caribbean, a young doctor wakes up to find that his newly beloved has disappeared from their rented yacht, embarking on a search that uncovers mystery after mystery, presumably with an incredible end of season twist…
That's Triangle (not the one with Kate O'Mara sunbathing on the freezing feck of a passenger ferry that sails between Felixstowe, Amsterdam, and Gothenburg), the creation of John J Sakmar and Kerry Lenhart, a pair of writer-producers who had created the 1995 TV show Mr & Mrs Smith (nothing to do with the Brangelina movie, although I'd have consulted my lawyers) and worked on Boston Public and the US remake of Cold Feet.

Sakmar and Lenhart cast Ivan Sergei – who was probably best known for Crossing Jordan at this point – as their handsome lead, with former Hollyoaks émigré Elize du Toit as his missing bride, and the show would have seen Sergei exploring a nearby island, meeting the strange denizens and uncovering clues as to the whereabouts of his wife.
Unfortunately, UPN opted to pass on the project, and all concerned moved on to other projects, with Sergei joining the cast of Charmed for its final season, du Toit returned to the UK and acted in Skyfall before retiring to raise her children, and Sakmar and Lenhart shepherded a series of shows to one-season runs. Interestingly, Triangle is now the title of a project in development by Jon Harmon-Feldman, about a family that washes up on a mysterious island. Hopefully they'll find that wife.
Next on The Telephemera Years: Kids TV from the year 2005, including squirrels and spiders!
Check out our other Telephemera articles:
Titans of Telephemera: Glen A Larson (part 1, 2, 3, 4)
Titans of Telephemera: Stephen J Cannell (part 1, 2, 3, 4)
The Telephemera years: 1966 (part 1, 2, 3, 4)
The Telephemera Years: 1990 (part 1, 2, 3, 4)
The Telephemera Years: 1975 (part 1, 2, 3, 4)
The Telephemera Years: 2003 (part 1, 2, 3, 4)
The Telephemera Years: 1982 (part 1, 2, 3, 4)
Titans of Telephemera: Kenneth Johnson
Titans of Telephemera: Quinn Martin (part 1, 2)
Titans of Telephemera: Irwin Allen
The Telephemera Years: 2008 (part 1, 2, 3, 4)
The Telephemera Years: 1987 (part 1, 2, 3, 4)
The Telephemera Years: 1971 (part 1, 2, 3, 4)
The Telephemera Years: 1995 (part 1, 2, 3, 4)
The Telephemera Years: 1980 (part 1, 2, 3, 4)
The Telephemera Years: 1992 (part 1, 2, 3, 4)
The Telephemera Years: 1977 (part 1, 2, 3, 4)
The Telephemera Years: 1968 (part 1, 2, 3, 4)
The Telephemera Years: 1984 (part 1, 2, 3, 4)
The Telephemera Years: 2005 (part 1, 2)