Features | Written by Alan Boon 19/07/2022
TITANS OF TELEPHEMERA: HANNA-BARBERA, PART 4
Ah, telephemera… those shows whose stay with us was tantalisingly brief, snatched away before their time, and sometimes with good cause. Dedicated miners of this fecund seam begin to notice the same names cropping up, again and again, as if their whole career was based on a principle of throwing stuff at the wall and seeing what sticks. What's more, it isn't all one-season failures and unsold pilots, there's genuine gold to be found amongst their hoards; these men are surely the Titans of Telephemera!
HANNA-BARBERA
Founded in July 1957 by William Hanna and Joseph Barbera, two former animators for the MGM studio who had won Oscars for their work on Tom and Jerry, Hanna-Barbera (initially known as H-B Enterprises) quickly became the US's foremost television animation studio, cementing their place in history with the first prime-time animated sitcom, The Flintstones, in 1960. Hanna-Barbera soon became a household name, a byword for quality animation and genuinely funny scripts, with top voice actors like Daws Butler and Don Messick becoming stars due to their work on H-B shows.
The studio enjoyed further massive hits with The Jetsons, Wacky Races, and Scooby- Doo, Where Are You!, with Hanna and Barbera remaining at the head of the company until it was sold to Turner Broadcasting in 1991. The pair still continued to consult on new shows until their deaths in 2001 and 2006, respectively, their legacy ensured far before that in the annals of television history. In all, Hanna-Barbera produced over one-hundred and seventy-five shows, as well as numerous animated specials, and their big hits are ingrained in our collective memories. But what of those H-B productions that came after the sale to Turner? Here's four notable shows from H-B's 1990s…
The Pirates of Dark Water (ABC, 1991): The first show to debut after the sale to Turner had been confirmed, The Pirates of Dark Water was created by David Kirschner, the President and CEO of Hanna-Barbera since 1989. Kirschner's basic idea was one he had when he was a child, inspired by Robert Louis Stevenson's Treasure Island and a love of pulp science fiction, and was centred on Ren, a young prince who may be the only person who can stop the world of Mer being subsumed by Dark Water.
Ren's pirate pals were a strange bunch, with a monkey-bird, an ecomancer, and a bunch of scurvy knaves aiding him in his quest to prevent the Dark Dweller carrying out his ultimate plan and stop evil pirate Bloth gaining the thirteen treasures that will allow them to control Mer. This was all set up in a five-episode mini-series, airing on Fox Kids in February 1991 and initially called just Dark Water.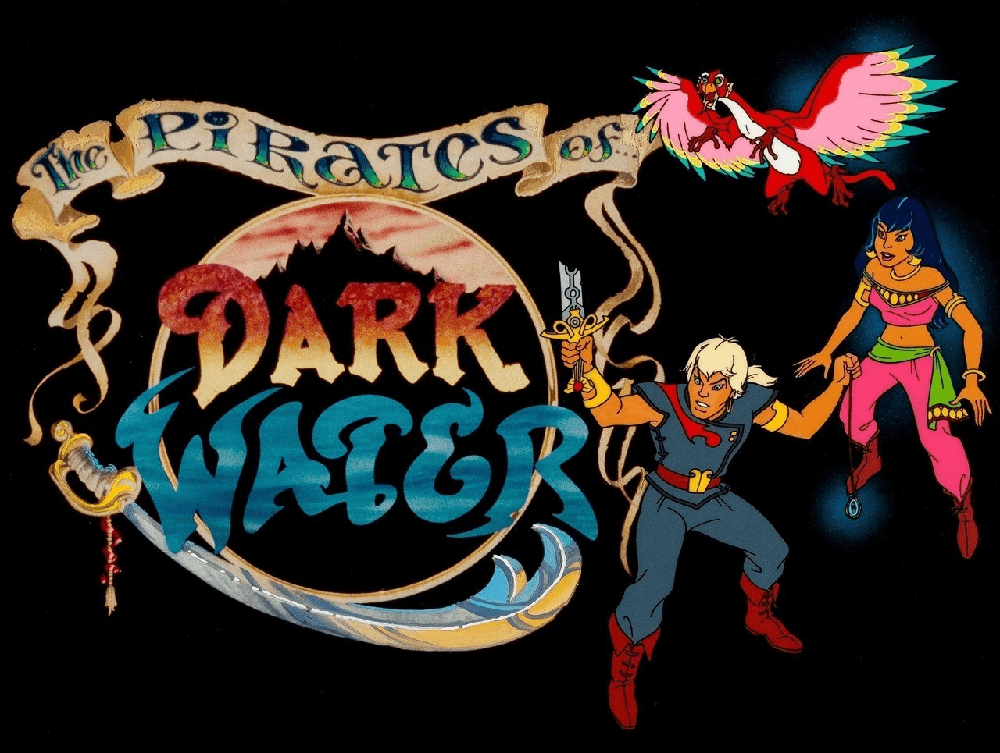 The studio decided that they weren't completely happy with this and retooled it, improving some of the animation and recasting some voice parts, and the mini-series became the first five episodes of a regular series, which began on September 14th 1991 as part of ABC's Saturday morning line-up. The first season's thirteen episodes ended on December 7th with Ren entering the realm of the Dark Dweller, setting things up nicely for a sophomore outing.
That arrived eleven months later but in syndication as part of The Funtastic World of Hanna-Barbera, alongside The Adventures of Don Coyote and Sancho Panda, Yo Yogi!, and Young Robin Hood, but only eight episodes were produced and the story was left unfinished. The Pirates of Dark Water got the full treatment when it came to cash-ins, with a toy line, videogame, and a comic book series accompanying the show, and all twenty-one episodes were released by Warner Archive in 2010. You'd expect that, with the thirty-year rule in play (whereby the kids of thirty years ago are now the grown-ups making decisions about these things), a reboot can't be too far off but until then there's a good seven hours of Dark Water action waiting and you get to make up your own ending…
Fish Police (CBS, 1992): Fish Police was originally a comic book, self-published by writer-artist Steve Moncuse through Fishwrap Productions in 1985. After eleven issues, Comico picked the series up, releasing colour reprints of the original issues and beginning a run of new stories that last until they went bankrupt in 1990, after which Apple Comics published another nine issues, the series wrapping up with issue twenty-six a year later.
In 1992, Moncuse licensed the property to Hanna-Barbera, who assigned sitcom writer Jeanne Romano to develop it as a prime-time sitcom aimed at families, a blueprint established by The Flintstones in 1960 and recently revived by the success of The Simpsons. The TV show retained the characters and premise of the comic book, the tale of Inspector Gil, a Fish City police officer of a film noir persuasion. Gil, voiced by John Ritter, has to deal with his ill-tempered boss Chief Abalone (Ed Asner) and the local crime boss, Biscotti Calimari.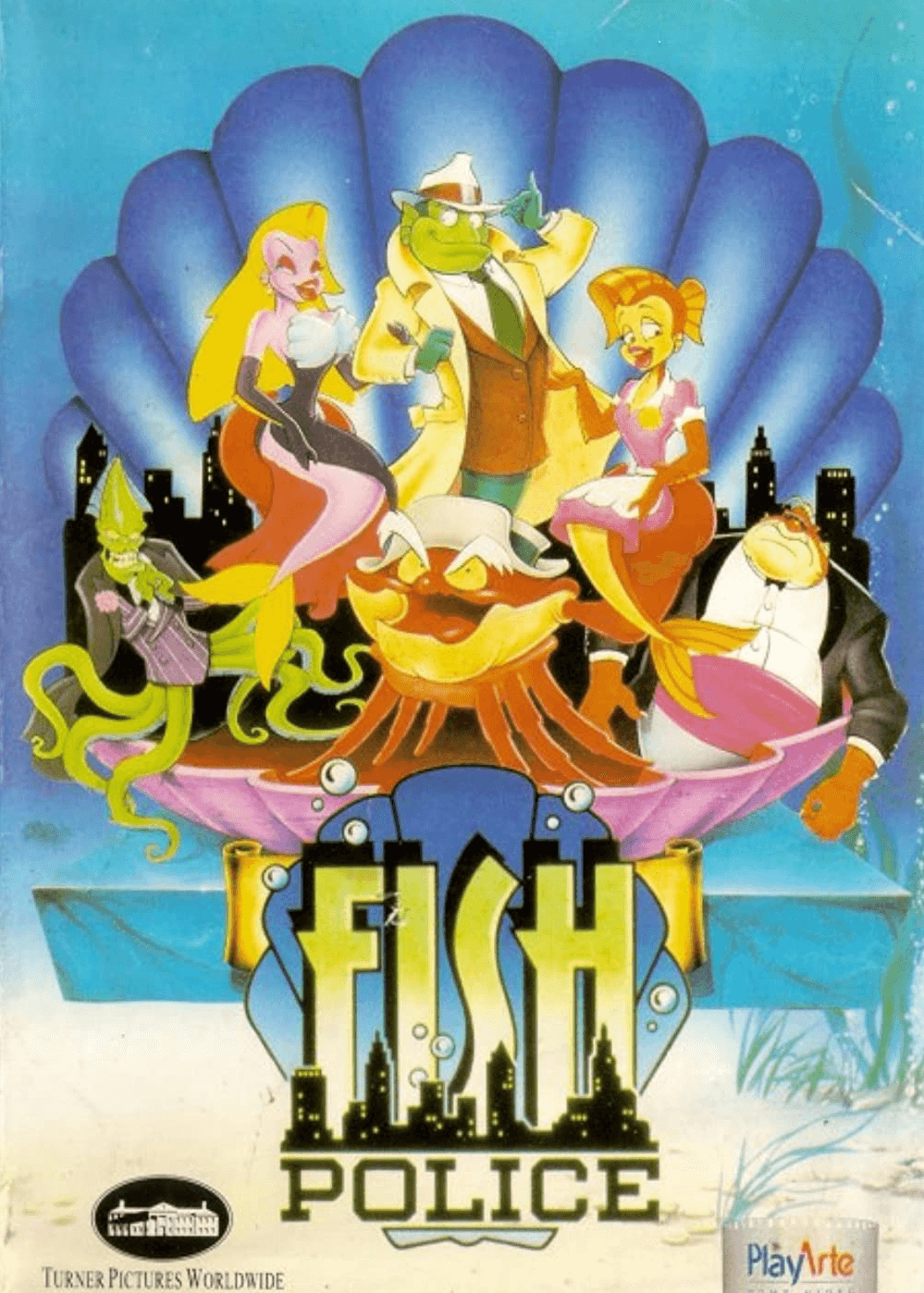 The all-star cast also included Tim Curry, Héctor Elizondo, Robert Guillaume, Megan Mullally, and Jonathan Winters, but the show missed the essence of the comic books, which were essentially crime mysteries, turning instead to fish-based puns and other seafood set-ups. The first episode debuted on February 28th 1992 on CBS, occupying a slot which had already seen the cancellation of two shows, Princesses and Brooklyn Bridge.
Fish Police fared no better, yanked from the schedules after just three episodes had aired, the remaining three completed episodes going unaired in the US, although the full run did make the screen in European markets. The series has never been released on any kind of home media, and is unavailable for streaming, but some enterprising soul has uploaded the full run to YouTube if you fancy dipping your toes in.
2 Stupid Dogs (TBS, 1993): Donovan Cook graduated in 1990 from the California Institute of the Arts established by Disney in 1961 and alma mater to the likes of John Lasseter, Brad Bird, and Tim Burton. He moved straight into working on Disney's animation crew but struck out on his own in 1993 to create 2 Stupid Dogs, a retro-looking show about, well, two stupid dogs.
John Kricfalusi had launched Ren and Stimpy on Nickelodeon two years before, heralding a new era for kids' animation, borrowing heavily from the past but imbuing the show with an anarchic spirit that had rarely been seen outside the arthouse. While 2 Stupid Dogs was a completely different show, on the surface more akin to Hanna-Barbera's 1960s output, there was a feeling and a flavour all of its own, with a very loose definition of a "joke" that nevertheless always paid off. The first episode's "Where's the Bone?" segment ensured the show started off high and it maintained that level of dumb idiocy throughout.
2 Stupid Dogs was paired with a new version of Secret Squirrel called Super Secret Secret Squirrel, developed by Cook and a classmate from CalArts, Paul Rudish, at the request of Hanna-Barbera, who gave Cook carte blanche to choose a property to reboot. The new Secret Squirrel was more capable than the old, who had relied far too much on Morocco Mole to solve cases, while the new Mole was more of a bumbling idiot.
Both cartoons enjoyed brilliant voice casts, with Mark Schiff and Everybody Loves Raymond's Brad Garrett providing the voices for the dogs, and industry veterans Jess Harnell and Jim Cummings as the squirrel and the mole, and the stylised animation and ridiculous jokes made it a hit with bored adults as well as children. Unfortunately, someone at TBS thought it was too close to Ren and Stimpy (Kricfalusi had pitched jokes to 2 Stupid Dogs after leaving the show he created) and it was cancelled after a second, Secret Squirrel-less season. Nevertheless, 2 Stupid Dogs remains a cult favourite, mostly amongst those who watched it as adults (and were sometimes, erm, chemically altered) and a 2014 DVD release was very welcome indeed.
Cave Kids (syndication, 1996): It started with The Flintstones, of course, and - but for a few pesky successful properties such as Johnny Bravo, Cow & Chicken, I Am Weasel, and The Powerpuff Girls - that was almost how it ended, with The Cave Kids being one of the last half-dozen shows produced by Hanna-Barbera before it was absorbed into Warner Bros Animation in 2001.
A spin-off of The Flintstones, Cave Kids starred Pebbles and Bamm-Bamm as prehistoric pre-schoolers who had an adventurous existence outside the world of their families, in a twist on Rugrats and Muppet Babies. Accompanied by babysitter Dino, the kids embarked on crazy – but educational – escapades which included growing a giant beanstalk, meeting a shy crab, and finding the true meaning of Christmas (to cheer up sad Snowbears, apparently).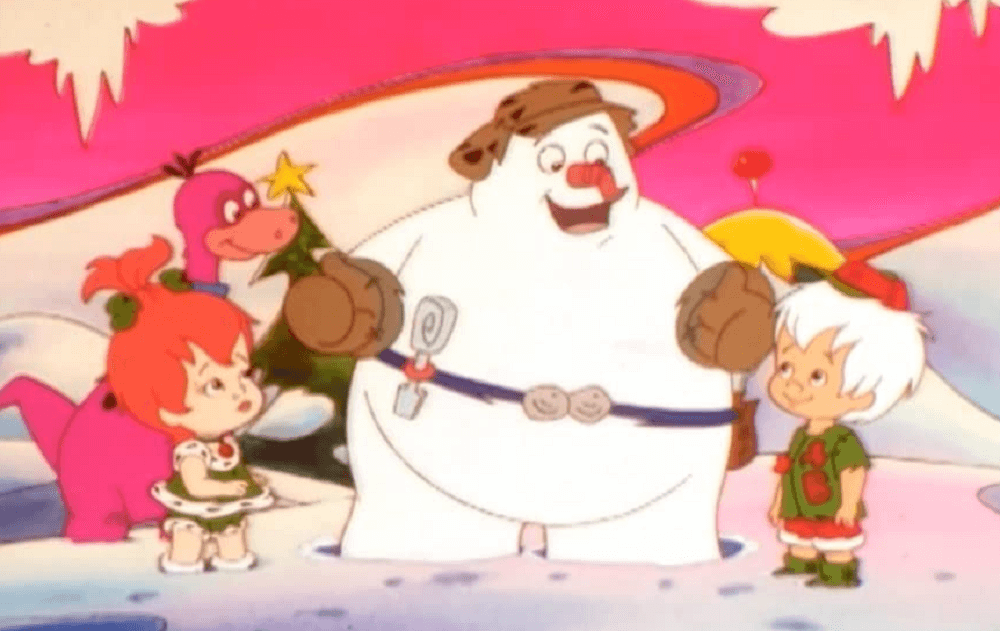 Unlike all the other Flintstones spin-offs (The Pebbles and Bamm-Bamm Show, The New Fred and Barney Show, The Flintstone Kids), no other members of the Flintstone or Rubble family appeared in Cave Kids, and its notable that this final Flintstones show – at least until 2002's The Rubbles) was aimed at a very young demographic, as opposed to the original's all-ages appeal.
Cave Kids was in mid-production when Turner Broadcasting was purchased by Time-Warner in 1996 and the merger effectively shut down new episodes, cancelling the show after just eight had been produced. Six of the episodes were released on three VHS tapes (two per release) but there has never been a DVD release of Cave Kids or, indeed, much clamour for one.
Next on Titans of Telephemera: Our final stop in Hanna-Barbera land takes in the prime-time shows that weren't The Flintstones…
Check out our other Telephemera articles:
Titans of Telephemera: Glen A Larson (part 1, 2, 3, 4)
Titans of Telephemera: Stephen J Cannell (part 1, 2, 3, 4)
The Telephemera years: 1966 (part 1, 2, 3, 4)
The Telephemera Years: 1990 (part 1, 2, 3, 4)
The Telephemera Years: 1975 (part 1, 2, 3, 4)
The Telephemera Years: 2003 (part 1, 2, 3, 4)
The Telephemera Years: 1982 (part 1, 2, 3, 4)
Titans of Telephemera: Kenneth Johnson
Titans of Telephemera: Quinn Martin (part 1, 2)
Titans of Telephemera: Irwin Allen
The Telephemera Years: 2008 (part 1, 2, 3, 4)
The Telephemera Years: 1987 (part 1, 2, 3, 4)
The Telephemera Years: 1971 (part 1, 2, 3, 4)
The Telephemera Years: 1995 (part 1, 2, 3, 4)
The Telephemera Years: 1980 (part 1, 2, 3, 4)
The Telephemera Years: 1992 (part 1, 2, 3, 4)
The Telephemera Years: 1977 (part 1, 2, 3, 4)
The Telephemera Years: 1968 (part 1, 2, 3, 4)
The Telephemera Years: 1984 (part 1, 2, 3, 4)
The Telephemera Years: 2005 (part 1, 2, 3, 4)