Features | Written by Alan Boon 21/06/2022
THE TELEPHEMERA YEARS: 2005 – PART 4
Ah, telephemera… those shows whose stay with us was tantalisingly brief, snatched away before their time, and sometimes with good cause. They hit the schedules alongside established shows, hoping for a long run, but it's not always to be, and for every Street Hawk there's two Manimals. But here at STARBURST we celebrate their existence and mourn their departure, drilling down into the new season's entertainment with equal opportunities square eyes… these are The Telephemera Years!
2005-06
If you weren't a fan of singing and dancing, or crime and medical dramas, the top-rated shows for the 2005-06 season made for grim reading, with just the bonkers fun of Desperate Housewives and Monday Night Football (which, depending on the result, could also be a criminal or medical matter) breaking the dominance of American Idol, Dancing with the Stars, CSI: Crime Scene Investigation, and the rest. For genre fans, Lost was building its mysteries with a second reason doing almost ten million viewers a week, but Alias - JJ Abrams's other weekly slice of goodness – was coming to the end of its run on ABC.
Alias wasn't the only show finishing up, with That 70s Show, Malcolm in the Middle, and Will & Grace all leaving sitcom fans heartbroken, while Joey would also face the axe at season's end. The WB was losing Charmed but Supernatural was just starting its billion-season run for the channel, and genre fans were particularly well catered for with BEN 10, Ghost Whisperer, Kyle XY, and Masters of Horror all kicking off across the schedules. That was all well and good for the adults in the room but what were the young – and young at heart – watching? This is the story of 2005 in kids' TV…
GI Joe: Sigma 6 (Fox): The original GI Joe cartoon was one of a series of ground-breaking shows created in the wake of the deregulation of FCC rules forbidding toy products from having accompanying TV shows – effectively, half-hour adverts – in 1981, and ran for ninety-five episodes between 1983 and 1986. The toy line that inspired it continued through to 1994, with a series of garish additions to the line, before lying dormant, but was revived in 2005 with a new line, Sigma 6, and a new larger size of action figure.
Of course, what good is a new toyline without an accompanying cartoon, and 4Kids Productions won the battle to bring the new-look characters to the screen, farming out animation duties to Japanese studio Gonzo, who produced twenty-six episodes to air on Fox on Saturday mornings, just after the new Teenage Mutant Ninja Turtles cartoon.
Like the original series, the show concentrated on the battle between the Joes – led by General Hawk, with able backing from Snake Eyes, Scarlett, Duke, and the rest – and the forces of Cobra, who counted Cobra Commander (sadly not voiced by Chris Latta this time around), Destro, the Baroness, Storm Shadow, and Zartan's Dreadnoks among their number. The first episode saw the Joes attacked on two fronts – the North Pole and the Amazon – and subsequent episodes introduced power stones, nanotechnology, ninjas, and giant robots, although not the transforming kind!
The toys were discontinued after two years, with Hasbro returning to the 3¾" scale for a twenty-fifth anniversary range, and the cartoon followed suit, finishing with its second season finale, "Assault", the final part of an expansive three-episode story. In 2009, celebrated comic writer Warren Ellis would be hired to write a new GI Joe cartoon – GI Joe Resolute – to cash in on the GI Joe: Rise of Cobra big budget Hollywood movie.
Flight 29 Down (NBC): What better way to cash in on the success of Lost than with a version for kids, right? That's the idea behind Flight 29 Down, a new show for Fall 2005 produced by Discovery Kids for NBC, which aired for three seasons between October 2005 and August 2007. Developed by Stan "Lizzie McGuire" Rogow and Are You Afraid of the Dark? creator DJ MacHale, the show told the story of group of teens on their way to an eco-adventure camp in Palau, forced to crash land somewhere in Micronesia.
Told using a video diary format, six of the children and their spoilt adult chaperone band together to work out how to survive, with three other children and the plane's pilot leaving to find help, ending up "lost" on the island. Filmed on Hawaii, with a cast of veterans from such shows as ER, Buffy the Vampire Slayer, and Boston Public, the show occasionally gets too bogged down in the minutiae of survival rather than any big peril but there are still enough dangers along the way to fill the runtime without too much shouting.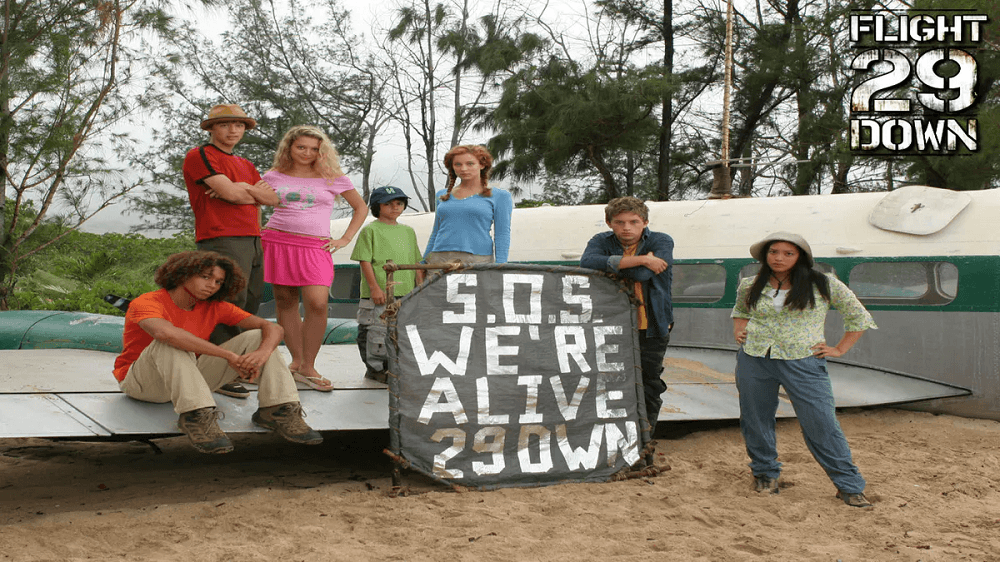 The teens endure storms, the birthing pains of democracy, and inter-camp tensions, as well as literal mystery boxes, and the story reached the end of season two with no conclusion. Luckily, a third season was commissioned, in the form of a feature-length episode, cut into four chapters, where things come to a head and, unlike Lost, there's not even a hint of time travel or mystical nonsense, with a very definite ending.
The young cast are a likeable lot, with Tami Lynn Fujimoto, Hallee Hirsch, and Johnny Pacar all showing promising glimpses, but only Corbin Bleu went on to have any sort of middling fame. He became a soap opera regular with a lengthy spell on One Life to Live and appeared in High School Musical, launching him into a singing career overseen by Stan Rogow.
Spider Riders (The WB): Spider Riders is based on a series of novels written by husband-and-wife team Ted Anasti and Patsy Cameron-Anasti, who met when they worked on The Smurfs together, before going on to help create Duck Tales and a slew of other animated properties. After working on Timon and Pumbaa in 1999, they stepped away to work on other projects, eventually releasing the first Spider Riders book in 2004. The concept was immediately optioned for an animated TV show and a fifty-two episode series was produced by Cookie Jar Entertainment and Japanese animation studio Bee Train, known mostly for their work on ..hack//Sign.
The story's protagonist is Hunter Steel, an eleven-year-old boy searching for a mythical inner world by following instructions left in his grandfather's journal. Startled by a spider, Hunter falls into a hole and finds himself in the subterranean world of Arachna, where he encounters a group of children who ride giant spiders into battle, defending their land from the invading Invectids. What Hunter doesn't know is that a prophecy fortells that a human will bring doom to Arachna…
The fifty-two episodes were split into two seasons and more or less told the story of the first book in the series, and was also shown in Japan on TV Tokyo, where it was known as Spider Riders: Oracle no Yūsha-tachi ("Heroes of Oracle"). Unfortunately, no third season was forthcoming and anyone who wants to know what happened to Hunter, Sparkle, Lumen, and the rest will have to read the books, like in the olden days.
Squirrel Boy (Cartoon Network): Everett Peck created Duckman as a comic book for Dark Horse in 1990 and saw it picked up by the USA Network as an animated series between 1994 and 1997. The sardonic, lewd, and self-deprecate Duckman was clearly not intended for children but having worked as a character designer for The Real Ghostbusters and Jumanji: The Animated Series, Peck had form in that world. Squirrel Boy was the result of combining the two sides of Everett Peck, the story of a squirrel named Rodney who exasperates his human best friend (and nominal owner) Andy with his zany, get-rich-quick plans.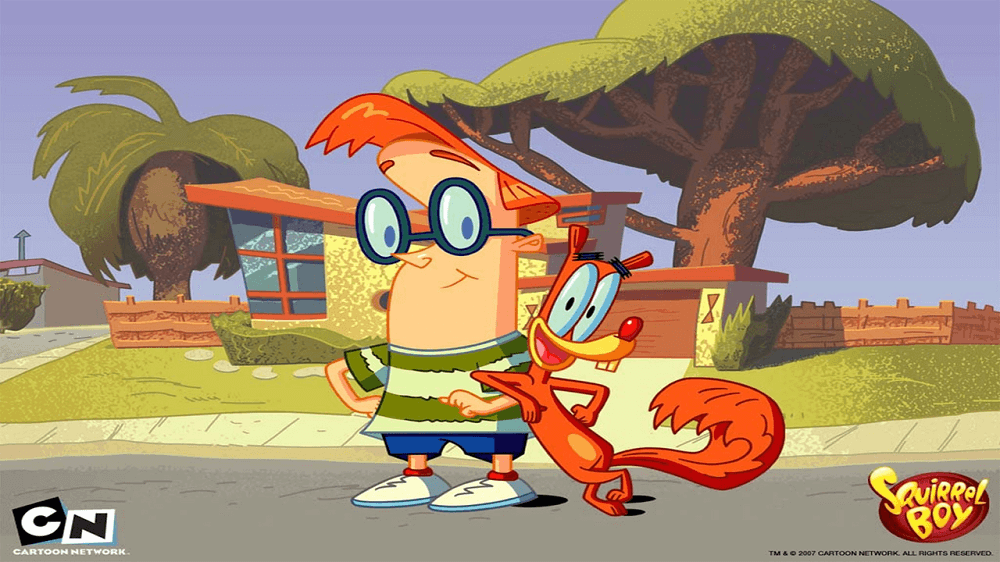 With a first-class voice cast that included Pamela Adlon, Richard Steven Horvitz, Kurtwood Smith, and Billy West, and a team of writers led by Christopher Painter, the show packed two stories into each half-hour episode, running for two seasons on Cartoon Network from May 2006 to September 2007. The pals got involved in running a sandwich stall, racing melon carts, joining the Badger Scouts, and dozens more wacky schemes, increasingly angering Andy's dad and all the while trying to win Rodney the hand of Darlene, a pretty yellow squirrel who lives next door.
After the full run of twenty-six episodes had aired, a further six shorts were produced, debuting in January 2008, but Peck decided to retire the character, as he had done with Duckman a decade before, preferring to focus his energies on freelance illustration, which has led to him producing covers for The New Yorker, Rolling Stone, and Playboy, amongst other magazines.
Loonatics Unleashed (The WB): Loonatics Unleashed takes place in the far-flung future of 2772, when a meteor strikes the city planet of Acmetropolis, knocking it completely off its axis. The meteor unleashes waves of strange energy that transform some of the city's residents, giving them powers and abilities bordering on the fantastic. Called by a mysterious woman named Zadavia, six familiar teens form a superhero team, protecting Acmetropolis from any and all threats that emerge from its strange new world.
An attempt to meld the humour and energy of classic Looney Tunes cartoons with a cool, modern aesthetic, Loonatics Unleashed was developed by the Tremblay brothers, who had brought SWAT Kats to the screen in 1993 and were thought perfect to introduce a darker, episodic tone to the Looney Tunes universe. Their initial designs were met with much criticism, and there were calls from fans to start over, but producer Sander Schwartz held firm (although he soon after departed Warner Bros for Sony).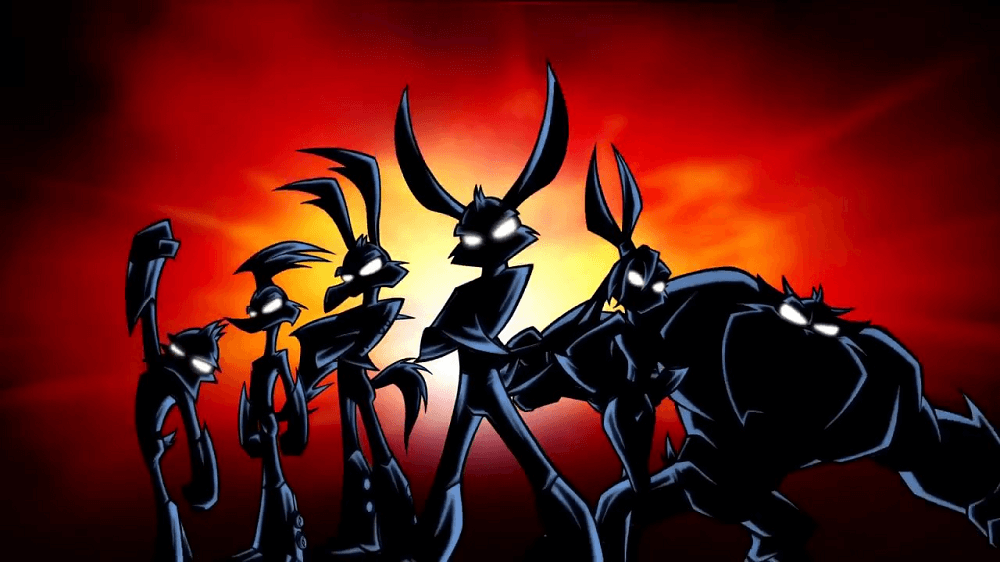 The stars of the show were the distant descendants of our Looney Tunes favourites, led by Ace and Lexi Bunny, and also including Danger Duck, Slam Tasmanian, Tech E Coyote, and Rev Runner. They each had a special ability which they used to combat such remixed threats as Sylth Vester, Pierre le Pew, Melvin the Martian, Electro J Fudd, and a number of original creations.
The show ran for two seasons of thirteen episodes, the second of which had a theme by Bootsy Collins, but largely received a negative reaction from diehard Looney Tunes fans, which may have been the reason the franchise lay dormant for four years after the final episode aired in May 2007. In the run-up to the release of a new Looney Tunes series in 2011, the Vice-President for Creative Affairs at Warners described Loonatics Unleashed as "a reminder of what not to do."
Next time on Titans of Telephemera: We begin a five-week detour into the lesser-known shows of Hanna-Barbera!
Check out our other Telephemera articles:
Titans of Telephemera: Glen A Larson (part 1, 2, 3, 4)
Titans of Telephemera: Stephen J Cannell (part 1, 2, 3, 4)
The Telephemera years: 1966 (part 1, 2, 3, 4)
The Telephemera Years: 1990 (part 1, 2, 3, 4)
The Telephemera Years: 1975 (part 1, 2, 3, 4)
The Telephemera Years: 2003 (part 1, 2, 3, 4)
The Telephemera Years: 1982 (part 1, 2, 3, 4)
Titans of Telephemera: Kenneth Johnson
Titans of Telephemera: Quinn Martin (part 1, 2)
Titans of Telephemera: Irwin Allen
The Telephemera Years: 2008 (part 1, 2, 3, 4)
The Telephemera Years: 1987 (part 1, 2, 3, 4)
The Telephemera Years: 1971 (part 1, 2, 3, 4)
The Telephemera Years: 1995 (part 1, 2, 3, 4)
The Telephemera Years: 1980 (part 1, 2, 3, 4)
The Telephemera Years: 1992 (part 1, 2, 3, 4)
The Telephemera Years: 1977 (part 1, 2, 3, 4)
The Telephemera Years: 1968 (part 1, 2, 3, 4)
The Telephemera Years: 1984 (part 1, 2, 3, 4)
The Telephemera Years: 2005 (part 1, 2, 3)