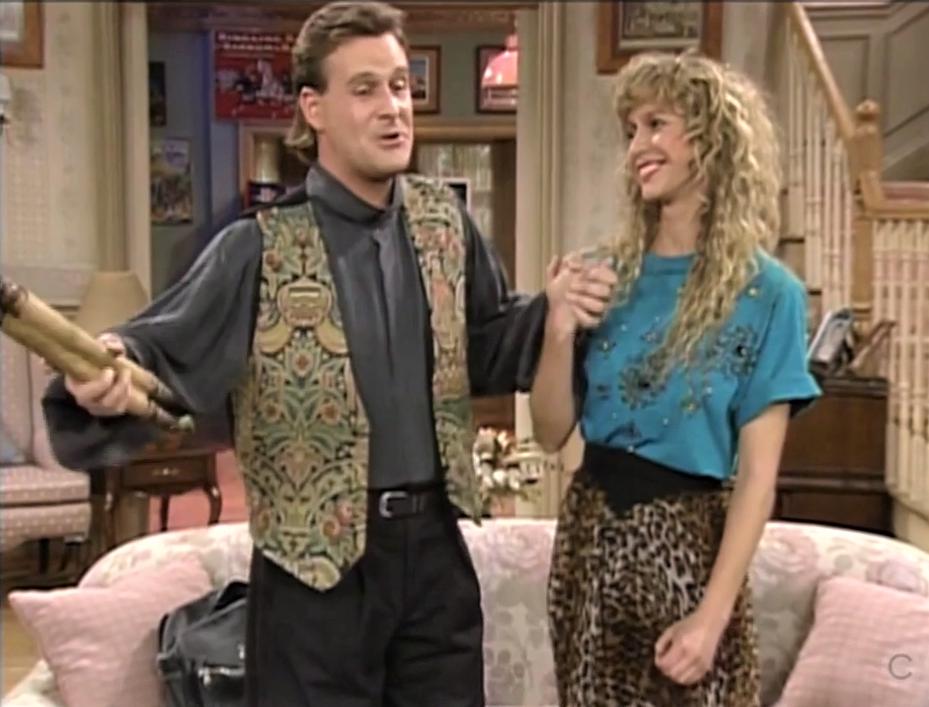 Ah, telephemera… those shows whose stay with us was tantalisingly brief, snatched away before their time, and sometimes with good cause. They hit the schedules alongside established shows, hoping for a long run, but it's not always to be, and for every Street Hawk there's two Manimals. But here at STARBURST we celebrate their existence and mourn their departure, drilling down into the new season's entertainment with equal opportunities square eyes… these are The Telephemera Years!
1989-90
America loved to laugh in 1989, with CBS' sole hit show 60 Minutes the only non-comedy show to make a top ten dominated by NBC's The Cosby Show, A Different World, and Golden Girls, and ABC's Roseanne and The Wonder Years. Waiting in the wings were both The Simpsons and Seinfeld (making their debuts on Fox and NBC, respectively), while Kids in the Hall was arriving on HBO for some weird, surreal fun (and gayness).
Kids in the Hall wasn't as weird as TV would get in 1989 with Twin Peaks bursting onto ABC, although even that show – and its slightly less weird and definitely warmer (if not weather-wise) cousin Northern Exposure – might have been outdone by the sight of SO MUCH SPANDEX over on American Gladiators. Friday the 13th: the Series and Freddy's Nightmares were both bowing out of first-run syndication, but horror anthology fans were treated to HBO's Tales from the Crypt as a more than adequate replacement. Those are the hit shows, though; what shows didn't tickle the fancy of 1989's viewers?
Free Spirit (ABC): Free Spirit was created by rookie writers Steven Vail and Leslie Ray, the latter of whom would go on to write for The Fresh Prince of Bel Air and Full House, and create The Wayan Bros (the 1995 TV show rather than the actual brothers). It starred Connie Bohrer as Winnie, a good witch who is summoned by Gene, a ten-year-old who wishes for someone to help him bowl. Winnie is soon employed as the family's housekeeper as it turns out that Gene's parents have recently divorced and there's a gap in his family that can only be filled by a good-natured supernatural being, even if she does hide the fact that she is a witch from his father.
Free Spirit was conceived as a vehicle for Bohrer, who had earned rave reviews for her turn in Judge Reinhold bodyswap comedy Vice Versa, with professional cute youngster Edan Gross – who plays Gene – expected to be the next Fred Savage. Completing the cast were Franc Luz as Gene's father, and Alyson Hannigan and Paul Scherrer as his older siblings. Hannigan had just starred in My Stepmother is an Alien and so was thought perfect for the role of the teen child to a weird (pseudo) mother, although not so perfect that she was the first choice for the role, with Shonda Wipple having filled the part for the unaired pilot.
The basic premise of the show saw Winnie use her powers to help the family, often causing more trouble than good, and then having to fix the situation before Dad realises she is a witch. Love spells, teen drama, and the arrival of a warlock who has been courting Winnie for 150 years and how wants to marry her are among the usual domestic sitcom fare, with guest stars like Teri Austin, Seth Green, Florence Henderson, and Robert Reed arrive on an almost weekly basis to boost the show's appeal beyond its natural demographics.
Still, it was all for nothing as the ratings for Free Spirit started out low and didn't get any better, with critics polled by Electronic Media voting it the worst show on television for the 1989-90 season. Things were so bad that the final episode – starring Charles in Charge's Josie Davis as Winnie's mischievous younger sister – didn't air in the US, although foreign markets showed the full run. Bohrer never did find the right vehicle for her talents – although Veronica Mars fans will remember her fondly as Lianne, Veronica's runaway mother – and Gross never quite became the next anything, although he enjoyed a good living from voiceover work until retiring from the business at the turn of the millennium.
Normal Life (CBS): Based on the life of outsider rock star Frank Zappa, Normal Life starred his real-life children Moon Unit and Dweezil as their fictional counterparts, the much more sensibly named Tess and Jake Harlow. Barney Miller's Max Gail played Max Howard, the Zappa cypher who was a writer rather than a rock star, allowing for some tension to arise out of Jake wanting to become a rock star himself.
Although the show was supposed to depict an unconventional family, it soon fell back on sitcom tropes, with mother Anne – played by Laverne and Shirley's Cindy Williams – interfering in the lives of her three children (Josh Williams played third child Simon, Frank's other children Ahmet and Diva presumably unwilling to be involved). The cast was completed by Bess Myer as Tess's best friend Prima, and Jim Staahl as Dr Bob, with a guest appearance from a young Leah Remini.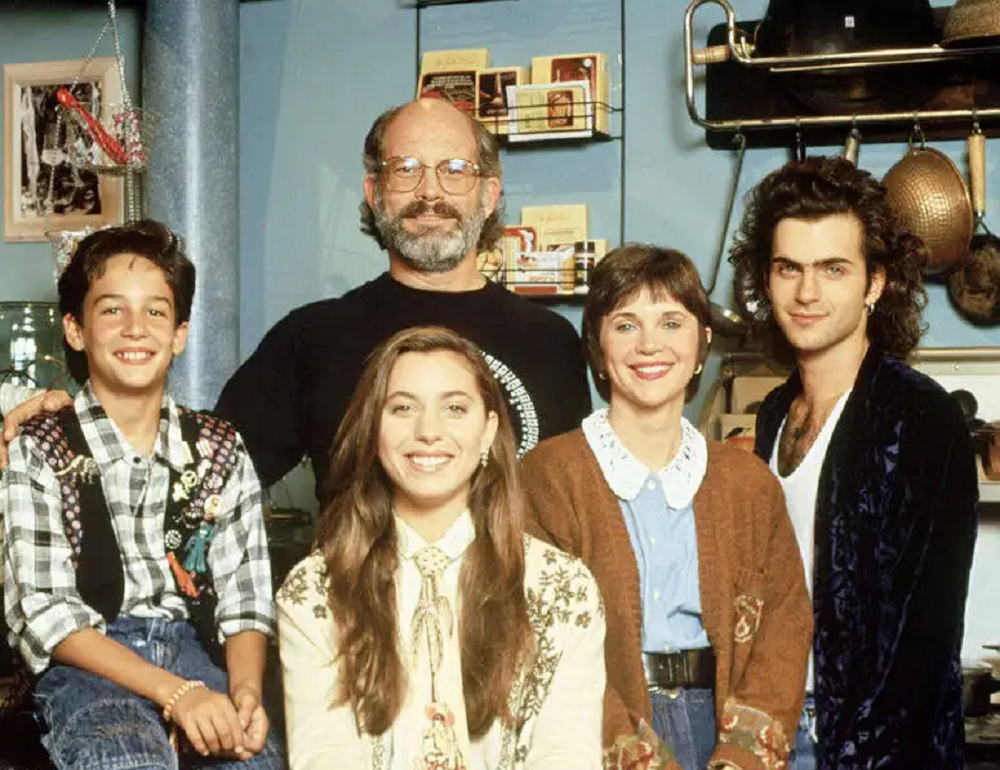 Creator Ian Gurvitz was a young up and comer expected to do great things after cutting his teeth on The Wonder Years, but Normal Life fell flat, failing to take advantage of the show's major selling point, the extraordinary life of Frank Zappa, a man who had a statue erected in his honour in Lithuania, a country he never visited, and who had recently been given the job of Czechoslovakia's "Special Ambassador to the West on Trade, Culture and Tourism" by the country's first post-Communist leader, Vaclav Havel.
In turning musician Zappa into writer Howard, and then sidelining him to present the travails of a family which didn't turn out to be so different to many others featured on similar shows, the show failed to find an audience and there was never a chance of a second season. Gurvitz created two other shows that failed to find much traction before finding success as executive producer on Ted Danson vehicle Becker, but his best value is probably to be found in his book Hello, Lied the Agent, a story of his time in TV development hell.
Nasty Boys (NBC): Originally a TV movie from the pen of journalist and Hill Street Blues scripter David Black, Nasty Boys told the story of the real-life narcotics division of the North Las Vegas police, who had come to public attention with their unorthodox methods and brutal raids. The Nasty Boys name was given to them by Las Vegas criminals, and they took to it with aplomb, even producing rap songs under that name to try and prevent teens from falling prey to the temptations of drugs.
Dick Wolf – a writer-producer with Masquerade, Hill Street Blues, and Miami Vice on his résumé – brought the film to full series, landing a Friday night slot that had already been vacated by two failed cop shows, Hardball and True Blue. NLVPD officers Larry Bradley and Jimmy Jackson – the men responsible for the rapping – provided stories for the production crew to develop into scripts, and the show opened with the death of the captain from the TV movie having been murdered, the future of the department uncertain without him.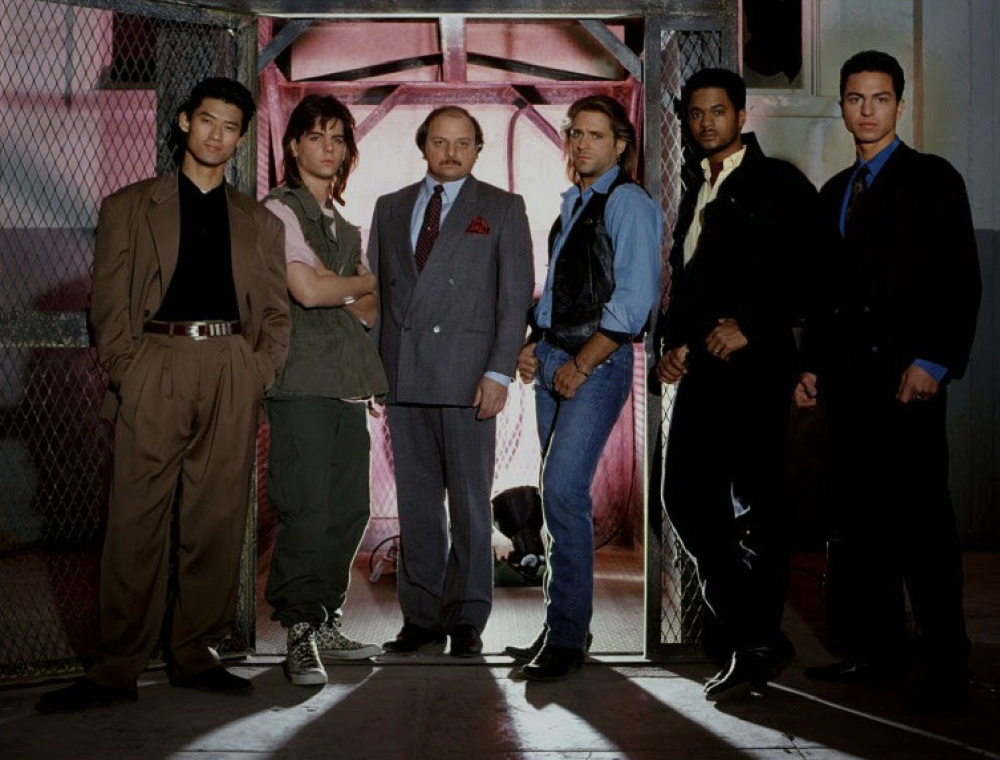 Benjamin Bratt, Don Franklin, Craig Hurley, Jeff Kaake, and James Pax reprised their roles from the film as five undercover cops whose real names are unknown to all but their immediate superior, Dennis Franz's Krieger. Given free range to bring their prey to justice, they fall foul of internal politics, imposters (the Nasty Boys' uniform is completed by black ski masks to protect their anonymity), and enjoy a trip to Los Angeles to take down an Australian drug ring.
With the Janet Jackson song "Nasty" as its theme song (albeit a cover version with altered lyrics), Nasty Boys earned a cult following but wasn't renewed for the 1990-91 season as NBC were limiting the amount of shows they bought from outside studios and preferred to throw their weight behind another Dick Wolf production, Law and Order. The thirty-year history of that franchise might have proved NBC's decision to be the right one but there's another world where Nasty Boys: Special Victims Unit is just entering its twenty-third season, its investigations of sex-based crimes slightly undermined by those black ski masks…
Living Dolls (ABC): Towards the end of season four of Who's the Boss?, Tony Danza's live-in housekeeper struggles with the fact that his daughter Samantha wants to be a model and, of course, is so heavy handed in his approach to dissuading her that she ends up wanting it even more. As the plot develops in season five, a March 1989 episode sees Angela arrange for Sam to visit a modelling school where she runs into an old friend, Charlie (although this is the first time we meet her, obviously). Charlie is unhappy at the school but Sam's enthusiasm for modelling turns her around and Who's the Boss? viewers were left wondering whatever became of her…
Until September 1989, that is, when Living Dolls appeared on the Fall 1989 schedules, with the further adventures of Leah Remini's Charlie at the modelling school operated by Angela's old friend Trish. Several changes were made to the cast from the backdoor pilot, with Halle Berry and Deborah Tucker replacing Vivica A Fox and Melissa Willis, while David Moscow took over the female gaze slot previous filled by Jonathan Powers.
Charlie even made another appearance on Who's the Boss?, aired the same week, setting up the first episode of Living Dolls with a story of her being abandoned by her mother and thus in need of Trish's surrogate parenting, and the new show premiered immediately afterwards, thereafter moving to Saturday nights. The show did not find favour with critics and was the only new show to receive an F grade from People magazine's season preview. It wound up finishing 88th in the season's ratings list, with only weak emergency services drama HELP earning less viewers on the three main networks.
Leah Remini went on to almost land the role of Monica in Friends, star in Kings of Queens, and have a very public battle with Scientology, but the real find was, of course, Halle Berry, who made her acting debut here. Strangely enough, her acceptance speech for the Best Actress Oscar in 2001 for Monster's Ball made no mention of Living Dolls…
Next on The Telephemera Years: More of 1989's flops, including cartoonists, ponyboys, and Bradys…
Check out our other Telephemera articles:
The Telephemera Years: 1966 (part 1, 2, 3, 4)
The Telephemera Years: 1968 (part 1, 2, 3, 4)
The Telephemera Years: 1969 (part 1, 2, 3, 4)
The Telephemera Years: 1971 (part 1, 2, 3, 4)
The Telephemera Years: 1973 (part 1, 2, 3, 4)
The Telephemera Years: 1975 (part 1, 2, 3, 4)
The Telephemera Years: 1977 (part 1, 2, 3, 4)
The Telephemera Years: 1980 (part 1, 2, 3, 4)
The Telephemera Years: 1982 (part 1, 2, 3, 4)
The Telephemera Years: 1984 (part 1, 2, 3, 4)
The Telephemera Years: 1986 (part 1, 2, 3, 4)
The Telephemera Years: 1987 (part 1, 2, 3, 4)
The Telephemera Years: 1990 (part 1, 2, 3, 4)
The Telephemera Years: 1992 (part 1, 2, 3, 4)
The Telephemera Years: 1995 (part 1, 2, 3, 4)
The Telephemera Years: 1997 (part 1, 2, 3, 4)
The Telephemera Years: 2000 (part 1, 2, 3, 4)
The Telephemera Years: 2003 (part 1, 2, 3, 4)
The Telephemera Years: 2005 (part 1, 2, 3, 4)
The Telephemera Years: 2008 (part 1, 2, 3, 4)
Titans of Telephemera: Irwin Allen
Titans of Telephemera: Stephen J Cannell (part 1, 2, 3, 4)
Titans of Telephemera: DIC (part 1, 2)
Titans of Telephemera: Hanna-Barbera (part 1, 2, 3, 4, 5)

Titans of Telephemera: Kenneth Johnson
Titans of Telephemera: Sid & Marty Krofft
Titans of Telephemera: Glen A Larson (part 1, 2, 3, 4)
Titans of Telephemera: Quinn Martin (part 1, 2)