Ah, telephemera… those shows whose stay with us was tantalisingly brief, snatched away before their time, and sometimes with good cause. Dedicated miners of this fecund seam begin to notice the same names cropping up, again and again, as if their whole career was based on a principle of throwing stuff at the wall and seeing what sticks. What's more, it isn't all one-season failures and unsold pilots, there's genuine gold to be found amongst their hoards; these men are surely the Titans of Telephemera!
HANNA-BARBERA
Founded in July 1957 by William Hanna and Joseph Barbera, two former animators for the MGM studio who had won Oscars for their work on Tom and Jerry, Hanna-Barbera (initially known as H-B Enterprises) quickly became the US's foremost television animation studio, cementing their place in history with the first prime-time animated sitcom, The Flintstones, in 1960. Hanna-Barbera soon became a household name, a byword for quality animation and genuinely funny scripts, with top voice actors like Daws Butler and Don Messick becoming stars due to their work on H-B shows.
The studio enjoyed further massive hits with The Jetsons, Wacky Races, and Scooby- Doo, Where Are You!, with Hanna and Barbera remaining at the head of the company until it was sold to Turner Broadcasting in 1991. The pair still continued to consult on new shows until their deaths in 2001 and 2006, respectively, their legacy ensured far before that in the annals of television history. In all, Hanna-Barbera produced over one-hundred and seventy-five shows, as well as numerous animated specials, and their big hits are ingrained in our collective memories. But what of those H-B productions that were gone as soon as they arrived? This is the story of five of Hanna-Barbera's lesser known 1980s shows…
Space Stars (NBC, 1981): In 1981, buoyed by the success in syndication of Hanna-Barbera's World of Super Adventure, an anthology show pulling together the studio's superhero shows from the late 1960s, Hanna-Barbera put Space Stars into production, featuring all-new episodes of Space Ghost and The Herculoids, joined by new features Teen Force and Astro and the Space Mutts.
Twenty-two Space Ghost stories – two per episode – were produced, with Gary Owens reprising his role as the titular superhero, joined by an all-new voice cast for supporting characters Jase, Jan, and Blip. Space Ghost used his superior powers to save the universe from such threats as soul vampires, The Anti-Matter Man, space dragons, and the evil Space Spectre, a version of the hero from an alternate dimension. Eleven new adventures for The Herculoids saw them once more trying to survive the harsh conditions of the planet Quasar, under attack from pirates, firebirds, The Mindbender, and the Snake Riders, and it was sometimes only with the help of Space Ghost that they managed to keep their planet free of threats.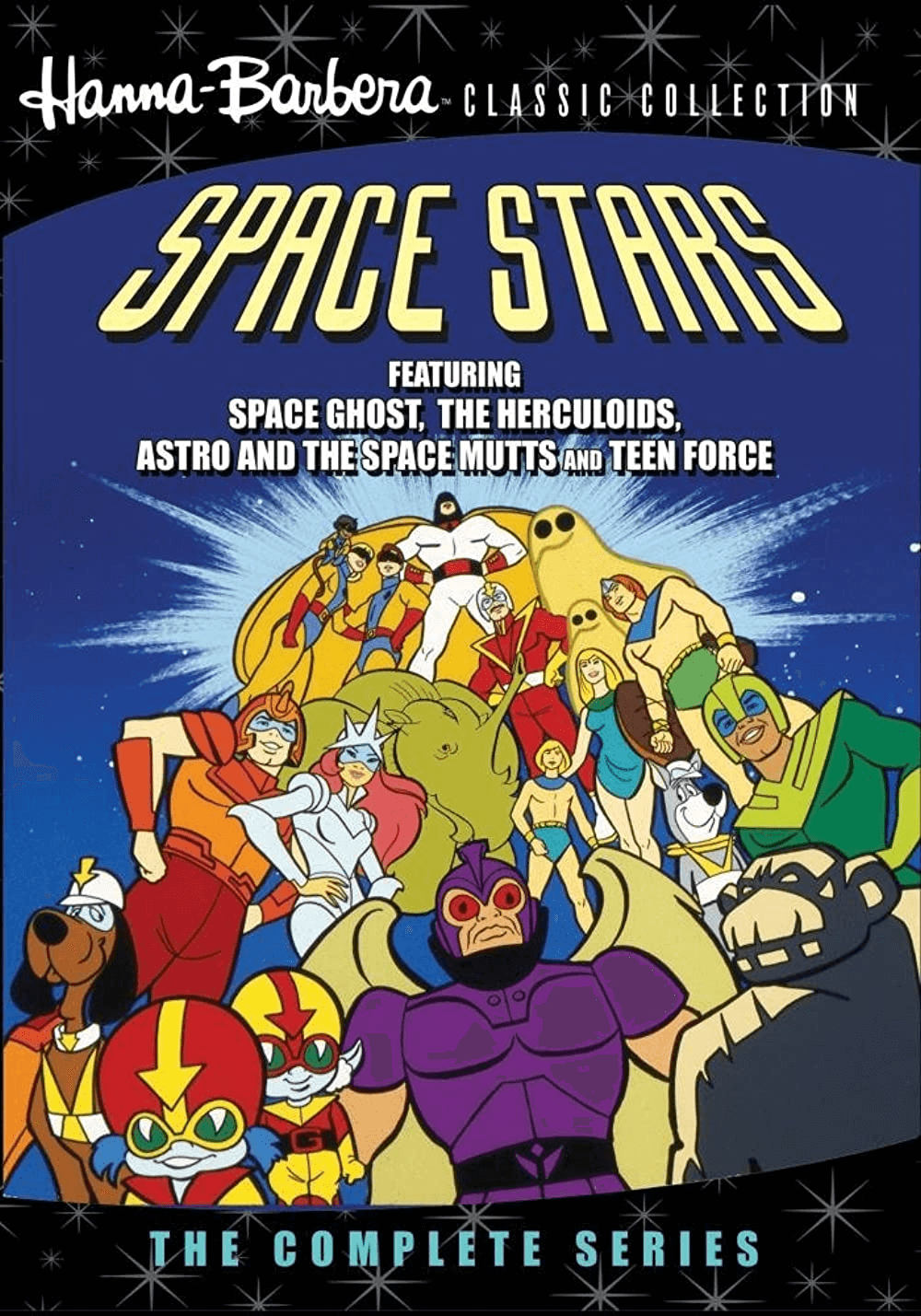 Indeed, there was a continuity of sorts, at least between Space Ghost, The Herculoids, and Teen Force, with Space Ghost and The Herculoids teaming (as they had done in the 1960s on occasion) and Jan appearing to be dating Kid Comet of Teen Force. That group – also consisting of Moleculad and Elektra – guards Black Hole X, the gateway into the universe inhabited by Space Ghost and The Herculoids, from the advances of Uglor, a tyrannical mutant bent on multi-dimensional conquest. Astro and the Space Mutts, however, seemed to take place in its own world, where the dog from The Jetsons led a team of galactic patrol officers, although they would occasionally be seen as part of the show's final segment, where all the heroes would team up to despatch a threat too big for any one of them.
In syndication, USA Network dropped the Astro segment, and the finale, and chose to air one story from each of the other strands as part of a thirty-minute show, but the missing parts were restored when Warner Archive released a DVD of the complete Space Stars series in 2013. As an attempt to develop an integrated universe, Space Stars was a welcome arrival, and it was an approach that would be taken to its logical destination with the DC Comics series Future Quest in 2016.
Shirt Tales (NBC, 1982): It's astonishing just how many popular cartoon and comic strip favourites originated in the design department of Hallmark Cards or their rivals, American Greetings, and while Shirt Tales doesn't have the cache of Rainbow Brite or Strawberry Shortcake, it still managed to run for two seasons on NBC between 1982 and 1984.
Shirt Tales was the brainchild of Janet Elizabeth Manco, who designed a series of greetings cards featuring animals wearing t-shirts, emblazoned with funny or inspirational messages, that became one of Hallmark's best sellers. The cartoon featured Tyg Tiger, Pammy Panda, Digger Mole, Rick Raccoon, and Bogey Orangutan, five anthropomorphic creatures whose brightly coloured shirts would display their funny or appropriately poignant thoughts.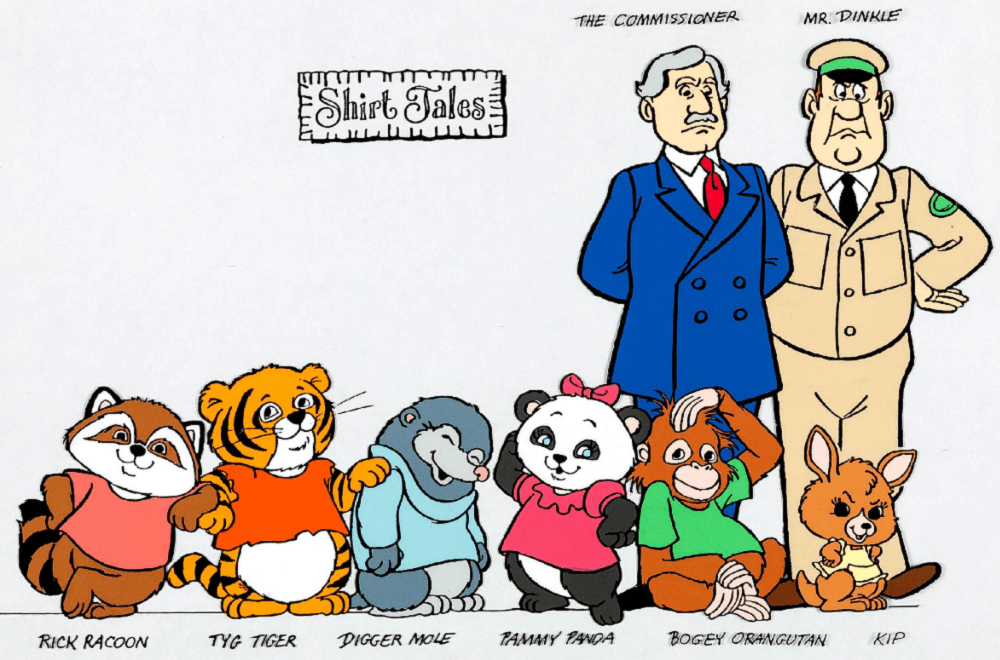 As if that weren't enough, the group were also crimefighters, working undercover and teasing the park-keeper Mr Dinkle on their off time. In season two, the show was retooled with the addition of Kip Kangaroo and a superpower element added to the shirts. In either season, the episodes were low-peril and aimed at a junior audience. Shirt Tales was one of Nancy Cartwright's earliest performances in voice acting.
Going Bananas (NBC, 1984): One of Hanna-Barbera's rare forays into live-action, Going Bananas was a superhero sitcom aimed at older Saturday morning viewers, airing after Mr T and before Spider-Man and his Amazing Friends as part of NBC's 1984 Fall line-up. The show featured Roxana Banana, an orangutan who escapes from the zoo and is adopted by the Cole family, only to be exposed to a strange space ray and gain superpowers.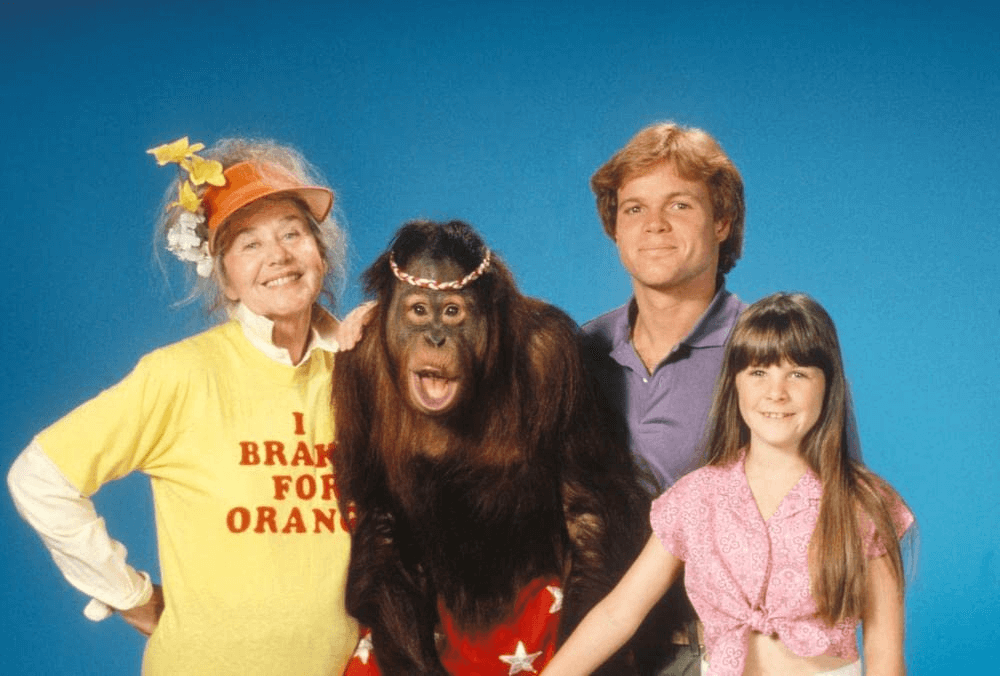 With a theme song written and performed by Irene Cara, Going Bananas focused on the comedy that arose when two crooks – Busey and Hubert, played by Tony Devon and Bill Saluga – try to take Roxana and her powers for their own evil ends, only to be thwarted by the clever ape and her human friends.
The show was created by Len Janson and Chuck Menville, two longtime H-B staffers who'd shepherded Benji, Zax and the Alien Prince to air the previous year and hoped for similar success with another wacky sitcom concept. However, it wasn't to be, and Going Bananas passed into TV obscurity, not even rescued by any sign of a nostalgia-induced DVD release, with only a few episodes to be found on YouTube.
Galtar and the Golden Lance (syndication, 1985): He-Man and the Masters of the Universe had wowed Saturday morning audiences in 1983 with its mixture of comedy and fantasy, riding a wave of sword and sorcery pop-culture begun with Hawk the Slayer in 1980, and Hanna-Barbera wanted in on the action, creating Galtar and the Golden Lance for WorldVision Enterprises in 1985.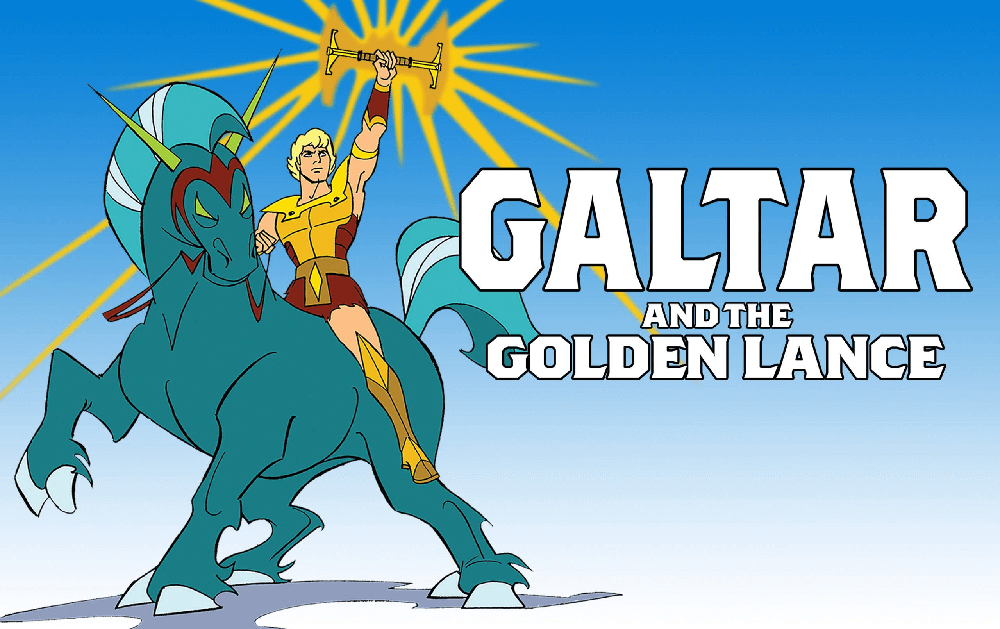 Galtar was a noble hero, out for revenge against the evil Tormack, who had usurped the kingdom of Bandisar from its rightful rulers, killing the king and queen and making orphans of Princess Goleeta and Prince Zorn. Galtar was the rightful owner of the Golden Lance, a mystical weapon that imbued invulnerability on its wielder, and he used the weapon to try and free Bandisar from its evil overlord.
The show aired in syndication as part of The Funtastic World of Hanna-Barbera, alongside Paw Paws, Yogi's Treasure Hunt, and HBTV, a series of animated music videos with archive H-B footage set to popular songs. Just twenty-one episodes were produced, and the series ended without a definitive conclusion
Wildfire (CBS, 1986): A year later, Hanna-Barbera licked their wounds and had another go at the fantasy genre, mixing it with the old west to create Wildfire for CBS. Wildfire was the story of Sara, a thirteen-year-old growing up in nineteenth century Montana, raised as his own by her adopted father John Cavanaugh. Cavanaugh had found Sara as a baby and, unbeknownst to him, she was the rightful ruler of the kingdom of Thurinia, a magical world now under the control of Sara's demonic aunt.
Wildfire wasn't just the name of the show, it was the name of the horse who'd fled Thurinia with the baby Sara, ready to bring her back when she could claim the throne. On her thirteenth birthday, Wildfire summons the girl, transporting her across dimensions to fight her wicked aunt, supporting in her endeavours by a cast of friendly helpers, both in Thurinia and back home.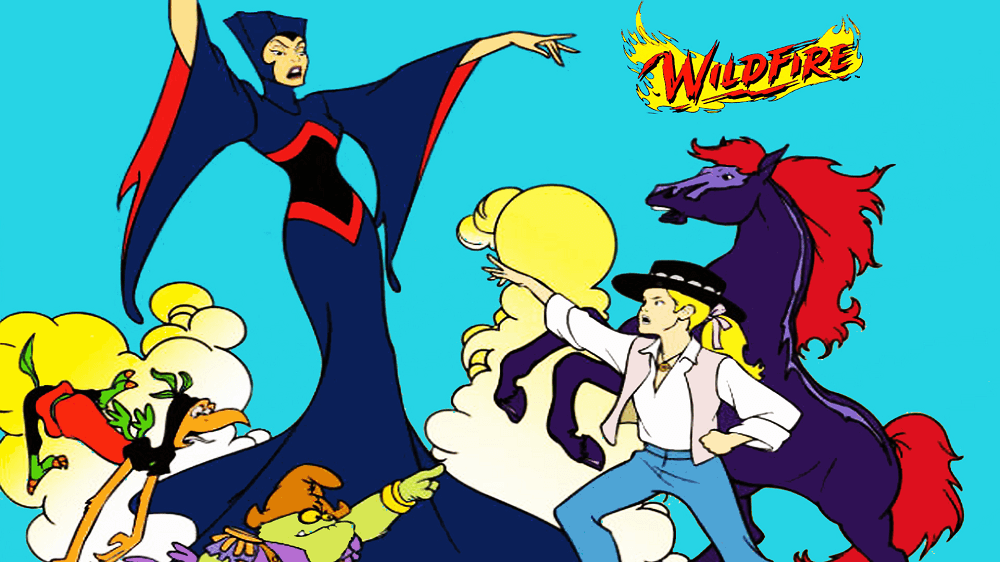 Critics panned the show for its cliched writing and poor animation, but it found an audience with young girls eager to discover whether Sara would succeed in taking what was rightfully hers. Unfortunately, there just weren't enough for them and there was no second season, Princess Sara still presumably fighting the good battle, now in her mid-forties. Hey, how long do horses live?
Next on Titans of Telephemera: Our journey through the lesser-known shows of Hanna-Barbera reaches the 1990s, where underwater cops and some very dumb dogs await…
Check out our other Telephemera articles:
The Telephemera Years: 1966 (part 1, 2, 3, 4)
The Telephemera Years: 1968 (part 1, 2, 3, 4)
The Telephemera Years: 1969 (part 1, 2, 3, 4)
The Telephemera Years: 1971 (part 1, 2, 3, 4)
The Telephemera Years: 1973 (part 1, 2, 3, 4)
The Telephemera Years: 1975 (part 1, 2, 3, 4)
The Telephemera Years: 1977 (part 1, 2, 3, 4)
The Telephemera Years: 1980 (part 1, 2, 3, 4)
The Telephemera Years: 1982 (part 1, 2, 3, 4)
The Telephemera Years: 1984 (part 1, 2, 3, 4)
The Telephemera Years: 1986 (part 1, 2, 3, 4)
The Telephemera Years: 1987 (part 1, 2, 3, 4)
The Telephemera Years: 1990 (part 1, 2, 3, 4)
The Telephemera Years: 1992 (part 1, 2, 3, 4)
The Telephemera Years: 1995 (part 1, 2, 3, 4)
The Telephemera Years: 1997 (part 1, 2, 3, 4)
The Telephemera Years: 2000 (part 1, 2, 3, 4)
The Telephemera Years: 2003 (part 1, 2, 3, 4)
The Telephemera Years: 2005 (part 1, 2, 3, 4)
The Telephemera Years: 2008 (part 1, 2, 3, 4)
Titans of Telephemera: Irwin Allen
Titans of Telephemera: Stephen J Cannell (part 1, 2, 3, 4)
Titans of Telephemera: Hanna-Barbera (part 1, 2, 3, 4, 5)

Titans of Telephemera: Kenneth Johnson
Titans of Telephemera: Glen A Larson (part 1, 2, 3, 4)