Ah, telephemera… those shows whose stay with us was tantalisingly brief, snatched away before their time, and sometimes with good cause. They hit the schedules alongside established shows, hoping for a long run, but it's not always to be, and for every Street Hawk there's two Manimals. But here at STARBURST we celebrate their existence and mourn their departure, drilling down into the new season's entertainment with equal opportunities square eyes… these are The Telephemera Years!
1997-98
NBC's Thursday night block of "Must See TV" dominated the 1997-98 US TV season, with Seinfeld, ER, Friends, and new hit (and Kirstie Alley vehicle) Veronica's Closet filling the top four spots. Even Union Square, which NBC cancelled after fourteen episodes for lower than expected ratings, came in at number seven, and the rest of the networks floundered in the Peacock's wake. Outside of football and the news, only ABC's Home Improvement and CBS schlockfest Touched By An Angel could crack the top ten, but Fox had a strong trio in the youth demographic with The X-Files, King of the Hill, and The Simpsons all making the top twenty.
Seinfeld was in its final season, as were Ellen, Dr Quinn Medicine Woman, and The Larry Sanders Show, but there were new arrivals in the shape of Ally McBeal, Dawson's Creek, Stargate SG-1, and La Femme Nikita, while Oz began its gritty six-year run on HBO in July 1997. Fans of genre shows were also catered for by 3rd Rock from the Sun, Buffy the Vampire Slayer, Sabrina the Teenage Witch, and Star Trek: Voyager, but what about those shows that didn't hit the TV ratings charts? This is the story of four more shows from the 1997-98 season that failed to hit their mark…
Timecop (ABC): As seems incredibly appropriate, to tell the story of Timecop necessitates not one but two jumps into the past, beyond the 1994 movie of the same name to a three-part comic book serial in a 1992 anthology…
Timecop began in Dark Horse Comics #1, lining up alongside stories set in the Predator, Robocop, and Aliens universes, perhaps betraying that the strip had already been optioned by Universal Studios for the Jean-Claude van Damme actioner. Created by Mike Richardson, the first story was written by Mark Verheiden (with art by Ron Randall), and Richardson and Verheiden teamed to write the movie, which – and this is daming with faint praise – is one of van Damme's best.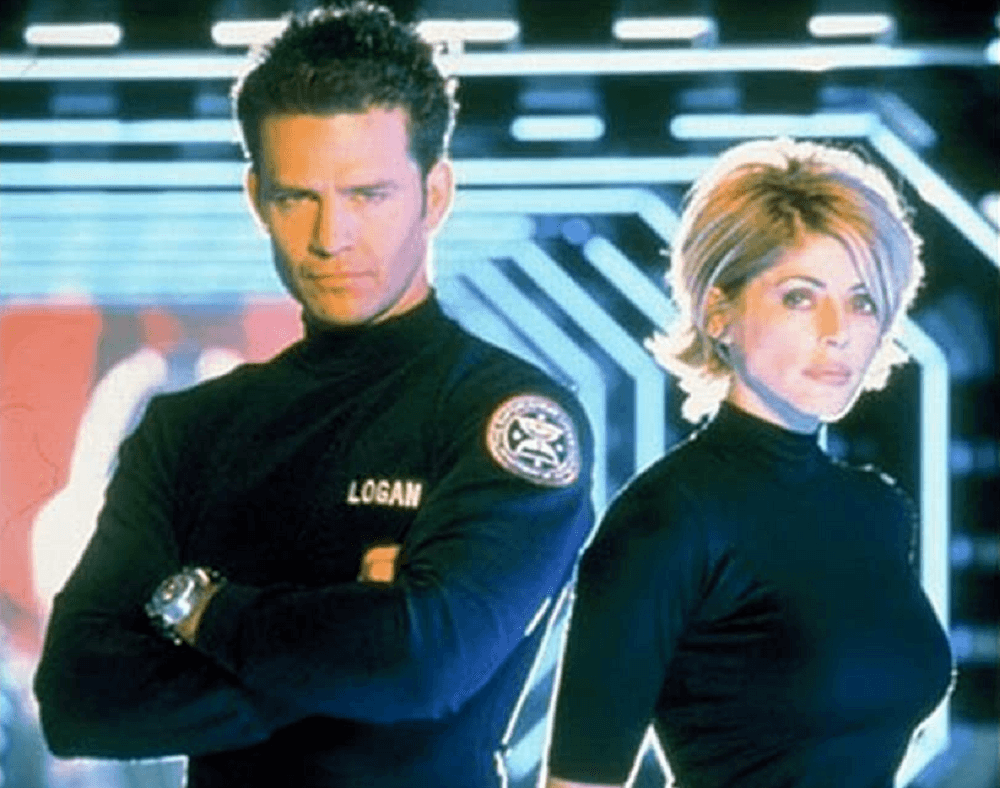 Van Damme's Time Enforcement Commission Agent Max Walker does not return for the TV series, developed by Verheiden for ABC, and is replaced by Max Logan (Ted King). The world of Timecop saw time travel invented by the US government in 2004 and by 2007 the technology has leaked to all manner of ne'er-do-wells. Logan is tasked with tracking down those using the tech for their own selfish or nefarious means and fixing the timelines they put in danger.
Despite a decent supporting cast (with Cristi Conaway as the will they/won't they sidekick and Don Stark as Logan's boss), and stories from Verheiden and Smallville creators Alfred Gough and Miles Millar, audiences didn't take to Timecop in any great number and ABC pulled the show after just nine of its thirteen episodes had aired. The other four were eventually shown in the Summer of 1998 but have disappeared since with only those first nine (minus episode two for some reason) available to stream on Tubi.
Invasion America (The WB): Prime-time animated shows were as rare as hen's teeth in the Spring of 1998, despite the success of The Simpsons and a new show called South Park, and the prospect of an animated drama show in prime-time was unthinkable, a dream you might say…
Invasion America was an ambitious ploy by Steven Spielberg's DreamWorks Animation studio to break into the TV market, while also keeping an eye on the kids that formed their bread and butter audience. The show, which told the story of rival bands of aliens escaping the dying planet Tyrus and bringing their civil war to Earth, was presented in two versions – an edited version for younger viewers on Kids WB and the uncut episode for families in prime-time on The WB on Tuesday nights.
Thirteen episodes were produced for the show's first season, intended to be book one of a longer story arc, and The WB premiered in on June 8th 1998, a Monday night, before taking the slot recently vacated by the first season of Dawson's Creek. Two episodes a week were aired, with the final three episodes shown as a bumper block on July 7th, and DreamWorks' lush animation was matched with a strong voice cast that included Mikey Kelly, Lorenzo Lamas, Rider Strong, and Leonard Nimoy.
Unfortunately, the somewhat thin storylines and teen pathos failed to resonate with audiences and critics alike, with Spielberg's co-creator Harve Bennett possibly too long in the game, and a planned second (and third, and fourth…) season was cancelled before work could even begin. Two tie-in novels were released, however, and the show has earned a cult following in recent years, despite not being officially available to view. However, if you keep looking at the stars (and YouTube), you might just find it…
Meego (CBS): Bronson Pinchot shot to fame as Balki Bartokomous, the comical foreigner on the inexplicably long-running Perfect Strangers, but struggled to find a regular role after that show ended in 1993, largely retreating into voice work for animation, unable to find a home for his fish out of water comedy. In 1997, though, Ross Brown had a brainwave – what's more foreign that outer space?
Brown had cut his teeth on The Facts of Life and Who's the Boss? before taking two spin-offs of those shows to middling success in the early 1990s. Teaming with Miller-Boyett Productions, who had brought Happy Days, Full House, and so many more sitcoms to the world, Brown believed Meego would restore Pinchot to his place as America's most beloved oddball, taking Ed Begley Jr, Jonathan Lipnicki, and a pre-Buffy Michelle Trachtenberg along for the ride.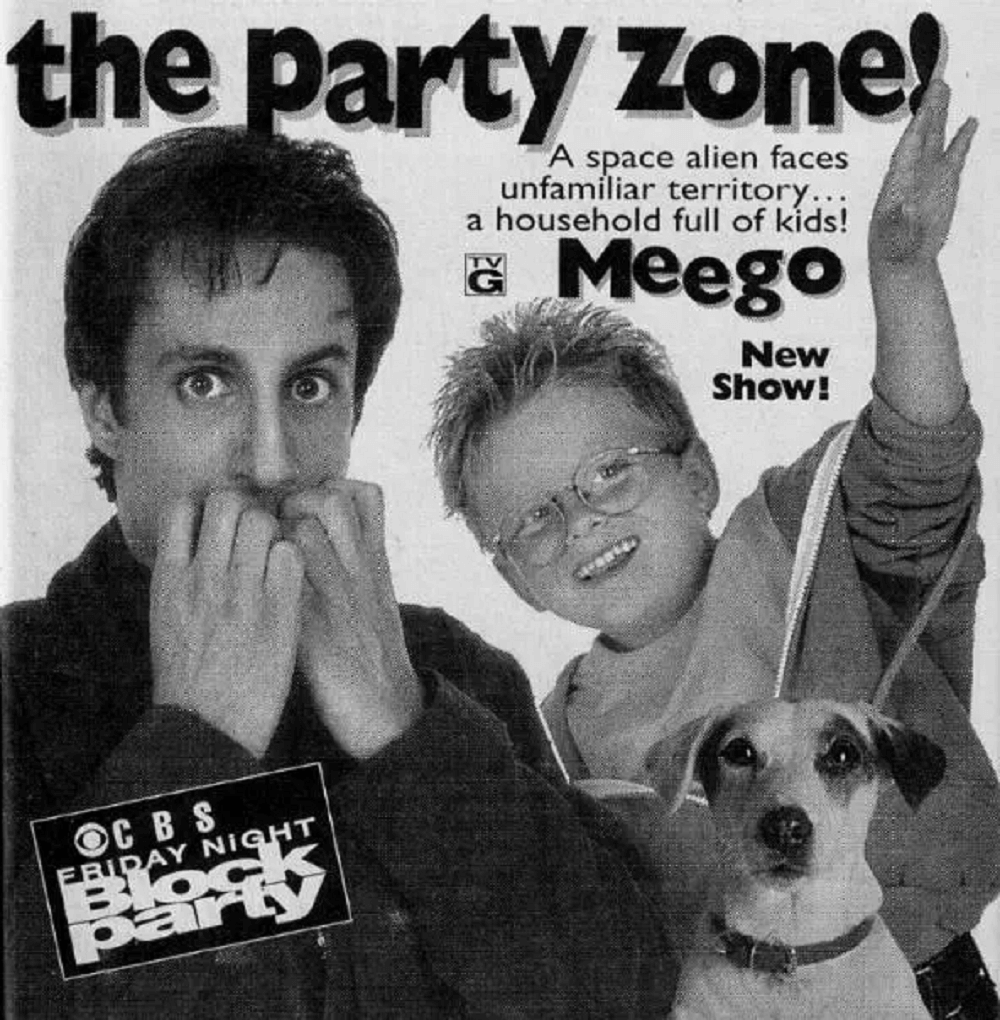 Pinchot's Meego is a 9,000-year-old shape-shifting alien from the planet Marmazon 4.0 who crash lands on Earth and is taken in by three children. Transforming into human shape, Meego tries to pass himself off as an ordinary human being, with the kids explaining his odd behaviour as his being from Canada. Their father – Begley Jr – is unaware that he is housing an alien (but somehow strangely fine with giving room in his home to a Canadian) and is the source of much exasperation comedy as the farce ensues.
CBS gave the show a strong lead-in on Friday nights, inheriting the audience of Family Matters (albeit a Family Matters in its final season), which had the added attraction of that show being a spin-off of Pinchot's first big hit. Unfortunately, audiences failed to connect with this imperfect stranger and just seven of its thirteen episodes aired before the network replaced it with The Gregory Hines Show. Pinchot's still jobbing around Hollywood, with a turn in The Chilling Adventures of Sabrina a recent highlight, but he never recaptured that Balki magic. Well, of course not, don't be ridiculous.
You Wish (ABC): Flushed with the success of Sabrina the teenage Witch and Boy Meets World, ABC attempted to turn their Friday nights into a must-see block of teen-aimed comedy with the addition of Teen Angel (see last time on The Telephemera Years) and You Wish, an I Dream of Jeannie with a twist (and no Larry Hagman).
Single-mom Gillian Apple (Arachnophobia's Harley Jane Kozak) takes her kids to a rug shop owned by Madman Mustafa – John Rhys Davies doing his funny foreigner schtick – where they buy an antique rug, unaware that it contains a genie! Imprisoned within the rug for 2,000 years, Genie (it's his name as well as his job) joins their family, introduced by Gillian as "Steve" from Canoga Park, an area of Los Angeles notable for its high percentages of Latinx-Americans and never-married men.
Genie is soon joined by his 50,000-year-old grandpa, played by Jerry van Dyke (who was also in Teen Angel at the same time), and hilarity was supposed to have ensued, although your mileage may vary on the degree of that merriment. For its seventh episode, You Wish was part of a crossover event which began in Sabrina and ran through the rest of the block's shows, using Sabrina's cat Salem and a time-travel theme as its anchor, but that would prove to be the last we saw of Genie, Gillian, and the old man.
Ratings for You Wish were less than ABC had hoped for and it was replaced by re-runs of Sabrina and Boy Meets World, before the final six episodes were eventually aired as a Spring 1998 replacement for the cancelled Teen Angel. ABC tried again the following year, with the hit Two of a Kid and non-hit Brother's Keeper filling the other slots, but You Wish faded into obscurity, perhaps trapped in an antique rug lost in the back room of a rug shop owned by a comedy Arab…
Next on The Telephemera Years: it's pilot season as we discover four shows that didn't make it to series for the 1997-98 season…
Check out our other Telephemera articles:
The Telephemera Years: 1966 (part 1, 2, 3, 4)
The Telephemera Years: 1968 (part 1, 2, 3, 4)
The Telephemera Years: 1969 (part 1, 2, 3, 4)
The Telephemera Years: 1971 (part 1, 2, 3, 4)
The Telephemera Years: 1973 (part 1, 2, 3, 4)
The Telephemera Years: 1975 (part 1, 2, 3, 4)
The Telephemera Years: 1977 (part 1, 2, 3, 4)
The Telephemera Years: 1980 (part 1, 2, 3, 4)
The Telephemera Years: 1982 (part 1, 2, 3, 4)
The Telephemera Years: 1984 (part 1, 2, 3, 4)
The Telephemera Years: 1986 (part 1, 2, 3, 4)
The Telephemera Years: 1987 (part 1, 2, 3, 4)
The Telephemera Years: 1990 (part 1, 2, 3, 4)
The Telephemera Years: 1992 (part 1, 2, 3, 4)
The Telephemera Years: 1995 (part 1, 2, 3, 4)
The Telephemera Years: 1997 (part 1, 2, 3, 4)
The Telephemera Years: 2000 (part 1, 2, 3, 4)
The Telephemera Years: 2003 (part 1, 2, 3, 4)
The Telephemera Years: 2005 (part 1, 2, 3, 4)
The Telephemera Years: 2008 (part 1, 2, 3, 4)
Titans of Telephemera: Irwin Allen
Titans of Telephemera: Stephen J Cannell (part 1, 2, 3, 4)
Titans of Telephemera: Hanna-Barbera (part 1, 2, 3, 4, 5)

Titans of Telephemera: Kenneth Johnson
Titans of Telephemera: Glen A Larson (part 1, 2, 3, 4)