Ah, telephemera… those shows whose stay with us was tantalisingly brief, snatched away before their time, and sometimes with good cause. They hit the schedules alongside established shows, hoping for a long run, but it's not always to be, and for every Street Hawk there's two Manimals. But here at STARBURST we celebrate their existence and mourn their departure, drilling down into the new season's entertainment with equal opportunities square eyes… these are The Telephemera Years!
1986-87
Like much of the late 1980s, the story of the 1986-87 season is one of NBC dominance. The Peacock network again enjoyed the number one show with The Cosby Show, and that ratings behemoth was joined at the top of a sitcom triple bill by Family Ties and Cheers as America decided it liked its comedy either soaked in saccharine or beer. The Golden Girls and Night Court gave NBC five of the top seven shows, with just CBS's interfering murder magnet Jessica Fletcher and the current affairs of 60 Minutes threatening its hegemony.
ABC, which had lost The Colbys in the Summer of 1986, did have the light comedy of Growing Pains, Who's the Boss?, and the "will they, won't they?" tension of Moonlighting, and was probably hopeful of success with new shows Head of the Class and Sledge Hammer!, with mixed results. Fame, The A-Team, and Airwolf all also reached the end of their runs, but making their bows in the Fall of 1986 were ALF and LA Law on NBC (both of which made the top thirty in their first seasons), while Fox unveiled their debut line-up which included 21 Jump Street, Married… With Children, and The Tracey Ullman Show. That was what the adults were watching in 1986 but what about their unguarded offspring? This is the story of 1986's Saturday morning line-up…
Rambo: The Force of Freedom (syndication): 1982's First Blood was a sensitive, if sensational, portrayal of a man returning home from a war that never truly ended for him, adapted from a novel that ended the only way these things can, with his death. The film's ending left him alive and therefore ripe to be thrown into a sequel, 1985's Rambo: First Blood 2. The events of that film saw John Rambo become the Reagan government's best secret weapon, heading into Vietnam to rescue soldiers left behind when the war ended.
Having played the character in those two movies, Sylvester Stallone was as synonymous with Rambo as he was with Rocky Balboa and so it was natural that, when Ruby-Spears were hired by Carolco to produce an animated series based on the character, he was nowhere to be seen, with the character of John Rambo being voiced by Neil Ross. Colonel Sam Trautman, who had brought Rambo back into active service in the second film, was on hand for the series, recruiting the PTSD-riven headband wearer into the Force of Freedom, a crack unit formed to fight the terrorist forces of General Warhawk and SAVAGE (which, of course, was a ridiculous acronym).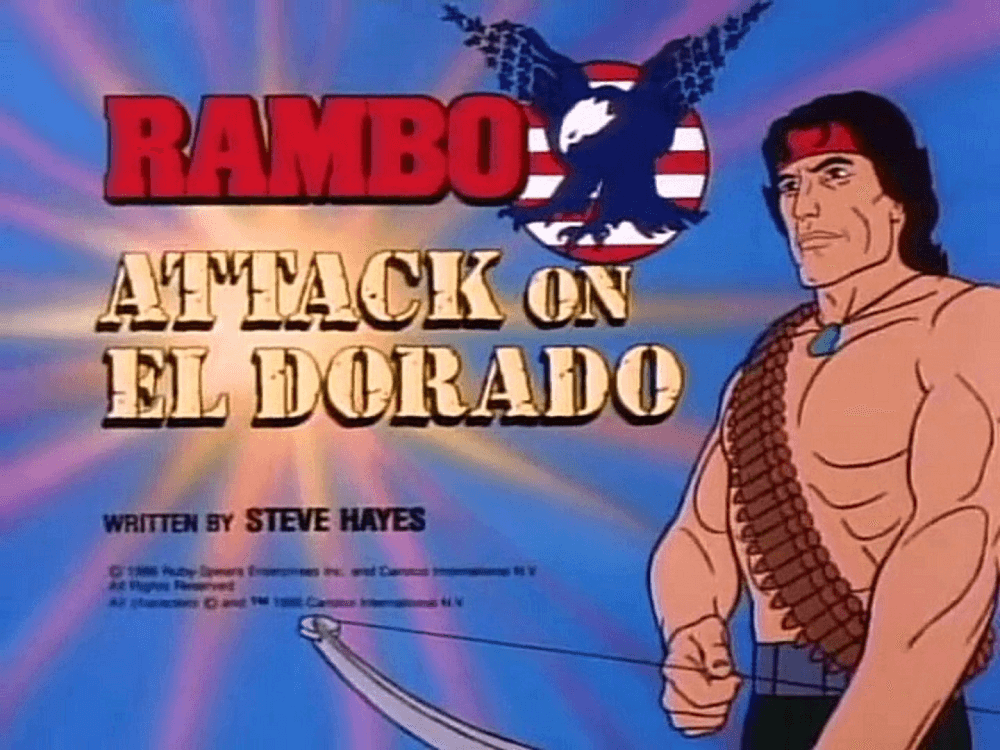 Rambo's team included a race car driver, a female Asian martial-arts expert, an actual ninja (which might seem like it makes the other character redundant, but she was around to have a crush on Rambo, mostly), a former football player, and a Native American. Touchdown and Chief weren't actual military men but that didn't matter when it came to defending FREEDOM and fighting Warhawk's equally diverse team (which included the ninja's brother).
A five-episode mini-series in April 1986 did well enough that a full season of sixty episodes was greenlit, rolling out in September 1986, though not without controversy. The First Blood films were R-rated, and changes had to be made to win Federal Communications Commission approval, including watering down the violence shown and making any settings entirely fictional. Still, there were protests and Stallone himself hated the thought of a cartoon show based on the character but that didn't stop a range of toys being produced by Coleco. A single season was all she wrote but these episodes were collected on DVD in 2005 and are freely available to watch on video sharing sites if you want to shed a tear for precious freedom…
The Real Ghostbusters (ABC)/Ghostbusters (syndication): The 1984 smash hit film Ghostbusters was almost known as Ghoststoppers or Ghostsmashers until a last-minute deal was done with Universal Pictures to license the name to Columbia for the movie. Universal owned that name thanks to a 1975 live-action Filmation show called The Ghost Busters, which ran for just fifteen episodes and was quickly forgotten. Thus, when Ghostbusters became a big hit, few even mentioned that there'd been an earlier project with a similar name.
Filmation hadn't forgotten, though, and when a deal to produce an animated shoe based on the movie fell through, they examined the legal agreement signed by Universal and Columbia and realised that there was nothing to prohibit them making their own Ghostbusters show, based on the original series. Thus it was that 1986 saw a race between Filmation and DIC Enterprises to see who could bring a Ghostbusters cartoon to air first, with DIC adding a prefix – The Real Ghostbusters – to differentiate their effort from Filmation's (and also throw a little shade in the process).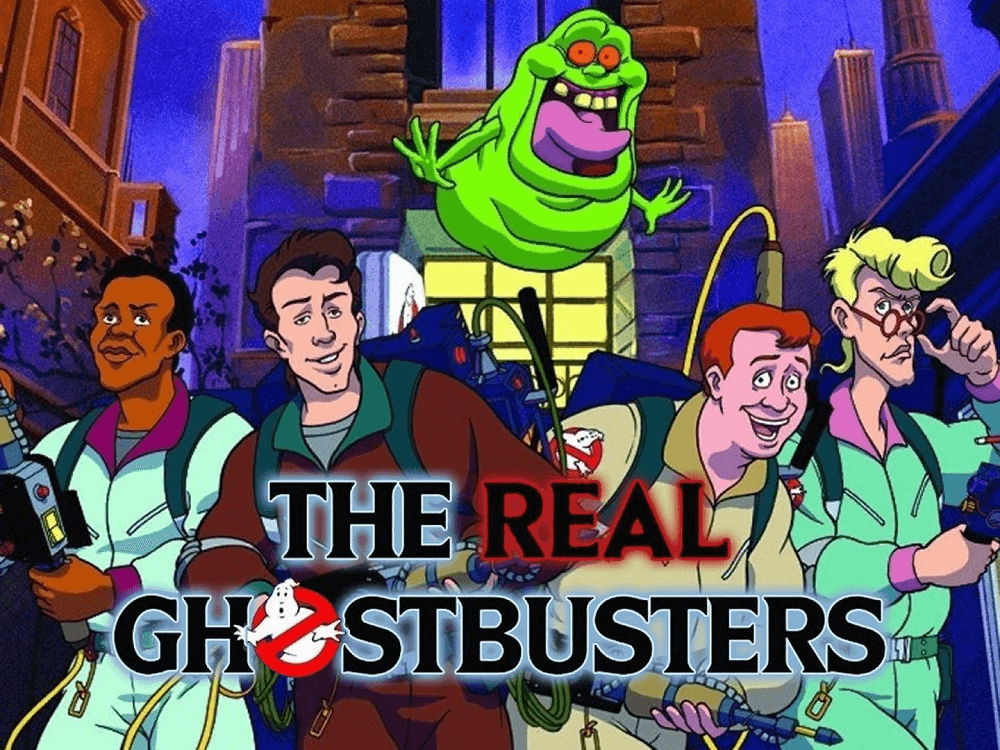 The Real Ghostbusters featured Peter, Ray, Egon, and Winston (although none of the film's actors reprised their roles), adding in a supporting cast that included Janine and the hotel ghost from the movie, which had been nicknamed Onionhead on set because of a foul smell emanating from the puppet but which was renamed Slimer for this series. Each episode would see our heroes brought in to capture a ghost, a situation repeated over on Ghostbusters, where the sons of the original heroes joined up with Tracy the Gorilla to thwart the plans of evil ghost wizard Prime Evil. Oh, and they had a talking car.
A first season of thirteen episodes of The Real Ghostbusters was so successful on ABC that not only was it renewed for a second outing, but it was also given an order of sixty-five extra episodes to get it into syndication as quickly as possible. In all, there ended up being seven seasons (140 episodes) of the show, which went through a few changes (and was actually retitled Slimer! and the Real Ghostbusters from season four), continuing to be a fondly remembered show to this day, with modern versions of the action figure line being released by Hasbro. The Filmation show, however, had just a single season – albeit a single syndication season of sixty-five episodes – and no toys, returning to the TV graveyard, a true ghost of Saturday morning…
Teen Wolf (CBS): Rambo wasn't the only character from the movies who made the jump to TV for the Fall 1986 season as hirsute High School hoops hero Scott Howard furthered his adventures with a thirteen-episode cartoon series from Hanna-Barbera. Produced by their Australian arm, Southern Star, Teen Wolf didn't have the budget to bring in Michael J Fox to reprise his role, enlisting Townsend Coleman (who would later voice Michelangelo in Teenage Mutant Ninja Turtles) for the job, but James Hampton was back as his dad, adding in a sister and grandparents to swell the family dynamic.
The show dealt with the same issues as the movie, that difficult time in adolescence when everything is changing, especially your body, but widened out to include broader concerns about anti-werewolf feelings, a thin allegory for race relations that was no doubt wasted on its target audience of Elementary School children.
With a sequel being produced, a second season of eight episodes was scheduled for Fall 1987, opting to remain focused on Scott rather than his cousin Todd, played by Jason Bateman in Teen Wolf Too. Todd did appear in the season finale "Howlin' Cousins" and it may have been that a third season of the show would have switched focus to his adventures at Hamilton University.
It was a moot point, however, as there was no third season, with a series of re-runs airing instead, and no further movies. In 2011, a live-action TV series featured the renamed Scott McCall and included his best friend Stiles but changed up just about every element of the show. Still, it lasted for six seasons and a hundred episodes on MTV, 79 more than the cartoon, and a generation of Teen Wolf fans now think of Tyler Posey rather than Michael J Fox when they picture a werewolf rocking out…
Silverhawks (syndication): Having scored a massive hit with ThunderCats the year before, Rankin/Bass sought to strike precious metal again with a series that took the obviously successful formula and launched it into space. Silverhawks were a team of "partly metal, partly real" intergalactic policemen recruited by Commander Stargazer to combat the evil forces of Mon*Star, an alien gangster with his own team of ne'er-do-wells.
The animation was provided by Japanese studio the Pacific Animation Corporation, who had also taken over the production of ThunderCats, and the two shows shared a voice cast in Larry Kenney (Bluegrass/Lion-O), Bob McFadden (Stargazer/Snarf), and Peter Newman (Quicksilver/Tygra), while Earl Hammond voiced both Mon*Star and Mumm-ra.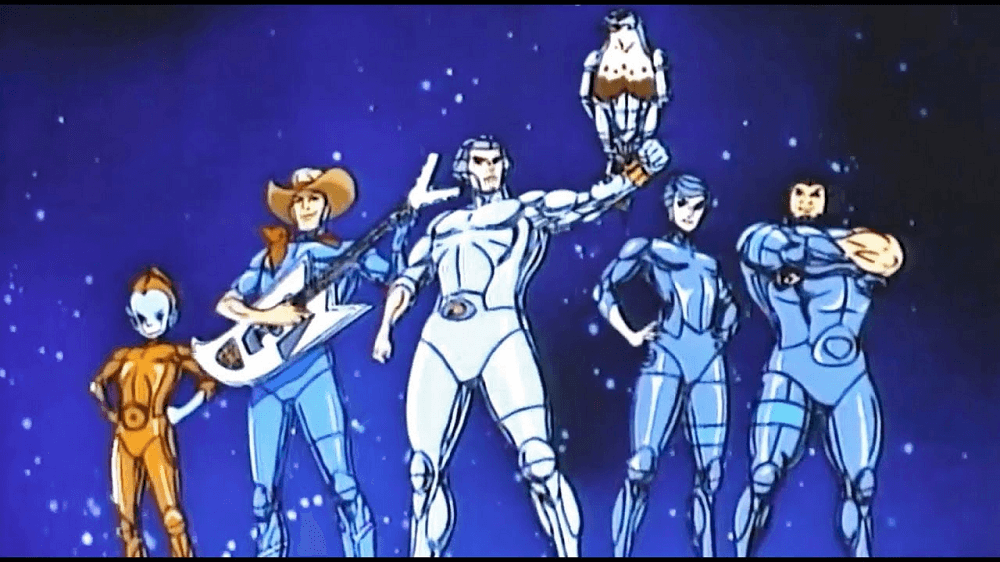 Sixty-five episodes of the show were produced to make up a single syndication season (ThunderCats, by contrast, eventually reached double that), and there was a tie-in comic book from Marvel Comics and a line of toys produced by Kenner after LJN, who had released toys based on ThunderCats, opted to pass at the last minute.
Although Silverhawks never captured the popular imagination in the same way as its bigger brother, it retains its fans and there is talk of a revival of the concept. Somewhere out there in space, Stargazer is still marshalling his troops in The Galaxy of Limbo, and Super7 Toys – who have produced quality re-imaginings of figures from the Masters of the Universe and ThunderCats lines, amongst others – have recently released a wave of Silverhawks action figures for you to take the fight to Mon*Star all over again.
Next on The Telephemera Years: Back to 1973 for girls with something extra… and swingers!
Check out our other Telephemera articles:
The Telephemera Years: 1966 (part 1, 2, 3, 4)
The Telephemera Years: 1968 (part 1, 2, 3, 4)
The Telephemera Years: 1969 (part 1, 2, 3, 4)
The Telephemera Years: 1971 (part 1, 2, 3, 4)
The Telephemera Years: 1973 (part 1, 2, 3, 4)
The Telephemera Years: 1975 (part 1, 2, 3, 4)
The Telephemera Years: 1977 (part 1, 2, 3, 4)
The Telephemera Years: 1980 (part 1, 2, 3, 4)
The Telephemera Years: 1982 (part 1, 2, 3, 4)
The Telephemera Years: 1984 (part 1, 2, 3, 4)
The Telephemera Years: 1986 (part 1, 2, 3, 4)
The Telephemera Years: 1987 (part 1, 2, 3, 4)
The Telephemera Years: 1990 (part 1, 2, 3, 4)
The Telephemera Years: 1992 (part 1, 2, 3, 4)
The Telephemera Years: 1995 (part 1, 2, 3, 4)
The Telephemera Years: 1997 (part 1, 2, 3, 4)
The Telephemera Years: 2000 (part 1, 2, 3, 4)
The Telephemera Years: 2003 (part 1, 2, 3, 4)
The Telephemera Years: 2005 (part 1, 2, 3, 4)
The Telephemera Years: 2008 (part 1, 2, 3, 4)
Titans of Telephemera: Irwin Allen
Titans of Telephemera: Stephen J Cannell (part 1, 2, 3, 4)
Titans of Telephemera: Hanna-Barbera (part 1, 2, 3, 4, 5)

Titans of Telephemera: Kenneth Johnson
Titans of Telephemera: Glen A Larson (part 1, 2, 3, 4)