Ah, telephemera… those shows whose stay with us was tantalisingly brief, snatched away before their time, and sometimes with good cause. They hit the schedules alongside established shows, hoping for a long run, but it's not always to be, and for every Street Hawk there's two Manimals. But here at STARBURST we celebrate their existence and mourn their departure, drilling down into the new season's entertainment with equal opportunities square eyes… these are The Telephemera Years!
1973-74
With a massive 31.2 rating, CBS's All in the Family had no competition for the top spot as 1973's most popular show, with over twenty million viewers tuning in weekly to see what daft old racist Archie Bunker would do next. In fact, CBS controlled the top ten shows to such an extent that only NBC's Sanford and Son (like All in the Family, a British transplant) earned a spot on the rundown. NBC really couldn't cope with a CBS line-up that also included The Waltons, M*A*S*H, Hawaii Five-O, and new arrival Kojak, and Police Story seemed to be their only new show to make any impact.
ABC, though, had new smash The Six Million Dollar Man at number eleven, and scored decent placings for Kung Fu, The Streets of San Francisco, and the debuting Happy Days. Although ABC would have preferred to land more blows on the Tiffany Network, they could still rely on Monday Night Football and their various movie slots to pull in viewers, although their schedules – like those of CBS and NBC – were very light on sci-fi and fantasy shows. That was what was happening in terms of shows that people watched but what about those shows that slipped away without gaining a foothold? This is the story of four more flops…
Chase (NBC): Produced by Jack Webb's Mark VII Limited, who had previously brought Dragnet into the world, Chase was the first show created by titan of telephemera Stephen J Cannell. Cannell had cut his teeth on Ironside and The DA before story editing Adam-12 for Webb, and he developed Chase alongside Robert A Cinnader, Adam-12's creator.
The Chase of the title was Chase Reddick, a hardened LAPD detective given his own special department to crack difficult cases, often involving undercover and surveillance work. Cast as Reddick was Mitchell Ryan, an original cast member on the gothic soap Dark Shadows until he was fired for alcoholism, with Brian Fong, Wayne Maunder, Albert Reed, and Reid Smith making up his young team of operatives.
Reddick's team faced down cop killers, kidnappers, drug dealers, and motorcycle gangs but few were watching, especially as the show ran on Tuesdays opposite Happy Days on ABC and Hawaii Five-O on CBS. Still, it finished its run of twenty-two episodes and enjoyed identical ratings to The Brady Bunch, which was also cancelled.
Cannell, of course, would bounce back with The Rockford Files in 1974, beginning a run of shows that also included The A-Team and 21 Jump Street, often casting Ryan in guest roles. Ryan is probably best known now for his role as Greg's father on Dharma & Greg or as John Cusack's high school sweetheart's dad in Grosse Point Blank and passed away in March 2022 at the age of 88. Chase was never released on home video but you can check out the odd episode on YouTube if you like your crime shows gritty and full of attractive young men.
Chopper One (ABC): Cannell's future A-Team star Dirk Benedict was just beginning his career, having earned good notices for his screen debut in an episode of Hawaii Five-O which led to a starring role in the movie Sssssss and as Officer Gil Foley in this police helicopter show. Benedict was cast alongside Ben Casey's Jim McMullan as a pair of cops belonging to the literal flying squad, their Bell 206 JetRanger given the call sign of the title.
Chopper One was produced by Spelling-Goldberg Productions, which had been established in May 1972 and developed mainly TV movies. After the success of The Rookies that year, Chopper One was their second concept given a full series, and hopes were high that viewers would be thrilled by the high-flying action, especially as it was paired on Thursday nights with Firehouse, giving double the emergency services drama in a slot that had been vacated by Toma when it moved to Fridays.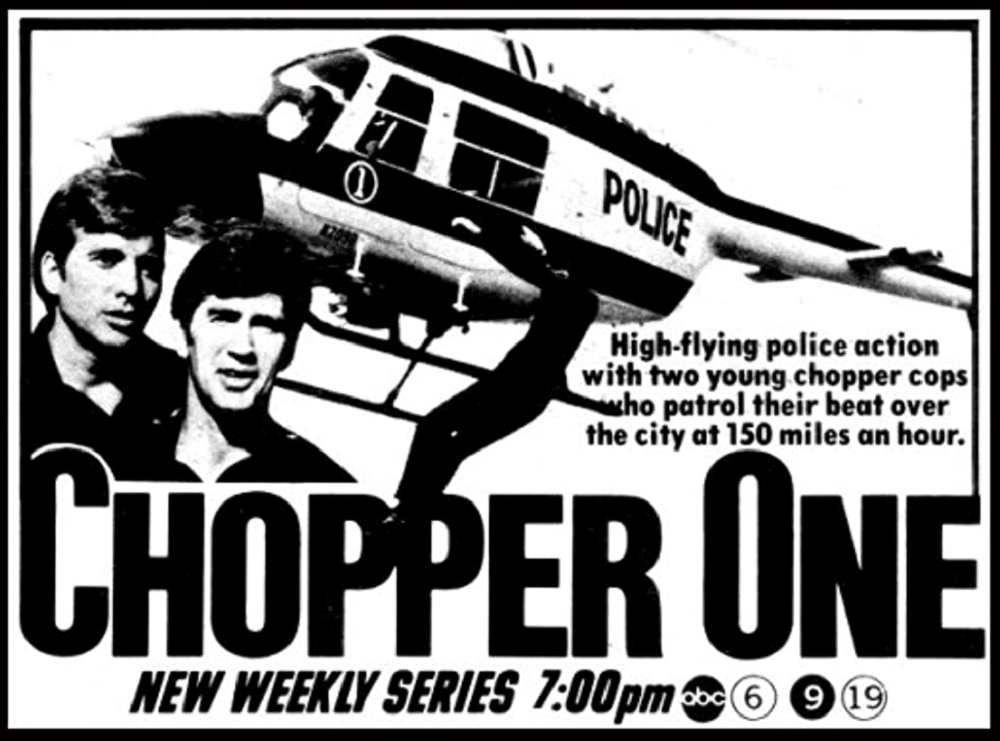 The concept may have worked as part of a broader show focussing on the work of the LAPD but even twenty-two minutes a week seemed a lot to fill with helicopter drama, especially a helicopter that didn't have the bells and whistles of Blue Thunder or Airwolf. Over thirteen episodes, Officers Foley and Burdick used their whirlybird wiles to stop hostage takers, rooftop snipers, and crooked cops, and help the pregnant victim of a hold-up get to hospital.
This kind of drama earned it nothing but an early curtailment, with Firehouse following a few weeks later as even helicopters and FIRE could not withstand the opposition of The Waltons over on CBS. The complete series was made available by Sony as a manufacture on demand DVD in 2016 but, really, all you need to get a flavour of the show is the title sequence, which features footage of Chopper One as seen through a peephole.
Tenafly (NBC): Like Faraday & Son (which we featured in the previous instalment of The Telephemera Years), Tenafly began its life as part of the NBC Wednesday Mystery Movie strand, appearing once every four weeks in rotation with Faraday, Banacek, and The Snoop Sisters. For a good show, this would be no barrier for a good show – and appointment viewing is appointment viewing – and it was under these conditions that Tenafly began its life in October 1973.
With a name that may have been intended to remind viewers of the 1972 blaxploitation hit Super Fly, Tenafly was one of the first two US TV shows to feature an African American as its title protagonist, the other being Shaft which aired on Tuesday nights over on CBS. James McEachin played Harry Tenafly, a former cop who left the LAPD for a job with a private security company, hoping for a quieter life for him and his family.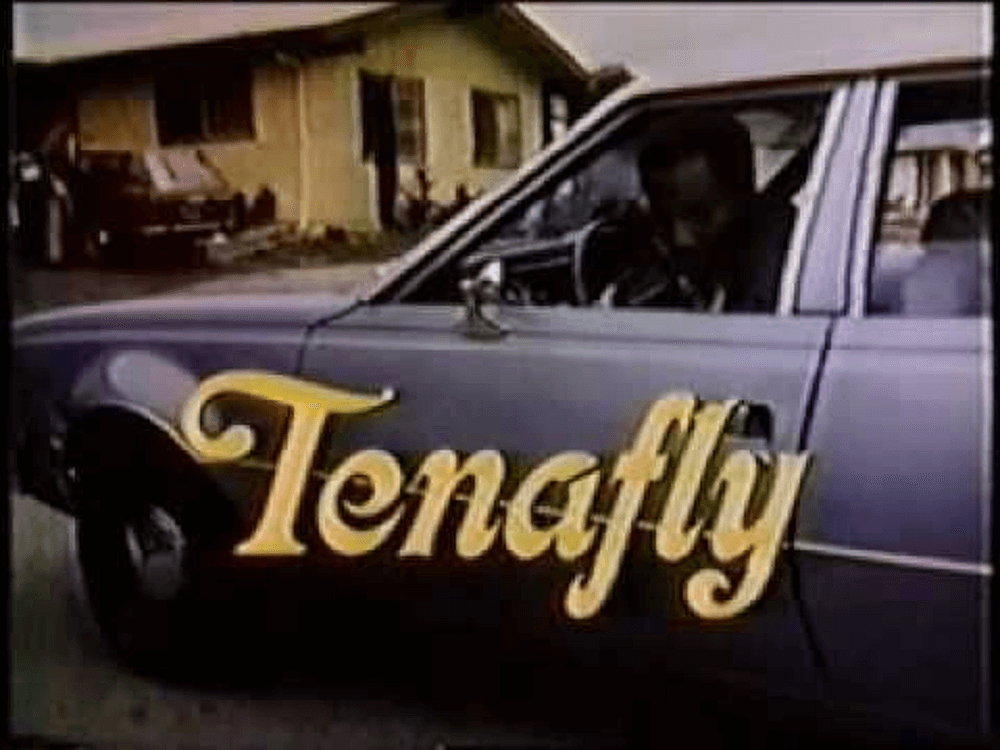 Of course, a quiet life wasn't on the cards for a TV detective and despite favouring a battle of wits over a gunfight, and footwork over car chases, Harry was pitched into the middle of trouble in every episode, whether through working undercover as a taxi driver, handling security for a department store, or trying to work out whether a vital witness to a murder can be believed.
A pilot aired in February 1973 and four further episodes were shown through January 1974, when – along with Faraday & Company – it was put out to pasture. McEachin continued to act, enjoying regular roles in Matlock and Perry Mason, but later combined his time with a writing career highlighting undertold African American history. A world away, creators Richard Levinson and William Link (who were also responsible for Columbo) went on to create Murder, She Wrote…
Toma (ABC): The 1970s had an obsession with larger-than-life cops, with the real-life adventures of The Super Cops and Serpico occupying different ends of a wide spectrum, and Toma falls somewhere in between. Tony Musante, in his first starring role, played Dave Toma, a master of disguise who turned his undercover work into a book.
Unable to find a publisher, Toma appeared on daytime talk show The Mike Douglas Show, where he demonstrated his quick-change disguises, and this led not only to the book being picked up but also this TV series being greenlit, produced by Stephen J Cannell for Roy Huggins/Public Arts Productions (who would shepherd The Rockford Files into being the following year).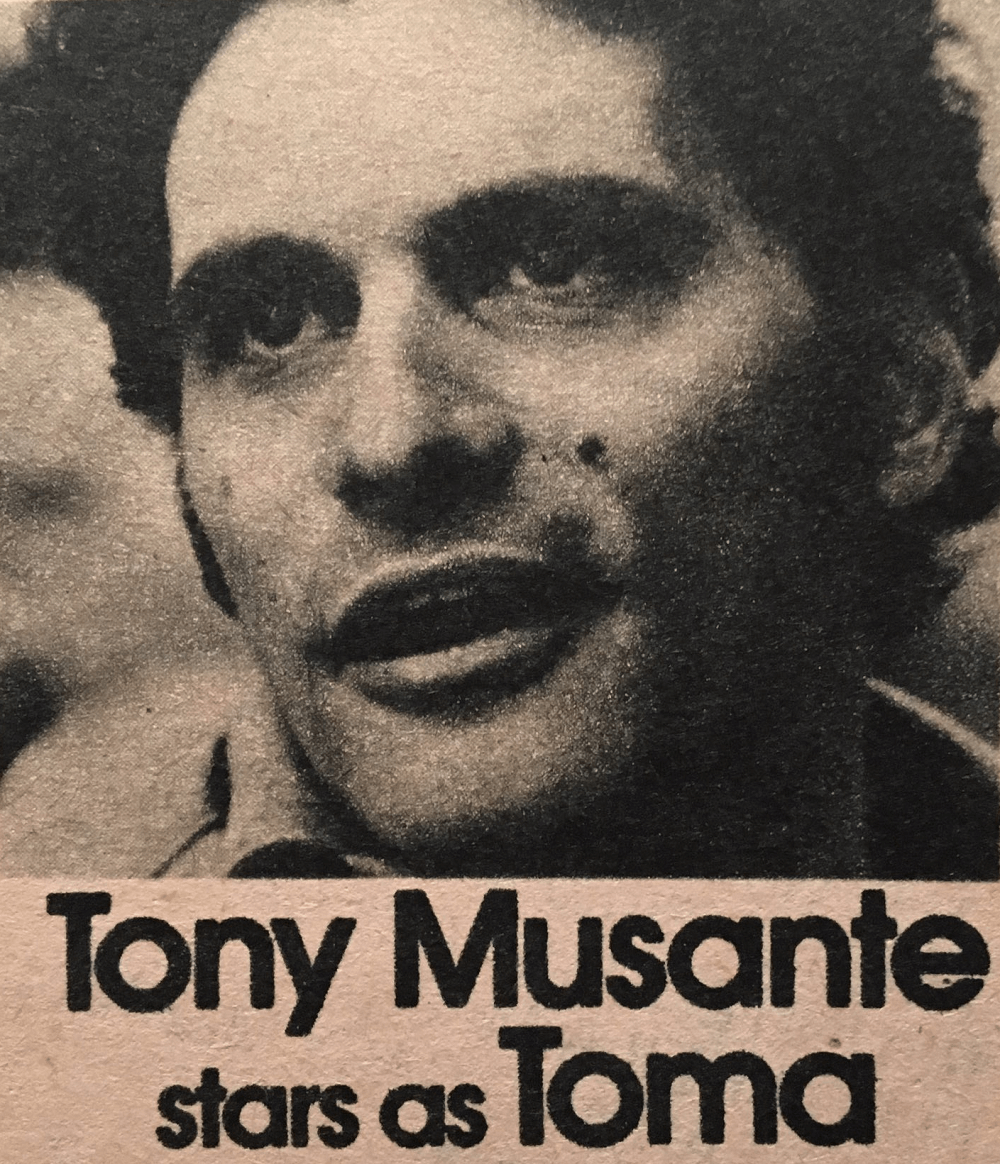 Launched on Thursday nights, Toma had tough opposition in the shape of The Waltons but did well enough that it was moved to a better slot on Fridays, its often-humorous tone highlighted by The Odd Couple as a lead-in. It ended the 1973-74 season with a 17.7 rating and was in line for a second year of undercover action when Musante opted not to renew his contract.
He'd always maintained he would only make one season to avoid typecasting but producers thought it was a negotiating ploy. It wasn't and there was little enthusiasm to continue the show without Musante, who never truly found a role that suited him so well again. Instead, the parts of the show that had worked were reused for Baretta, giving Robert Blake a four-season run as the titular undercover cop.
Next time on The Telephemera Years: 1973's unsold pilots with all those fantasy shows missing from the schedules!
Check out our other Telephemera articles:
The Telephemera Years: 1966 (part 1, 2, 3, 4)
The Telephemera Years: 1968 (part 1, 2, 3, 4)
The Telephemera Years: 1969 (part 1, 2, 3, 4)
The Telephemera Years: 1971 (part 1, 2, 3, 4)
The Telephemera Years: 1973 (part 1, 2, 3, 4)
The Telephemera Years: 1975 (part 1, 2, 3, 4)
The Telephemera Years: 1977 (part 1, 2, 3, 4)
The Telephemera Years: 1980 (part 1, 2, 3, 4)
The Telephemera Years: 1982 (part 1, 2, 3, 4)
The Telephemera Years: 1984 (part 1, 2, 3, 4)
The Telephemera Years: 1986 (part 1, 2, 3, 4)
The Telephemera Years: 1987 (part 1, 2, 3, 4)
The Telephemera Years: 1990 (part 1, 2, 3, 4)
The Telephemera Years: 1992 (part 1, 2, 3, 4)
The Telephemera Years: 1995 (part 1, 2, 3, 4)
The Telephemera Years: 1997 (part 1, 2, 3, 4)
The Telephemera Years: 2000 (part 1, 2, 3, 4)
The Telephemera Years: 2003 (part 1, 2, 3, 4)
The Telephemera Years: 2005 (part 1, 2, 3, 4)
The Telephemera Years: 2008 (part 1, 2, 3, 4)
Titans of Telephemera: Irwin Allen
Titans of Telephemera: Stephen J Cannell (part 1, 2, 3, 4)
Titans of Telephemera: Hanna-Barbera (part 1, 2, 3, 4, 5)

Titans of Telephemera: Kenneth Johnson
Titans of Telephemera: Glen A Larson (part 1, 2, 3, 4)