Ah, telephemera… those shows whose stay with us was tantalisingly brief, snatched away before their time, and sometimes with good cause. They hit the schedules alongside established shows, hoping for a long run, but it's not always to be, and for every Knight Rider there's two Street Hawks. But here at STARBURST we celebrate their existence and mourn their departure, drilling down into the new season's entertainment with equal opportunities square eyes… these are The Telephemera Years!
2003-04
By the turn of the twenty-first century, the hegemony of the big three networks had well and truly been blown apart by a new, multi-channel reality. While ABC, CBS, and NBC still churned out a new season of promising hopefuls each year, they had to contend with competition from the cable networks, and while Alias, NYPD Blue, ER, and the final season of Friends were all blockbuster hits on ABC and NBC, the likes of Fox and UPN were stealing eyeballs across the schedules.
Offbeat humour from King of the Hill, Malcolm in the Middle, That 70s Show, The Simpsons, and new arrival Arrested Development ran wild on Fox, while The WB ensured teens were well catered for with Angel, Charmed, Smallville, and their new emo show One Tree Hill, rivalled only by The OC beginning its four-season run on Fox. In response, the only new network shows to make any kind of impact were Joan of Arcadia and Two and a Half Men on CBS, but that's grown-up stuff! What we're interested in is what the kids were watching in 2003…
Tutenstein (NBC): Jay Stephens is an alternative cartoonist who had several titles published by independent comics companies in Canada and the US with a cast of cute characters who lived in Oddville. Among his creations, which attracted the attention of Nickelodeon magazine, were the pre-teen superhero Jet Cat, the elephant-bonced Jumbo Head, and the living mummy Tutenstein.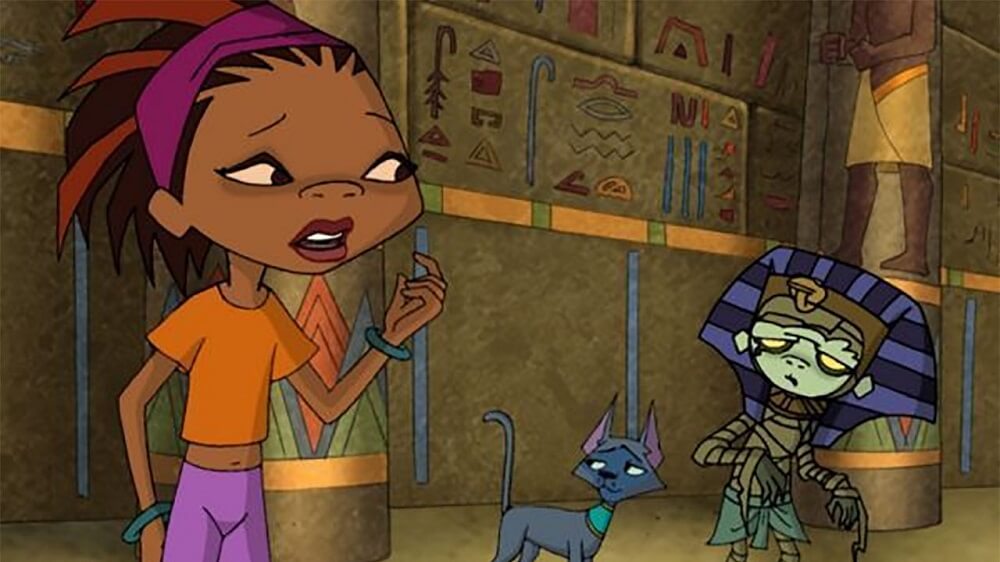 Based on the real-life Tutenkhamun, Tutankhensetamun is a young pharaoh brought back to life three-thousand years after his accidental death, who now not only has to reconcile the fact that he's the Pharaoh of nothing but also has to deal with the realities of life in the twenty-first century. His guide to the modern world is twelve-year-old Cleo Carter who, with her anthropomorphic cat Luxor, helps the boy king avoid the attentions of the evil god Set.
The show premiered on NBC on November 1st 2003, as part of the Discovery Kids on NBC block on Saturday mornings, and was popular enough that it was renewed for a further two season (and a special two years after the third season had ended). Jeanie Elias, Crystal Scales, and David Lodge did great work with the voices, although all were initially credited under pseudonyms because the show was – tut tut – non-union.
Stephens followed the show with The Secret Saturdays, a family of cryptozoologists trying to keep the secrets of cryptids getting out to the world at large, and has since returned to the world of comic books. The entire Tutenstein run is available to stream on YouTube through Yippee TV.
Funky Cops (Fox): Produced by the French animation studio Antéfilms, who had burst onto the American cartoon scene with Totally Spies! in 2001, Funky Cops featured the adventures of a pair of San Francisco police detectives in the 1970s who become unwitting disco stars. Directed by their grumbling police chief Captain Dobbs, and with the help of ace reporter Miss Lee, Ace Anderson and Dick Kowalski solve crimes and dance, and look cool doing both.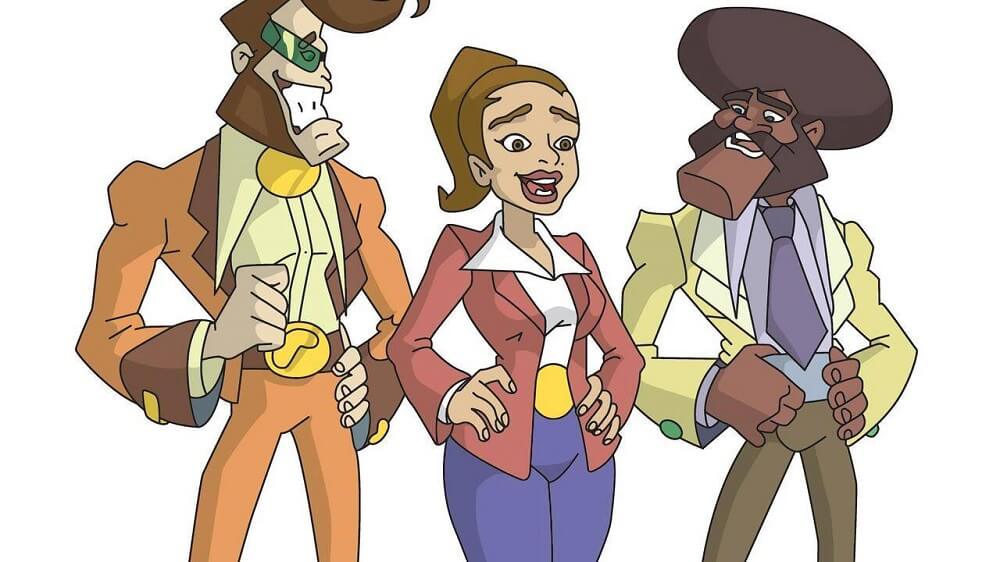 4Kids licensed the show for the US – and renamed Dick to Jack – and the show debuted in September 2003 on The Fox Box, the Fox channel's Saturday morning cartoon block, alongside Ultimate Muscle, Sonic X, and a new Teenage Mutant Ninja Turtles cartoon.
Twenty-six episodes made up the show's first season, with a shorter, thirteen-episode second adding a female detective – Flora "Fly" Ibanez – to the mix, and their exploits included dealing with hippies, punks, poison cakes, and counterfeit nightclub invitations, always looking to stay cool.
The series was released on DVD in France but there are enough episodes on YouTube to get an appreciation of this weird show that must have appealed to hungover/stoned adults rather than its target audience. Unless, of course, that was the target audience all along…
Kenny the Shark (NBC): Friendly sharks are far from a new concept – Hanna-Barbera had Jabberjaw as part of their 1976 Fall offering and Viz's Pathetic Sharks have trying to be friends with humans for decades – and so Kenny the Shark at first appears to be nothing new. Produced as part of the Discovery Kids on NBC block, however, Kenny the Shark is educational…
Kenny, voiced by Jim Conroy, is a tiger shark who's had enough to living in the sea and wants to join a regular human family. He winds up living with the shark-obsessed Kat and her family, and she is the only one who can speak his language, acting as a conduit for him to take part in everyday activities. The trouble is, when Kenny sees shark food like a seal, he can't control himself!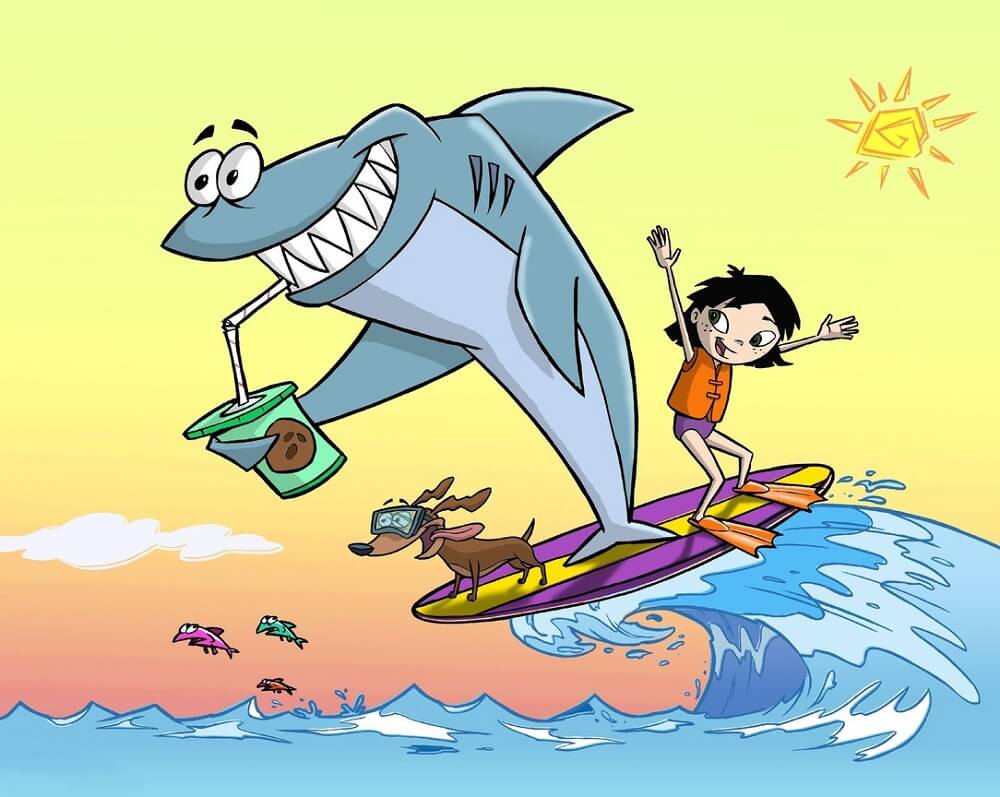 In more cynical hands this might result in carnage but Kenny the Shark is rather sweet, and even the series' antagonist Captain Ahearn eventually comes round to loving the shark. Kenny had first appeared as a continuity host between shows on the block and his popularity ensured that second season – albeit only of six double episodes – followed the twenty double-episode first.
The show did receive the DVD treatment in 2007 but these are now out of print. You can, however, find plenty of episodes on YouTube to make every week Shark Week…
Martin Mystery (Fox): Based on the Italian comic book Martin Mystère by Alfredo Castelli, Martin Mystery de-ages the graphic novel's main character to teenagers but still has them working for a secret organisation called The Center, which is charged with protecting the world from various supernatural nemeses.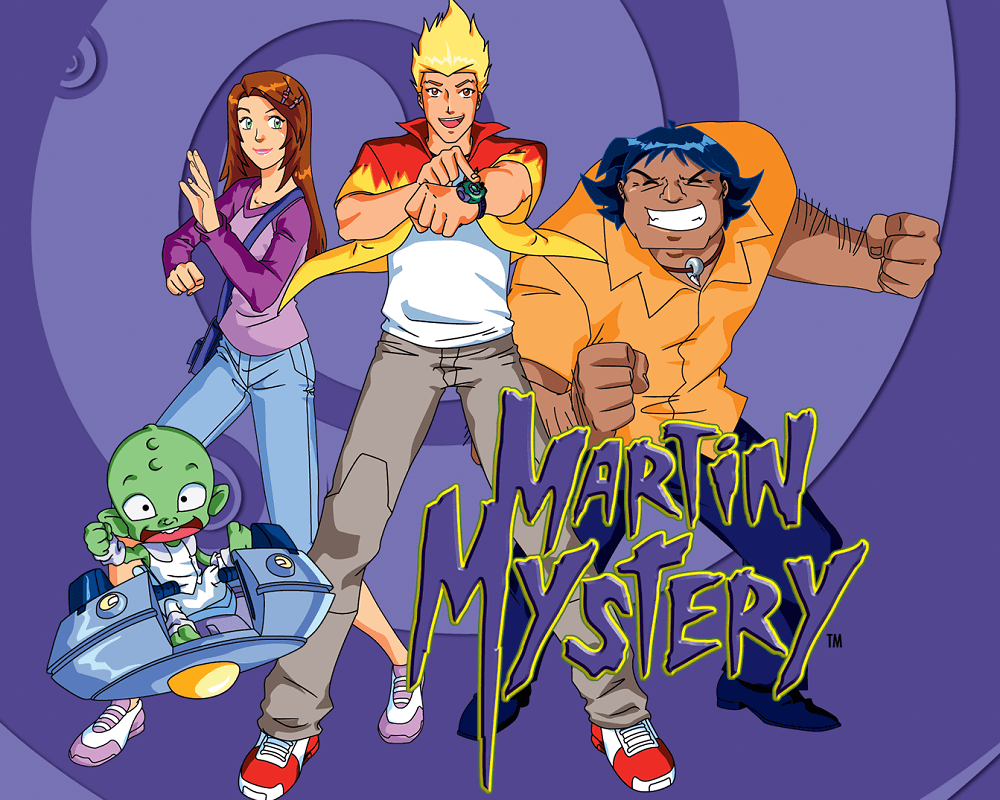 A French-Canadian production animated in a Japanese style by Korean studios, Martin Mystery was a truly international affair, which also counted amongst its cast – alongside the eponymous hero and his friend Diana – a green-skinned alien and a two-hundred-thousand-year old caveman, who band together to thwart such threats as slime creatures, dream demons, and evil doppelgängers.
Three seasons and a total of sixty-six episodes were produced, which aired in both English and French in Canada on YTV and Vrak, respectively, but American audiences didn't get to see the show until May 2004, when The Fox Box aired the first seven episodes. The remaining shows were eventually shown on Nickelodeon from 2005.
The last episode aired on YTV on March 27th 2006, and while there have been DVD releases in France and Italy, Martin Mystery remains uncollected for an English-language audience. Luckily, then, YouTube is the place to find this cool series which deserves a much wider audience.
Next: We set the controls for the heart of the eighties, as 1982 brings us golden monkeys, star powers, and jolly green giants…
Check out our other Telephemera articles:
The Telephemera Years: 1966 (part 1, 2, 3, 4)
The Telephemera Years: 1968 (part 1, 2, 3, 4)
The Telephemera Years: 1969 (part 1, 2, 3, 4)
The Telephemera Years: 1971 (part 1, 2, 3, 4)
The Telephemera Years: 1973 (part 1, 2, 3, 4)
The Telephemera Years: 1975 (part 1, 2, 3, 4)
The Telephemera Years: 1977 (part 1, 2, 3, 4)
The Telephemera Years: 1980 (part 1, 2, 3, 4)
The Telephemera Years: 1982 (part 1, 2, 3, 4)
The Telephemera Years: 1984 (part 1, 2, 3, 4)
The Telephemera Years: 1986 (part 1, 2, 3, 4)
The Telephemera Years: 1987 (part 1, 2, 3, 4)
The Telephemera Years: 1990 (part 1, 2, 3, 4)
The Telephemera Years: 1992 (part 1, 2, 3, 4)
The Telephemera Years: 1995 (part 1, 2, 3, 4)
The Telephemera Years: 1997 (part 1, 2, 3, 4)
The Telephemera Years: 2000 (part 1, 2, 3, 4)
The Telephemera Years: 2003 (part 1, 2, 3, 4)
The Telephemera Years: 2005 (part 1, 2, 3, 4)
The Telephemera Years: 2008 (part 1, 2, 3, 4)
Titans of Telephemera: Irwin Allen
Titans of Telephemera: Stephen J Cannell (part 1, 2, 3, 4)
Titans of Telephemera: Hanna-Barbera (part 1, 2, 3, 4, 5)

Titans of Telephemera: Kenneth Johnson
Titans of Telephemera: Glen A Larson (part 1, 2, 3, 4)