Ah, telephemera… those shows whose stay with us was tantalisingly brief, snatched away before their time, and sometimes with good cause. They hit the schedules alongside established shows, hoping for a long run, but it's not always to be, and for every Knight Rider there's two Street Hawks. But here at STARBURST we celebrate their existence and mourn their departure, drilling down into the new season's entertainment with equal opportunities square eyes… these are The Telephemera Years!
1982-83
There's a weird bleed between decades that can often result in the start of one decade looking very much like the end of the last but it's fair to say that, by 1982, the eighties had firmly grasped control of the timestream. TV audiences were thrilling to the adventures of CHiPs, The Fall Guy, The Dukes of Hazzard, and Magnum, PI, and were willing accomplices to the crime-solving antics of Quincy, ME, Cagney & Lacey, Simon & Simon, and the whole Hill Street precinct, as well as taking a trip to Fantasy Island to see Ricardo Montalban.
New shows hitting the airwaves included The A-Team, Knight Rider, and suave British action hero Remington Steele, but we're not here for those blockbuster hits; this is The Telephemera Years, after all. And so we present to you four near-misses of 1982…
Voyagers! (NBC): Created by James D Parriott, who had cut his teeth as a writer and director on The Six Million Dollar Man and The Incredible Hulk, Voyagers! (the exclamation mark is very important) told a familiar story of time travellers on a mission to ensure that history unfolds as it should, using a handheld device called an Omni to work out when things are going awry.
Jon-Erik Hexum, a former college football player spotted by John Travolta's manager, played Phineas Bogg, a man from the future who accidentally lands in 1982 and befriends a young boy called Jeffrey, in the process losing his Big Book of How Things Happened. Realising that he's in trouble if he can't get on with his job, Bogg recruits Jeffrey – whose father was a history professor – to be his guide to setting the timeline straight!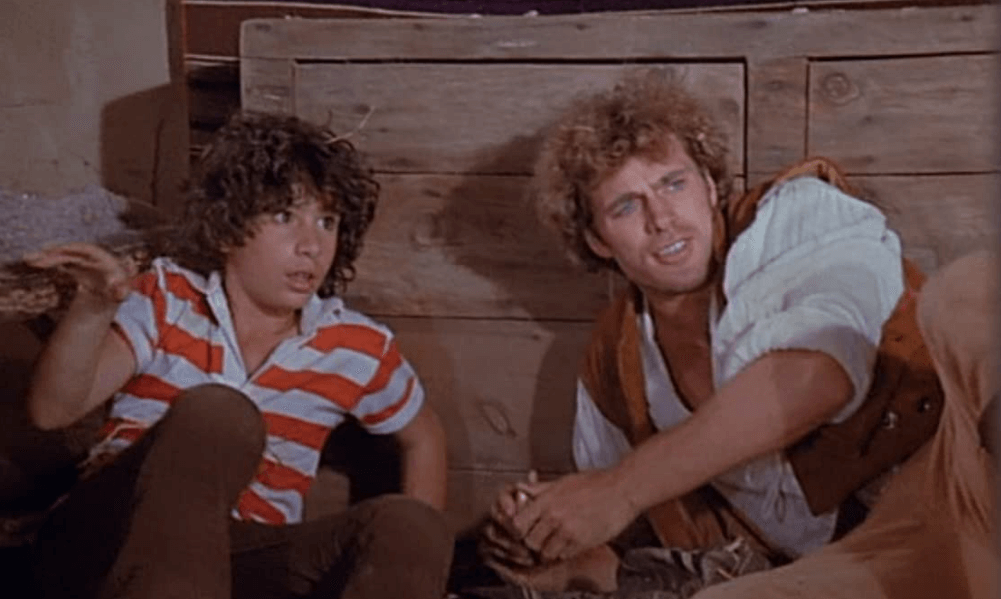 A first season of twenty episodes aired on Sunday evenings, opposite the news show 60 Minutes on CBS, and did well enough in the ratings that it was due to be renewed for a second season. However, seeking to cash in on controversies surrounding 60 Minutes' reporting, NBC opted to schedule a news show in the slot for the 1983 season and cancelled Voyagers!
Hexum was recruited for the spy show Cover Up, and was sadly killed on set while idly playing with a gun loaded with blanks; his Voyagers! co-star Meeno Peluce acted for a few more years before giving up the profession and becoming, ironically, a history teacher…
Bring 'Em Back Alive (CBS) / Tales of the Gold Monkey (ABC): The success of Raiders of the Lost Ark in 1981 was bound to spawn television imitators and viewers settling in for the 1982 Fall season were treated to two shows inspired by the adventures of Indiana Jones. Based on a 1930 book by big-time game hunter Frank Buck, Bring 'Em Back Alive starred Bruce Boxleitner as Buck as he collected animals and fought villains in pre-war Malaya.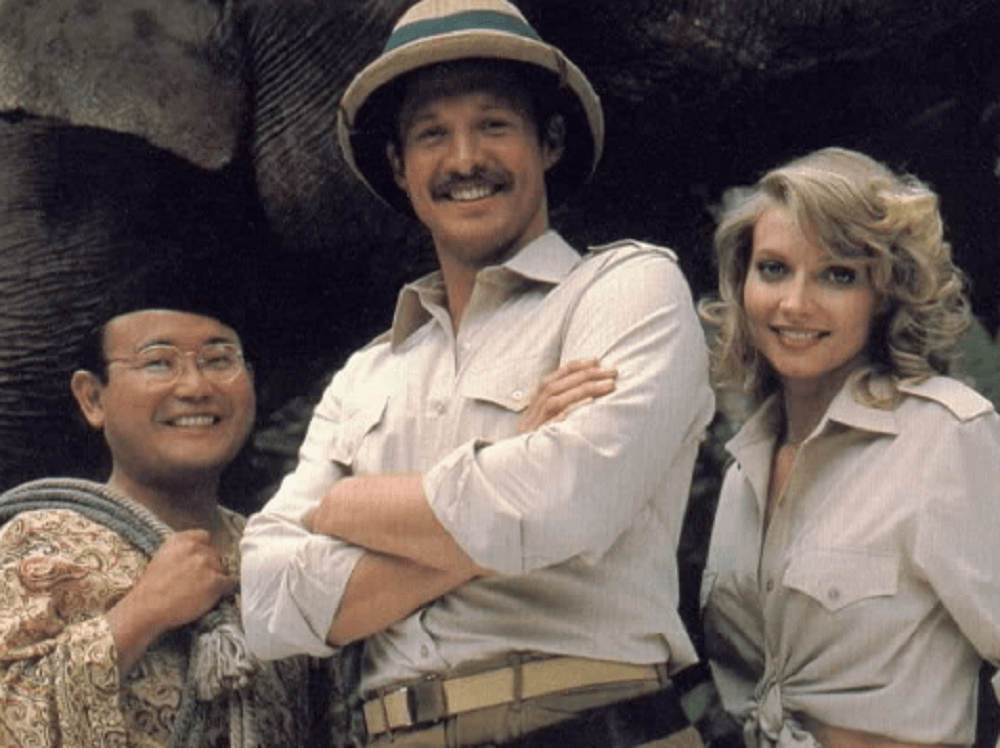 Operating out of the famous Raffles Hotel in Singapore, Buck was assisted by the glamorous US Consul Gloria Marlowe (Tron's Cindy Morgan) and by Ali, his appropriately-ethnic sidekick (two years ahead of Short Round in Temple of Doom), played by Clyde Kusatsu.
While Bring 'Em Back Alive was thrilling audiences on CBS, ABC gave us Tales of the Gold Monkey, set in the South Seas in 1938 where Stephen Collins's ace pilot Jake Cutter works operates an air cargo service, doing work on the side for the US Government, arranged by his contact (and love interest) Stickney White, played by smouldering rookie Caitlin O'Heaney.
Scheduled against both The A-Team and Happy Days, Bring 'Em Back Alive never stood a chance and was cancelled after just seventeen episodes had aired due to low ratings. Tales of the Gold Monkey did better, especially in the UK where it aired on BBC One, but it was an expensive show to produce and it, too, never made it to season two. Tales of the Gold Monkey was later cited as the inspiration for the Disney cartoon TaleSpin, and was released on DVD by Shout! Factory in 2010; Bring 'Em Back Alive never got the home video treatment but can be found on YouTube.
Wizards and Warriors (CBS): Mixing sexy sword and sorcery action with a villains called Dirk Blackpool, Wizards and Warriors cashed in on the notoriety of Dungeons & Dragons, the fantasy roleplaying game which had been the subject of the hatchet job TV movie Mazes & Monsters, starring Tom Hanks.
Taxi's Jeff Conaway played Prince Erik Greystone, ruler of a fantastic kingdom at war with his neighbour, Prince Dirk Blackpool (played with barely-disguised glee by Canadian actor Duncan Regehr). Greystone is engaged to the spoilt Princess Ariel but is drawn to the semi-naked charms of the evil witch Bethel, played by blonde bombshell Randi Brooks.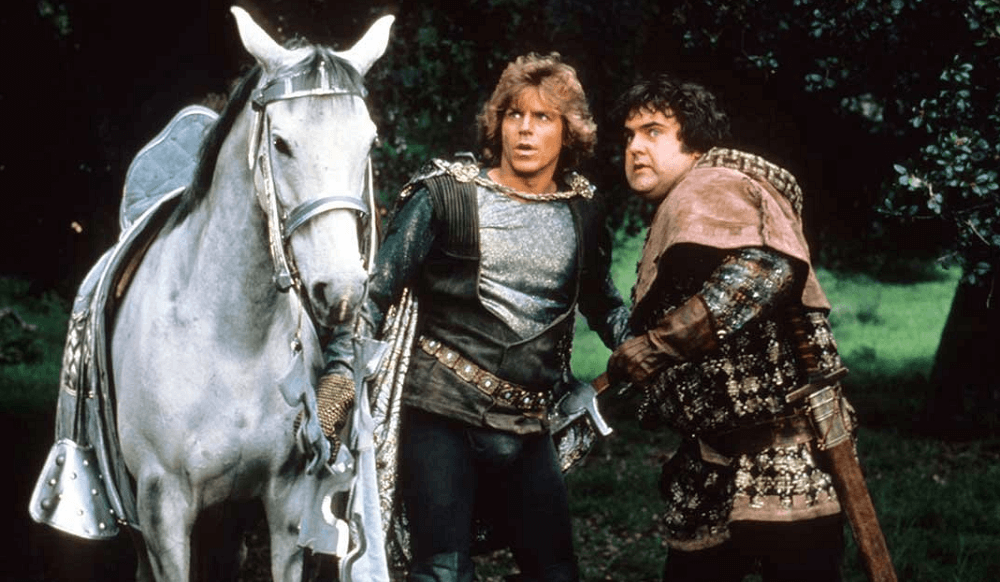 Three of its episodes that aired on CBS on Saturday nights were directed by Bill Bixby, but competition from TJ Hooker and the powerhouse sitcom duo of Diff'rent Strokes and Silver Spoons meant that it never gained a foothold. Its eight-episode run was concluded but there was no sign of a second season, and creator Don Reo would not have the big hit he dreamed of until Blossom in 1990.
Wizards and Warriors is hokey fun, with some great individual performances stretching out an occasionally thin script, and in 2014 the entire series was released on DVD as part of the Warner Brothers Archive Collection. This, of course, means that it's not to be found on YouTube but if you're curious and want a taste ahead of buying the set, other video-sharing sites are available…
The Renegades (ABC): Hollywood loves a rip-off and after the success of the 1979 film The Warriors, TV executives scrambled to find a way to bring hot gang action to our screens. Settling on Patrick Swayze as the man to do it, they first cast him in bike gang potboiler Return of the Rebels, but when that didn't catch on they retooled the concept and came up with The Renegades, with a brilliantly stupid concept that you wish happened in the real world.
Swayze – who'd made a splash on his debut in Skatetown, USA – was Bandit, the leader of a street gang who were recruited to become an undercover police squad in return for not going to jail. With Randy (with a Y) Brooks as his second-in-command Eagle, the gang solve crimes involving souped-up cars, drug abuse, and crooked cops, all under the direction of Lieutenant Marciano and the sceptical Captain Scanlon (James Luisi and the wonderful Kurtwood Smith).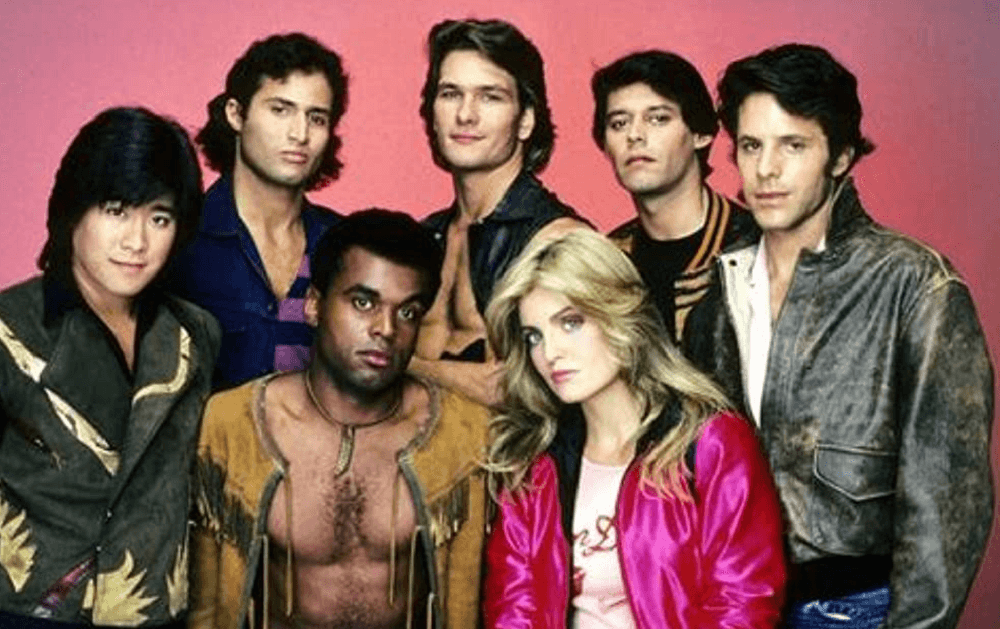 A two-hour pilot aired as part of ABC's Summer movie season in August 1982, and was well-received enough that a six-episode series was ordered as a mid-season replacement on Fridays, opposite Dallas on NBC. Ratings, then, were not good, and a second season was never going to happen. Swayze starred in The Outsiders that Summer and his star ascended beyond that of a TV regular; series co-creator Stephen E de Souza went on to write Commando, Die Hard, and Hudson Hawk, and is one of a rare group of US screenwriters whose films have earned over $2 billion at the box office.
Despite Swayze's fame, the show has never been released on DVD and there's not much to be found on the internet. A ridiculous concept, some nascent stars, and a brilliant opening title sequence deserves more…
Next: More shows that didn't trouble the ratings in 1982, including star powers and swashbuckling!
Check out our other Telephemera articles:
The Telephemera Years: 1966 (part 1, 2, 3, 4)
The Telephemera Years: 1968 (part 1, 2, 3, 4)
The Telephemera Years: 1969 (part 1, 2, 3, 4)
The Telephemera Years: 1971 (part 1, 2, 3, 4)
The Telephemera Years: 1973 (part 1, 2, 3, 4)
The Telephemera Years: 1975 (part 1, 2, 3, 4)
The Telephemera Years: 1977 (part 1, 2, 3, 4)
The Telephemera Years: 1980 (part 1, 2, 3, 4)
The Telephemera Years: 1982 (part 1, 2, 3, 4)
The Telephemera Years: 1984 (part 1, 2, 3, 4)
The Telephemera Years: 1986 (part 1, 2, 3, 4)
The Telephemera Years: 1987 (part 1, 2, 3, 4)
The Telephemera Years: 1990 (part 1, 2, 3, 4)
The Telephemera Years: 1992 (part 1, 2, 3, 4)
The Telephemera Years: 1995 (part 1, 2, 3, 4)
The Telephemera Years: 1997 (part 1, 2, 3, 4)
The Telephemera Years: 2000 (part 1, 2, 3, 4)
The Telephemera Years: 2003 (part 1, 2, 3, 4)
The Telephemera Years: 2005 (part 1, 2, 3, 4)
The Telephemera Years: 2008 (part 1, 2, 3, 4)
Titans of Telephemera: Irwin Allen
Titans of Telephemera: Stephen J Cannell (part 1, 2, 3, 4)
Titans of Telephemera: Hanna-Barbera (part 1, 2, 3, 4, 5)

Titans of Telephemera: Kenneth Johnson
Titans of Telephemera: Glen A Larson (part 1, 2, 3, 4)