Ah, telephemera… those shows whose stay with us was tantalisingly brief, snatched away before their time, and sometimes with good cause. They hit the schedules alongside established shows, hoping for a long run, but it's not always to be, and for every Knight Rider there's two Street Hawks. But here at STARBURST we celebrate their existence and mourn their departure, drilling down into the new season's entertainment with equal opportunities square eyes… these are The Telephemera Years!
1975-76
By 1975, American television was smack bang in the middle of a glorious age of telefantasy, and the detective show was king. Kojak, Cannon, Police Story, Police Woman, Baretta, The Streets of San Francisco, Hawaii Five-O, The Rockford Files, and Petrocelli were joined by a little show called Starsky and Hutch, as punishment was dealt out to criminals all over the prime-time network schedules.
Meanwhile, Wonder Woman and The Bionic Woman joined The Six Million Dollar Man for superpowered action, and Welcome Back Kotter added laughs to those already provided by M*A*S*H and Happy Days. But what were kids watching while they were gulping down their sugary cereal? These are the cartoons that 1975 forgot…
The Ghost Busters (CBS): Yup, the Ghost Busters, a decade before the better known film, and the second live-action show from Lou Scheimer's Filmation studio. Reuniting Forrest Tucker and Larry Storch, who had starred in the 1960s Civil War comedy F Troop, Saturday morning viewers were treated to fifteen episodes of the exploits of a paranormal detective agency.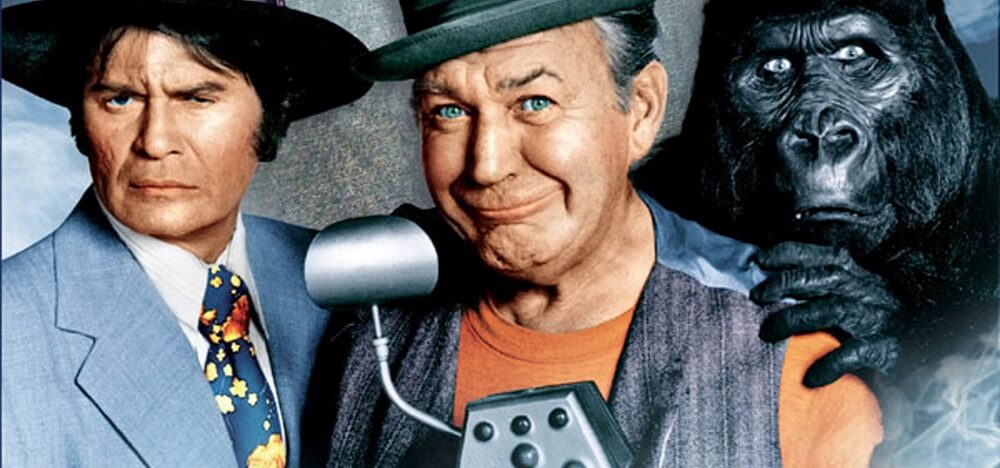 With a gorilla in a hat on board, the team of Spencer, Tracy, and Kong (Tracy was the gorilla) operated out of a dilapidated office, receiving missions from the mysterious Zero, which would always end with them dispatching the spook with their Ghost De-materialiser.
The show did well enough in the ratings that a second season was possible, but Filmation decided to put its budget towards its number one show, the live-action Shazam!/Isis Hour, and the show lay forgotten for a decade until a deal was struck to lend its name to Dan Aykroyd's big-screen comedy. In the wake of that, a new animated show was produced, running to sixty-five daily episodes. The series is currently out of print on DVD but Mill Creek Entertainment have promised a new edition, featuring both live-action and animated shows.
Uncle Croc's Block (ABC): The show that caused ABC to cancel its contract with Filmation for Saturday morning cartoons, Uncle Croc's Block was a mess of a show within a show, the sum of its parts poorly glued and coming apart in front of the viewers' eyes. Charles Nelson Reilly played the titular show host, fronting a programming block with barely-concealed contempt, much to the frustration of his equally-cantankerous director, Lost in Space's Jonathan Harris.
Initially an hour-long affair, cut to thirty minutes after poor ratings, Uncle Croc would present a number of regular cartoon features – M*U*S*H, 'Fraidy Cat, and Wacky & Packy, the less said about which the better – interspersed with variety segments and "star" guests, played by a cavalcade of veterans of stage and screen, including Phyllis Diller and Alice Ghostley.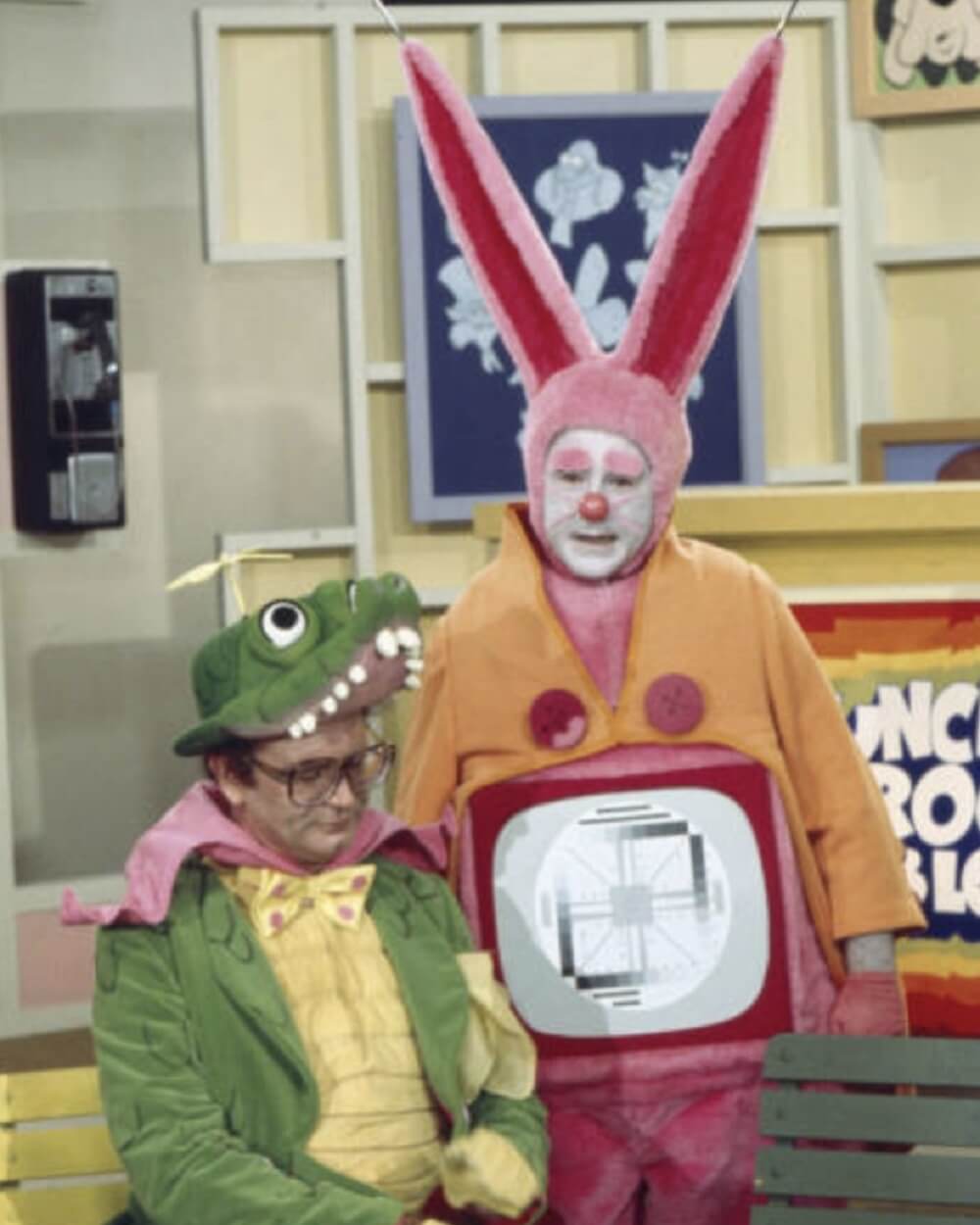 It was the kind of show that might have been a hit on Adult Swim but flew far over the heads of its young audience and it was pulled halfway through its run. There are few full episodes to be found anywhere, but YouTube is full of clips which, to be honest, is probably a small mercy…
Isis (CBS): Back on CBS, Filmation was having a bit more luck with another of its new shows, the first live-action superhero show with a female lead character. Isis starred Joanna Cameron, whose previous claim to fame had been losing out on Love Story to Ali McGraw, as an American schoolteacher who finds a mysterious golden amulet on an archaeological dig in Egypt, and finds that it transforms her into the goddess Isis, with all the powers of the animals and the elements.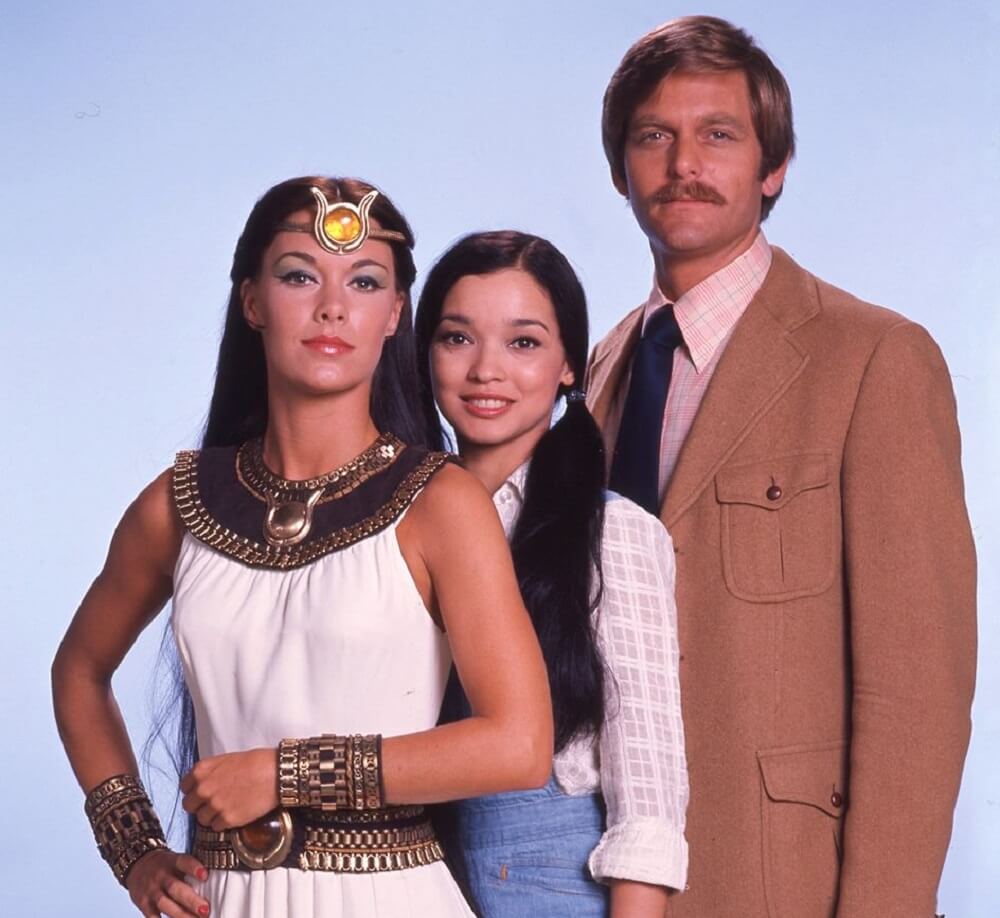 Instead of deciding to establish an Islamic caliphate, Isis mainly used her powers to save her students, who had gotten themselves into danger through being stupid decadent westerners, and light level of peril was commensurate with other live-action superhero shows of the time, such as Wonder Woman and Shazam!, with which it enjoyed six crossover episodes.
DC Comics produced a spin-off comic book but after just seven episodes of a second season, Isis quietly vanished into the ether, its double-parter finale used as a backdoor pilot for The Super Sleuths, a trio of crime-fighting kids, which was never picked up. With the rights resting with Filmation rather than Warners, the character does remain in DC continuity – and Zari in Legends of Tomorrow is a reworked version – but the original version is rumoured to be returning in a feature film, where the shout of "Oh mighty Isis!" will be heard once more.
The Lost Saucer (ABC): Sid and Marty Krofft made their name with a series of colourful live-action shows in the late-1960s and early-1970s, kicking off with The Banana Splits and bringing the weirdness of HR Pufnstuf, The Bugaloos, Sigmund & The Seamonsters, and Land of the Lost to Saturday morning televisions. In 1975, the ideas machine spat out The Lost Saucer, the adventures of two time-traveling robots.
Starring Gomer Pyle's Jim Nabors and Rowan & Martin's Laugh-In's Ruth Buzzi, the robots take youngsters Jerry and Alice on a tour of space and time, with most of their destinations resembling alternate futures, like the one where everyone on Earth is fat or the one where everyone on Earth looks exactly the same.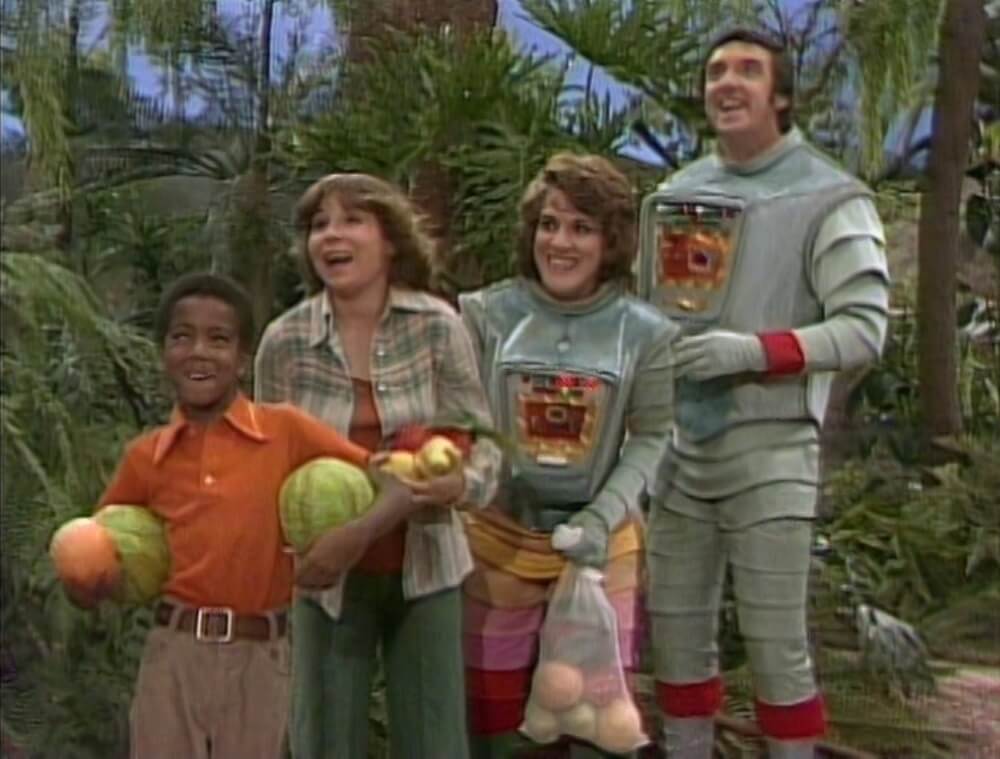 Sixteen episodes ran between September and December 1975, and were later added to the syndicated Krofft Supershow block, but only eight of the episodes have ever been released on home media, and are long out of print. You can find them on YouTube, though, and they're a rare treat.
Far Out Space Nuts (CBS): Meanwhile, over on CBS, Sid and Marty lined up another treat for Saturday morning audiences in the shape of Far Out Space Nuts, the misadventures of two NASA technicians who accidentally blast off to the stars, journeying to various strange planets and helping the aliens they meet.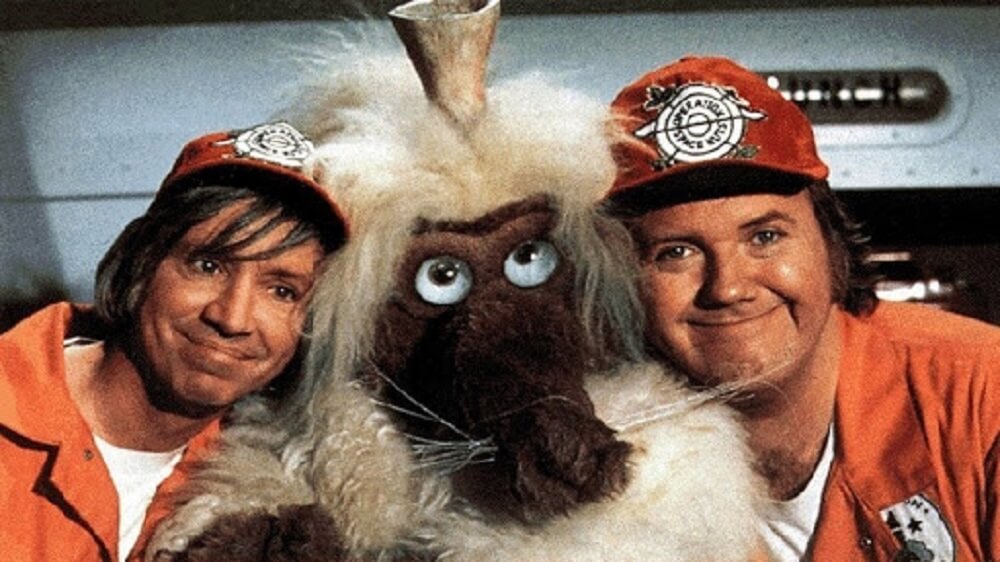 Starring Bob "Gilligan" Denver and Chuck McCann, and featuring guest spots from the likes of John Carradine and Rudy Diaz (as well as the Krofft Puppets), fifteen twenty-five minute episodes were produced, airing in the Fall of 1975, before it was added to the Krofft Supershow syndicated package in 1978.
Like many of the Krofft shows, it received a partial VHS release and is crying out for the comprehensive Blu-ray treatment, but until that happens we have to be happy with what can be found on YouTube, where the whole series can be viewed at the click of a button. Far out!
The Great Grape Ape Show (ABC): William Hanna and Joseph Barbera created some of children's television's most memorable icons, from Fred Flintstone to Scooby-Doo, but they had more than their fair share of great characters that didn't become part of the popular zeitgeist, like Magilla Gorilla, Speed Buggy, and the giant primate, Grape Ape.
Grape Ape was a forty-foot purple gorilla, with a childlike personality, who travels across America with his canine handler, Beegle Beagle. Despite his massive proportions initially frightening everyone they come across, Grape Ape and Beegle stick around long enough to help out a town in trouble before moving on to the next location in/on their little yellow van.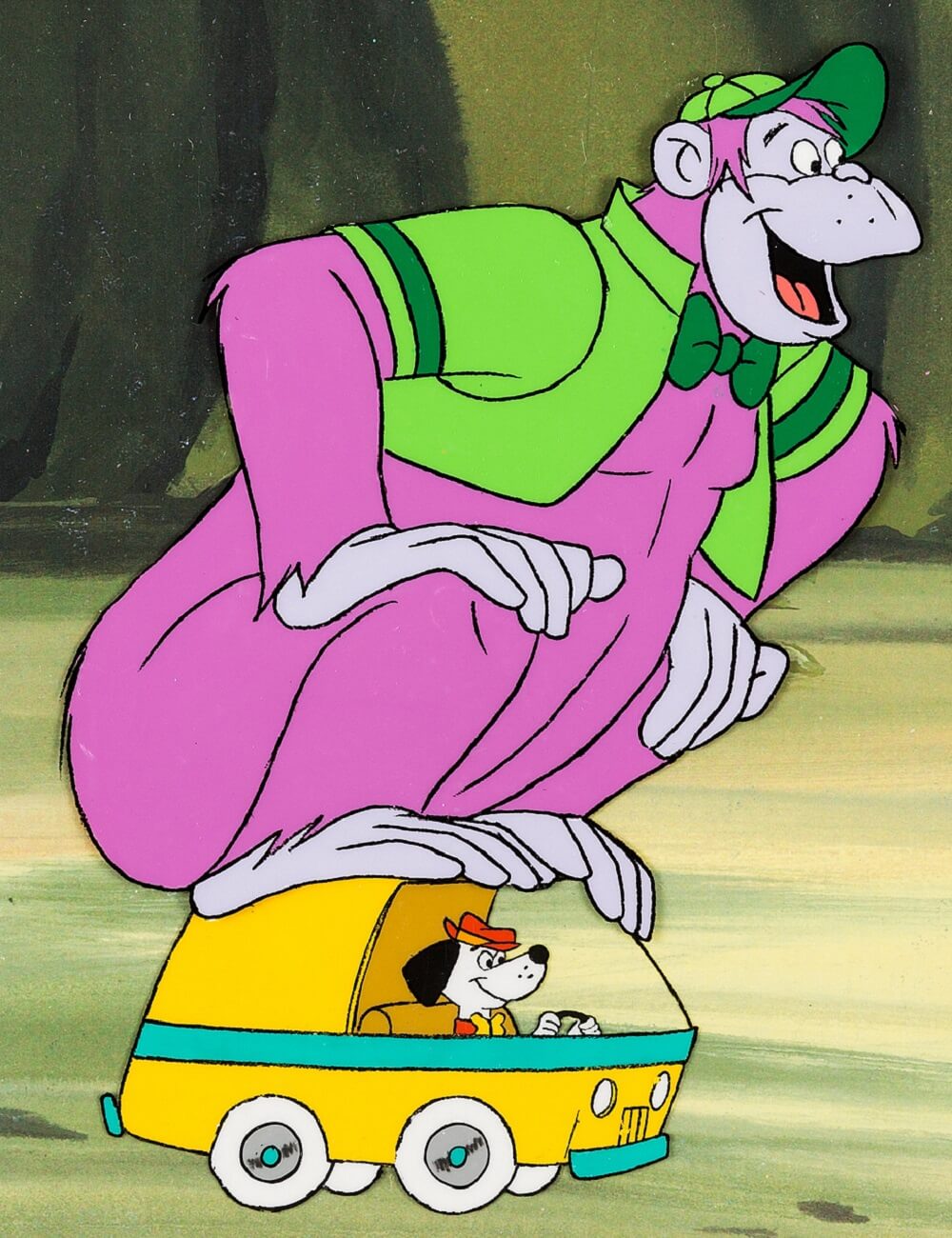 Initially a part of The Tom & Jerry/Grape Ape Show, the giant gorilla's fifteen double episodes were later repackaged alongside Mumbly shorts and as its own attraction. The character appeared as part of the Yogi Yahooeys in 1978's Laff-A-Lympics, and most recently turned up in Scoob's post-credits scene, where he joins Blue Falcon's Falcon Force.
Next: Set the dials for 2003, where strange hospitals, weird gift shops, and junior jerry-builders await!
Check out our other Telephemera articles:
The Telephemera Years: 1966 (part 1, 2, 3, 4)
The Telephemera Years: 1968 (part 1, 2, 3, 4)
The Telephemera Years: 1969 (part 1, 2, 3, 4)
The Telephemera Years: 1971 (part 1, 2, 3, 4)
The Telephemera Years: 1973 (part 1, 2, 3, 4)
The Telephemera Years: 1975 (part 1, 2, 3, 4)
The Telephemera Years: 1977 (part 1, 2, 3, 4)
The Telephemera Years: 1980 (part 1, 2, 3, 4)
The Telephemera Years: 1982 (part 1, 2, 3, 4)
The Telephemera Years: 1984 (part 1, 2, 3, 4)
The Telephemera Years: 1986 (part 1, 2, 3, 4)
The Telephemera Years: 1987 (part 1, 2, 3, 4)
The Telephemera Years: 1990 (part 1, 2, 3, 4)
The Telephemera Years: 1992 (part 1, 2, 3, 4)
The Telephemera Years: 1995 (part 1, 2, 3, 4)
The Telephemera Years: 1997 (part 1, 2, 3, 4)
The Telephemera Years: 2000 (part 1, 2, 3, 4)
The Telephemera Years: 2003 (part 1, 2, 3, 4)
The Telephemera Years: 2005 (part 1, 2, 3, 4)
The Telephemera Years: 2008 (part 1, 2, 3, 4)
Titans of Telephemera: Irwin Allen
Titans of Telephemera: Stephen J Cannell (part 1, 2, 3, 4)
Titans of Telephemera: Hanna-Barbera (part 1, 2, 3, 4, 5)

Titans of Telephemera: Kenneth Johnson
Titans of Telephemera: Glen A Larson (part 1, 2, 3, 4)