Ah, telephemera… those shows whose stay with us was tantalisingly brief, snatched away before their time, and sometimes with good cause. They hit the schedules alongside established shows, hoping for a long run, but it's not always to be, and for every Street Hawk there's two Manimals. But here at STARBURST we celebrate their existence and mourn their departure, drilling down into the new season's entertainment with equal opportunities square eyes… these are The Telephemera Years!
1968-69
To twenty-first-century eyes, the off-the-wall humour of Rowan and Martin may seem an acquired taste but the TV viewers of 1968 couldn't get enough of their Laugh-In on NBC, outrating every other show on the list. Underneath, the final season of Gomer Pyle presented more of the incompetent side of the US military, which must have been a comfort to mothers of those poor unfortunates being drafted to fight in Vietnam, but there was succour to be found in warm blanket shows like Bonanza and Andy Griffith spin-off, Mayberry RFD, and Lucille Ball returned with a brand new show, Here's Lucy.
Genre fans were well-catered for, even with The Avengers, I Spy, The Saint, and Star Trek all entering their final seasons, with Mission Impossible, Bewitched, and new hit The Mod Squad all doing well for ABC, while I Dream of Jeannie was a top thirty show for the peacock network, where Columbo made its bow. Other new shows of interest to those of a more fantastic bent were Irwin Allen's Land of the Giants and spies meet cowboys actioner The Wild Wild West, but what of those shows that didn't make an impact on the 1968 Nielsen ratings? This is the story of four of the new season's biggest misses…
The Ghost & Mrs Muir (NBC): She's a modern career woman, a single mum looking to start again in a fishing village in Maine; he's a chauvinist, seemingly stuck in the nineteenth century. Because he is. He's dead. And a ghost. That's the kerrrazy set-up for The Ghost & Mrs Muir, a 1968 sitcom based on the hit 1945 novel by RA Dick.
In Dick's novel – which was made into a 1947 film starring Rex Harrison – Mrs Muir rents a cottage in Dorset, England, a setting which was kept for the movie but transferred to the fictional settlement of Schooner bay for the TV series. Hope Lange starred as the titular widow, taking the property from Charles Nelson Reilly's wacky local, the great-grandson of Captain Daniel Gregg, a seaman who died in 1869.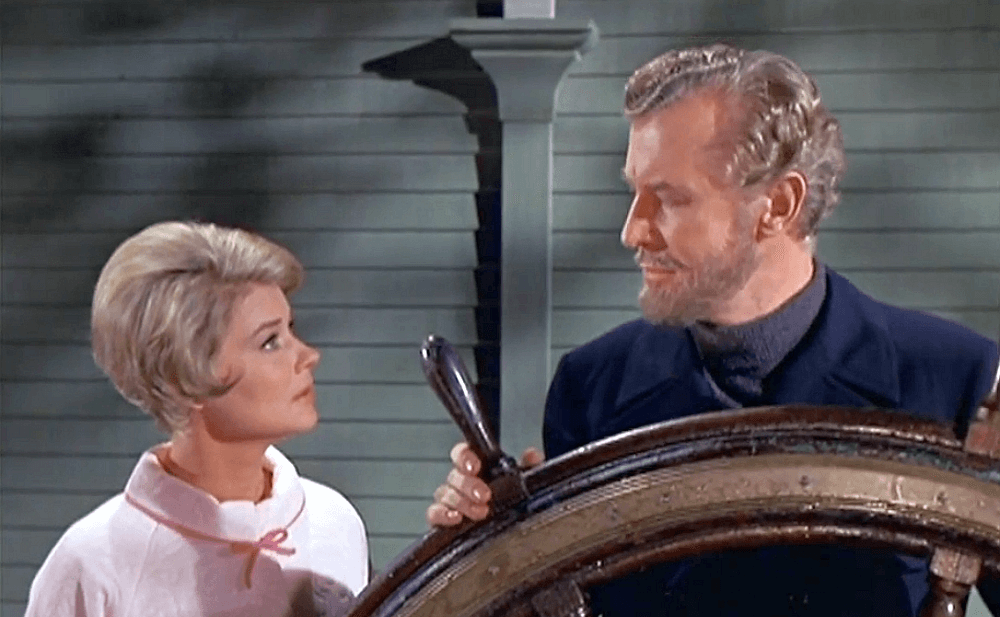 Upon discovering that her new house is haunted, you'd forgive Mrs Muir for turning tail but she instead falls for the deceased sailor, despite their cultural differences. Unlike the more dramatic tone of the film, this is played very much for laughs and Lange's warm performance won her an Emmy in 1969, by which point the show had been cancelled. ABC, though, picked it up for the 1969-70 season and Lange again won the Emmy for Lead Actress in a Comedy Series; the end result was the same, however, and the last of its fifty episodes aired in March 1970.
Lange moved on to play Dick van Dyke's wife in the first three seasons of The Dick van Dyke Show, performing the same role – with very a different outcome – for Charles Bronson in Death Wish, and later turned up in David Lynch's Blue Velvet. Her award-winning turn, seemingly forgotten by all but the most hardcore sitcom fans, was released on DVD in 2018.
Blondie (CBS): Chic Young's newspaper comic strip Blondie transcended the medium to become a series of popular films in the late 1930s through to 1950, with Penny Singleton in the title role and Arthur Lake as her scatterbrained husband Dagwood. An attempt to bring the strip to TV was made in 1957, with Lake reprising his role, but it lasted for just one season on NBC.
Time heals all wounds and by 1968 it was time to try again, this time on CBS. Broadway dancer Patricia Harty, who had appeared in comedy sketches with Carol Burnett, was cast as Blondie, with former Sugarfoot lead Will Hutchins as Dagwood, and Neil Simon's brother Danny provided the scripts, a mix of the usual domestic and workplace drama.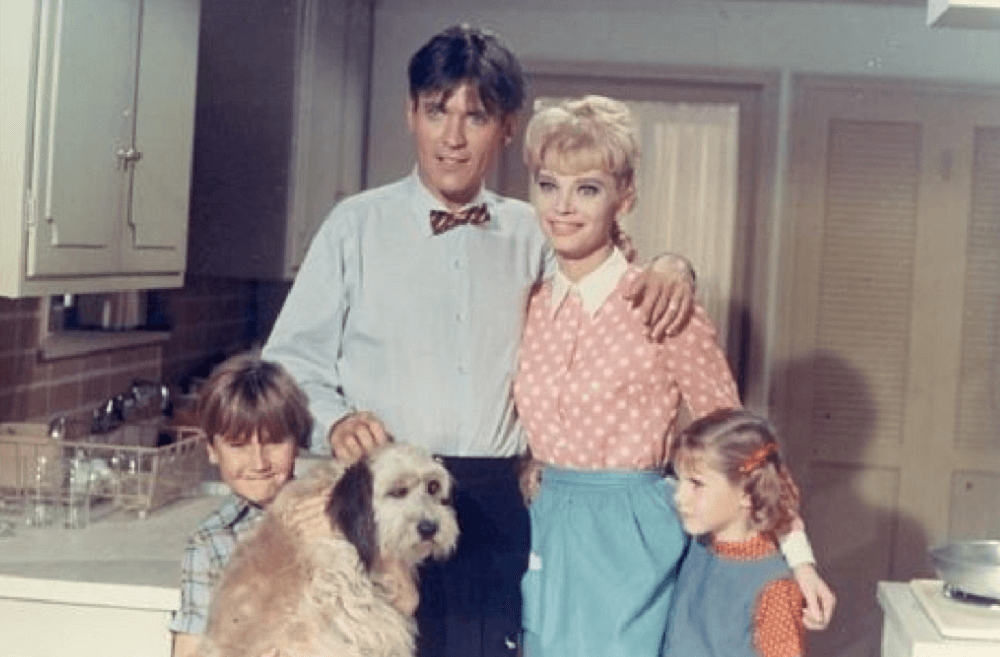 Pamelyn Ferdin and Peter Robbins played the Bumsteads' precocious children Cookie and Alexander, and would again team as Lucy and Charlie in 1969's A Boy Named Charlie Brown. Programmed against NBC's Daniel Boone on Thursday evenings as a lead-in to fellow debutant Hawaii Five-O, just thirteen episodes were aired before it was cancelled in January 1969; Ferdin recalled on Facebook that it was such a sudden decision that the cast were having lunch during the filming of an episode when they heard the news.
The series has never received a DVD release and YouTube has just a single show – episode ten's "Marriage Menders". Young died in 1973, with control of the strip passing to his son Dean. It still runs today, as a pleasing anachronism, but there have no been further live-action TV shows or films. There were a pair of animated specials in 1987 and 1989 – with Loni Anderson and Frank Welker on voice duty – but these, too, proved unsuccessful, despite the massed talents of Marvel Studios behind them.
The Ugliest Girl in Town (ABC): Peter Kastner was a jobbing actor from Canada whose first leading role came as an alienated teen in Nobody Waved Goodbye, a semi-improvised 1964 film about middle-class youth that would today be regarded as a mockumentary. His big break came two years later, as Bernard "Big Boy" Chanticleer in Francis Ford Coppola's You're a Big Boy Now, for which he received a Bafta nomination in 1968.
That led to another title role, this time on TV; the catch was that he was the title character in The Ugliest Girl in Town. Kastner played Timothy Blair, a Hollywood talent agent who falls in love with Patricia Brake's Julie Renfield, a British actress who is in the US to make a movie.  She returns to England after the movie is finished and, in a stroke of magnificent (and some would say totally unbelievable) luck, Timothy gets an offer to join her.
It turns out that, to help his photographer brother, Timothy dressed as a hippie for a photoshoot and those photos have made their way to the UK where a modelling agency think they've discovered a stunning new talent, mistaking "Timmie" for a woman. This gives Timothy two weeks in England with Julie but with the complication that he occasionally has to make Timmie's engagements, and that's the sit for your com.
Unlike the fictional British agency, US TV audiences weren't prepared to swallow this guff for much longer than seventeen weeks, and the final three episodes filmed went unaired; ITV bought the series to show in the UK but left it in the can rather than subject British audiences to such progressive/transgressive stuff. The full run is available on YouTube if you're interested, and Patricia Brake is good value as Julie, but Kastner's career never recovered and he retired in 1985.
The New Adventures of Huckleberry Finn (NBC): The New Adventures of Huckleberry Finn dug up one of America's favourite literary sons for yet another outing. Michael Shea became the ninth actor to play the role, fifty years after Robert Gordon appeared in 1917's Tom Sawyer, but the first to act alongside animated characters in the first TV show to mix live-action and cartoon footage.
Hanna-Barbera took some time to convince NBC that the concept would work but the network greenlit the series for the Fall of 1968, eager to sap some of CBS's audience for Lassie on Sunday nights. The show's premise had Finn, Tom Sawyer, and Becky Thatcher on the run from Injun Joe, escaping into a cave which acts as a gateway to another world, with each episode seeing them travel to a different animated fantasy land.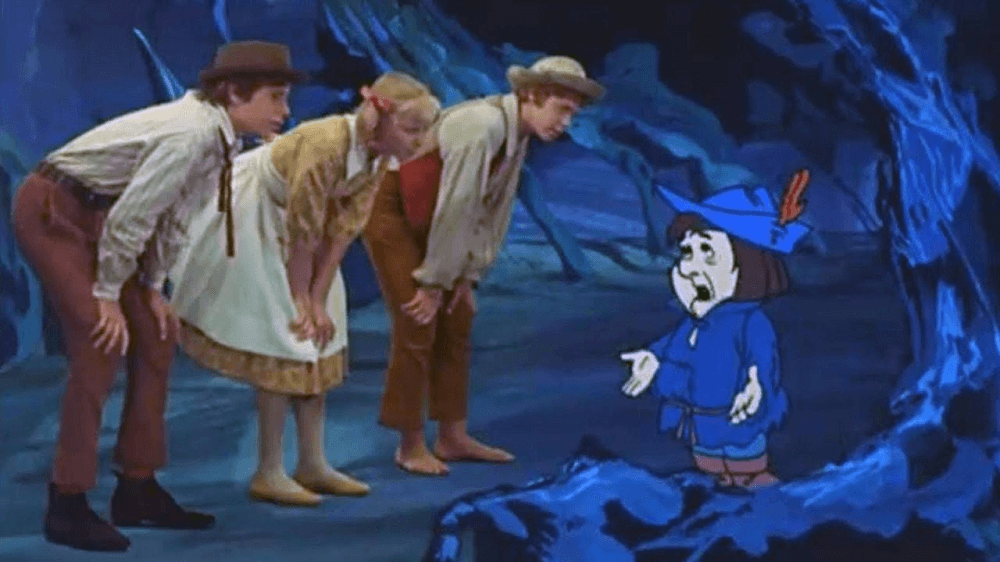 Twenty-first-century eyes will recoil in horror at the cornucopia of stereotypes on show, with episode one giving Romanies and the Irish a good kicking before subsequent episodes do the same for Spain, the Indian subcontinent, and Arabia, as well as adventures involving intelligent apes, giant white whales, the king of Atlantis, and some understandably judgmental animals.
Although it did better ratings than it would have done on Saturday mornings, and made teen idols of its three principals, it couldn't compete with the collie dog or ABC's Land of the Giants, despite some genuinely entertaining stuff from H-B's usual cast of voice actors. The complete series was released on DVD in 2016 but the full run is on YouTube if you fancy a trip to another world, one from which the three young heroes perhaps never returned home…
Next on The Telephemera Years: More damp squibs, including a journey to the unknown!
Check out our other Telephemera articles:
The Telephemera Years: 1966 (part 1, 2, 3, 4)
The Telephemera Years: 1968 (part 1, 2, 3, 4)
The Telephemera Years: 1969 (part 1, 2, 3, 4)
The Telephemera Years: 1971 (part 1, 2, 3, 4)
The Telephemera Years: 1973 (part 1, 2, 3, 4)
The Telephemera Years: 1975 (part 1, 2, 3, 4)
The Telephemera Years: 1977 (part 1, 2, 3, 4)
The Telephemera Years: 1980 (part 1, 2, 3, 4)
The Telephemera Years: 1982 (part 1, 2, 3, 4)
The Telephemera Years: 1984 (part 1, 2, 3, 4)
The Telephemera Years: 1986 (part 1, 2, 3, 4)
The Telephemera Years: 1987 (part 1, 2, 3, 4)
The Telephemera Years: 1990 (part 1, 2, 3, 4)
The Telephemera Years: 1992 (part 1, 2, 3, 4)
The Telephemera Years: 1995 (part 1, 2, 3, 4)
The Telephemera Years: 1997 (part 1, 2, 3, 4)
The Telephemera Years: 2000 (part 1, 2, 3, 4)
The Telephemera Years: 2003 (part 1, 2, 3, 4)
The Telephemera Years: 2005 (part 1, 2, 3, 4)
The Telephemera Years: 2008 (part 1, 2, 3, 4)
Titans of Telephemera: Irwin Allen
Titans of Telephemera: Stephen J Cannell (part 1, 2, 3, 4)
Titans of Telephemera: Hanna-Barbera (part 1, 2, 3, 4, 5)

Titans of Telephemera: Kenneth Johnson
Titans of Telephemera: Glen A Larson (part 1, 2, 3, 4)