News Movies News TV | Written by Kris Heys 08/01/2021
STAR WARS Movie From Marvel Studios' Kevin Feige Moving Forward…
On December 10th, Disney unveiled their grand plans for the future of Star Wars, providing details on four new live-action shows, three new animated projects, and two new theatrical releases. Just a week later and the finale of their mega-hit The Mandalorian also went on to audaciously add a third live-action show to that roster – The Book of Boba Fett. While this line-up was undoubtedly most impressive, conspicuous by their absence were two Star Wars projects that had been heavily teased over the last couple of years – namely the Rian Johnson trilogy and the movie being shepherded by Marvel Cinematic Universe head honcho and baseball cap connoisseur Kevin Feige. While the silence on the former will come as no real surprise to those who've been following the nuclear fallout caused by Johnson's The Last Jedi, with half of Star Wars fandom idolising the entry and the other half wanting it struck from canon, the lack of Feige mention led most to believe that too had been put on the backburner. Happily, recent news suggests that this is not the case…
As per Hollywood trade Variety, Emmy-winning Rick and Morty veteran Michael Waldron has been revealed as the chosen screenwriter who will be penning the secret film for Feige, having worked with the Marvel Studios bossman on several upcoming MCU projects. First up from Waldron will be Loki, the eagerly-awaited Disney+ series due in May that will see Tom Hiddleston return as the God of Mischief as he's recruited by a mysterious group and sent on a series of adventures through time. Following that will be Doctor Strange in the Multiverse of Madness for director Sam Raimi, which is scheduled to arrive in cinemas sometime in 2022.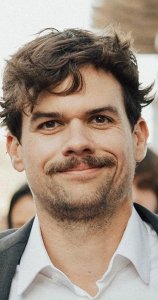 Michael Waldron
When it comes to details on Waldron's Star Wars story, we're bang out of luck outside of Feige's original promise that it would "explore new people and new places in the universe". But at least we now know that it's still very much on the way, just in case The Mandalorian Season 3, The Book of Boba Fett, Ahsoka, The Acolyte, The Bad Batch, Visions, Rogue Squadron, A Droid Story, Lando, Rangers of the New Republic, and Untitled Taika Waititi Film wasn't quite enough to satiate your Star Wars fix!
Now if we could just get an update on the Johnson trilogy, we can rest easy. (Read that how you will.)
More as it develops…
For full details on those future STAR WARS projects, head HERE. For everything we know about the AHSOKA TV show, click HERE.