News Movies News TV | Written by Jack Bottomley 16/12/2020
The Future of STAR WARS….
It's becoming increasingly harder to remember that feeling after the release of Revenge of the Sith, just over 15 years ago (yes... we feel that ache of despair too at that fact), of the saga being complete. That feeling that there wouldn't be any more Star Wars films and a sparing live-action life via some announced but far from rock-solid projects. Because, as this year's Disney Investors Day showed us this past weekend, a galaxy far, far away, has never been closer.
Off the back of the astounding and audience-satisfying (miracles do happen) The Mandalorian on Disney+, which many joke is the sole reason to subscribe to the House of Mouse's streaming service, it seems that Star Wars, alongside Marvel and many other titles (Willow sequel!!!), are about to take over the - possibly cinema-killing (we'll get back to you on that) - format.
Over 10 new Star Wars projects were announced, alongside some welcome feature film news (maybe cinema - like Palpatine - will rise again after all). But here's a rundown of all the Star Wars goodness speeding your way over the coming years, mostly on the small screen but some on the big….
THE MANDALORIAN - SEASON 3
The Mandalorian Season 3 is a given at this point. After an excellent first season confidently wowed us last year and in many ways re-energised the Star Wars franchise after the divisive sequel trilogy led to seemingly never-ending social media verbal bust-ups. Then came this year's Season 2, which has taken the show to even more ambitious heights, with crowd-pleasing links to the animated shows Rebels and The Clone Wars, in addition to Expanded Universe (EU) references, and links to the original trilogy and developments of the prequels. Little is obviously known so far about the next season but come this Friday's Season 2 finale, we're sure the direction Mando and Grogu's journey will take next will become clearer (at least a bit). Kathleen Kennedy confirmed Season 3 will be here in time for Christmas 2021 too. So that's next year's pressie sorted!
And, unsurprisingly considering the response to the show, The Mandalorian is becoming a centre point to its own universe in Star Wars, as it has also been excitingly announced that executive producers Jon Favreau and Dave Filoni will be backing two spin-off series (see below), with a future all-out unified climax to all these three shows.
AHSOKA
Yes, the time has come folks. The Clone Wars' breakout hero Ahsoka Tano is getting her own show and in live-action form. After making a tremendous debut in Season 2 of The Mandalorian, Rosario Dawson will return to swing the lightsabers again as Ahsoka. We can expect links to Rebels, following up the show's epilogue (meaning we will be possibly be getting live-action debuts for Sabine Wren and Ezra Bridger too!), and already after her aforementioned Mandalorian mark, we have the tease that fan favourite EU legend Grand Admiral Thrawn (made cannon by Rebels), will be playing a part, as he is still indeed alive, and Ahsoka is hunting him down.
Ahsoka, a new Original Series, starring @RosarioDawson and set within the timeline of @TheMandalorian, is coming to @DisneyPlus. pic.twitter.com/jD8byvNvDP

— Star Wars (@starwars) December 10, 2020
RANGERS OF THE NEW REPUBLIC
The second announced Mandalorian spin-off show is one far more shrouded in mystery. However, The Mandalorian did highlight the New Republic at points in both Season 1 and 2, with Filoni himself appearing as X-Wing pilot Trapper Wolf, alongside his partner in crime (solving) Paul Sun-Hyung Lee as fellow X-winger Carson Teva. But this time the full story can be told, as this show depicts a galaxy adjusting to the order(?) of The New Republic. The show is predicted to fly onto Disney+ around 2022.
Outside of The Mandalorian timeline though, there are plenty more edges of Star Wars waiting to be fleshed out, with a plethora of other new shows and movies Force-jumping their way to our screens.
Rangers of the New Republic, a new Original Series set within the timeline of @TheMandalorian, is coming to @DisneyPlus. pic.twitter.com/EMzFuiqdOs

— Star Wars (@starwars) December 10, 2020
THE BAD BATCH
That said, there is a sneaky Mandalorian character reference in the trailer for The Bad Batch, which has now been released. The show will focus on the ragtag bunch of genetically mutated rebellious clones, introduced in this year's final series of The Clone Wars via their own multi-episode arc. The show will clearly depict some of their exploits, but will be set in the immediate aftermath of Order 66, as the Empire rises and the galaxy changes forever. The trailer promises some of the visuals, action, and ideas we have come to expect from The Clone Wars universe, and will be released on Disney+ next year.
A sneak peek at Star Wars: The Bad Batch, an all-new animated Original Series from Lucasfilm Animation, coming soon to #DisneyPlus pic.twitter.com/V0jQc4XNIe

— Star Wars (@starwars) December 10, 2020
OBI-WAN KENOBI
COVID and other delays may have slightly prolonged the long-awaited return of (*dons best General Grievous impression) "General Kenobi", but we're sure the results will be more than worth the wait, as it was announced this past weekend that the show, which will be helmed by director Deborah Chow (of 'The Sin' and ' The Reckoning' Mandalorian episodes), will see the exciting return of Hayden Christensen as Anakin Skywalker/Darth Vader much to the delight of Ewan McGregor who is - of course - back as Kenobi. Set 10 years after the events of Revenge of the Sith, some concept art (as yet unreleased online but described to us) teases a rematch between master and apprentice, and that Tatooine is only the beginning of this untold story. The show starts shooting in March and is expected to be released on Disney+ in early 2022.
Hayden Christensen returns as Darth Vader, joining Ewan McGregor in OBI-WAN KENOBI. The Original Series begins 10 years after the dramatic events of Revenge of the Sith, and is coming to #DisneyPlus. pic.twitter.com/9WR2npRUkk

— Star Wars (@starwars) December 10, 2020
ANDOR
Another concept that has been in the running for some time now is Andor, a prequel series detailing the events that led to the turning point of the Rebellion shown in Rogue One. It will (re)introduce us to Diego Luna's Cassian Andor, as well as seeing Genevieve O'Reilly reprise her role again as Rebel Leader Mon Mothma. A sizzle reel released for the show depicted some of the behind the scenes content shot so far, for what promises to be an ambitious and immaculately designed series, filled with practical-heavy creatures, over 200 named cast members and a spectacular scale. Set five years before Rogue One and described as a "Star Wars spy thriller" by Lucasfilm, the show is created by Tony Gilroy (Rogue One and The Bourne series writer) and will also co-star the likes of Stellan Skarsgard, Adria Arjona, Fiona Shaw and Kyle Soller, running at 12 episodes, and being released to Disney+ streaming in 2022.
"Everything I did, I did for the Rebellion." Andor, an Original Series set in the Star Wars universe, is streaming in 2022 on #DisneyPlus. pic.twitter.com/q2IT2qzEeR

— Star Wars (@starwars) December 10, 2020
LANDO
Other Star Wars spin-off feature Solo, will also be getting a miniseries spin-off of sorts, in the newly announced Lando, which is coming from Justin Simien (Dear White People) to Disney+, and is now in the early stages of development. It wasn't said if Donald Glover will be back as the dashing title rogue but it is very heavily expected to be the case (judging by the Glover-heavy announcement video). The show will delve further into the backstory of everyone's favourite cape-wearing smuggler Lando Calrissian and could even leave the door open for an appearance by Alden Ehrenreich as Han Solo, depending on what stretch in Lando's wild life the film will be looking at that is!
THE ACOLYTE
Recently the High Republic era of Star Wars began building its legacy, it's a time set around 200 years prior to the events of The Phantom Menace, and is now the backdrop of a newly announced show called The Acolyte. Coming from co-creator of Netflix's Russian Doll Leslye Headland, little is known about the specific story of the show but the official Star Wars Twitter called it "a mystery-thriller that will take viewers into a galaxy of shadowy secrets and emerging dark-side powers in the final days of the High Republic era". This has naturally seen many theorise about the possibility of Darth Plagueis playing a part in the story. We shall see.
VISIONS
Coming far sooner than some of the aforementioned is Star Wars Visions, which will arrive on Disney+ next year and is an anime-style series of episodes that sees a collection of acclaimed Japanese creators giving their own visually astonishing and unique takes on the world of Star Wars.
Star Wars: Visions, an Original Series of animated short films, celebrates the @StarWars galaxy through the lens of the world's best Japanese anime creators. Coming in 2021 to @DisneyPlus. pic.twitter.com/lmCZGSHEhY

— Star Wars (@starwars) December 10, 2020
A DROID STORY
Lucasfilm Animation and Industrial Light and Magic will combine their talents to co-produce a new adventure film in A Droid Story, which will be releasing to Disney+. Featuring R2-D2 and C-3PO, as they guide a new hero on an epic journey, they have confirmed it will be a film and not a series and possibly of a lighter and more humorous tone.
Though, as we mention films, it might be an appropriate time to say, don't despair lovers of cinema, for we have not seen the last of Star Wars on the big screen. As there are two upcoming projects that have many minds racing with their potential.
ROGUE SQUADRON
In what will be the first theatrically released Star Wars film since The Rise of Skywalker, Wonder Woman's Patty Jenkins will helm Rogue Squadron, releasing Christmas 2023. According to Kennedy it will centre on a new generation of pilots who try to "earn their wings" in a future era of the galaxy. Obviously little is known at this stage but from the title alone we can expect space battles, mid-air action and uphill struggles against overwhelming forces.
December 10, 2020
UNTITLED TAIKA WAITITI STAR WARS FILM
Announced earlier this year, writer/director Taika Waititi will be writing and helming a new Star Wars picture. Arriving some time after Rogue Squadron, Waititi is currently in the process of writing the as-yet-untitled film, which Kennedy has called "unexpected and unique". What else would we expect from Waititi?!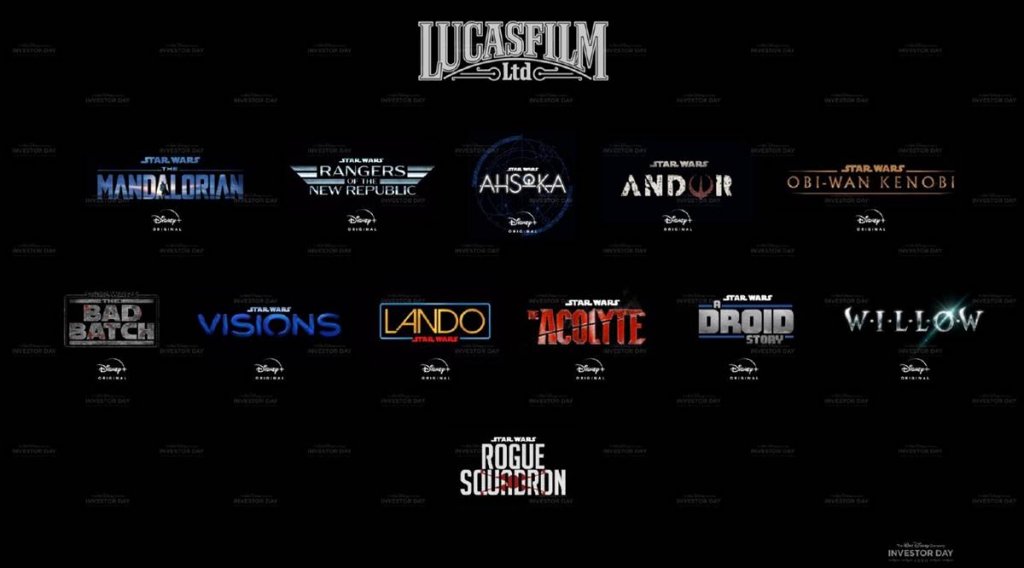 So, Star Wars fans, there we have it. The near future is bright for Star Wars and depending on how these shows and films fly, we may be in for many more expanded stories that will strengthen the very fabric and reach of the Star Wars franchise. It's official, Star Wars will live forever. And, hey, maybe we will finally getting that Max Rebo origin story this writer pitched some time back! Unlikely... but never say never.