Reviews | Written by Laura Potier 13/05/2022
TOP GUN: MAVERICK
Top Gun: Maverick, the long-awaited follow-up to Tony Scott's 1986 film, is both the perfect summer blockbuster and a masterclass in crowd-pleasing moviemaking. It's the kind of edge-of-your-seat, fist-pumping, adrenaline rush of a spectacle that will gratify every one of your brain's pleasure centres. It's what the big screen was made for.
Top Gun fast became a pillar of 80s pop culture: a seductive celebration of rugged individualism, Reagan-era chauvinism, found brotherhood, and – most importantly – of homoerotic beach volleyball, it propelled Tom Cruise from heartthrob to megastar and made an indelible mark on visions of Americana. Joseph Kosinski's Maverick effortlessly taps into the best parts of that '80s vibe without succumbing to sickly nostalgia. Top Gun: Maverick might feel familiar, but it also feels deliciously fresh.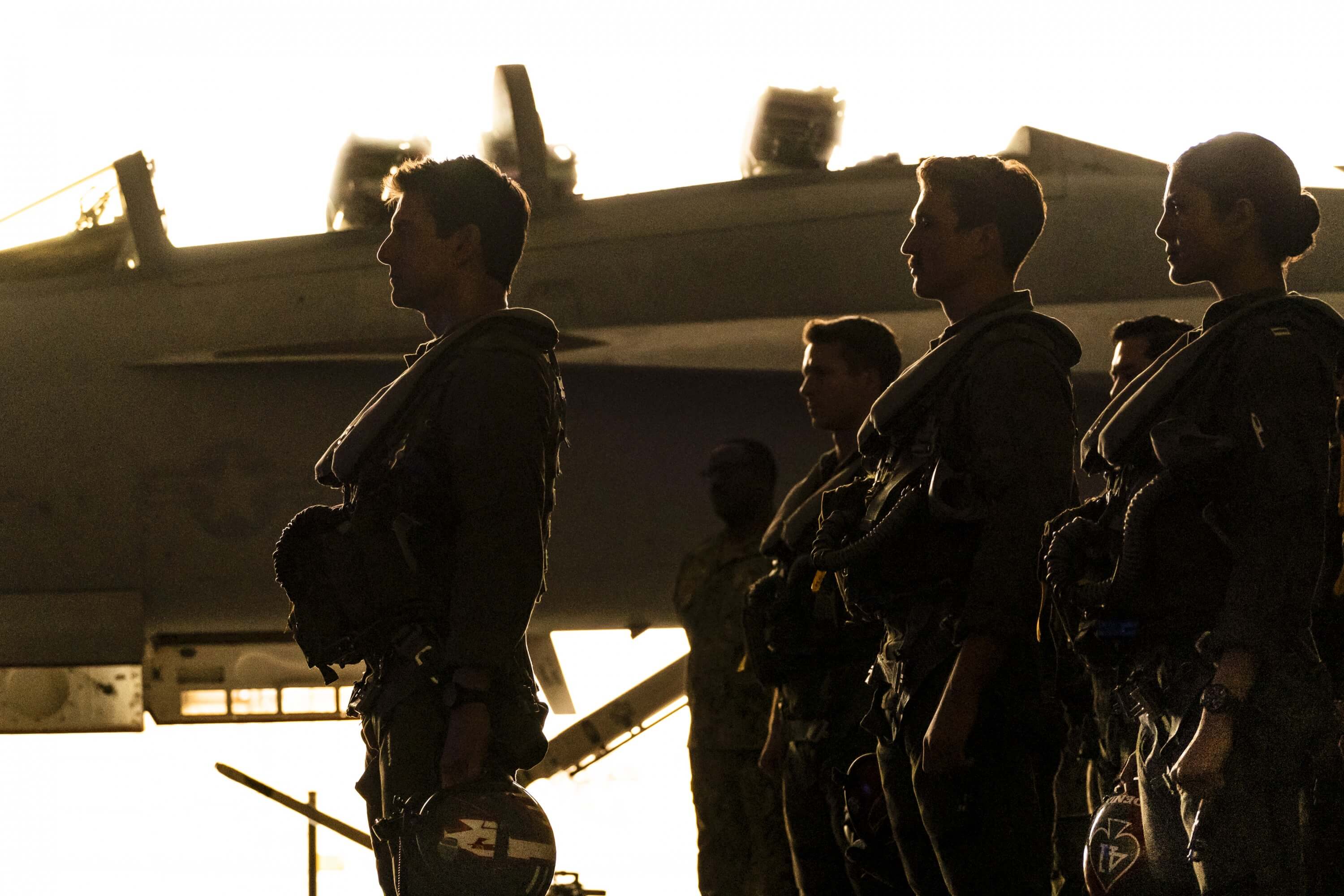 In its opening scenes, we reunite with Captain Pete "Maverick" Mitchell (Cruise) who works as a test pilot for hypersonic reconnaissance jets. Admiral Cain (Ed Harris, always on call when Hollywood needs a hard-ass in charge) soon shows up to shut down the programme, with a vague digression about how human pilots are relics and drones are the future – ignore for a moment that the film's entire raison d'être is an affirmation of the contrary – that merely provides an excuse for Maverick to remind everyone that he's… well, a maverick. Cue him disobeying orders, achieving the impossible, then going too far but shrugging it off. He's back, baby!
It's not long until Mav gets called back to Top Gun Academy to teach the "best of the best" to fly a mission impossible on a very tight deadline. The details don't much matter and, much like the original Top Gun, the enemy is kept purposely name- and face-less, but the gist of the objective is this: a uranium enrichment plan has been detected on foreign soil which will become operational within three weeks. Before it can power up, two pairs of F-18s need to fly a mountainous obstacle course under the radar, bomb an impenetrable underground bunker, climb an absurdly sharp peak, and get out before the enemy planes catch up – all the while avoiding the many surface-to-air missiles (SAMs) posted around the compound.
It seems that the top brass, namely Vice Admiral Cyclone (Jon Hamm, making us question yet again why the man doesn't get more roles) has accepted this to be a suicide mission. Though doubtful of his ability to teach the recruits, Maverick is nevertheless determined they all make it home safely – a fervent desire made starker by the fact that one of said recruits, call sign "Rooster" (a robust Miles Teller) is none other than the son of Mav's fallen best friend, Nick "Goose" Bradshaw. It's with their relationship that Top Gun: Maverick cements its emotional bedrock.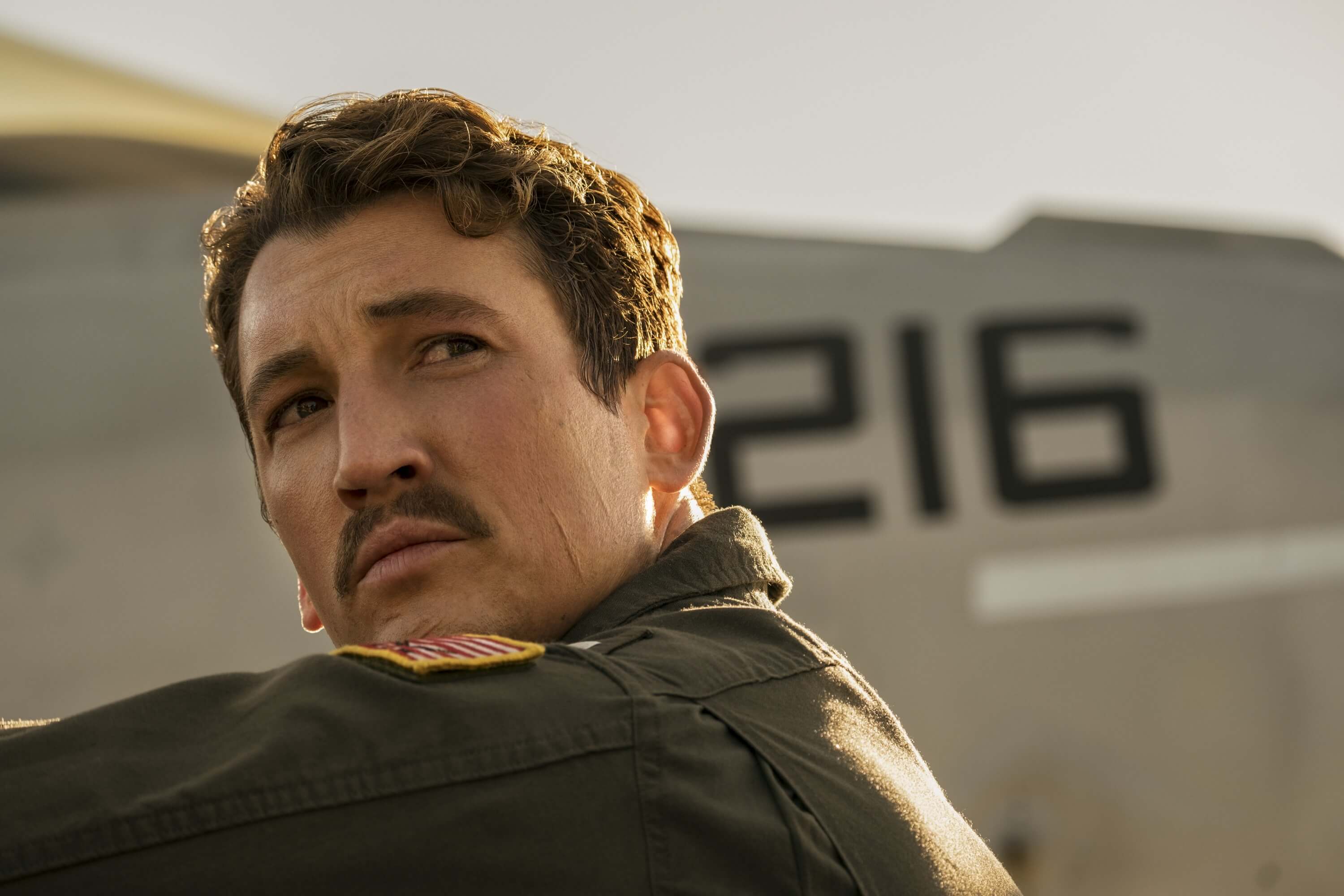 More complexly than before, Maverick is a man haunted by past mistakes. The guilt he still carries about Goose's death is transformed into an obligation to protect Rooster, even if it means the latter will resent him for it – and he does. In a fraught exchange, it's revealed that Maverick pulled Rooster's application to the Naval Academy and set his career back four years. The relationship between the two men, coloured by love, bitterness, remorse, and misunderstanding, grounds the film even as it soars above the clouds.
A host of characters orbit the story: there's his old flame Penny (Jennifer Connelly) whose romance with Maverick feels out of sync and perfunctory, at least until the latter half of the film; there's the excellently-played, asshole hotshot Hangman (Glen Powell); and of course, there's Val Kilmer returning as Iceman. His brief screen time with Cruise provides the film's warmest and most moving elements, Iceman's health issues reflective of those suffered by Kilmer, and gently handled by the script. Yet even as these characters function as worlds in their own right, they are still just satellites to Cruise's blazing sun.
Asserting himself – once and for all – as the last movie star of a lost age, this is Cruise's film through and through. Age has lent both actor and character an air of existential loneliness, and a defiance of impending obsolescence, that makes his megawatt grin all the brighter. Of course, at no point is Cruise more Maverick than when sat in a cockpit, fearlessly breaking the laws of physics and common sense.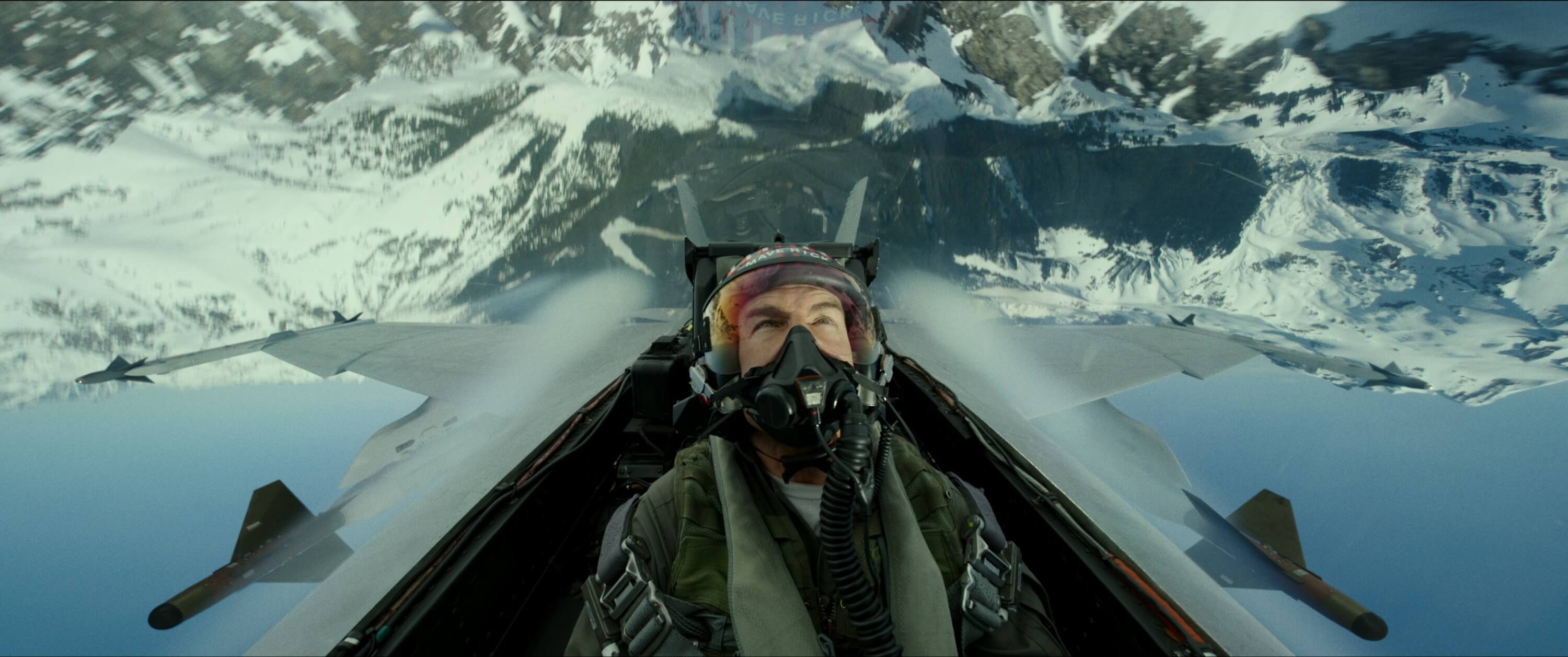 The aerial stunts, jaw-droppingly spectacular and fabulously analogue, are a feat of cinema. It takes unbelievable skill for something this ambitious and boundary-pushing to feel so effortless, a testament to the magical talents of Kosinski and DOP Claudio Miranda (the two previously collaborated on Tron: Legacy and another Tom Cruise movie, Oblivion). It's the kind of exhilarating, euphoric heart-in-your-throat action that demands to be seen on the broadest and loudest screen possible.
There's hardly anything to critique here and, even if one finds fault with Top Gun: Maverick, it's impossible not to be swept up in the undertow of just how epically fun this film is. Kenny Loggins rocks out alongside Lady Gaga; the state-of-the-art camera work is overlayed with a vintage sheen; Maverick is pushed to accept the past and embrace the future. Narratively improving on its predecessor whilst keeping a faithful hold on what defined Scott's original, Maverick is a film suspended out of time, revelling in old-school cheese and thrills without feeling stuck.
It's hard to imagine that there'll be a more intoxicating, rapturous cinema trip to leave you beaming from ear to ear this year, so do yourself a favour and do not miss it. God bless the movies.
Top Gun: Maverick releases in cinemas on May 27th. Watch the trailer here.