Features | Written by Andrew Pollard 02/07/2018
Yannick Bisson | ANOTHER WOLFCOP
Yannick Bisson is best known for playing the titular William Murdoch in the hugely successful Murdoch Mysteries show that's about to enter its twelfth year. Now though, the charismatic Montreal native can be found playing the slimy, nefarious Sydney Swallows in Lowell Dean's Another WolfCop. Promising to win over the sleepy town of Woodhaven with the prospect of a brewery and a hockey team, Swallows is soon on a collision course with Leo Fafard's alcoholic werewolf lawman. Ahead of the WolfCop sequel's home release, we were lucky enough to grab some time with Yannick to discuss Another WolfCop and playing such a vastly different character to what audiences are accustomed to seeing him play.
STARBURST: Did you see the first WolfCop when it came out in late 2014?
Yannick Bisson: I was given a copy of it a short time prior to meeting about the second one. So, I hadn't seen it as a release, no.
What were your first thoughts upon watching it?
I was really thrilled. First of all, the development process that basically got Lowell [Dean – writer/director] and Emerson [Ziffle – SFX supervisor] the gig of making the movie, I was really impressed by. I was really intrigued by how all that worked. I wanted to know everything about the entire process and also about those guys. Then, obviously, what the plan was going forward in terms of the sequel; potentially any information that they had about what else that they wanted to do with the franchise, ancillary to the movies. So, I was really keen. It's just a nutty orgy of everything bad you could throw into this genre. I was really looking forward to being able to do something like that, because I cut my teeth in comedy as a kid. I've done a lot of different type of things outside of what I'm typically known for, so I was stoked. I was like, "Sure, I'll be there. You don't even have to pay me!" So, we all worked together, we all put together this crazy character. Then, I got to really contribute on a creative level with some of the stuff that I did for it. It was just a fun, fun process. I'm really glad that I had that opportunity.
You mention creative input. How much input did you have on the Swallows character, and was he always meant to be how we ultimately see him on the screen, or did he evolve as the production progressed?
Well, [executive producer] Bill Marks emailed me. We had actually worked together on some other things, and he said, "Hey, I've got this thing coming up and I think you could be good for it. I just don't know if it's your cup of tea." He called me, and immediately after reading the material I said how I absolutely wanted to be involved in this. To add to my curiosity of the development process, I jumped in whole-heartedly – and I'm glad I did. The character, ultimately we're all tasked with lifting something off of the page. It was already pretty out-there in terms of what was being said, but I added a lot of stuff. I added a lot of profanity on the floor, on the day. That's my style. I try to always, in anything I do, always try and give a director as many choices as possible as much as I can within reason and within what time allows. So, I threw a lot of stuff their way, and they were really cool about it. And they fostered that environment of "Hey, if you come up with something, absolutely just throw it out there. If you want to do something different, for sure, let's do it." That's always invaluable to foster that kind of atmosphere. Lowell and Emerson and [executive producer] J. Joly absolutely did do that.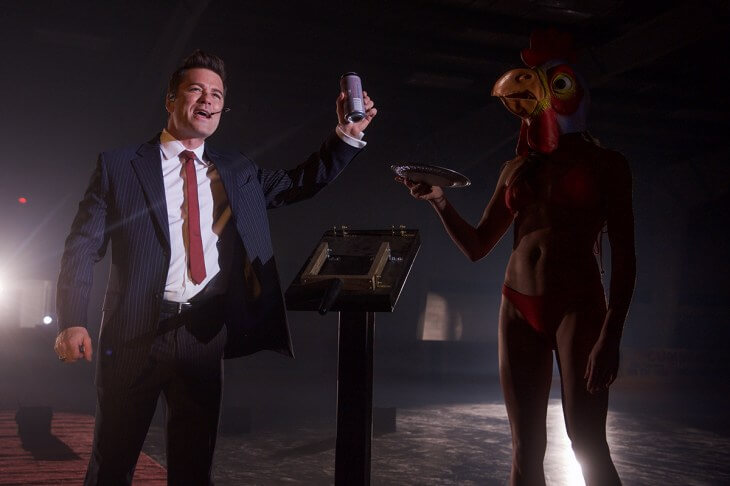 Those guys were all involved in the first movie, as were Leo Fafard, Amy Matysio, Jonathan Cherry, and several others. How was it for you coming in to that existing environment, and was there a bedding-in process or did they make you feel at home straight away?
It was kind of like shift change time. We all showed up and they had already been shooting the front half of the movie. I showed up at the shift in Regina and they were just, "Hey man, how's it going? Let's go." We shot the rest of the movie, and they were very welcoming. Obviously, they were happy that I was game. I think there may have been some reservations on other people's part; I think they were looking at me with a little bit of "How on earth is this guy gonna pull off this character?!" So, I just went for it. I took down any sort of apprehension and reservation and I just went for it, and instantly we were all-in.
Throughout the movie, you got to spend a good chunk of your time on screen with Kevin Smith. How was it to work opposite Kevin?
We actually didn't get to spend as much time together as it looked like. We were ships in the night because of our schedules. I ended up doing a lot of my stuff with the girls and with the crooks, you know, with the bad guy team. That's the bulk of what I shared my work time with, and then they stitch it all together.
Away from Another WolfCop, you're best known for playing William Murdoch in Murdoch Mysteries. How much fun was it to play such a slimeball of a bad guy here?
Oh, absolutely wonderful! I speak to my representatives all the time, always looking for things that are completely opposite of Murdoch, are different, as complex as possible. I'm synonymous with the show and the title character and the name, so it does have a very distinct brand and image. As an actor, it's tough, because I don't want to be known just for that and only for that. So, I will always look for things that are different – and this is as far out there as you can go, which I'm very happy for!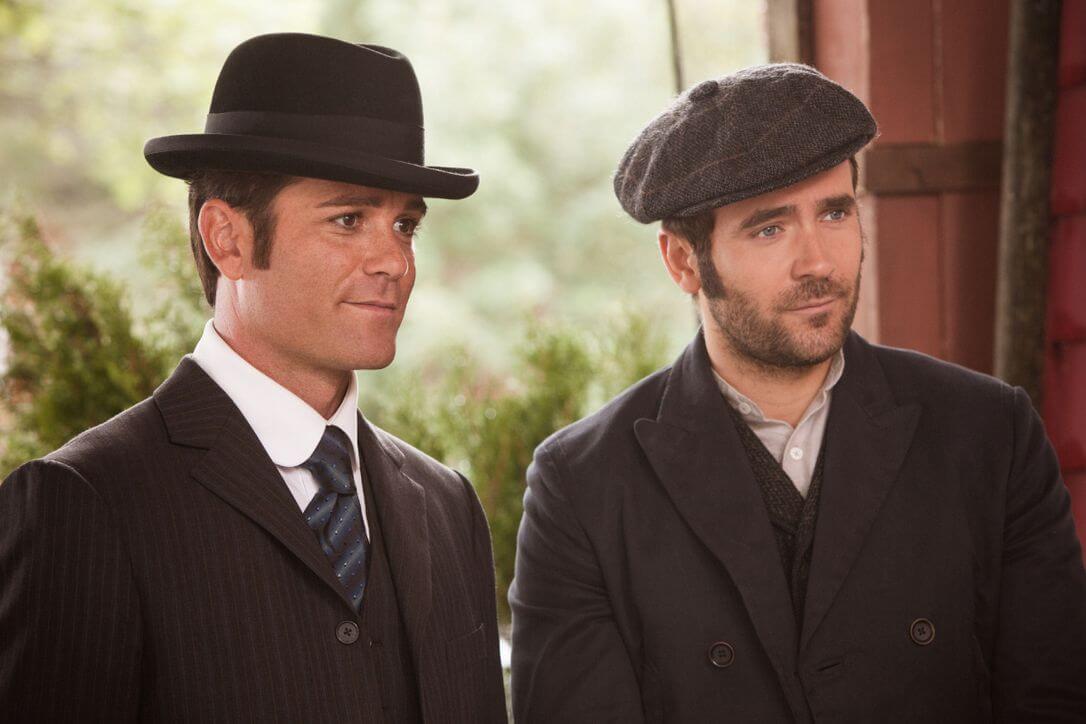 What's the response been over in Canada to you in Another WolfCop, given how different a role it is to the character you play in Murdoch Mysteries?
It's funny, because they're massive fans of that genre. Those folks are not necessarily the fans of my show, so I kind of wonder. I don't get a huge amount of feedback. Even on my social media outlets when I was promoting it and talking about it, I think people's eyes were glazed over because the people who watch Murdoch are not the people who are going to see Another WolfCop. It's different worlds, it's hard to get a metric on that. I wish I had a better answer.
And is it fair to say this is the most bizarre project you've worked on to date?
It's right up there, definitely top five. It was a new genre for me, so yeah, I would say in that regard definitely at the top.
In terms of dipping your toes into the genre, you've gone all-in on a movie about an alcoholic werewolf lawman.
Yeah, and that's really what it was like. I thought if I was going to show up there on set then I've got to really embrace it. These people have been doing it for a while, and I'm sure they're thinking I'm not going to bring it. So I had to just be as despicable as possible.
During the production, what was the most fun scene to be involved in from your perspective?
Oh, my escape was a lot of fun. When I get away and I blow the place up and all of that, that was a lot of fun. There was a bunch of improv that we did there. I can't remember the lines exactly, but I came up with a couple of good insults last minute. And I had to actually speak to the girls, because I'm a dad – a dad of three girls – and so criticising the girls and body-shaming them… but it was fun that they kept some of my improv in there, so I was happy about that.
Your no-good character of Swallows tries to win over the Woodhaven public with the promise of beer and hockey. When we spoke to Leo Fafard, he went with beer, as it always leads to hockey, but if you could only choose one of those then which would it be?
Hockey. I was going to say the other way around – hockey always ends up leading to beer.
With Another WolfCop now in your rear-view mirror, what's up next for you?
Well, I just started filming Season 12 of Murdoch this week. That will take me to November. But I also have a couple of books that I've optioned and we're working away in the development process. One is called Boiler City Blues Trilogy and one is called Two Black Guys and the Unfinished Script. Then, there's a few other concepts that are out there with producers. Actually, CineCoup and the Coup company who are the proponents of WolfCop and the IP, I liked the experience so much that I've actually become a partner. We're looking to do other stuff, different stuff, not just movies. So yeah, that's a real exciting side benefit.
On the Murdoch front, how is it as an actor to get that renewal for a new season, to get that almost safety blanket that means you can have more freedom with other projects that might come up?
It's the ultimate. We all would love to have a successful series that we become synonymous with, especially in this case that my character is the name of the show - so it's very identifiable. I'm so extremely grateful. The ratings keep going up and more and more countries watch it, it gets translated to more and more languages. It's a global success. It's a huge, huge blessing. Obviously, there are days where I wish I could be doing 10,000 other things, but I mean, how can you look upon this in any other way that just absolutely positive and grateful.
Another WolfCop is out now on Blu-ray, DVD, and VOD – and you can find our review here.