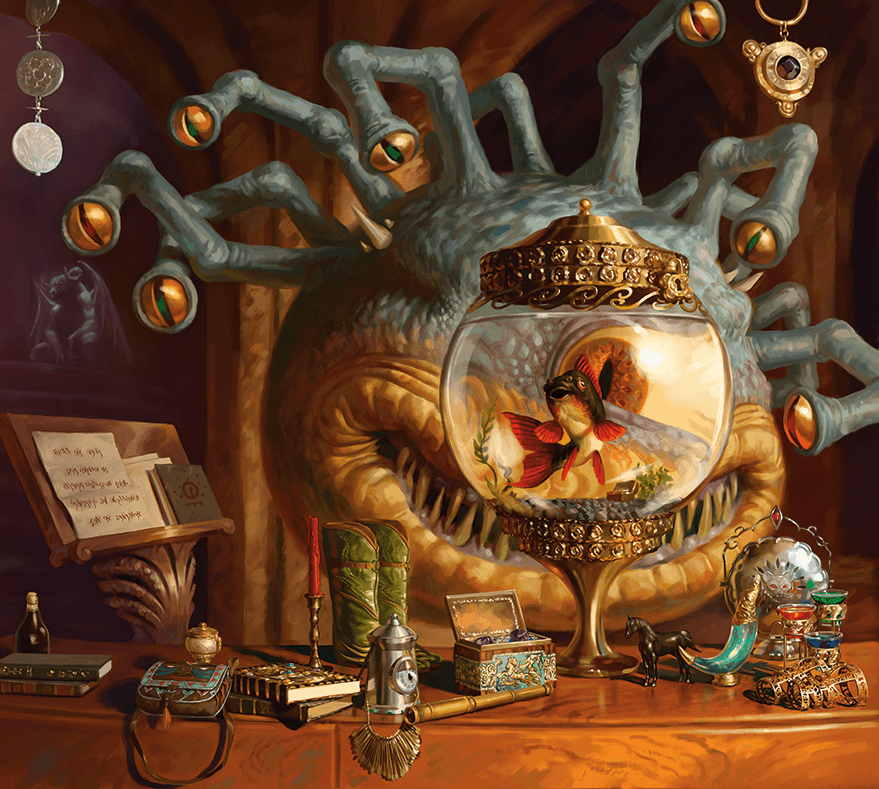 Dungeons and Dragons has levelled up somewhat over the last couple of years. More people are playing the imaginative game than ever before (partially thanks to  Zoom and Google Meet) and as Christmas is coming, you might want to pick up a D&D themed pressie for the part-time Tiefling in your life.
Let's start with the basics. Dungeons & Dragons Starter Set: Dragons Of Stormwreck Isle  is the new starter set. It's fairly comprehensive and has a solid starting adventure.  They are other starting sets; we'd suggest avoiding the Rick&Morty and Stranger Things ones unless you're a fan of those franchises, and if you can't get Stormwreck, check out the  D&D Starter Set or The D&D Essentials Kit.  Failing that, if they don't own it, get them the Player's Handbook, it's the basic book. Wizards of the Coast do a fancy box set of the big three books; Player's Handbook, Monster Manual and Dungeon Master's Guide. If they've got all those, take a look at the Rules Expansion Gift Set, which features three books and a lot of new monsters, spells and character options.
If you're buying a gift for someone very new to Dungeons and Dragons and rules aren't their thing,  Jim Zub's Young Adventurer's Guides are great, and the new one, Dragons and Treasures, is great.
If they have all those things and are a Dungeon Master, we recommend Sly Flourish's Lazy Dungeon Master series, it's crammed with handy ideas for running games. You may also want to consider a subscription to  MCDM's Arcadia Monthly Magazine.  It's crammed with inspirational ideas for running a game of D&D, featuring some of the most talented folk in the industry.
There's been some great books out for D&D recently. The latest is Dragonlance Shadow of The Dragon Queen, which is a cinematic epic that draws together classic D&D stories and takes a party of heroes across a war-torn world to deal with the rising return of an evil dragon army. It's a new take on an established classic, and is supplemented with its own strategic board game, Warriors of Krynn.
On the sillier side there's Spell Jammer – Adventures in Space. It's swashbuckling adventure with Sun Dragons and wooden space-ships. Heck, it even has its own album; Spelljams. all produced by Chris Funk, guitarist from The Decemberists.
However, if you're only buying one D&D book for the fan in your life, and want something from this year, check out Dungeons and Dragons: Journeys through the Radiant Citadel. It's an anthology of adventures filled with very refreshing and interesting ideas written by some of the most talented voices out there.
Other adventure books we recommend include Strixhaven: A Curriculum of Chaos – a magical school setting that is for everyone and is part campaign, part high-school drama.  Candlekeep Mysteries – a magical book about magical books; it's lots of little adventures strung together and a great source of inspiration and 'how to' guidance.
The Wild Beyond the Witchlight is a very flexible setting/adventure book that takes the party into the fairy land known as the FeyWild. It's very much about the imagination and the Dungeon Master can toggle that to mean it's Labyrinth or Disney, but they can also up the peril and make it a bit more Stephen King. Finally, the one we've been playing a lot at Starburst Towers is  IceWind Dale – Rime of the Frost Maiden – Frozen horror at the edge of the world. Very dark in places, and a bit open ended for some, but very replay able.
Dice are usually a fabulous option for gamers.    Beholder's Gaze remain our go-to for dice, from their excellent low budget grab bags to their gorgeous premium sets. Dakota Irish will also provide great gaming gear.  Expect to pay a lot more for dice made out of metal, resin or precious stones, and always purchase from a reputable source. You can never have enough dice.
The official ones include a Avernus/Baldurs Gate set, a Sword Coast/Elf Inspired set and a rather lovely set inspired by Icewind Dale, We really liked the The Witchlight Carnival box, which has a great and is interestingly orange.
Those gamers who like playing in person have a bunch of options to improve their table. Though they are lot's of D&D miniatures out there (mostly thanks to Wizkids) you might also want to consider Campaign Cases, both Creatures and Terrain. These are for figuring distances/area effect spells etc, and use poker chip like counters, solid cardboard tile pieces and static cling plastic sheets to help DM's plot out combats and so on. Much more portable than minis and cheaper than lots of minis. Not for everyone, but a neat new tool. As an alternative, check out Loke Battle Mats for a similar sort of thing.
Dice storage is also really important, as dice aren't fun to stand on. We've recommend buying a Worry Monsters and filling it full of dice before, but they also official versions of that sort of thing available. Ultra Pro produce, for example, a little owl bear with a zip-up tummy you can put dice in. D&D Plushies are a thing, Wizkid's a range of things called Phunnies, and honestly, the Displacer Beast kitty is very, very cute. They do a plush Tiamat. Never has Chaotic Evil been so cute.
Wizkids primarily do miniatures.  This year saw the release of multi-part plastic kits called Frameworks. You'll need to get paints, glue etc and it's almost a different hobby, but if you want a custom model of your own hero, it's the way to go. If you want to use someone else's heroes, such a Critical Role's Bell's Hells, they have you covered as well.
Of course, if you (or the D&D player in your live) is a fan of Critical Role, then you've an easier path. The hit Twitch stream/actual play D&D show has its own merchandise line and is doing a 'Critmas' sale over the holidays.  Everything from tree ornaments, to blazers, to ugly 'Critmas' jumpers and even Chetney's Pock O'Pea's Winter hat.
If geek fashion is your thing, but Critical Role isn't, maybe try an I'm A Goblin t-shirt.
Dungeons and Dragons has been around so long that we now have established academic learning on the game and its history. For the hardcore fan, you might want to consider Jon Peterson's excellent Game Wizards, a deep dive into the origins of the game, covering everything from the acrimony between the game's creators to the Satanic Panic of the 80s. Ben Riggs Slaying the Dragon cover similar ground, and the two books complement each other quite well. On a related note, those interested in the early history of D&D in the UK (and how it spawned so many other things) may want to grab Sir Ian Livingstone's Dice Men. (The also two new Fighting Fantasy novels out).
Staying with books, Art & Arcana, a Visual History does exactly what it says on the tin, a stunning collection of fantasy art that covers the long-running franchise's history.  If you just like pretty pictures, consider The Dungeons and Dragons Tarot; it's a solid collection of art cards, though not a great Tarot set. On the less supernatural side, there's the Dungeons and Dragons Annual 2023, which has a word search and some fun ideas. There's also a Where's Wally style search book called BEHOLD! If cookbooks are your thing, try the excellent Heroes' Feast D&D themed cookbook, and do give the Evermead a go.
Oh, and they are now action figures, both of the classic D&D cartoon characters, as well as some connected to that forthcoming movie.
Finally, if you have a budget for it; go to Beadle & Grimm's Pandemonium Warehouse. It's the pet D&D project from D&D fan and Hollywood star Matthew Lillard. They do luxury versions of D&D box sets, including SpellJammer, Wild Beyond The Witchlight, and Van Richten's Guide. Strongly recommended, but pricey.