Reviews | Written by Laura Potier 03/11/2021
THE HARDER THEY FALL
A high-impact, ultra-glossy revenge Western from first-time director Jeymes Samuel (also known as British musician The Bullitts), The Harder They Fall reclaims the quintessentially American genre with killer style and ice cool confidence.
When Nat Love (natural born movie star Jonathan Majors) discovers that the man who brutally murdered his parents, his sworn enemy Rufus Buck (an impassive Idris Elba) has been freed from prison, he rounds up his rag-tag team of outlaws to track him down and seek revenge.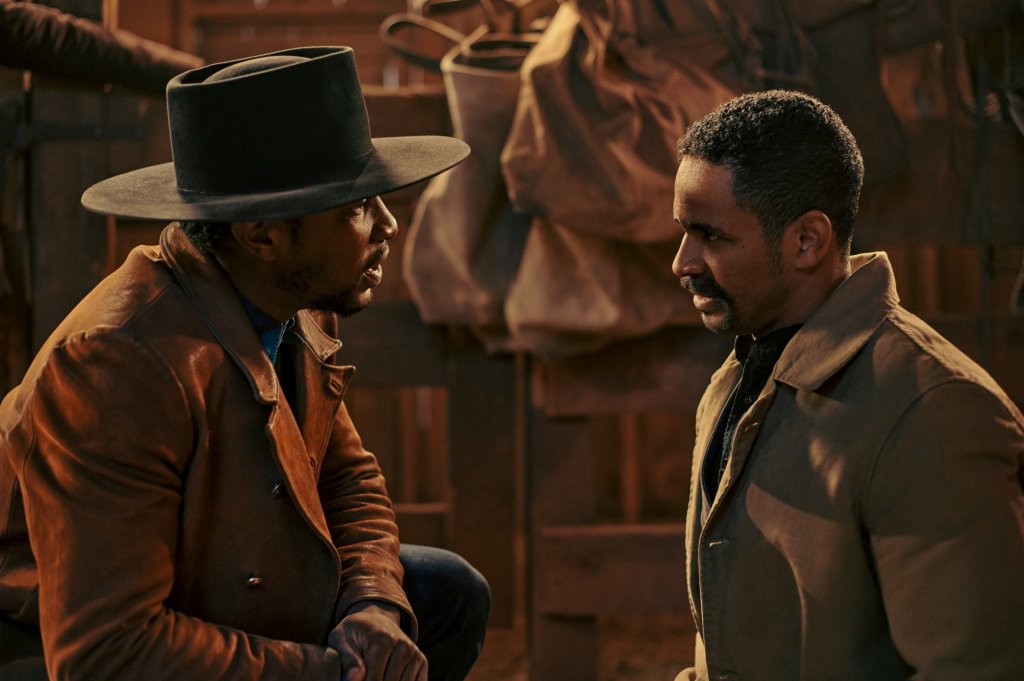 Love's team includes the level-headed sharpshooter Bill Picket (Edi Gathegi), the trigger-happy Jim Beckworth (RJ Cyler), the quietly assured Cuffee (Danielle Deadwyler), local marshal Bass Reeves (Delroy Lindo, in all his usual glory) and of course, Stagecoach Mary (Zazie Beetz, single-handedly bringing top hats back into fashion), with whom Nat is still desperately in love. Riding at Rufus' side meanwhile, are certified badass, "Treacherous" Trudy Smith (Regina King) and the oh-so-slick Cherokee Bill (LaKeith Stanfield).
The screenplay is textbook Western, a straightforward story that depicts a crime, an ensuing pursuit of the wrongdoer, followed by the hero enacting his revenge – complete of course with arid landscapes, rowdy saloons, pistol-twirling, and creatively staged shootouts. Yet the fact that The Harder They Fall abides by the expected genre beats makes its assertion all the more potent: the Old West was not the whitewashed world Hollywood thinks it was.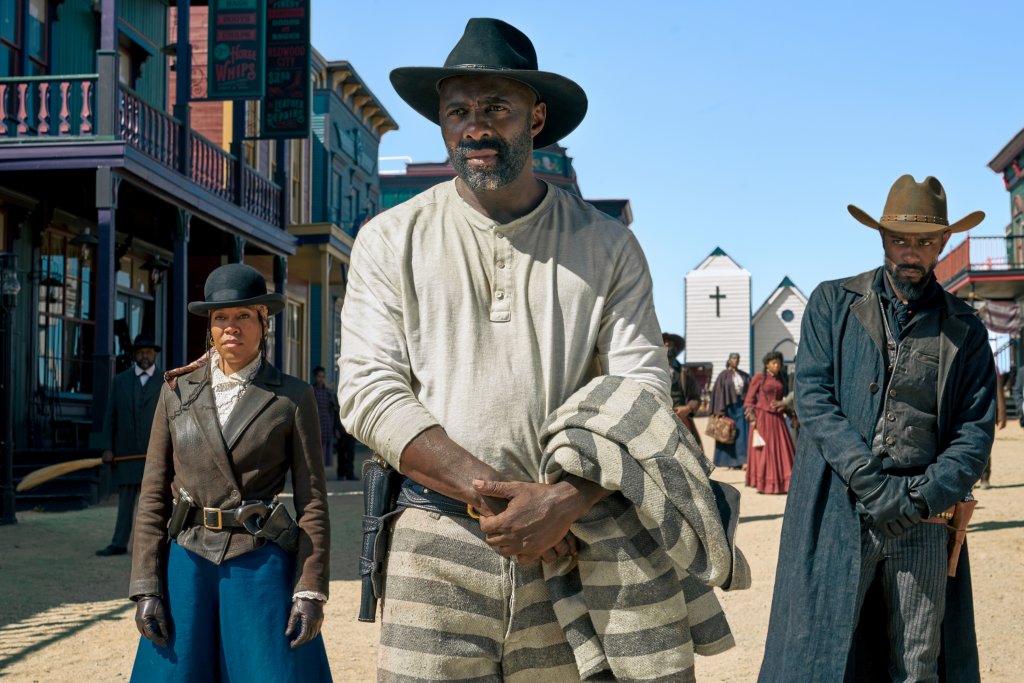 Veteran actors like King, Elba, and Lindo bring the easy magnetism the film needs to re-envision Westerns' deeply embedded iconography. The lone figure on horseback is a Black woman. The weary sheriff is a Black man. The saloon owner wears her hair in a proud afro. The Western belongs to them, and didn't it always?
To be clear though, this isn't a case of Hamilton-ising history – if you will: "While the events of this story are fictional," punches the opening card, "These. People. Existed." The idea of rival factions of Black cowboys does not require any stretch of the imagination; in fact, many historians now estimate that over a quarter of 19th century cowboys and gunslingers were Black. Likewise, though their stories may be fictionalised, The Harder They Fall's outlaws are drawn from real-life figures.
This is made yet more impactful by the fact that Samuel's characters exist in a mostly self-contained world, one where whiteness is kept to the side lines and those rare sightings ("Maysville (it's a white town)") are used only for comedic effect. In the past where Westerns have included Black characters, the parameters of their existence have been established in relation to whiteness. Whether oppressed by it, saved by it, or trying to escape it, whiteness is all too often a defining force of Black representation in the genre. But just like its characters, The Harder They Fall flatly refuses to play by anyone else's rules and casts its story through a sleekly modern lens.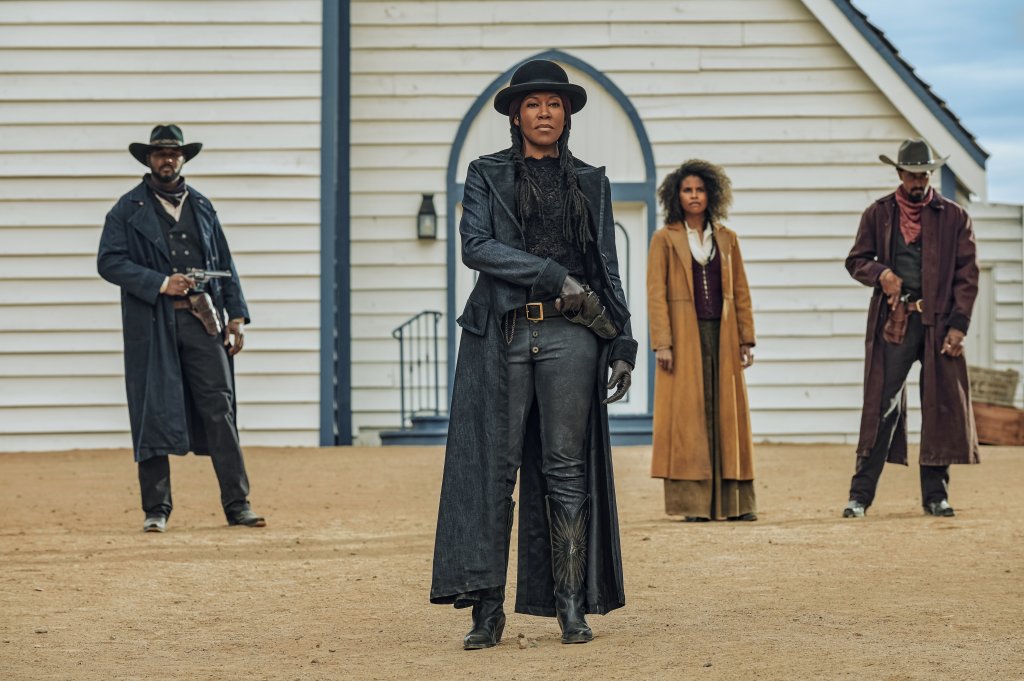 The killer soundtrack contributes a lot to that feeling, featuring original songs by Jay-Z (who also produces), Ms. Lauryn Hill, Kid Cudi, Koffee, Seal and more, spinning sounds from reggae, Motown, soul, dancehall, and hip hop into a rich and evocative companion piece to the on-screen action. The latter of which does not disappoint; flashes of grindhouse violence build to an epic showdown with a body count to match.
Everything, from the unflinching violence, inspired costuming, and theatrical dialogue, work to push the point that style of this level can be its own sort of substance. The Harder They Fall doesn't need to justify its existence to be meaningful, nor does it owe it to anyone an explanation; it can just be a cool, gung ho, pulpy Black Western.
The Harder They Fall releases on Netflix from November 3rd. Watch the trailer below and read our interview with star Edi Gathegi.