Features | Written by Andrew Dex 21/10/2021
Edi Gathegi |THE HARDER THEY FALL
Fast-paced, action-packed, and stacked with a long list of legendary actors, The Harder They Fall, and shake up what we can expect from the Western genre going forward. Holding up the guise of Bill Pickett is none other than Edi Gathegi (X-Men: First Class), who is here to tell STARBURST everything you need to know about this re-purposed take on a classic character and what being a part of a refreshing Western like this means to him!
STARBURST: What originally attracted you to playing the character of Bill Pickett?
Edi Gathegi: I was really interested in an all-black Western, and it's the most obvious aspect of the script.
Bill Pickett was a real-life cowboy, so I was wondering how much research you did into his life before filming, and also, how did you go about bringing your own approach to playing him?
The wonderful thing is with this film, it has a lot of characters that are real historical figures, but they've been repurposed for the telling of our tale. So what that gives us the opportunity to do as artists is to merge a creation with people who really existed. So, that was a lot of fun. Blending the two. Because of the shutdown, we had a lot of time to live in this world. We got shut down for several months, so the research just kept going. I read everything that there was and that I could get my hands on Bill Pickett and the time period. That's always fun, it's always a great advantage when you have time to dig in before you get to the acting bits, and actually get on set.
This version of Bill Pickett has been described as "hot-tempered", but for you, how would you say that he compares overall to the original Bill?
There are many different accounts of who Bill Pickett was, and how he was. "Hot Tempered" is true, but there are a lot of hot-tempered people in this film, who are all outlaws. I would say that among them, I might be the cooler head that prevails! There's a lot of energy, and Bill Pickett is sort of the eyes. He watches over the group. Makes sure that everybody is safe, and well taken care of. He is "Hot Tempered" but that's just because we all have heat inside of us.
Were you a fan of Westerns growing up at all? If so, what particular memories do you have of this huge movie franchise?
I can't say that Westerns are my favourite genre, but because of my involvement in this project, I learned to gain a much stronger appreciation for the Western genre. I think part of that has to do with the fact that I never saw myself in Westerns. People of colour have been erased from that area of storytelling. That's why I am so grateful for a movie like this existing so that the younger version of me can actually look up to this and say "Yeah, I know we were there!" We are finally getting to see it being represented on the screen.
From Idris Elba through to Regina King on the "bad guy" crew, what was it like to work opposite these actors on the "good guy" crew, and what do you think they brought to the movie?
The film is about the good guys pitted up against the bad guys. We are all outlaws, but there's the protagonist and the antagonist. So we didn't work a lot with the bad guys, but they were there. I had this idea that I didn't want to interact with the bad guys at all because they're the bad guys and I wanted to stay in my zone. The actors are so talented, so cool, and so humble. And so gracious, that you can't help but like them, and you like them in the movie too! Their mission isn't altogether outlandish, there's a lot of merit to what they're trying to do. Even as a bad guy crew!
Also, with so many great actors involved, for you, was there someone in particular that you just really enjoyed the chance to finally collaborate with on-screen?
I didn't have any scenes up close with Regina, but I have been a fan of hers for as long as I can remember, she's just equally a beautiful person as she is an artist. LaKeith Stanfield, he and I shared a couple of moments on screen but got close off-camera. I think he is a very special young artist. RJ Cyler is my little brother. I think that our off-camera relationship translates to on-camera. He is going to be a brother for life.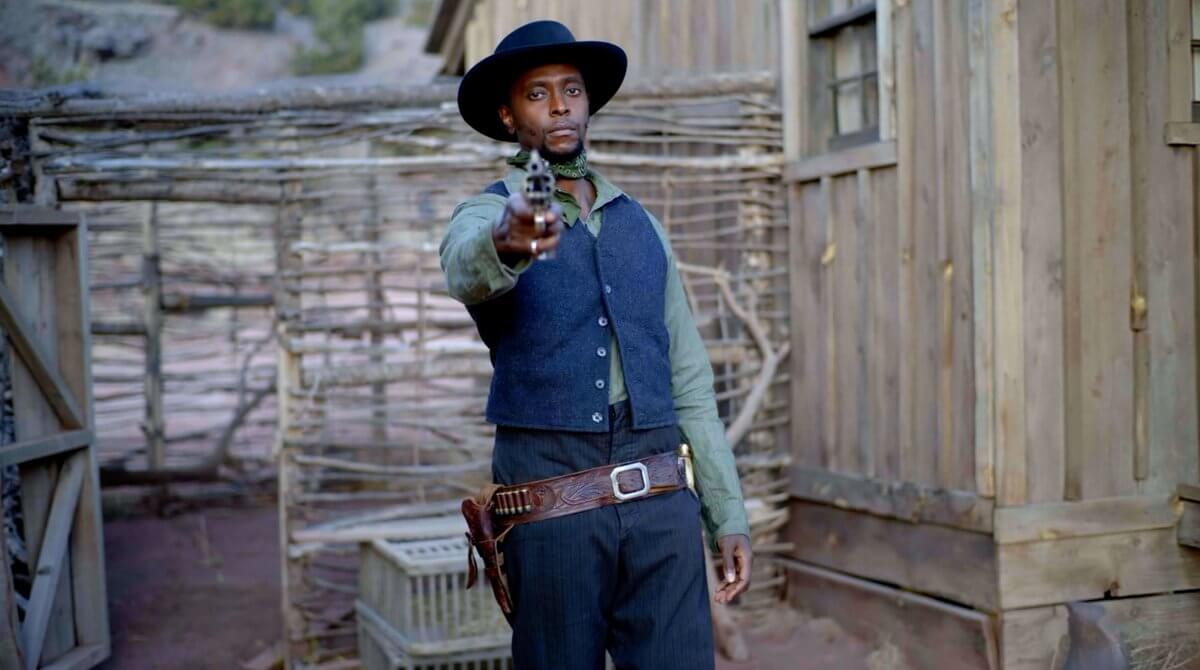 Leading on from this, what was director Jeymes Samuel like to work with, and what do you think that he has brought to this western in particular?
Well, this whole project came from his head, and he has lived with it for perhaps a decade. I say this all the time, but when somebody has that clear a vision for their own baby, you just trust them. It doesn't make sense to not trust the person who has put it all together. So my job as an actor was to just get out of the way and help him tell his story.
Do you know anything about how the look/costume design for this particular Bill Pickett came together? If the crew were focused on any certain ideas when creating him maybe?
I love limitations and we are limited in a Western genre. It takes place in the late 1800s, so there's only going to be certain things that are available to you. So that's obviously a very specific place to start from. I know that they didn't want to overlap character looks. I know that colour was a big conversation, where you can have pops of colour. The idea was that the film was going to be highly stylised and have a beautiful pallet. It was about what colour pops in Bill's wardrobe, and we sort of landed on the colour that is represented in Bill's book. So when you read Bill Pickett's book, that yellow that I fell in love with, ultimately made it into the movie, and I was very happy about that.
You've worked in a Western setting before, Justified being just one example, so for you as an actor, what do you enjoy the most about being in this gritty world?
Horses! These majestic beasts are so elegant and powerful. Every actor says that they can ride a horse on their resume, every actor can juggle, speak 100 languages. How much of that is true? I know that I had horseback riding on my resume before I actually rode a horse. So now that I can actually say that I can ride a horse. I love the cowboy camp, learning how to ride a horse, and learning how to shoot the Winchester rifle. That part of the process was a joy and a gift.
Also, going on from that, how would you say that this Western in particular compares to any others before it? What makes it stand out on its own?
My ambivalence towards Westerns is rooted somewhat in the fact that they are very slow-moving. The pace of a Western is perhaps not for everybody. This is a Western for the 21st century. It's got energy, and tremendous violence, but the violence is justified because of the time period. It's energetic, and it has some of the best actors working.
There's a bit of a Quentin Tarantino feel to the trailer. Would you say that that is a fair comparison? And also, what other influences do you think have been channelled into this movie?
I believe that the director is a big fan of cinema, so there are a lot of influences, and drawing off great filmmakers. There are moments in the movie where I go "That's totally Tarantino!" and I just think that it's a love letter to Westerns, to black people, and to history that has been forgotten. It's a love letter to creativity because it is real characters are re-purposed in a made-up story. So this movie is a love letter to all of those elements. A couple of the original cast members had to pull out due to COVID, and the filming schedule also suffered a slight delay, so for you as an actor, what was it like to actually work on a major movie through an unpredictable time like this?
I refer to it as the sword of Damocles hanging over our heads. At any given moment you don't know if Netflix is going to call a meeting and say "Everybody go home, nobody is getting paid, we've been shut down" In one respect it was very difficult emotionally because you just didn't know if we were going to be able to finish telling this story, and share it with the world. But, we did it, and that's a miracle as far as I can tell. We made the movie during a pandemic, and Netflix lead the charge. We were one of the first big movies that shot during a pandemic and they did everything right. We were testing all of the time, practically every day. They had all of the safety measures in place. I would say just the fact that this movie exists, and that we shot it during that time is miraculous.
Tough question time. Looking back on the movie, what was the most rewarding scene for you to be a part of as an actor, and why?
We shot the opening scene, that introduces Bill Pickett and Jim Beckwourth, their first scene essentially, we shot last. We arrived in New Mexico in February, and we wrapped in December. So we were there pretty much a better part of a year, minus the shutdown. So shooting the introduction to the character after almost a year was cathartic in a way. There's a lot of emotion, and you're just carrying the need to tell this story, or to get this story started that whole time. I believe that there's that spiritual energy/DNA that you're carrying through the whole process. That scene was special. You had to hold that scene with you from the beginning because in chronological order this scene has already happened, but we don't actually get to shoot it until the end. That scene is my favourite of Bill Pickett's.
The Harder They Fall is in cinemas from October 22nd and hits Netflix on November 3rd.