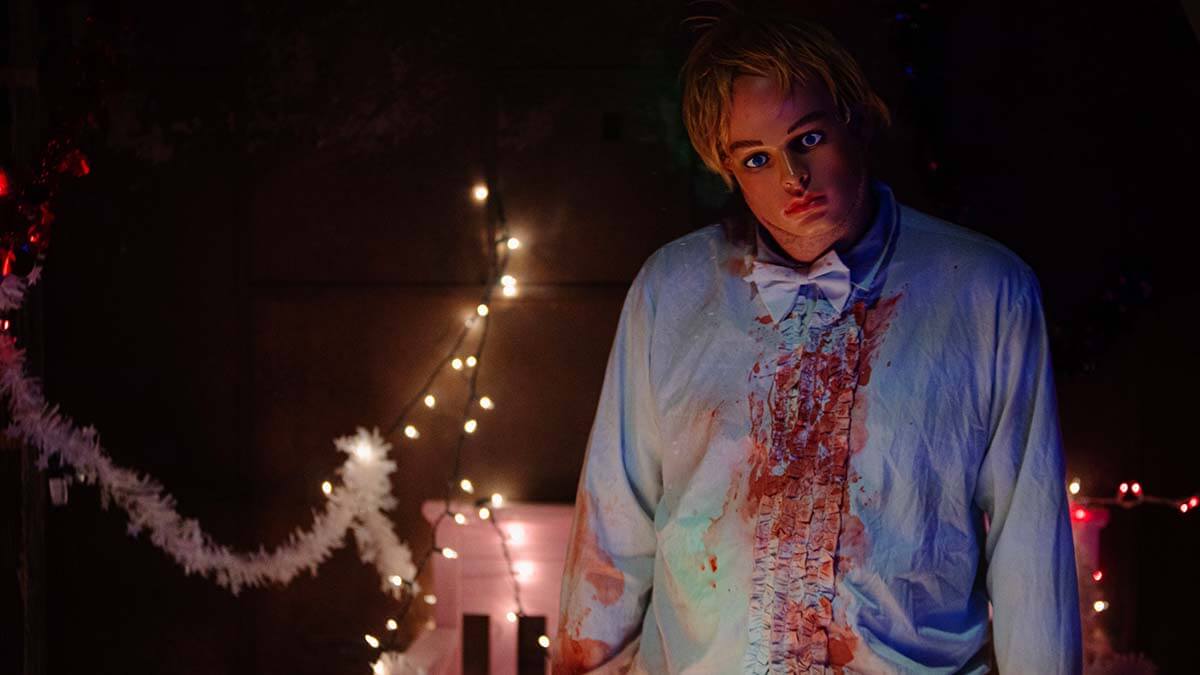 Last year's Blind introduced us to an actor, Faye (Sarah French), who loses her career when a botched cosmetic procedure blinds her. She withdraws to her hilltop house, only interacting with a few people. She's then stalked by someone who's obsessed with her and who kills those close to her. Spoiler warning for those who didn't catch the film, it concludes quite abruptly with the hulking murderer in a creepy 'pretty boy' mask stood over her while she's in bed. Pretty Boy, the film is a continuation of the story from that moment, with the killer carrying Faye through the neighbourhood and gate-crashing a Valentine's Day party with bloody results.
The group partying is a mixed bunch, which allows for some fun kills as Pretty Boy makes his way through the house. Unfortunately, once he's done with them, it's on to a new location and the dynamic shifts. It takes a much slower, dialogue-led approach; it's also darker in tone than the Friday the 13th-esque first hour.
Genre regular Maria Olsen is an addition to this entry of the saga (yes, we can probably expect it to continue…) and is always watchable. She's particularly creepy here, but she's not enough to enliven the film when it's sagging. The giallo-like soundtrack is suitably eerie and provides much of the tension and atmosphere. Director Marcel Walz orchestrates a few effective kills, one that will even get a laugh thanks to the reaction of a blindfolded man, but it's a moodier movie than the first, which was played more for suspense.