Features | Written by STARBURST 08/11/2021
Win a VESTRON Collector's Series Blu-ray Bundle
We've teamed up with Lionsgate to give one lucky reader a chance to win a bundle of three Vestron Collector's Series Blu-rays. The films are Dementia 13, The Wraith, and Sundown: The Vampire in Retreat. To be in with a chance, just read on and enter below…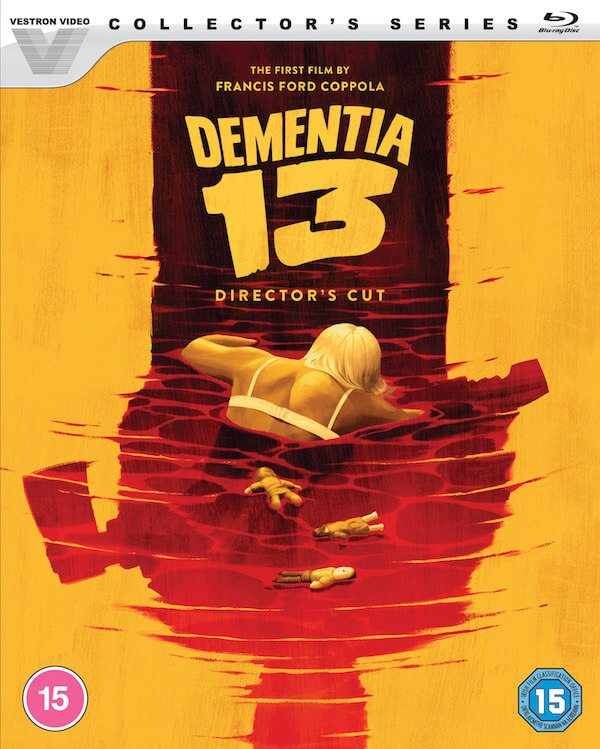 DEMENTIA 13: DIRECTOR'S CUT (1963)
Presented in a high-definition director's cut, Francis Ford Coppola's first-ever film Dementia 13 is quintessential gothic horror, wrapped in the twisted mysteries of a family's deepest, darkest secrets. A widow deceives her late husband's mother and brothers into thinking he's still alive when she attends the yearly memorial to his drowned sister, hoping to secure his inheritance. But her cunning is no match for the demented, axe-wielding thing roaming the grounds of the family's Irish estate in this cult favourite featuring Patrick Magee (The Legend of Hell House, A Clockwork Orange) and Luana Anders (The Trip, Night Tide).
Blu-ray and DVD Special Features
Introduction by Francis Ford Coppola
Audio Commentary by director Francis Ford Coppola
Prologue (Dementia 13 Test)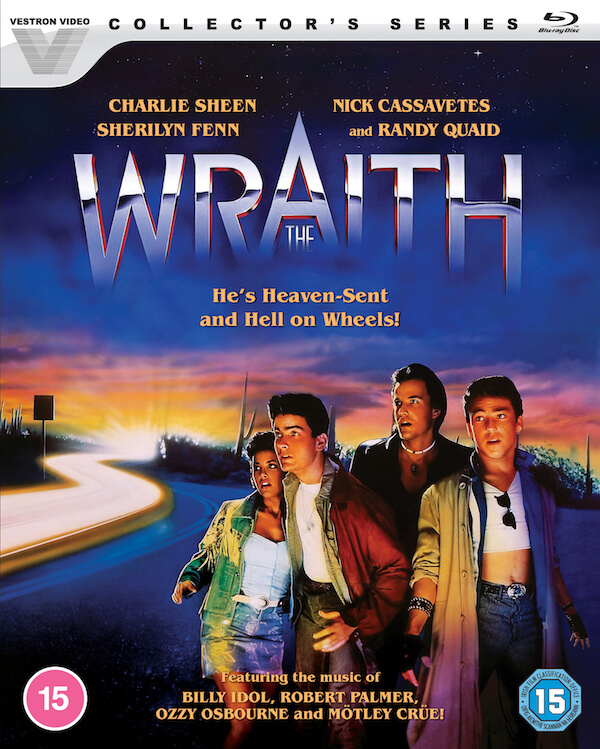 THE WRAITH (1986)
Charlie Sheen, Nick Cassavetes (Face/Off), Sherilyn Fenn (Twin Peaks), and Randy Quaid (Independence Day) star in this turbocharged cult classic! When four glowing orbs crash into each other over the Arizona desert, they leave in their wake a badass Dodge Turbo Interceptor, and its enigmatic, helmeted driver. The next day, the mysterious Jake (Sheen) appears in the town of Brooks, catching the eye of Keri (Fenn) and the ire of Packard (Cassavetes), the ruthless leader of a gang of street racers. When gang members start losing races, and lives, to the Interceptor, the recent death of Keri's boyfriend suddenly seems connected to the arrival of Jake, the unbeatable car…and an avenging entity called The Wraith.
Blu-ray and DVD Special Features:
Audio Commentary with writer/director Mike Marvin
Audio Commentary with actors Dave Sherrill and Jamie Bozian
Isolated Score Selections featuring audio interview with co-composer J. Peter Robinson
Tales From The Desert - An interview with writer/director Mike Marvin
Rughead Speaks! - An interview with Actor Clint Howard
Ride of the Future - Interviews with stunt coordinator Buddy Joe Hooker and transportation coordinator Gary Hellerstein
The Ghost Car – Interviews with visual effects producer Peter Kuran and effects animator Kevin Kutchaver
The Wraith Filming Locations: Then and Now
Theatrical Trailer
TV Spots
Alternate Title Sequence
Still Gallery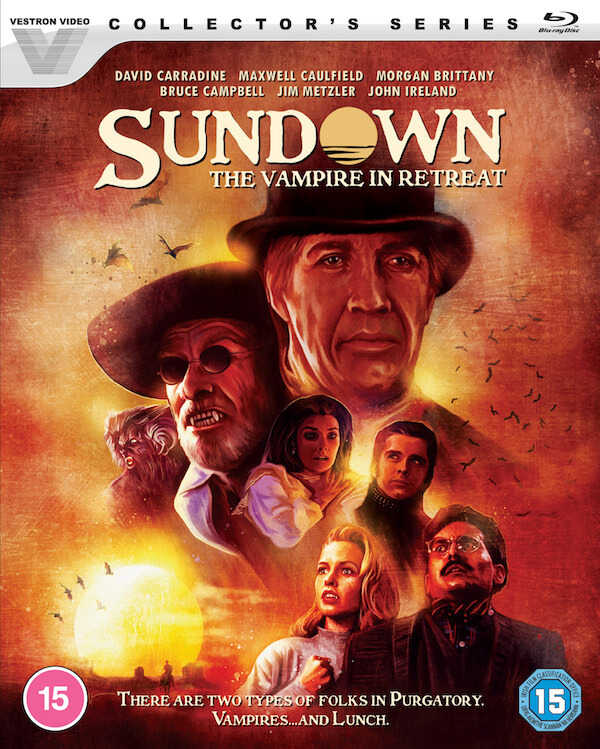 SUNDOWN: THE VAMPIRE IN RETREAT (1989)
The road to Purgatory is paved with good intentions, and Count Mardulak (David Carradine) wouldn't have it any other way. He's seeking atonement for centuries of human carnage, which is why he's instructed Purgatory's vampire residents to slather on SPF 100 sunblock, pursue daytime activities… and drink only synthetic blood. But some vampires don't agree with Mardulak — they want the real thing — and if that means wooden bullets flying in a vampire civil war, so be it! This wild horror-comedy also stars Bruce Campbell (The Evil Dead franchise), M. Emmet Walsh (Blade Runner), and John Ireland (Spartacus).
Blu-ray and DVD Special Features:
Audio Commentary with Director Anthony Hickox and Director of Photography Levie Isaacks
Isolated Score Selections and Audio Interviews with Music Historian Randall Larson and Producer Jefferson Richard
Wild Weird West – An Interview with Director Anthony Hickox
Bloodsuckers from Purgatory - An Interview with Special Make-up Effects Creator Tony Gardner
Memories of Moab – An Interview with Actor Bruce Campbell
A Vampire Reformed – An Interview with Actor David Carradine
A True Character – An Interview with Actor M. Emmet Walsh
Theatrical Trailer
Still Gallery
a Rafflecopter giveaway
Dementia 13, The Wraith, and Sundown: The Vampire in Retreat are released as part of the Vestron Collector's Series on November 15th. You can pre-order from Amazon now.