Features | Written by STARBURST 21/09/2018
[ENDED] WIN SOLO: A STAR WARS STORY on Blu-ray
Ready to go back to a galaxy far, far away? Solo: A Star Wars Story hits homes on September 24th and we have three copies of the Blu-ray to give away.
Lucasfilm's Solo: A Star Wars Story, directed by Academy Award®–winning filmmaker Ron Howard -the creator of unforgettable films, such as A Beautiful Mind, Apollo 13, Parenthood and Splash - took moviegoers on this summer's wildest ride with the most beloved scoundrel in the galaxy, Han Solo (Alden Ehrenreich). The action-packed journey explores Han's first encounters with future friend and co-pilot Chewbacca (Joonas Suotamo) and notorious gambler Lando Calrissian (Donald Glover), as well as his adventure-filled past alongside fellow street thief Qi'ra (Emilia Clarke) and career criminal Beckett (Woody Harrelson). Watch instantly on Download and keep on digital from September 17th as the Millennium Falcon sets course digitally in HD and 4K Ultra HD™ and on Movies Anywhere, and bring the adventure home on Blu-ray 4K Ultra HD™, 3D, Blu-ray™, DVD, and On-Demand on September 24th.
To be in with a chance of winning, just answer the following question:
When Han first meets Chewbacca when he's thrown in the 'pit', what do the guards call the Wookiee
A) A walking carpet
B) The beast
C) Chewie
Send your answer - marked SOLO - to comp@starburstmagazine.com to arrive before 23:59 on September 30th.
Solo: A Star Wars Story bonus content takes fans behind the scenes to experience compelling discussions with the star-studded cast and screenwriters Jonathan Kasdan and Lawrence Kasdan (writer of Star Wars: The Empire Strikes Back and Star Wars: Return of the Jedi); a revealing feature on Chewie and his enduring friendship with Han; a close-up look at the original version of the Millennium Falcon and Han's first time piloting the infamous ship; the creation of the film's otherworldly settings and pulse-pounding action sequences; and eight never-before-seen deleted and extended scenes.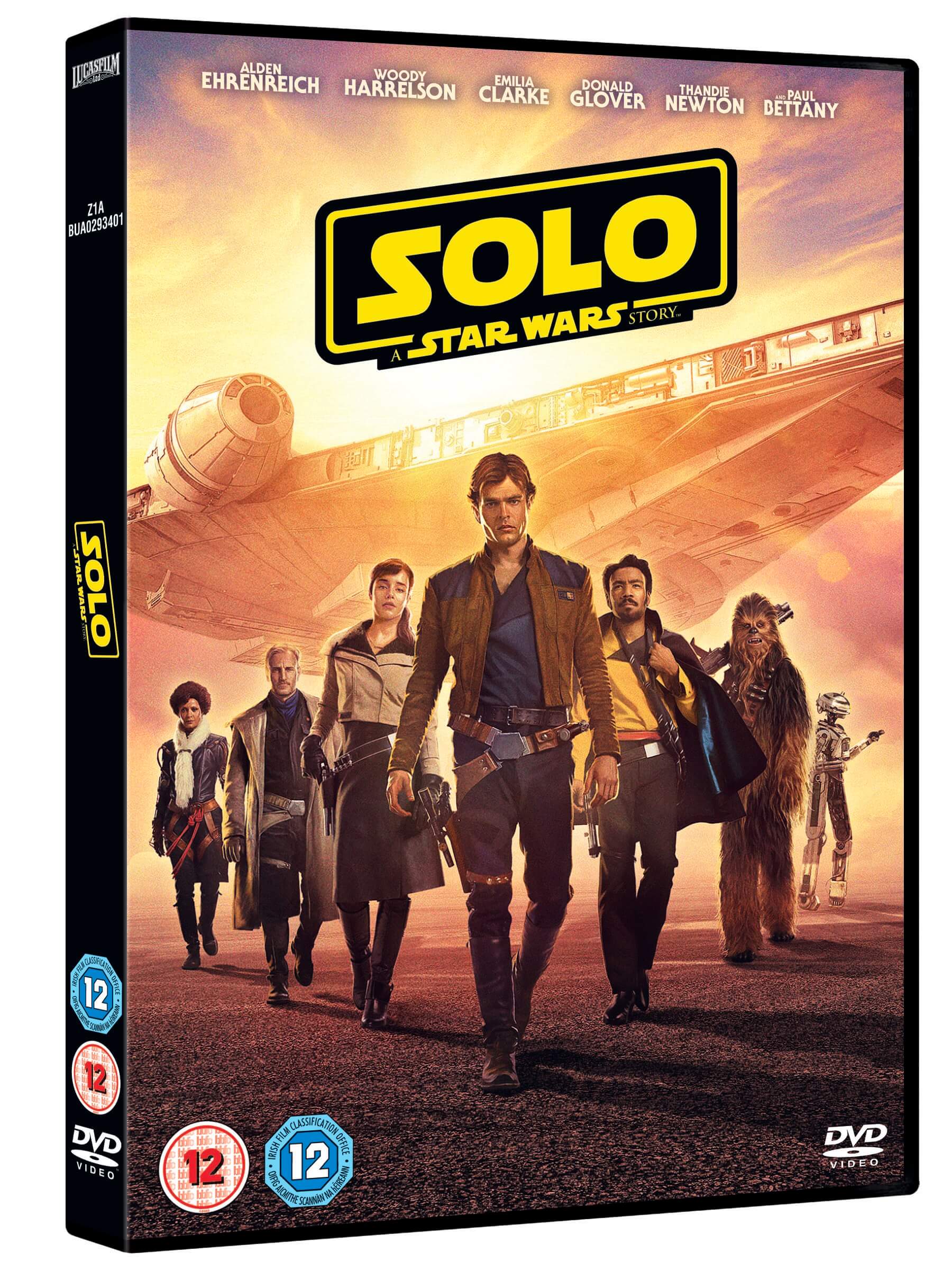 DIGITAL DOWNLOAD AND BLU-RAY BONUS MATERIAL (may vary by retailer): 
Solo: The Director & Cast Roundtable - Sit down with director Ron Howard and the stars for an intimate and entertaining discussion of the film's making.
Team Chewie - See what it takes to bring your favorite Wookiee to life in this lighthearted look behind the scenes.
Kasdan on Kasdan - Iconic Star Wars screenwriter Lawrence Kasdan and son Jonathan share what it was like to write the movie's script together.
Remaking the Millennium Falcon - Track the transformation of the most famous ship in the galaxy, from Lando's swank and impeccable pride and joy to Han's stripped-down hot-rod freighter with 'special modifications'.
Escape from Corellia - Get behind the wheel for the making of this high-octane chase through the streets of Corellia.
The Train Heist - Explore the challenges and thrills of creating this action-packed sequence, including its remote location and spectacular effects.
Becoming a Droid: L3-37 - Meet the newest droid - and the talented actor who helps bring her to life.
Scoundrels, Droids, Creatures and Cards: Welcome to Fort Ypso - Take an in-depth tour of the rough-and-tumble bar where strangers mix and gamblers risk all in the legendary card game, Sabaac.
Into the Maelstrom: The Kessel Run - Join Han and Chewie at the controls of the Millennium Falcon to see how this legendary moment in Star Wars history unfolds
Deleted Scenes - 
Proxima's Den
Corellian Foot Chase
Han Solo: Imperial Cadet
The Battle of Mimban: Extended
Han Versus Chewie: Extended
Snowball Fight!
Meet Dryden: Extended
Coaxium Double-Cross
Lucasfilm 

and STARBURST do not accept any responsibility for late or lost entries due to the Internet or email problems. Proof of sending is not proof of receipt. Entrants must supply full details as required on the competition page, and comply with all rules to be eligible for the prizes. No responsibility is accepted for ineligible entries or entries made fraudulently. Unless otherwise stated, the Competition is not open to employees of: (a) the Company; and (b) any third party appointed by the Company to organise and/or manage the Competition; and (c) the Competition sponsor(s). This competition is a game promoted STARBURST. STARBURST's decision is final in every situation and no correspondence will be entered into. STARBURST reserves the right to cancel the competition at any stage, if deemed necessary in its opinion, and if circumstances arise outside of its control. Entrants must be UK residents and 18 or over. Entrants will be deemed to have accepted these rules and to agree to be bound by them when entering this competition. The winners will be drawn at random from all the correct entries, and only they will be contacted personally. Prize must be taken as stated and cannot be deferred. There will be no cash alternatives. STARBURST routinely adds the email addresses of competition entrants to the regular newsletter, in order to keep entrants informed of upcoming competition opportunities. Details of how to unsubscribe are contained within each newsletter. All information held by STARBURST will not be disclosed to any third parties.