Features | Written by Martin Unsworth 05/10/2022
Stuart Brennan – Steve Johnson – Chris Watt | STALKER
Tense two-hander Stalker hits DVD on October 10th. Set almost entirely in a stuck lift, an actor (Outlander's Sophie Skelton) is creeped out by a stranger who knows a little too much about her. STARBURST spent some time with director Steve Johnson, writer Chris Watt, and actor/producer Stuart Brennan to find out more about the shocking thriller, dealing with personal problems on set, MeToo, and much more…
STARBURST: What was it about the film that attracted you guys to it? And Chris, what influenced you to write it?
Chris Watt: It came from an experience I had five or six years ago when I became trapped in an elevator in a shopping centre in Manchester with two or three other people between the second and third floors. Even though it only lasted for a few minutes, it's one of those claustrophobic experiences you never forget. And as a writer, I just thought I'll store that in the back of my brain for another time - that's a good idea for the story. I started writing it when we were in the first lockdown, and knowing that the way films were going to be made from then on was going to have to change fundamentally in terms of less crew, less cast, less sets, I thought I, can marry together this very minimal idea, and yet to try to do something complicated within that and create this 90-minute thriller/horror that could also work as a character piece.
Stuart Brennan: One of the first things we locked on to as a company was looking at a two-hander in one location. It just finished a movie from King Slayer where we had three or 400 people and it was in the middle of COVID we were filming. And that experience was extreme. We only had one case on the entire shoot and that was isolated and taken care of. Even so, you're risking people's lives. That's how we felt at that time. When Chris mentioned he'd written a horror film that was two characters in one location, it certainly pricked my ears up. Then looking at it from a producer standpoint, you go "Well, where's the challenge of making this film? What makes this film interesting?" For me, I guess I wanted to challenge myself as an actor, essentially doing a stage play on film. And then I wanted to see as a producer, if we could make this genuinely an engaging, if not thrilling, story for 90 minutes. And from there, we start looking at different directors and started going out to people and Steve was one of the people who immediately connected with the material.
Steve Johnson: It was a good story. It was two people in an elevator for 90 minutes, and they don't go anywhere. You know, you've got these other films that are meant to be one-location films, but they always seem to leave, but here, there is nowhere to go. I always knew it was going to be a character piece between these two. For me, it was a no-brainer. I got a chance to work with Stuart. And then obviously, when we started talking about who would we bring on? Who's going to challenge Stuart as an actor? We were looking at all these actors and we found Sophie Skelton. I think they really sparred with each other in a great way, they just challenged each other consistently.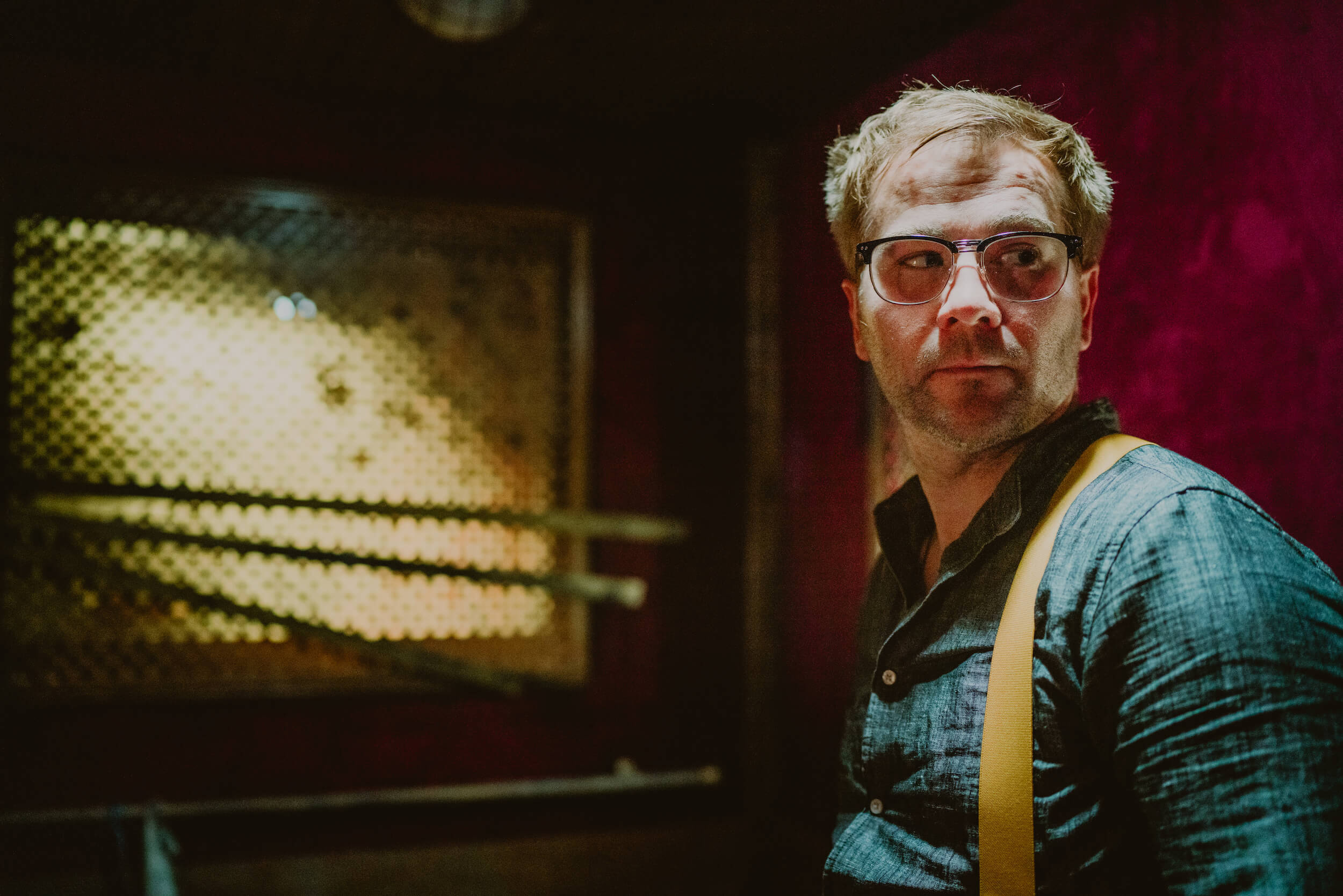 What's it like basically working with one person?
SB: It was amazing. It can either be fantastic or it will be a horror story in and of itself. I'm happy to echo what Steve said that it was it was just a beautiful partnership really. She has a very professional approach to work as do I. We both realised once we did our first day on the set that we were going to be doing very long tapes. We needed to work together. We had an unspoken pact that we were going to rehearse every minute that we had and because we were filming and staying in the same hotel, that made it quite easy. So after dinner, would go and rehearse. In the morning, we'd get up at four or five am and then sit and rehearse until everyone else came down for breakfast. Every time we weren't on the set filming, we were back in the dressing room rehearsing. And that partnership built a trust between us, which then meant that when we were doing anything that was emotional or pushing a boundary, we were able to analyse that together and have both compliments for each other, which are quite hard with two relatively unlikeable characters - "Oh, that was a nice horrible thing you said there!" And then we worked very closely with Gareth Wiley, who was our exec producer. He's obviously worked with some of the world's biggest stars like Ewan McGregor, Colin Farrell, and Scarlett Johansson. He was able to give us coaching throughout the whole period, while Steve focused on the crew. He was able to be a bouncing ball for us with ideas and test some of our opinions and theories on the characters to really make them fully-fledged, rounded, organic characters. All of that said, the writing was so good to start with that we had a wonderful foundation to work from.
Have you done any stage that's similar or anything like this before?
SB: Yeah I have, I was the lead for the international tour of Ghost Stories, which did Australia and I did an international tour of a play of Houdini, so I've been on stage quite a lot throughout my career. That's kind of where I started. So it was, in all honesty, like going back to those roots. And that was really fun.
Chris, is it difficult writing just for two people?
CW: You approach it just like a conversation, you have to also at the same time think about what is that conversation telling us. There's always a challenge, I think, particularly something like this, in how do you move a story forward when the characters aren't even moving at all. It becomes about breaking down each scene into its own mini movie; it's got its own structure, its own arc to it. It's quite carefully constructed, we had a lot of conversations in order to make every line matter. And I don't think there's anything arbitrary within the screenwriting. Everything's in there for a reason and everything is moving something forward. I think it's the kind of film that's going to reward a repeat viewing, so you can start spotting where the seeds were planted.
Did you film it chronologically?
SJ: Yes, we did. And I think that was actually one of the biggest things that helped. Because for each day, as Stuart said, you'd get up early, run lines, and they would do that in the evening, but they always knew where they were in the story. They knew where they were the day before they knew where they were going. So emotionally, they could take that character along the right path, as opposed to doing a scene here, a scene there. Sometimes you can get lost. it was really, really helpful, so by the time that emotion was building towards the final act, then these guys absolutely knew where they were emotionally. That just shows how much of a wonderful performance they gave.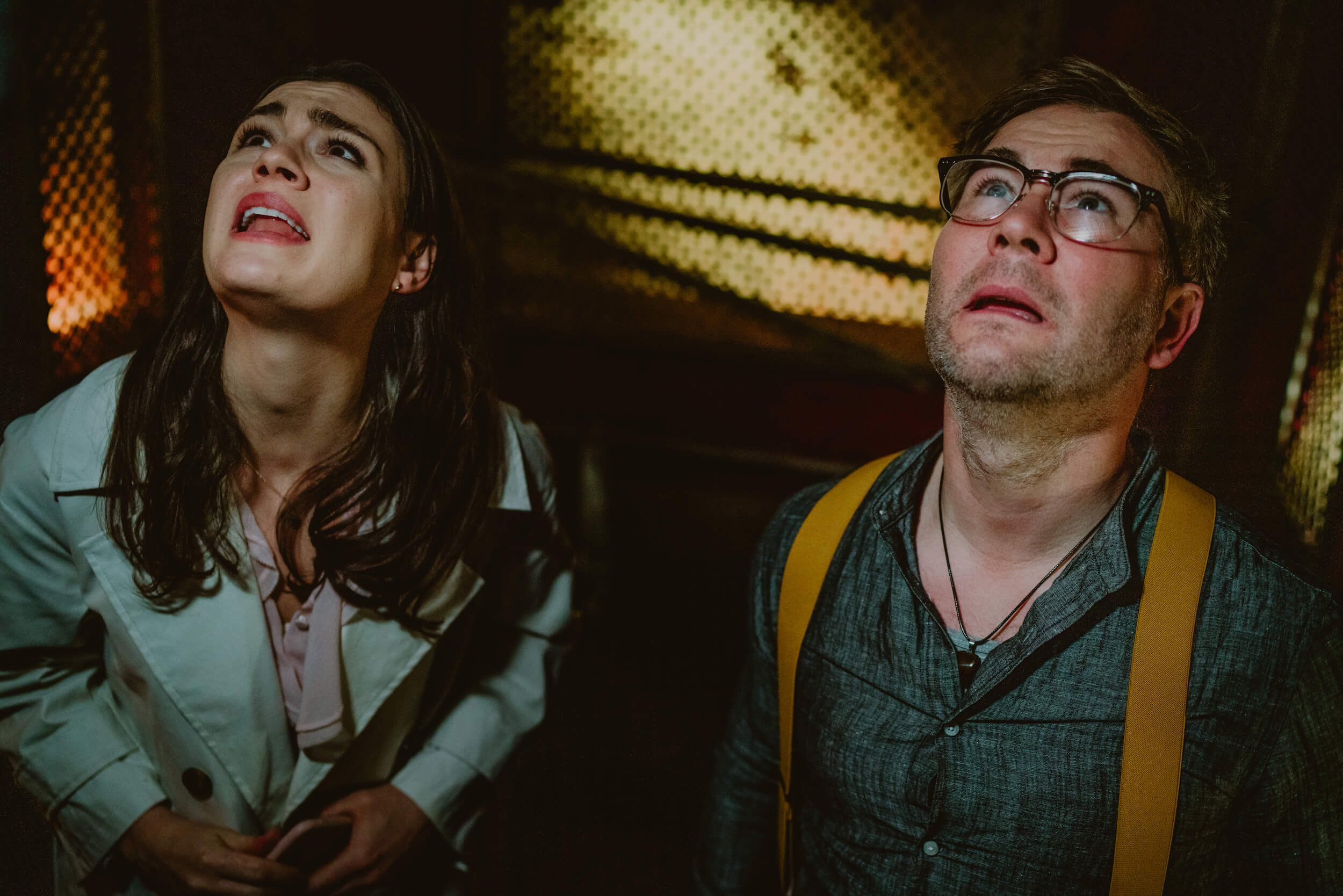 Were there any influences that you went to with setting up the script or from a directing point of view?
CW: In terms of the screenplay, I've always loved films that are using the space that they have. I love the way filmmakers like Danny Boyle uses spaces in something like Shallow Grave or 127 Hours, where he's able to take something and give it energy, even though you're particularly going anywhere. We also looked to Gone Girl, Panic Room, and things that have a strong female interest as well. And again, things that sort of deal with space. Steve and I had a lot of conversations about that and also the idea of taking a concept and then making something complicated out of it.
SJ: I think those conversations then stemmed into preproduction and design. We spent a fair amount of time looking at the character of the elevator. Rather than say we're going to make it feel like this film, we wanted to make sure it feels like our film. I think that's informed by the design work that the guys did and the art department that made the lift a character itself. I wouldn't say from a directing standpoint that we looked at some films and said we want to emulate that, we wanted to have it is be the world of Stalker and the elevator is the third character.
What was the worst part of filming?
SB: The blood! Because whenever you add blood into a set, or onto characters, continuity suddenly becomes a huge issue. You have to nail it really in one or two takes because the reset time starts getting out of control. And on this, because it's in that one location, blood is going to get everywhere. It's not just going to get on you. It's going to get on the walls, it's going to get on the floor, it's going to get on the props, and then it's going to start getting and the equipment because it's right in your face. And so the moment we added blood, was the moment that the stakes all just got raised, the tension got raised, the time got shorter. But it highlighted the quality of teamwork going on with the crew and the cast and with everyone involved because everyone pulled together and suddenly we were moving like the clappers getting through scenes very quickly and efficiently.
But it's a really good question that you're asking here. I'm thinking about it and thinking that was the hardest thing, and there are often things that people don't know that happened on a film. Particularly for me, one thing that maybe only two people know was that in the middle of filming, my family died. And I'm a huge dog lover, so it's like losing a family member. I remember I got the call literally as I was about to leave my room to come down to start filming and obviously that's a hell of a phone call to get hit by. You can't hold back that emotion. I was instantly in floods of tears, quickly had another shower, took a deep breath and went down. That day, I would go in and do a scene. I'd then walk out outside, and bawl my eyes out for a couple of minutes until I could hear they were looking for me. Suck it up. Go back on and start acting. Steve and the crew didn't know, because there's nothing you can say it was going to make it better and you don't really want people's platitudes. You just want to get on with it and get through it. And so for me, that was probably the hardest day of filming. The most difficult thing that went wrong. When real life gets involved and you still have to deliver the professionalism that you hold yourself accountable to and make sure your project doesn't suffer.
SJ: You know, that does show your professionalism! I didn't know that and I couldn't even tell you which day that would be - I take my hat off to you, sir!
SB: Only really Gareth [Wiley], the executive producer, knew as we were very close. And then the sound guy knew because I'm miked up. I remember walking in the first time after taking my little break and just seeing him look at me and he just gave me a friendly nod, like 'you obviously don't talk about it, that's cool, I've got your back'. He didn't tell a soul, I've got a lot of respect for that.
How did Bret Hart get involved?
SB: Brett and I have been friends for a number of years. Brett always wants to be a filmmaker, he's a huge fan of movies, and he has appeared in a couple of films here and there. And when we were looking at a cameo, we knew we needed somebody with a bit of a name. Somebody that would bring an audience, maybe outside of the genre. We were throwing names around for a long period of time. And then we got into filming, and we knew that we could maybe film this another time. Brett was in the country around then, but we couldn't make it work with the scheduling. Then we thought, let's shoot it on green screen. So we got a crew together in Calgary and shot it as a VFX sequence. And he was amazing. He is such a professional. It goes without saying because they're wrestlers they're performers, but film acting is its own skill in and of itself. And honestly, he's one of the best I've worked with. Dare I say, the best there is, the best there was, the best there ever will be. [Laughs]
What do you think the film says about the film industry post-MeToo?
SB: I think certainly, so many actors, actresses, myself included, have been in compromised situations with professionals where we've been abused either emotionally or in some horrible instances physically as well. I think the MeToo movement was so amazing for shining a spotlight on that. Saying 'We all know what's going on and what's happening, it's kind of a running joke. Let's hold people accountable please; enough is enough'. That movement was paramount in making the work environment, for actors and crew, better. And I love the fact that that is tied into the film in its own way, in actually asking what is appropriate behaviour socially, in the work environment, and also on film sets. And has it gone? Absolutely not. It's still there, people are still abusing their power and trust and I for one am very proud that we're shining a light on that and saying let's stay on top of this guys, let's keep making the change happen.
Was that in your writing?
CW: Yeah. It's one of the things I'm proud to solve in terms of writing that I want to I didn't want this to be an exploitation thriller or horror. I didn't want it to feel manipulative. I wanted it to be a film about something. I wanted to contribute to the conversation. A film's not going to change the world, but contributing to the conversation is incredibly important. I like the idea of strong female characters. I liked the idea of exploring the darker side of nature in both sides. And I liked the moral compass of the story as well because there's a very thin line between good and evil within this story. The fact that the story asks you to confront subjectively yourself, what you consider to be proper punishment or do the ends justify the means I think that's one of the more interesting things about it. I'm just very happy that it comes across that way.
SJ: It's a very powerful role for someone like Sophie, it's not pure exploitation but people will judge a book by its cover. I've already seen on social media: 'man stalking woman: it's not for me'. But give it chance because it's maybe not what you think.
Stalker is released on DVD and digital on October 10th. You can read our review here.