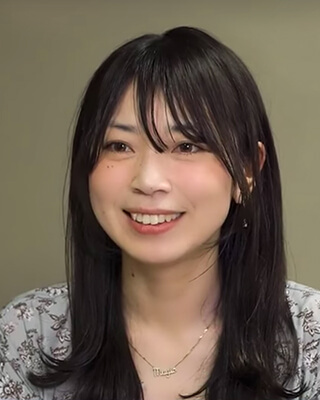 To celebrate the World Premiere of the gorgeous short anime film Garden of Remembrance, we were honoured and delighted to be invited to speak in person with Director Naoko Yamada (K-On!, A Silent Voice) about her latest film, her career and her work with studio Science SARU.
Congratulations on the film, it truly is a beautiful piece of art. You've had quite the career so far, and we would say that you are one of the most exciting voices in anime today
Thank you so much! That means the world to me.
Garden of Remembrance is a short story centering around loss and moving on with life but remembering the good times. We really connected with it on multiple levels. How did the story and project come about?
There isn't anything in life that you can say will definitely happen 100% but the ending of one's life is something we all anticipate – not willingly of course but is something that everyone will experience. So, I thought about how I perceive that event, and how that affects everyone around you. That's where the idea for this came from.
So, you've been working with Science SARU for a while now and this is your first short film with them after the series The Heike Story. We love Science SARU here at STARBURST as they are so unique and ground-breaking in so many ways. How has it been working with this amazing team?
It was lovely to work with them – every single person in the team. They are so positive about creating and very passionate about animation, so I was very touched by that, and it means a lot to me. When producer Eunyoung Choi approached me for this short story I really jumped at the opportunity because I thought that they would allow me the resources to push myself as a creator. And there are so many talented artists working at the studio and I loved every single minute that I worked on this with them.
Why do you think that animation and anime are the perfect form of filmmaking to tell these very personal and deep, human stories?
It's difficult to say as I'm a director more than a writer so my language is primarily animation. But I do agree with you that anime is the perfect tool to tell these stories and bring out those emotions that mean so much to the audience and connect with them spiritually.
We'd like to ask you a little bit about your history in this industry. We love your previous works including A Silent Voice. What or who was it that truly inspired you to want to work in animation as a creator and filmmaker and embark on this amazing journey?
Originally, at the very beginning of my career, it didn't have to be animation that I worked in – but I've always been interested in creating visual art and storytelling with moving images. I was at an art college so there was a part of me that wanted to draw and paint as well. It wasn't clear at that point what path I wanted to go down. But then I saw the work of Jan Švankmajer, the Czech animator, and was truly touched by it as it was a breathtaking combination of live-action and animation – so it really showed me what could be possible with this art form.
Garden of Remembrance has a unique trait in that there is no dialogue in the film – just powerful visuals and gorgeous music. How did the creative process differ from your previous work?
There wasn't as much of a difference compared to what I'd done before. When it comes to creating animation there are different layers to the process – the animation itself, adding dialogue, and then the layer of music. By not having the dialogue, you are taking out one layer so I guess you would have to add a bit more in the other layers to make up for it and help portray what the dialogue usually gives the audience. I was thinking about trying to find the right balance between addition and subtraction in the layering process.
Like most industries, Anime is still very Male dominated – but now with talents such as yourself and Eunyoung-san leading Science SARU and Anime into a Golden Age, how important is it to you that this art form, which is loved by such a diverse audience, now has a much larger diverse cast of talent creating for it, including more female filmmakers and animators?
I agree that the industry is becoming a lot more diverse and borderless. For example, Science SARU is a very international studio – animators themselves are not exclusively Japanese, there are so many talented people working from all over the world, from all walks of life, gender, and sexuality. The path of becoming an animator has changed as well – traditionally you would get a full-time job at a studio to train to become an animator or have studied to become one. Now web animators are becoming more prominent – they create and publish their own work online and then get picked up by big studios. This allows both paths to interlink allowing some truly great voices to work together from all backgrounds.
A lot of animators and filmmakers have a style or trait – recently we spoke to Masaaki Yuasa-san who as you can agree has such a distinct style yet also manages to make each of his projects feel unique. Would you agree that you are also beginning to develop a style and was that always the plan from the beginning when you became a director or has it naturally happened over time?
I think the answer is "yes" to both of those – I definitely wanted to develop a style when I became a director, but at the same time it was something that happened naturally, and I wasn't pushing for that from day one.
How has London and the UK treated you on your visit here?
I've always loved London as a city as I have been a fan of lots of music that originated here – including Electronic, New Wave and Punk. I have loved being here and it is great to see this diverse place, it definitely inspires you!
It has been an honour speaking with you today Yamada-san, we wish you all the best with the Premiere of Garden of Remembrance and we hope audiences love it as much as we did. We can't wait to see what you do next.
Thank you so much, I really appreciate the kind words and I hope the audience enjoys the film too!
Garden of Remembrance premiered at the 2022 Scotland Loves Anime festival in front of a sold-out crowd and will be available to watch later this year. Read our glowing review of the film here.