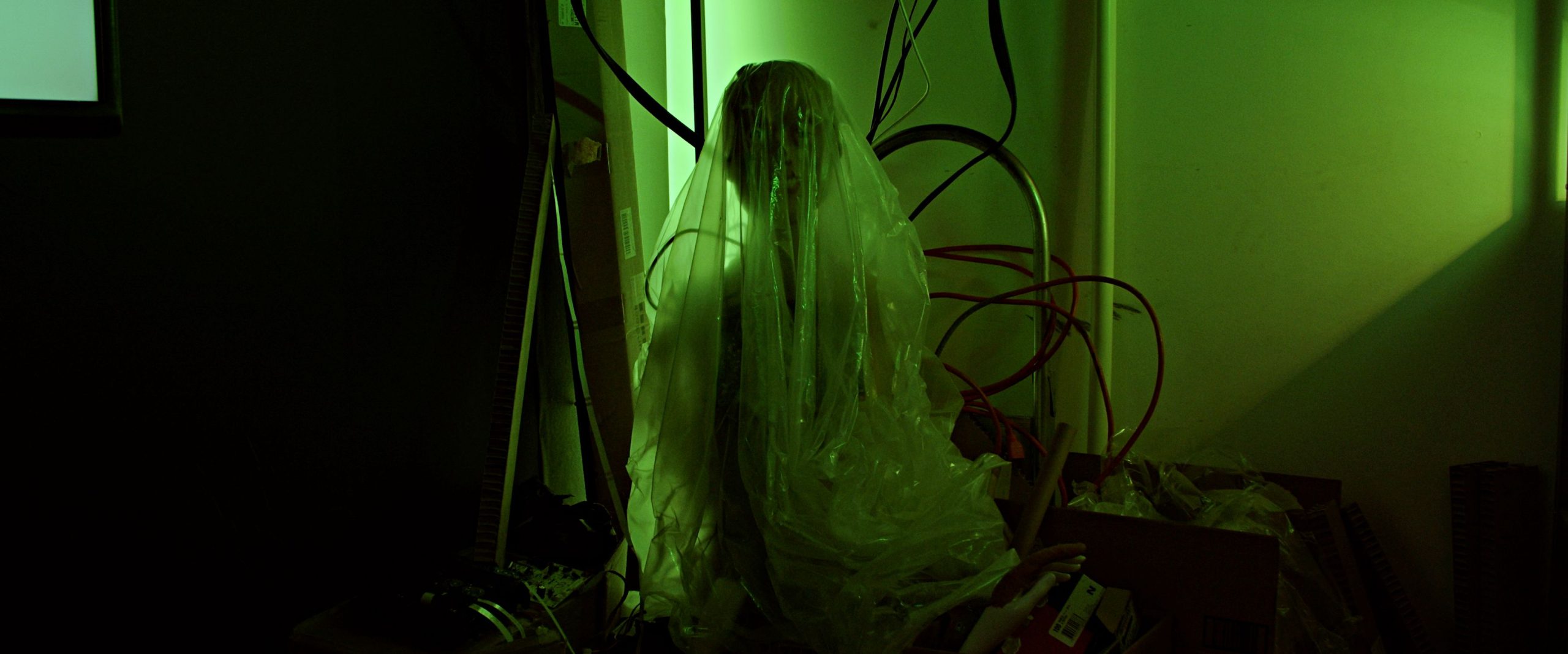 In The Artifice Girl, a team of special agents discovers a revolutionary new computer program to bait and trap online predators. After teaming up with the program's troubled developer, they soon find that the AI is rapidly advancing beyond its original purpose. In his feature film debut, Franklin Ritch writes, directs, and stars in this indie sci-fi which muses on the ethical considerations of artificial intelligence and theorises on the technology's future.
Nominated for the Adam Yauch Hörnblowér Award at SXSW and winner of the Best International Feature at the 2022 Fantasia Film Festival, The Artifice Girl comes to cinemas and digital from April 27th. Ahead of the film's release, STARBURST spoke with Ritch about his work developing this intense, nuanced, and tightly written gem and asking the big questions.  
What first inspired this script?
Franklin Ritch: I read a lot of articles over the years about how technology and AI were being used to catch criminals and hunt down predators. And I thought that was just a fascinating, awesome way to use technology for good, and I wondered what kinds of conversations were happening with the developers behind closed doors. And I kind of shelved the idea for a minute because it was early during COVID and it seemed like such a massive idea… but then, I decided to re-approach it and think, okay, how can I tell the story with one location and just a few actors?
At one point, there was just this moment of epiphany to make a thematic connection between the budding adolescence of AI and childhood trauma. And once that line was drawn, in my mind, I knew that was a story I had to tell. The writing process just sort of flowed from there.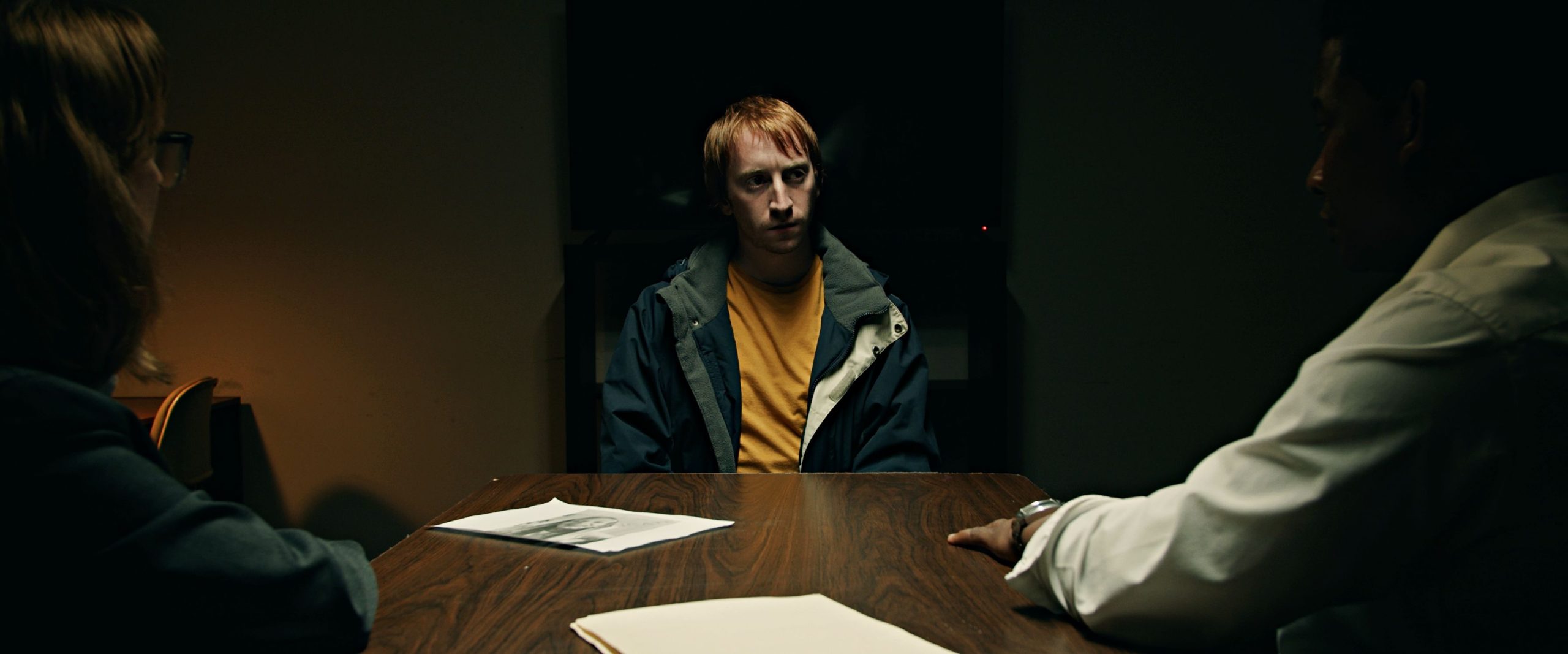 You really go from a tongue-in-cheek discussion of VFX in Star Wars to AI outliving humanity in just 90 minutes! The Artifice Girl tackles so many different themes, from intergenerational trauma and sentience to the ethics of AI and the future of humankind. How did you ensure the story kept its through-line and didn't veer off on a tangent?
Franklin Ritch: Yeah, I wasn't excited by the idea of a robot or the sci-fi elements, I was more interested and excited by the ethics and the philosophy. And so that ended up being quite beneficial to the film's budget because instead of having, say, an action scene where Cherry's in a flying car doing backflips, it was more about exploring the ideas and inciting conversations.
So, when writing the opening interrogation scene, which feels more like a drama procedural sort of scene, I knew that I also wanted to explore what happens, say, fifty years later. I want to do both. I don't have the budget for a three-season series, so it was about finding the key moments and focusing on a real-time scene in those key moments. That happened very early in the conceptualisation process, which was very helpful in structuring the film.
There are a lot of discussions that happen between characters on the ethics and morality of what they're attempting. Did that stem from your research and arguments you'd read, or is a lot of it drawn from your own internal debates on those issues?
Franklin Ritch: I think a little of both. I wanted to make sure that all parties of thought were present in these dialogues, even ones that I disagreed with. For instance, I often disagreed with the character of Gareth, but it's good to have a character like that so that the others challenge him on his views. There's some validity to every view.
In terms of research, definitely, the biggest help for me was talking to professionals in the fields of AI and tech. You know, just now we're having these very timely conversations – AI has progressed so much just in the three years since we started this project. Obviously, this past month there's been a lot of discussion around ChatGPT, but even these conversations they have in the film about, whether it's okay to bring an actor back from the dead with CGI deepfakes? It's a very short road between that and questions like, should robots have rights?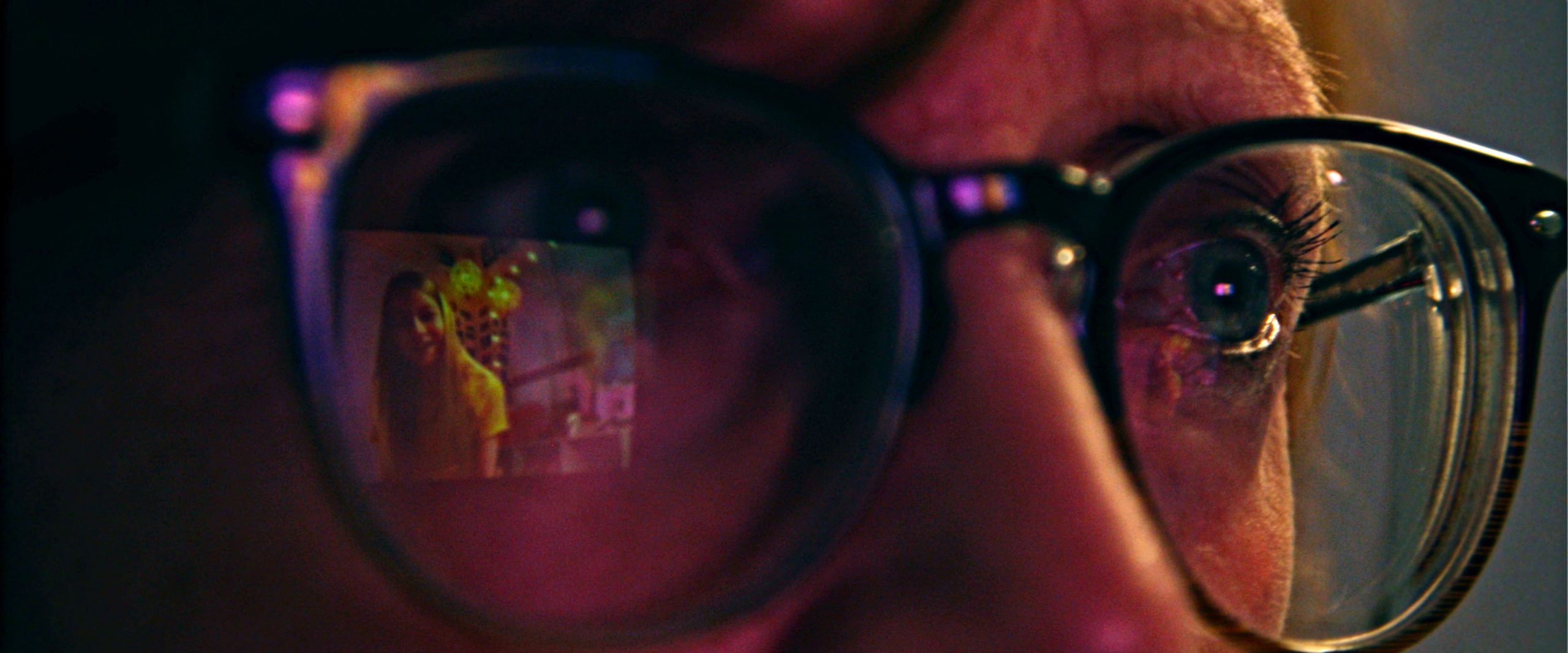 And I'm not here to speculate on what AI will look like in five years. The Artifice Girl is only really tapping into a very specific, singular situation. Cherry is not supposed to represent the future of AI in our world, she's supposed to represent just this one AI in this one particular story, who is meant to replicate human behaviour and in doing so, she becomes a reflection of the best and worst parts of her developer.
You do see that progression as Cherry becomes more "human-like", for lack of a better term, in her interactions with the other characters. What directions did you give Tatum Matthews as to how to blur the line between being human-passing but edging into the uncanny valley?
Franklin Ritch: It was a balancing act for her. You know, if she seems too unnatural, then she wouldn't pass as a child to the predators. But if she's too human, the audience won't buy that she's an AI. We decided very early on not to do a deepfake of her own face or to do a CGI version of her because we wanted the audience to be more in line with Amos' perspective, who sees her and can't tell the difference, even as the other two characters claim they can spot the subtleties.
So with her performance, I can't take any credit. She did so much homework and research on her own. We had conversations and did table work about her different stages of evolution and pinpointed like, this is version one of Cherry, then here's what version two would look like, etc… Ultimately though, it just comes down to the way that she performs it, which is just incredible. I'm still astounded when I watch the film that she has that perfect balance, especially in those moments when she transitions from one version of herself to another. It's striking, how well she pulls it off, but in the latter half we just said, don't even think about being an AI. Almost be confused when every once in a while, you're reminded that you're not human.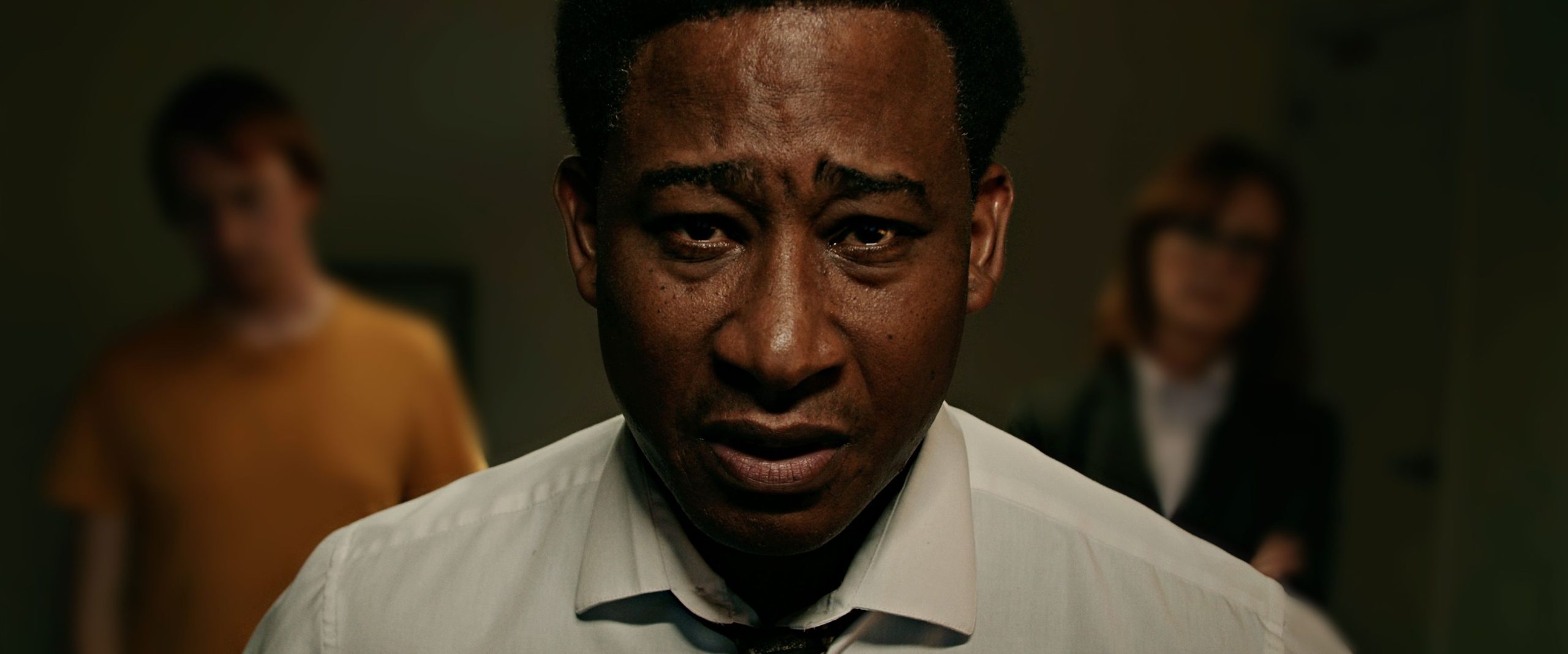 The idea of AI and the line it blurs between artifice and humanity has long been a fascination of the science fiction genre. In your opinion, what does that movie canon get wrong, and what aspects of it did you want to correct or develop in Artifice Girl?
Franklin Ritch: I have a lot of love for stories about AI. Even films like The Terminator, where it seems to argue that AI is inevitably evil, and I disagree with that. I feel like everybody seems to be in camps when it comes to AI: you're either really excited or you're absolutely terrified. But I think that AI is going to be a reflection of the people who make it. If it's built with altruistic intentions, that's good – just be careful that you don't accidentally put your personal trauma into the AI [laughs]. If it's built with selfish, nefarious purposes, it's going to do exactly that. If it's built with Capitalistic intent, that's what it's going to do.
So, I find it helpful if, instead of looking at AI like a bogeyman, we look at it like a child. A child can grow up to be whatever it's raised to be.
It's also interesting that Gareth never wants to acknowledge his trauma, or that he could have passed that trauma onto his AI creation. Can you talk about the emotional core of that relationship and how it drives the story?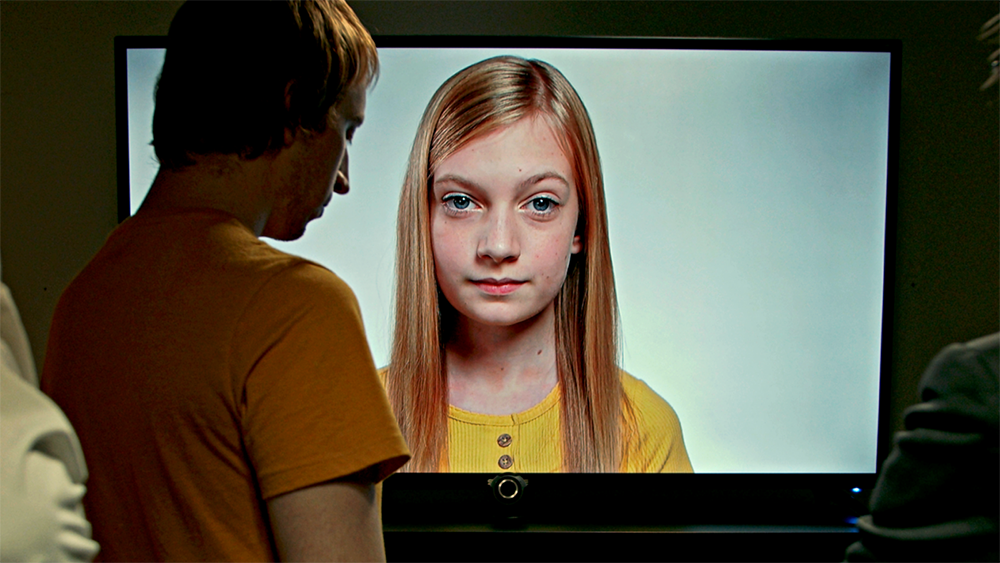 Franklin Ritch: I think Gareth never meant to be an abuser. No parent ever does. It's not that he ever actively did anything harmful, it's more the fact that he passively never opened up about his trauma. He never shared that, just walled himself off and fixated on an intention, rather than trying to build connections in his life. I think that's why what happens, happens, because of his resistance to healing. He sees healing as something that could weaken his intention – as though if he got over what happened to him, then he wouldn't be as focused on hunting down criminals. Yet by doing that, he passes that trauma onto Cherry. I think it goes back to the idea that AI will inevitably inherit the best and worst parts of us.
THE ARTIFICE GIRL releases in cinemas, on demand and digital on April 27th, 2023. Watch the trailer here.