Features | Written by JD Gillam 10/11/2021
Anthony Hickox | SUNDOWN: THE VAMPIRE IN RETREAT
As eighties cult classic Sundown: The Vampire in Retreat is being released on Blu-ray as part of the Vestron Collector's Series, we took the opportunity to chat to director Anthony Hickox about the movie as well as Hellraiser III and the Waxwork films.
 STARBURST: Thanks for taking the time for speaking to us, Anthony.
Anthony Hickox: No problem, I love your magazine. I've been on the cover for Hellraiser 3, me and Terry Farrell. I've got that framed on my wall in L.A.
Was the western genre a favourite of yours growing up as we note that you dedicated the film to your father, the director Douglas Hickox?
Yeah, cos Dad was a huge John Ford fan. He did the only John Wayne movie that was shot out of the US and so I love the genre. I'm more of a Spaghetti Western fan, but when you look back at the Ford westerns, they were amazing. I tried to copy that look with Sundown. I grew up watching Hammer movies from my staircase as my dad would watch them on ITV!
Sundown seems to have a real mashup of genres in there, did you struggle at any point to try and keep a clear vision when making the film?
Well, I co-wrote it and the original script was less western and more hillbillies living in a town and I added the cowboys. I love doing that, I did it in Full Eclipse, which was werewolves and cops. I like to mix up genres. And yes, I wanted to make a western, like with Hellraiser 3, I wanted to make a war movie.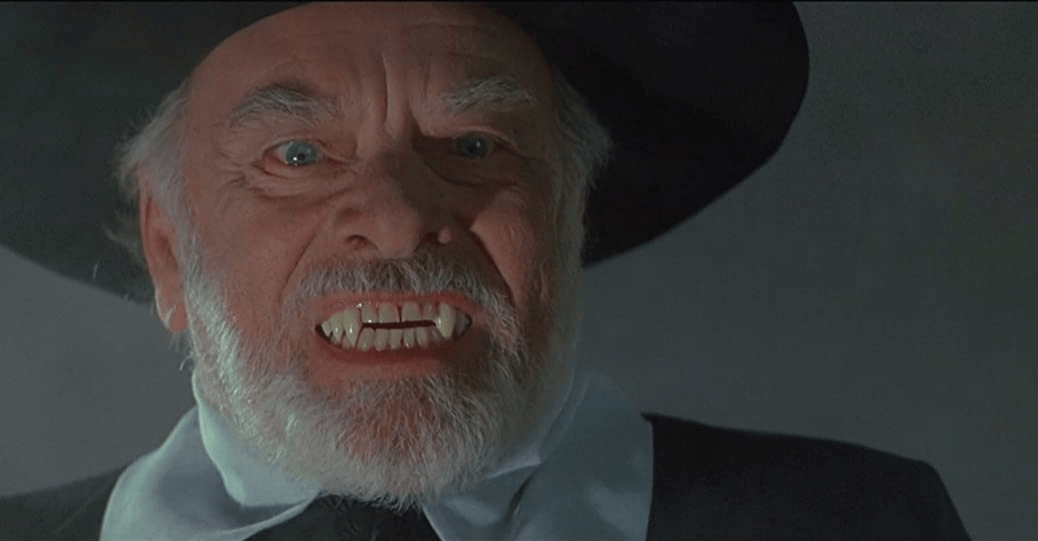 The songs on the soundtrack seem a strange fit for a vampire western. What was the reasoning behind those song choices?
I was heavily involved in those choices. The producer was Dan Ireland, who became a director and sadly died of AIDS, who was obsessed by songs - he put It's My Party at the end of Waxwork, which I thought was great - and was involved and I loved his choices.
To me, Earth Angel was about the female vampire being buried and coming back to life as an Earth Angel. The composer Richard Stone also did the soundtrack for Animaniacs so we had fun with it. He is also the orchestrator for John Williams. It was a bit over the top, but why not?
Wooden bullets, Bruce Campbell as Van Helsing, sunblock that helps vampires survive, so many pieces are crazy, how fun was it to make the film?
It was just a crazy idea and I was amazed they let me make it. Only Dan Ireland would've done it and it's a shame it didn't get released. There's a funny story about that; we went to the premiere of Earth Girls Are Easy and the company [Vestron Video] were in deep shit at that point and he said "Your movie is going to come out as our next release as long as this movie is a hit" And I sat in the premiere going "oh, my god. This movie is never coming out!" Vestron collapsed after Earth Girls and that's why it got a really shit release, even on video. It just got thrown out there by the people that bankrupted the company.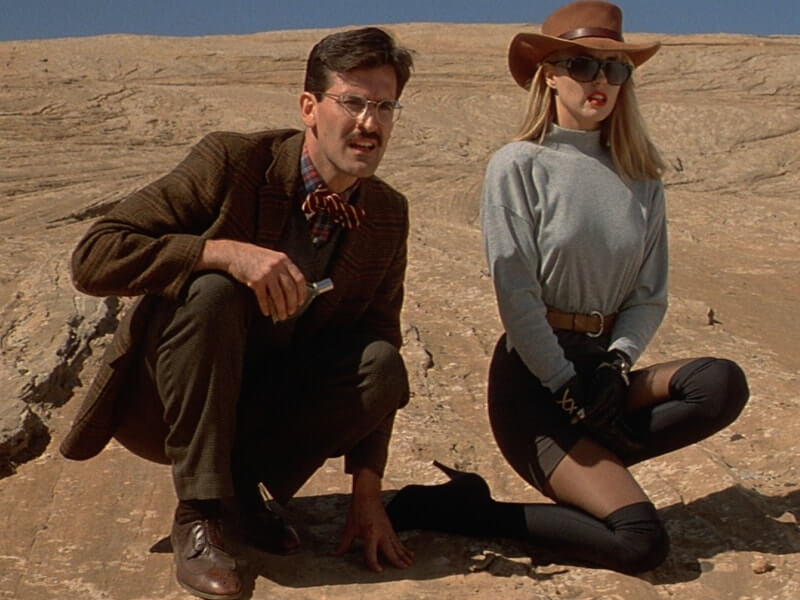 Were you given the green light for Sundown on the back of Waxwork?
Yes. They sent me the original script and I just loved it. It wasn't as funny, but it was a great idea. It was the strength of Waxwork and Dan Ireland that started my career. But going back to the vampire stuff, it was great and I really wanted David Carradine to be suddenly forgiven by God, which, to me, was the clincher of the vampire lore, when Dracula gets forgiven.
What would you have done differently, looking back?
Yes, the production design was just not where I saw it. I don't want to insult him, but it was very funny because one day we turned up and the two exteriors looked like paper-mâché fronts, which they are, and the end had blown them both down. So, yeah, the production design is the only thing I'd like to do again. I would make it much more steampunk, with those Victorian outfits that Carradine wears; that's my only little regret, but I love the movie. We had so much fun making it - having a black Jamaican sheriff was brilliant, it's just very funny to me, with my dumb sense of humour.
Can you give us a behind the scenes tale that you haven't told before?
Yes! We were shooting the bridge scene where both armies come together on the bridge. So we shoot David Carradine's side and then turn to the other side - as it's night, you have to shoot one side and then light the other side - and all the horsemen charge in and I look at one of the extras - they have real guns that they bought from their homes as they were real cowboys, by the way, - and I recognise one of them. It was Carradine. He had gone around, changed into a bad guy costume, got a horse and came charging in. He was literally playing both sides with a bottle of whiskey in his pocket. I said "What the fuck are you doing?" and he said, "I was bored". Absolutely true story and he was such a nice man. I used him in a pilot for Martial Law and in Waxwork II: Lost in Time.
And Bruce Campbell is a great guy. I remember we sat on a rock in Utah at night - it was summer, which was terrible for night-time hours - and it was a full moon and we smoked a joint together. That's my memory of Bruce Campbell and every time I see him he asks where the $5 I owe him is!
Sundown was the second release in a cracking run of form between Waxwork all the way to Full Eclipse. All horror films seem to want to inject a bit of fun into the genre. Why haven't we seen more from you in horror?
The problem was after Full Eclipse, which was an action movie, people started to offer me these $10m action movies, which was a lot of money and I just drifted into that low budget Steven Seagal world, which I wish I hadn't. I'm back in horror now with a movie I just made in China called Infamous 6 and I'm doing a horror film next called Zombie Bride, which is Weekend at Bernie's with a zombie, so I'm getting back into it. The problem was, in those days the agents were saying that doing these action movies was going to make me a lot of money, and it did. They were guiding me away, they didn't want me to be the horror guy. It's the story of my career which, looking back, was a mistake because I could have carried on doing horror because I love the genre as you can see by Waxwork.
Waxwork is a staff favourite at the magazine.
Well, then you're going to be VERY happy. Waxwork 3 is happening! It's not a remake, but thirty years later. It's a very funny script. It took me decades to get the rights. And just for you, you'll love this, Jean-Claude Van Damme is playing Jack the Ripper! It's going to be full of B-movie stars.
We understand you're currently in Bucharest - what are you working on?
I had to find a place to lockdown with COVID, and I married a Romanian. I didn't know it would be for two years! One thing about Bucharest is that it never closed. You had to wear a mask inside but you could always sit outside and eat and it seemed like the best bet as LA was a mess, nothing was open. It's my European base and thank god I can write!
I'm also doing a Federico Fellini bio with Danny Huston playing Fellini, so it's been good for me to have fewer distractions. It's a true story about four years of Fellini's life told by his assistant, it's very interesting. It's called The Beautiful Confusion. We should be shooting it now in Rome, but COVID has stopped that. Unless you're Tim Burton, who's here doing Wednesday, and you can afford to shut down for ten days, it's so difficult to survive on a $10m budget. They've just shot the Django TV series here, so the big stuff is still shooting.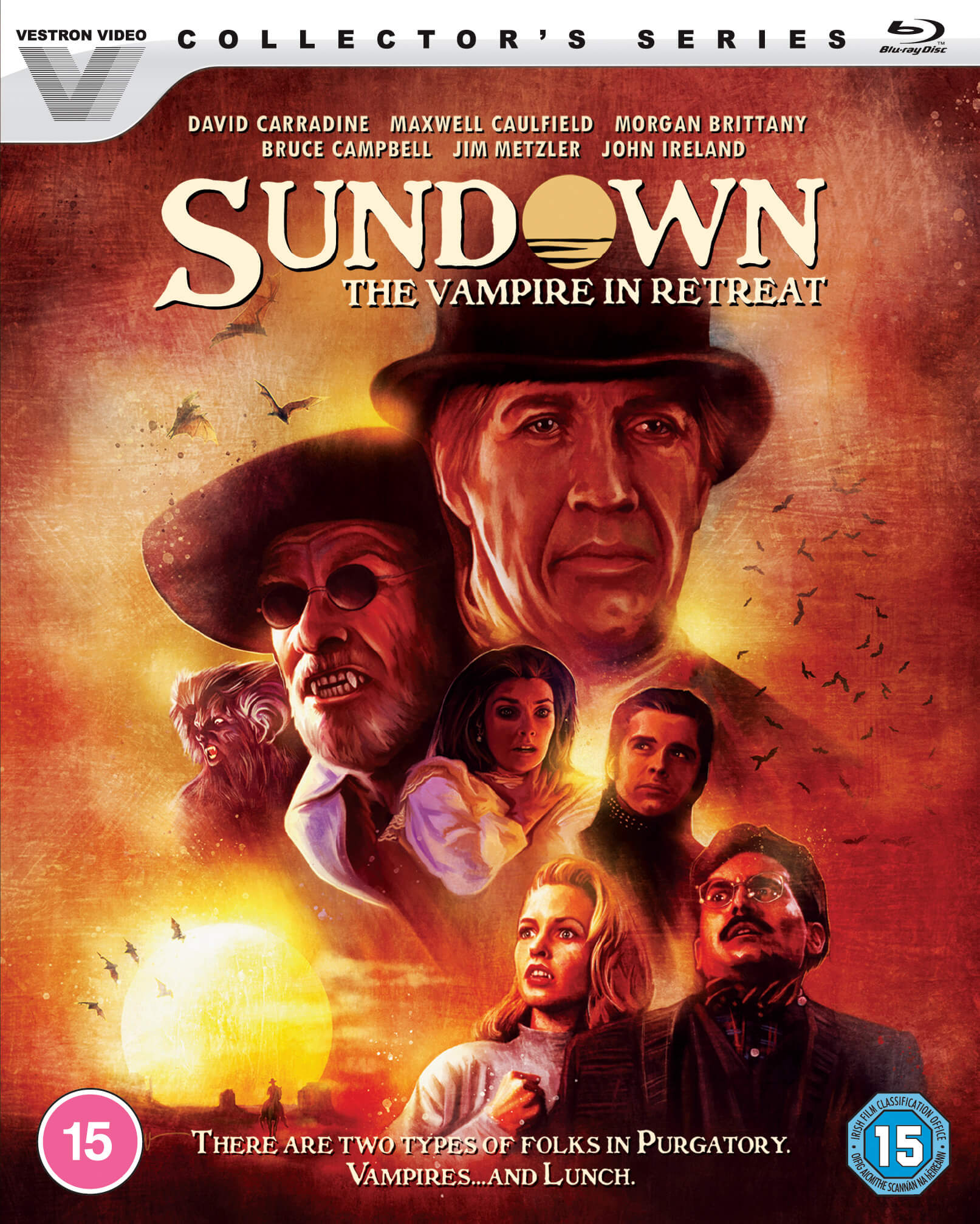 Sundown: The Vampire in Retreat is released on Blu-ray as part of the Vestron Collector's Series on November 15th.