News TV | Written by Andrew Pollard 14/12/2017
Familiar Face Confirmed For ARROW Return
We'd say to consider this a bit of a spoiler, but then The CW themselves have moved to announce the news. Yes, as the title suggests, a familiar old face will be returning to the fold over in the Star City corner of the network's Arrowverse.
If you don't want to know who'll be back in the saddle, we'd advise turning back now. Then again, really, why would you even click on this story if you didn't want to know the juicy details, right?
The big news is that Colton Haynes will be returning to Arrow as Roy Harper, a protégé of Oliver Queen's who went under the moniker of Arsenal. The character was a main player of the fan favourite series up until he exited the series in the third season. That exit was a huge moment for the show, with Roy pretending to be the Arrow and then faking his own death. Since then, he made a one-off return in Season 4 but has not been seen on screen since.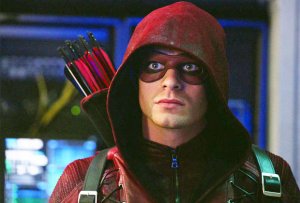 On this return, executive producers Marc Guggenheim and Wendy Mericle enthused, "We're thrilled to announce that Colton Haynes will be reprising his role as Roy Harper for a short arc on Arrow this year. Roy is called back to Star City to help resolve an urgent matter with high stakes for the team. His short visit turns into something surprising when he reunites with Thea and sparks a chance in both of their lives that will have long-lasting consequences."
Arrow's mid-season finale is due to air on Sky1 tonight here in the UK, and the show will return to screens in January. While Roy's return to Star City is more than just a one-off this time, it still doesn't seem that he'll be fully returning to become a regular part of the show once more.