News Gaming | Written by STARBURST 17/07/2019
Take Part in the EVE Aether Wars Phase Two Playtest
Gamers have something amazing to look forward to as Vanguard playtest will showcase new 10,000 player battle in August. London-based tech start-up Hadean and CCP Games, creators of the biggest single-shard spaceship MMO game of all time EVE Online, have revealed the date for their hugely ambitious EVE Aether Wars: Phase Two playtest: Sunday August 18th.
Announced at EVE North, EVE Aether Wars: Phase Two is the next iteration of the partnership between Hadean and CCP Games that resulted in the original EVE Aether Wars, the ground-breaking tech demo that brought together 3,852 players in a single battle that saw the destruction of 88,988 ships live at Game Developers Conference earlier this year.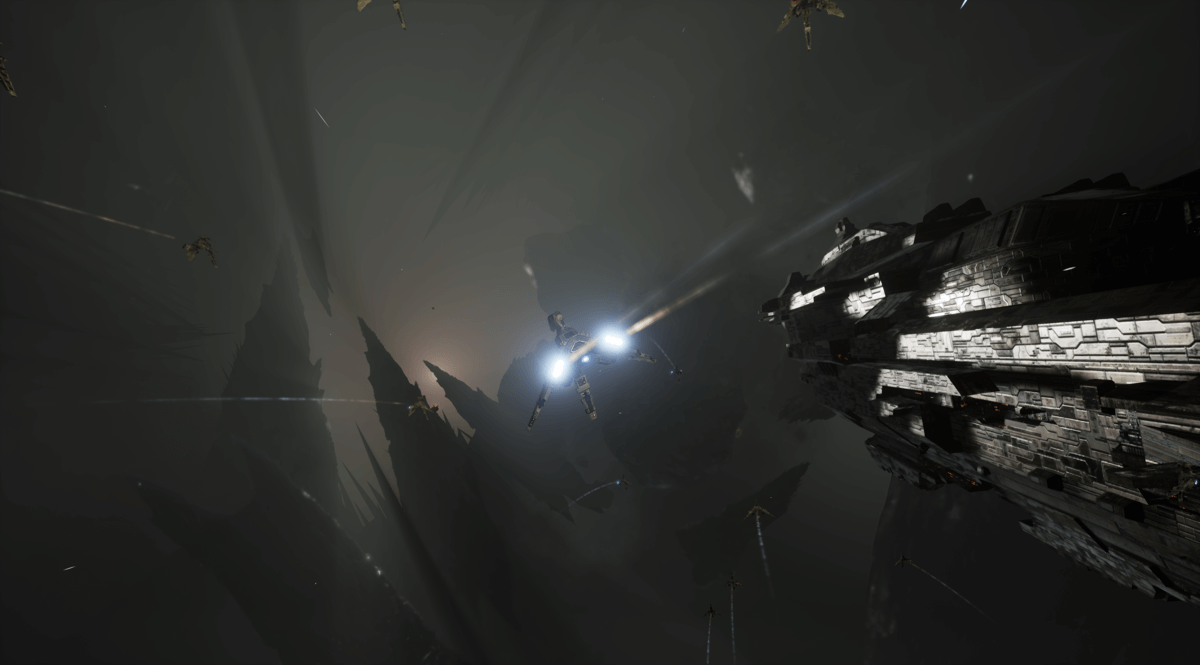 Phase Two is even bigger and better, with Hadean and CCP Games targeting 10,000 players in a single battle while also offering a richer, deeper gameplay experience that will set new standards in large scale multiplayer simulation. EVE Aether Wars: Phase Two is a rare opportunity for players to take part in a large-scale space battle involving thousands of players. Check out this video for a glimpse of what's being worked on:
To take part, PC players can sign up for free by visiting hadean.com/eveaetherwars. The playtest will take place at 13:00 EDT / 17:00 UTC on Sunday August 18th, which has been selected based on feedback from the EVE community following the original EVE: Aether Wars playtest.
As with the original, EVE Aether Wars: Phase Two will be powered by Aether Engine, Hadean's cloud engine for persistent, massively multiplayer games. With Hadean focusing on the engine powering Phase Two, CCP Games is driving development of its gameplay, as part of its ongoing research and development with large-scale multiplayer technology to push the boundaries of what's possible in EVE Online.
EVE Aether Wars proved that the underlying technology works; Phase Two will demonstrate what exciting and compelling gameplay experiences look and feel like when thousands of players are battling each other at the same time.
"This is the start of something special," said Craig Beddis, CEO of Hadean. "We wanted to show the world that our Aether Engine technology can perform flawlessly under unprecedented strain. We've done that. Now we want to show the world unique and exciting gameplay experiences that can only be delivered by our technology. It's not just gamers who will be thrilled by EVE Aether Wars: Phase Two but the games industry as well. We can't wait for everyone to join us in this ambitious project."
"We are keen to build on the success of our joint efforts with Hadean on EVE Aether Wars and push our prototype even further," said Hilmar V. Pétursson, CEO of CCP Games. "By using this technology to test the limits of the virtual worlds we can build, we hope to open up new possibilities for developers, the industry and ultimately the players themselves. We're eager to explore the boundaries of what can be achieved in large-scale multiplayer gaming, which may even lead to the creation of spectacular new genres."
Hadean will be attending Gamescom in Business Hall 2.2 in booth B-057, with appointments available for delegates who want to learn more about the Aether Engine tech powering EVE Aether Wars: Phase Two. For further details on Hadean and the Aether Engine, visit hadean.com
For more information about CCP Games and the EVE Universe, visit ccpgames.com/products.