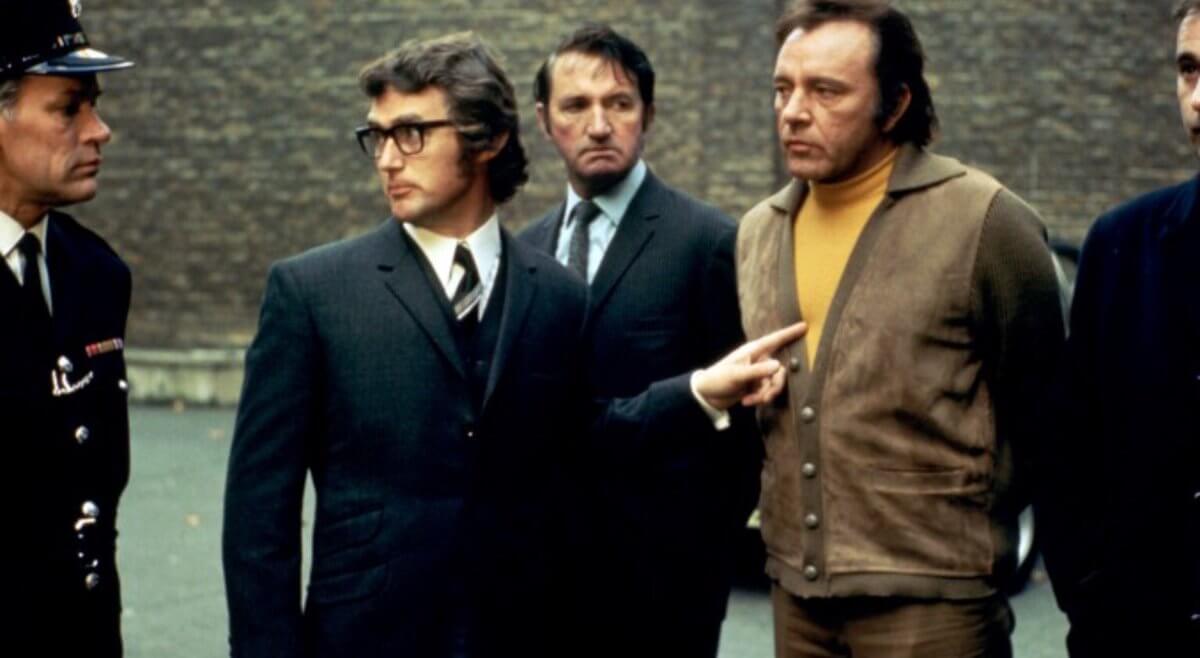 VILLAIN (1971) / CERT: 18 / DIRECTOR: MICHAEL TUCHNER / SCREENPLAY: DICK CLEMENT, IAN LA FRENAIS / STARRING: RICHARD BURTON, IAN MCSHANE, NIGEL DAVENPORT, DONALD SINDEN / RELEASE DATE: MARCH 30TH
A delirious, actorly show business fantasy of a companion piece to the likes of Get Carter, Villain tells the sordid tale of Vic Dakin, a London gangster boss whose ambition and lust for thrills finally becomes his undoing. Dakin dotes on his elderly mother, making her cups of tea and taking Sunday drives down to Brighton. At the same time, he's a thug who takes pleasure in inflicting pain on people and getting his hands dirty. When the opportunity comes up for a big score, Dakin can't resist being in the thick of it, a decision that will ultimately destroy him.
Originally released in 1971, Villain initially seems part of a trend towards grittier presentations of crime that includes films like Caine's classic thriller. Certainly, the violence remains strong stuff and there's no attempt to make any of the characters particularly sympathetic. Burton throws himself into an atypical role for him, grunting and practically frothing at the mouth, most notably in the masochistic scenes with Ian McShane as Dakin's unwilling boyfriend. It's Burton that drives the film but also Burton that gives proceedings an air of heightened unreality. This doesn't really harm the film, however, which is an enjoyably overwrought thriller tightly directed by Michael Tuchner and supported by a wryly amusing script from Porridge writers Dick Clement and Ian La Frenais. There's a lot to enjoy here, from Burton's operatically intense performance to supporting turns from the likes of McShane, Donald Sinden, and Joss Ackland to a beautifully shot East End of London that's unrecognisable today.
For this new release in the Vintage Classics collection, we get a generally good quality print that presents the mostly-brightly shot action with clarity and sharpness. Apart from a suitably over-the-top trailer and stills gallery, there are two main extras in the form of interviews. The first is with McShane who has a lot to say about his career at the time, with little tidbits of information about the acting community of the era, and as you might expect he is as ever charming company. There's also a fascinating, comprehensive appreciation of Villain by cultural historian Matthew Sweet which goes into a huge amount of detail about the industry of the time, the careers of those involved and the movie itself. It's an excellent companion to the film.
Villain foreshadows British television's obsession with the seedy side of crime later in the decade (most notably The Sweeney) and is still uncomfortable in its character study of a truly unpleasant man. If you enjoy a good gangster film or just want to luxuriate in an arguably incongruous but never less than hypnotic performance, it comes recommended.