Mystery-solving puzzle games have been around for years and, for many, an early introduction into tabletop gaming and even roleplaying. There's something about solving puzzles that acts like a gateway to more complex games. Intricate puzzles spark the imagination in ways other things simply don't.
The Arkham Asylum Files: Panic in Gotham City is Infinite Rabbit Hole's latest entry into the world of mystery games, and it's, quite frankly, remarkable. Though this is basically 'an escape room in a box', it uses a mix of props, paperwork, a phone app and some subversion of expectations to create something a little bit special.  
As the name suggests, it's set in the world of Batman but focuses primarily on Harley Quinn, both as a therapist and as the baseball-bat-wielding troublemaker we all know and love. What you get in the box is a physical board-game-like representation of Gotham City for you to build and an awful lot of case files. As well as other 'touchable' objects like a newspaper and so on. There's also a plastic mask, which has some clever uses, and it's a nice touch amidst the pile of stuff that comes in this box.
Part of the appeal here is that this is all about the mystery and the surprise, so we're not going to go through a checklist of parts. The quality is broadly good, with the sillier objects being like that on purpose because this is a world with both Batman and The Joker in it; a level of grim goofiness is expected.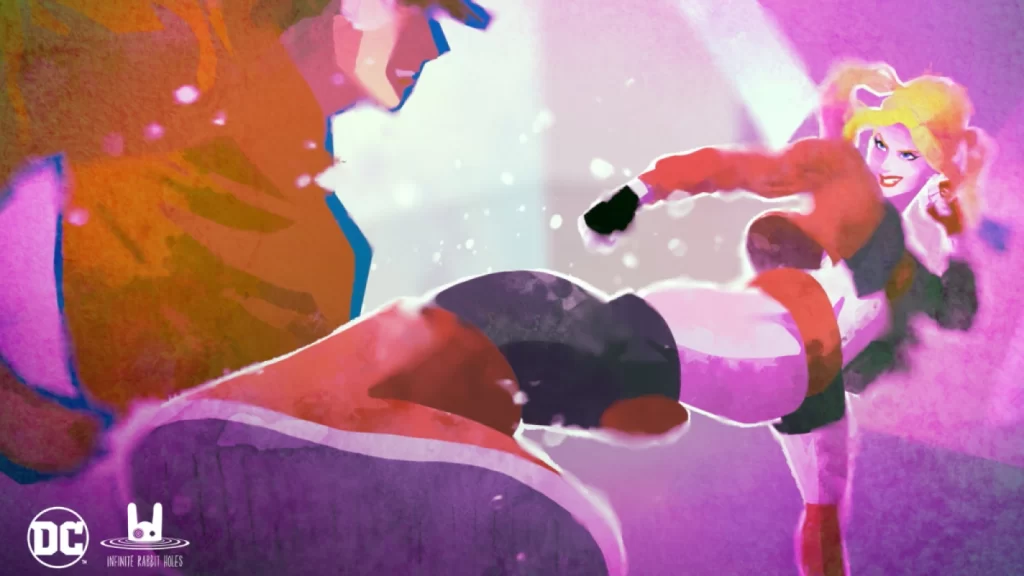 This is the sort of game in which one of you looks around the board, peering for clues and using various tools to figure out something that's just on the tip of your tongue, while a friend pours through old documents looking for an answer. Then you have a moment of discovery, and it's incredibly satisfying. Then on to the next one.
As an experience, this is about two evenings worth of play, divided into two 3 or 4-hour chunks. You're going to want to have a table and some space available and a few friends on hand to help you out with the puzzles. You're going to be pacing around the room. One of you will do a Columbo impersonation. Someone else will try and talk like Batman. It's that sort of game. Think of this as an incredibly elaborate jigsaw puzzle, just one that tells an immersive collaborative story rather than just being about a pretty picture.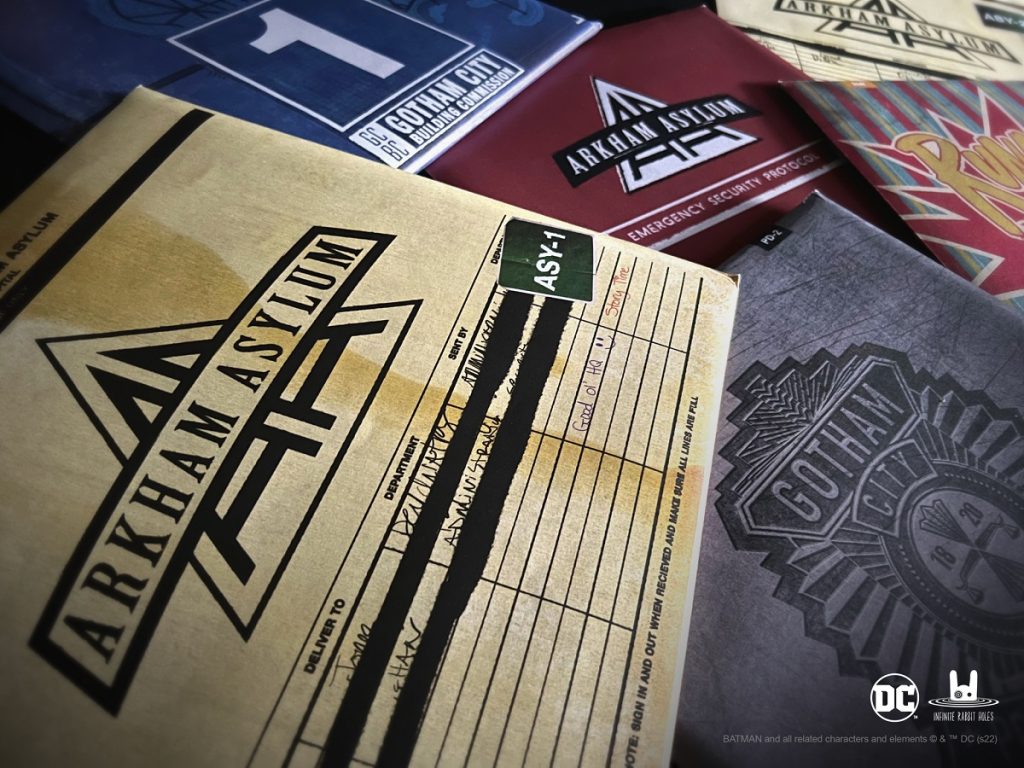 They are a total of seven chapters, and it uses an app to generate 'realistic' set scenes. These are well produced, with a pleasing and atmospheric design, which is the sort of quality we expect as this has been produced by the same people who created Why So Serious,  the alternate reality game for The Dark Knight. 
The game requires the use of a special app, which is hosted by The Joker himself and features video, augmented reality style 'overlays', games etc. The app is integral to the game, and ideally, you'll want to use a tablet if you have one. If there's a bunch of players, you'll want to see the screen; the bigger, the better here. Still, you can just use a smartphone if that's all you have available.
This is essentially two evening's worth of entertainment for one to six players and though it's suitable for families, it's for teenagers and adults rather than kids, and it's also the sort of thing that once you've played through it, you'll probably want friends to also play it so you can talk about it. If you're the sort of person who does a lot of escape rooms or board game weekends, this is a great thing to pick up, as you'll get quite a bit of use out of it.
The Arkham Asylum Files: Panic in Gotham City raises the bar for mystery-solving puzzle games. It's very much the deluxe option when it comes to this sort of thing, but goodness me is it worth it. Beautifully produced and very clever; it's an absolute must for any would-be Dark Knight detective.