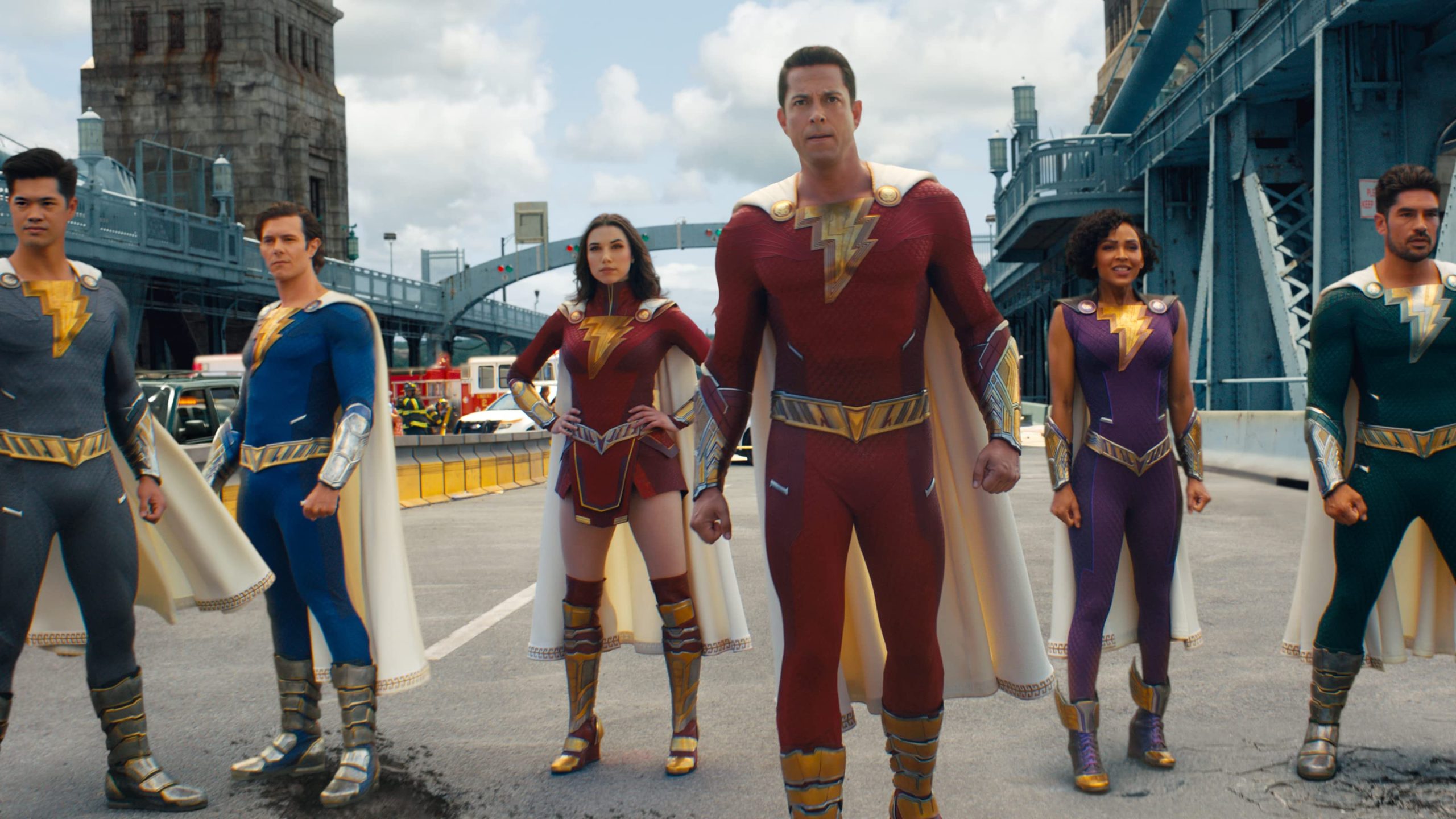 by Paul Mount
2019's family-friendly Shazam! is often regarded as one of the better efforts generated by the messy, uneven DC Extended Universe. With James Gunn set to launch a massive reboot of DC film output in the next few years, it's surely fair to suggest that this belated sequel – initially due to arrive in April 2022 and bumped around the release schedule innumerable times – is quite possibly the best DC film to date and might at least help sugar the pill now that the entire DC Universe is about to be born again. Bigger, brasher and a bit more brazen than its predecessor, Shazam! Fury of the Gods reminds us why we still love superhero cinema even if pacesetters Marvel are fumbling the ball more than we might be comfortable with.
Billy Batson (Angel Asher) still turns spectacularly into his colourful, child-like costumed hero, alter ego (Zachary Levi having far too much fun) when he utters the magic word 'Shazam!' and, accompanied by his similarly-powered foster 'fam', is still righting wrongs and averting disaster in and around Philadelphia. Unfortunately, Philadelphia seems to regard them as more of a nuisance and a liability even as, in one early spectacular sequence, they come to the aid of commuters stranded on a collapsing bridge. Meanwhile, the sinister Daughters of Atlas have arrived at the Acropolis Museum to steal the magic staff belonging to the wizard who gave Billy his powers in the first film. The Daughters – led by a shimmering Helen Mirren as the ice-cold Hespera and Lucy Liu as the implacable Kalypso – seek revenge against the Wizard who killed their father by taking back the powers he has gifted Billy Batson and, by association, his lively young friends.
Years of superhero films and sci-fi spectaculars have inured us to the impact of screen visuals in the modern age; there's nothing Hollywood can't bring to the screen nowadays thanks to the magic of CGI – yet the effects in Fury of the Gods are absolutely jaw-dropping, clearly finessed to perfection by the delay in the release date in a manner often denied to the MCU in its constant quest to churn out as much product as possible for fear of losing screen momentum. Fury of the Gods delivers set piece after set piece from battles in the air, carnage on the streets, a glowing dome dropped over the city, a monstrous dragon and any number of terrifying cyclops, centaurs and screeching winged banshees attack the city as the film races towards its conclusion. These effects are clearly intended to evoke the spirit and style of the works of the late great Ray Harryhausen, and the creatures here are more layered and textured than many of the generic horrors we usually see in these sorts of films. These beasts look four-square and real, brilliantly composited into the live action as they toss vehicles and people around the streets with merry abandon. Add to this gorgeous visual mix a nippy, witty script (it's not quite as full of belly laughs as the original, but there are some good gags and bits of visual business here and there guaranteed to raise more than just a wry smile) and a cast clearly up for fun – Mirren especially is having a blast and newcomer Rachel Zegler impresses as Billy's foster brother Freddy's new high school crush. Fury of the Gods delivers a fast-paced, zesty four-colour concoction that, amongst the chaos and confusion, delivers some handy homilies on the importance of friendship, family and loyalty. A waggish mid-credits scene and a sly post-credits sequence tease a threequel that we'll probably sadly never see in James Gunn's brave new DC world, so make the most of Shazam in this fast and furious superior slice of superhero silliness.
Shazam: Fury of the Gods is in cinemas now.