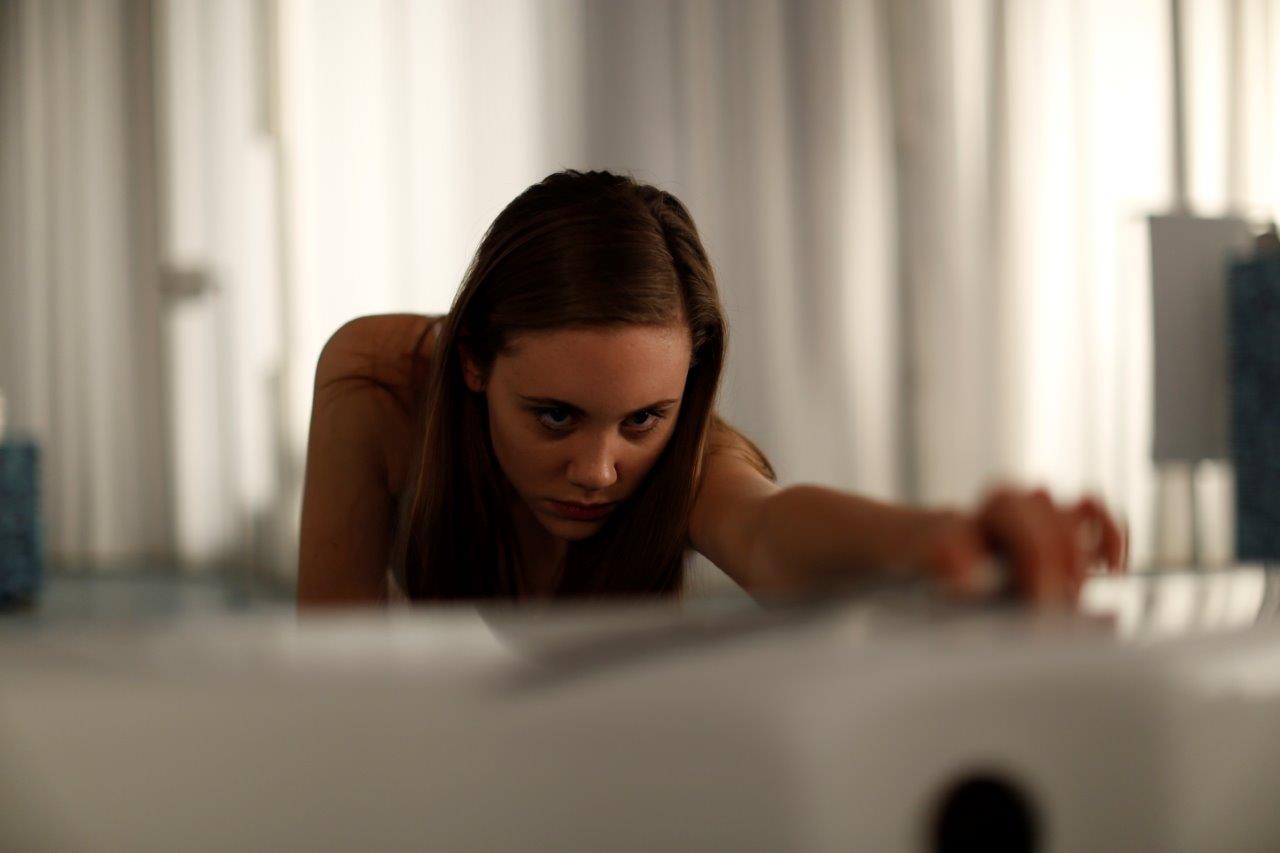 Feel those aches that didn't use to be there? See those lines and wrinkles? The extra little bit of fat? The packed bags under your eyes that seem to grow bigger every month? Aging is one of the cast iron guarantees of life but we've never learned to live with it. It engulfs life, from the products and clothes you buy and use to hold it back, even to the way you act. Age is the obsession in body horror Replace.
After staying the night after a date, Kira (Rebecca Forsythe) wakes up confused and with memory loss. Her date is gone and his apartment seems to be hers. Her hand is also being taken over but a vicious dry skin condition; an eczema flare up from hell. She soon discovers that skin grafts help keep it at bay but she can't wait for her doctor's help.
Jumping straight in, Replace struggles to find its feet at the beginning, doing without much of a setup and throwing too many mysteries at the viewer for its own good. However, once we get past the first twenty to thirty minutes, it starts to fall in to place, finding a slightly familiar groove before becoming its own thing in the second half. To give any more detail would be to ruin the fun and surprises but it manages to find its own ideas out of the obsession with beauty and youth theme that has risen more in horror in the past few years. Where the mysteries are sidelined for the first half, in favour of the body horror and murder, they are reintroduced in the second, breathing life in to the film.
Aesthetics is where Replace succeeds the most; telling for a movie where its main character is obsessed by her looks. Once we get outside of Kira's dull and not entirely convincing apartment, things get more interesting. The film shows that it has a style, influenced by the likes of Nicolas Winding Refn's The Neon Demon (in themes as well as cinematography), with splashes of lurid red, from neon lighting to the clothing of Kira and medical staff. Directed and co-written by relative newcomer Norbert Keil, with cult filmmaker Richard Stanley taking up the rest of the scripting duties, there's enough in Replace to suggest that he'll make quite interesting films in the future.
Replace starts off shakily but soon settles in to its own groove. You've seen some bits of it before but it's got enough twists and turns to keep you interested until the end.
REPLACE /CERT: 18 / DIRECTOR: NORBERT KEIL / SCREENPLAY: NORBERT KEIL, RICHARD STANLEY/ STARRING: REBECCA FORSYTHE, LUCIE ARON, BARBARA CRAMPTON, SEAN KNOP / RELEASE DATE: OUT NOW