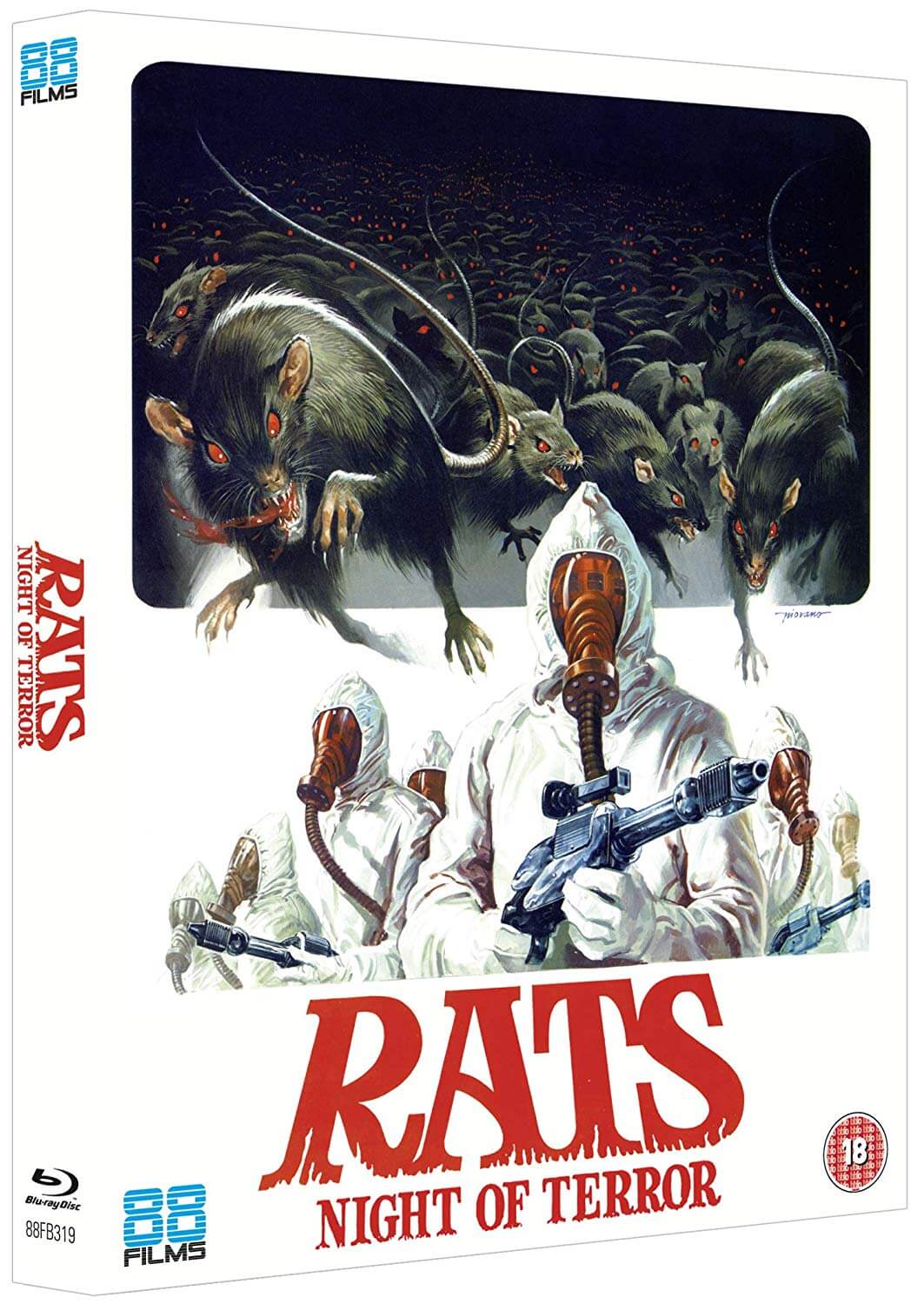 The late Italian director Bruno Mattei packed a hell of a lot into a 50-year career at the coalface of Italian exploitation, churning out copycat cash-grabs from nunsploitation and women in prison flicks to zombies, cannibals and every sci-fi fad you could shake a bloody stick at. His reputation has yet to garner the critical reappraisal his countryman Lucio Fulci has achieved from beyond the grave, but with labels like Arrow and 88 Films continuing to dredge the toxic lake of 70s and 80s grindhouse sleaze, it may only be a matter of time before the man who gave us the likes of Shocking Dark: Terminator II (1989) and Women's Prison Massacre (1983) gets the full Fab Press treatment.
Rats: Night of Terror is a fine example from Mattei's 1980s imperial phase: a low-budget, post-apocalyptic potboiler about a crew of fashion-conscious bikers doing their level best to survive one night against an army of irradiated man-eating rats. If that sounds gratuitously entertaining, you'd be right. Mattei cheerfully borrows his ragtag band of characters from The Warriors and, er, Godspell and lifts the zombie template for his script, which substitutes red-eyed rodents for shambling corpses. There's plenty of ratty nastiness too, all wonderfully pre-CGI and much of it quite well done, without ever hitting Fulci-levels of ickyness. That said, fans of 80s video rental gore will be delighted with the deaths on offer, including a woman in a sleeping bag suffering an intimate invasion of the ratty kind that concludes (some time later) with the hairy herbert emerging from her mouth, and a bloke so full of rats he suddenly explodes like an HGV tyre… Kaboom!
The interiors are seriously impressive for a Mattei production, having recently been vacated by Sergio Leone's opulent Once Upon a Time in America, and it's all lit and framed with a familiar Italian artistry that flies way above the script and performances, all of which are terrible. Lead actor and stuntman Ottaviano Dell'Acqua (a coiffured ringer for Bee Gee Barry Gibb) and Henry Luciani as his chief rival, Duke, are a boggle-eyed pair of hams, but it's obvious how much fun they and the rest of the cast are having trying to pretend 50-odd docile rats are truly menacing them. This joie de vivre is carried over to the main extra feature interview wherein a well-preserved Dell'Acqua and his fellow cast member Massimo Vanni ebulliently recall the 1984 shoot and their hot-tempered director while trying not to dissolve into fits of generous laughter.
A very nice package from 88 Films includes a limited-edition slipcase and a delightfully lurid poster of the cover art, featuring loads of rats and some blokes in gas masks. It's the kind of thing your significant other will almost certainly tear down from the wall should you ever put it up. There really is no accounting for taste.
RATS: NIGHT OF TERROR / CERT: 18 / DIRECTOR: BRUNO MATTEI / SCREENPLAY: BRUNO MATTEI, CLAUDIO FRAGASSO, HERVE PICCINI / STARRING: GERETTA GERETTA, OTTAVIANO DELL'ACQUA, MASSIMO VANNI, ANN-GISEL GLASS / RELEASE DATE: OUT NOW